My last call was a favorite classic Why I Do This kind of call. But first, I had to get to it.
Exoticdvm was the reason I went to Miami. Exoticdvm has a semi-itinerant lifestyle too, as he is called all around the country to treat exotic creatures who may not be feeling well (Exotic Doctor of Veterinary Medicine, get it?). Exoticdvm has a late model Westy that has endured some mechanics in its day. I was called down to give it a check-up, a house call from a Doctor of Volkswagen Medicine. This always-longer-than-it-looks trip seemed a perfect way to give the BobD some exercise, but good grief, who in the hell then drives to Pensacola the next day? That was waking up a sleepy accountant, "hey, run the marathon, no really, get up get up, here's your shoes, come on!" I already shared a couple of shots of traversing the Everglades on I-75, I think it might be the longest straight stretch of interstate in the country.
Though it was 38 miles of perfectly receding focal point, one dog leg bend, and another 30 miles or so of perfectly straight driving, it was a beautiful drive. The clouds look like they are boiling right off the ocean and the vegetation has a serious chlorophyl We Do This All Year green. Strangely, the trees and the ground all look beat down in the midst of their lushness. They are. From Gainesville on down, Florida's vegetation is subjected to blasting downpours frequently. See? The little seedling from Arizona who marvels at the abundant water "look! lakes of it!" quickly discovers that there really can be too much of a good thing. Water has blackened Florida with mold. The wildlife clearly has adapted. This bird stopped traffic whilst moseying passive-aggressively across the street. I had time to get out my camera like some dumb-struck tourist:
The smell of splattered mosquitoes coming through my fresh air vents after several light rain showers compelled me to hang out under the buggy lights at the bank so I could wash the front of the car off and fire up the laptop to see where exactly I was supposed to go:
Mr. Officer Man did stop by to ask me what I was doing. Less laissez-faire than the last cops in Chicago who asked me the same question back in 2005, this guy could not handle the thought of anyone using a drive-through lane for any other purpose than its stated one. As I shut down the laptop (knowing now where I had to go), I asked him for directions to where I had to go. And I asked for clarification every five seconds. Me? I am passive-aggressive too.
Exoticdvm may not have been aware of my severe sleep deficit from the prior night's muggy buggy rainy reflecty trafficky insomnia, but he was aware that we had a scorching hot muggy day in front of us. I relied on his medical training to spot any dehydration delirium deigning to descend upon us. Can you believe that I was actually avoiding the sunshine? Me neither.
As much as I hated Florida's bugs and muggy wetness, I absolutely adored being here on this spot on this planet. The sun angle was equivalent to July in upstate New York, the skies were glorious, I loved that life itself lives hard down here, luxuriantly under the cascades of water that fall out of the sky. After our appointment, I had to get some serious driving done that very night if I was going to get to Pensacola by tomorrow night. 737 miles? Drove through lightening strikes from Miami to Naples, each one illuminating some huge monster nimbus cloud lurking in the dark. It was breathtakingly beautiful even as hordes of night bugs did their best to shield me from having to see anything out the windshield.
At a Marathon station (aptly named),a n extremely drunk Mexican man tried vainly to tell me in English that he loved the BobD.
"Thank-you"
"No man, really yo no see muy how do you, es perfecto."
Finally crashed out at a rest stop outside of Tampa some time around 2:30AM. Woke up perfectly disoriented ( I love that, no fricken idea where I am, a Jean Paul Sartre moment of instantiation or whatever he called it). Drove to grassy western Florida, a melding of Texas and Deep South, had to keep going even as the cylinder head temps mysteriously increased, wtf? panics Nervous Nellie here, oh it is a headwind. 410* with spikes to 415* but I am
doing
75MPH and at that speed, I might get to Pensacola by 7:00PM, and that is the
plan
.
Woke up at 7:00AM and realized that I am in Central Time Zone, and have an extra hour. Drove to Pensacola's waterfront. Saw the Slowest Man Ever slowly set up a stool and throw a line over the railing: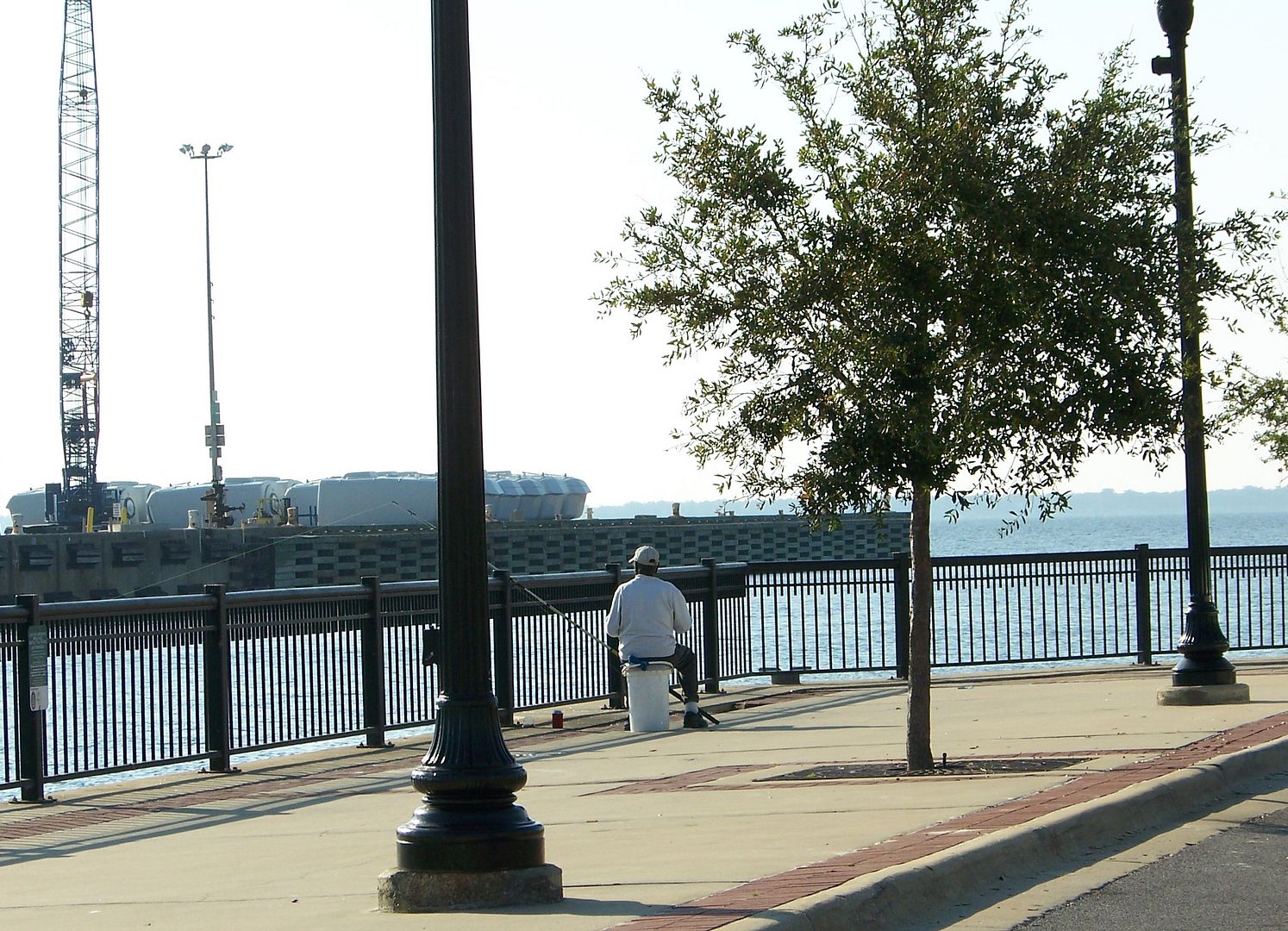 America's Not So Deadliest Catch boats were lolling in the early morning sun:
The BobD was sitting there at 88,000 miles with a new roughness coming from the engine: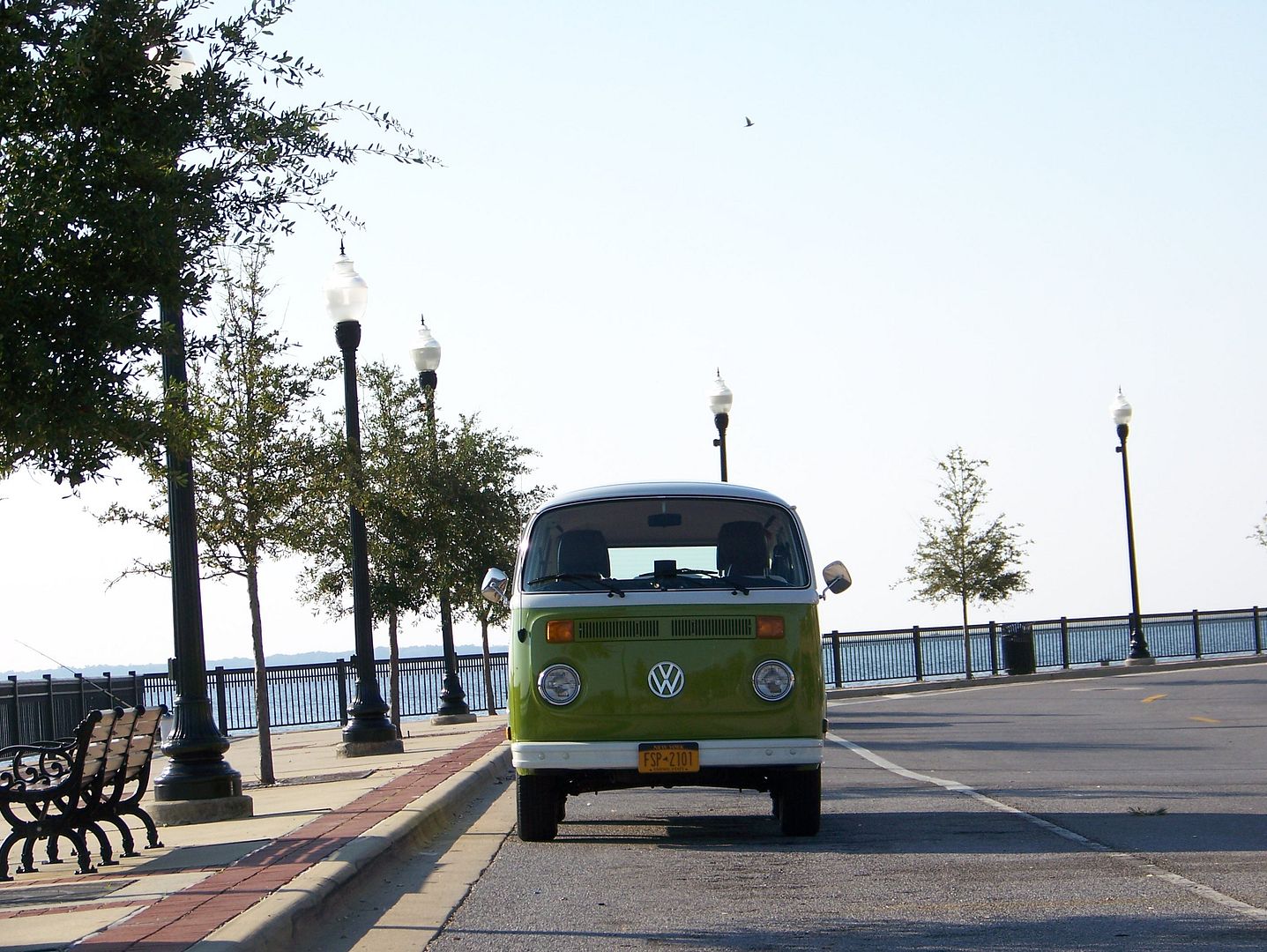 Drove into a dream in Pensacola, my overly rich imagination was taken by this old Florida town with the old law firm sign hanging out front of my customer's house, yep, that's his name on the sign. Carriage house garage with two Volkswagens. Walk on gravel past the guard cat to the door, and walk in to the reception area. "I'm here to see if I will ever get off parole, he deserved it, I tell ya." Met jackstar coming up the hall from the kitchenette and we have a spritely conversation about Florida politics and law . . . and continued as we adjusted the valves in the bus, death penalty, representing clients who are guilty vs who are not guilty, who are or are not likely to recidiver, rehabilitation vs punishment, prosecutorial misconduct, breaker point installation in a Hall Effect engine room, political pressure, personal professional mistakes, judicial discretion, the Innocence Project, courtroom techniques, it was like talking to Atticus Finch, or Jake Brigance (Matthew McConaughey) the lawyer in A Time To Kill (1996). Oh, and we did trouble-shooting on the fuel injected bug.
That is why I do this Itinerant Air-Cooled business. I love meeting people who are so interesting whilst criss-crossing this beautiful continent. This year's itinerary was right up there at the top.
ColinInGeorgia