This was my 4th year and 5th visit (one with BobD one with Chloe last year)
The morning coffee and conversation revolved around fuel mixtures/maps, max torque Vs max HP - as well as distributor weights/springs (this will come back!) and drawings on how/which to adjust. We also talked a bit about why the drivers side rear wheel seems to be dipped down lower to the ground than the passenger side.
Work started and we tackled the ride height issue first. The drivers side only seems to be slightly lower than the passenger in part due to the skewed bumper - but we adjusted what we could. Pulled the spring plate housing off and rotated the bushing, dusted it with talc and reinstalled.
Next was both a brake and clutch cable adjustment (I thought my clutch was slowly going out) - both showed instant improvements (and for the time it took I should have done this myself already.)
Second half of the day was spent with the LM-1 and the local testing facility (big uphill climb.) We chased the mixture all over the place trying to find happy CHT's while trying not to be too obscenely rich. The 79 CA computer does some interesting things to the mixture at interesting places on the road - (full rich on overrun?) - but we found a happy (enough) place by days's end and were overall happy with the performance.
I kept stuttering the clutch after the adjustment took it's engage position further away from the floor, but otherwise it drove wonderfully.
At this point Colin paid
ME
$80
for the pleasure of working on my bus
(?) and took off for the evening in the hopes of finding WiFi and (probably) someplace warm/dry for the evening since there was another appointment here in the cold/wet coast before getting to jettison for warmer climates.
_______________________________________________________________________________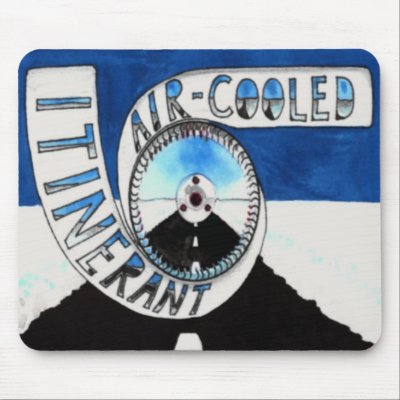 This is a very delayed report back from me, in part because this is never REALLY the end of the visit is it?
You re-gain this sense of 'i can do it'ness' and keep on working on the things you know should be addressed. Each year I try to ride this wave as long as I can before the second guessing and nancypantsing kicks in and you start putting it off thinking 'it's probably nothing' or 'I dont even know where to start.'
it's not nothing and you DO know where to start. by getting off your arse and troubleshooting what you know.
Colin didn't want to have anything to do with my hair brained idea of replacing my FPR with an adjustable one "to help with CHT's" - but I know better so I started looking into it.
First step was testing the current fuel pressure after getting my gauge setup. Fuel pressure was inconsistent at both idle and through the RPM range. Not grossly off, but always around 5 PSI too little. "AHA" says I - I WILL tackle that stupid FPR that I KNEW was the problem before.
Not so fast. Let's double check a few other things just in case.
Decel valve? OK
Residual Fuel Pressure Test?
FAIL
The moment I turn off the ignition the fuel pressure drops to zero.
After ten minutes it should be showing 14-21 PSI (not that residual fuel pressure would matter, that I can fathom)
Ok, it may not be a big deal, but it's wrong so let's see what happens when I address it.
Replaced the fuel pump, which turned out to be a rebuilt unit from Python, with a new German Bosch unit. It had these screw on terminals instead of the stock push-on style, but this was $80 and the German Bosch with the push on ones were over $200 from my FLAPS. Oh well.
Residual fuel pressure test is now perfect. Holds max fuel pressure even 20 minutes after turning off ignition.
Side effects - fuel pressure at idle and across RPM range is now within spec. (FPR was fine all along)
I re-set the idle and timing/etc, and it starts giving me fits again. I adjust it warm to 950 RPM and later im idling at 750 RPM. Reset it again at 950 and later it'll start idling at 1250 RPM's. WHAT THE HELL?
Remove distributor and bend the weight spring post (for the non-elongated one) this seems to help, but im still getting erratic timing now and occasionally bad idle RPM again.
TEST RETARD LINE ON VACUUM CAN = FAIL FAIL FAIL
I had done the suck on vacuum line test for the advance before, but had never bothered to check the retard can.
Plug both the signal from the throttle body and the port on the distributor, then set timing to 7.5 BTDC instead of 5* ATDC.
DAMNIT. I have no idea how long it's been this way, but this has been royally screwing up my ability to tune it properly.
Hill climb test numbers before and after things were fixed.
base of hill, halfway point, and crest of hill are all recorded. I floored it the whole way to see what the 'worst case scenario' numbers would be.
after fuel pump replacement, before distributor fixes:
406/427/438
same, but with fuel pressure at 40 PSI
404/418/428
with higher fuel pressure it certainly did lower the temps, but it was still pretty easy to get higher temps than I knew was possible previously with this setup.
after fuel pump AND distributor fixes
398/406/409 (this was done later at night than the other tests - up to 10* cooler temps outside)
same, but done mid-day with a slight headwind
400/407/411
411? I couldn't get it hotter than this when climbing and driving extended distances at 65 MPH.
On the drive home I held it to a steady 70-75 MPH and it finally hit 413 when it maxed out it's CHT's.
Oil was still climbing at around 220* after 15 minutes at this speed, but perhaps was close to maxing out as well.
That brings us up to date now. I did these last tests just two days ago, so ill keep on tracking this data but am VERY hopeful that ive found the best tune for this setup since I initially acquired the bus 2+ years ago.
I kept 'meaning' to write up my visit, but it hadn't really finished yet.
no pics again.