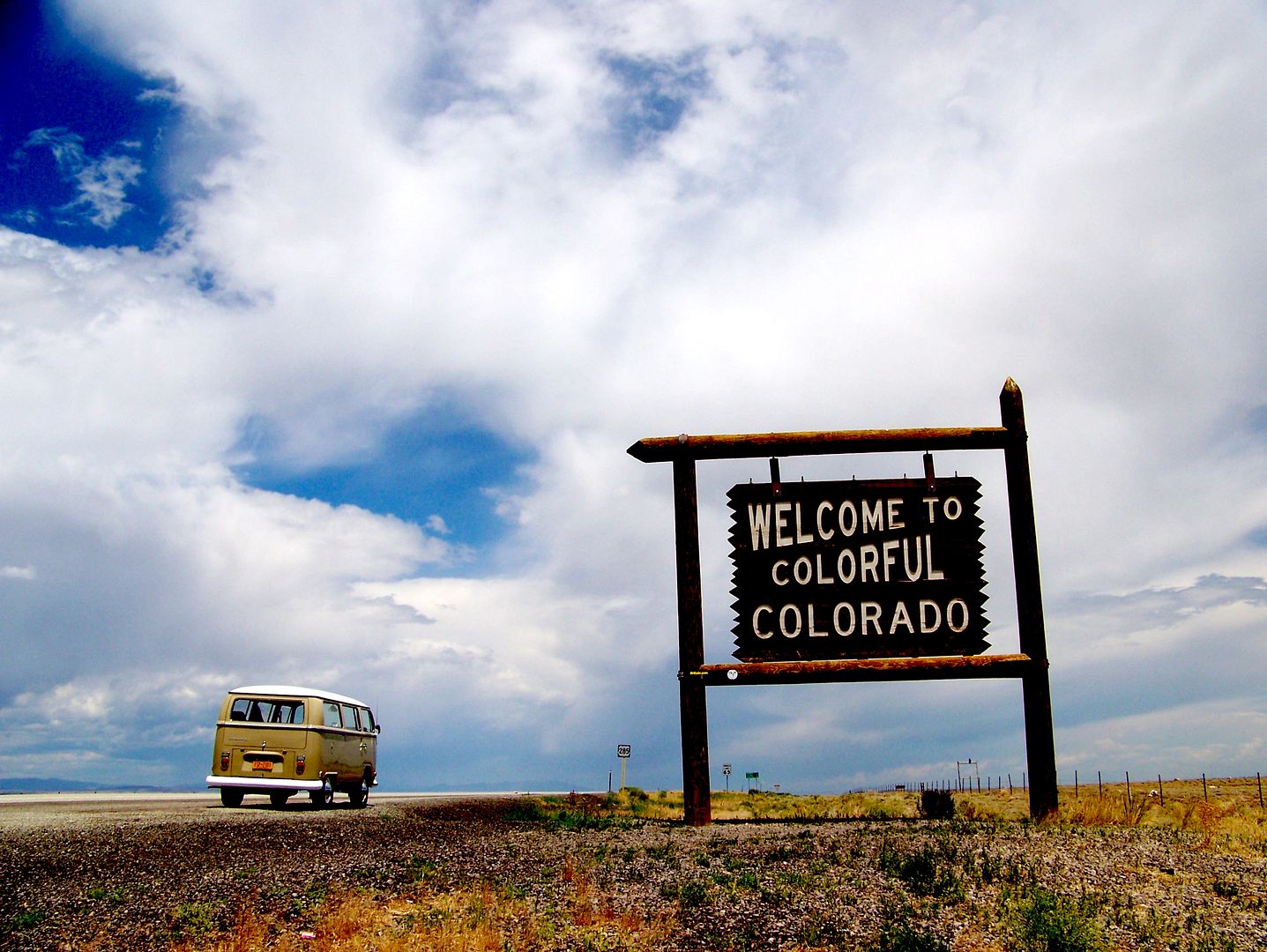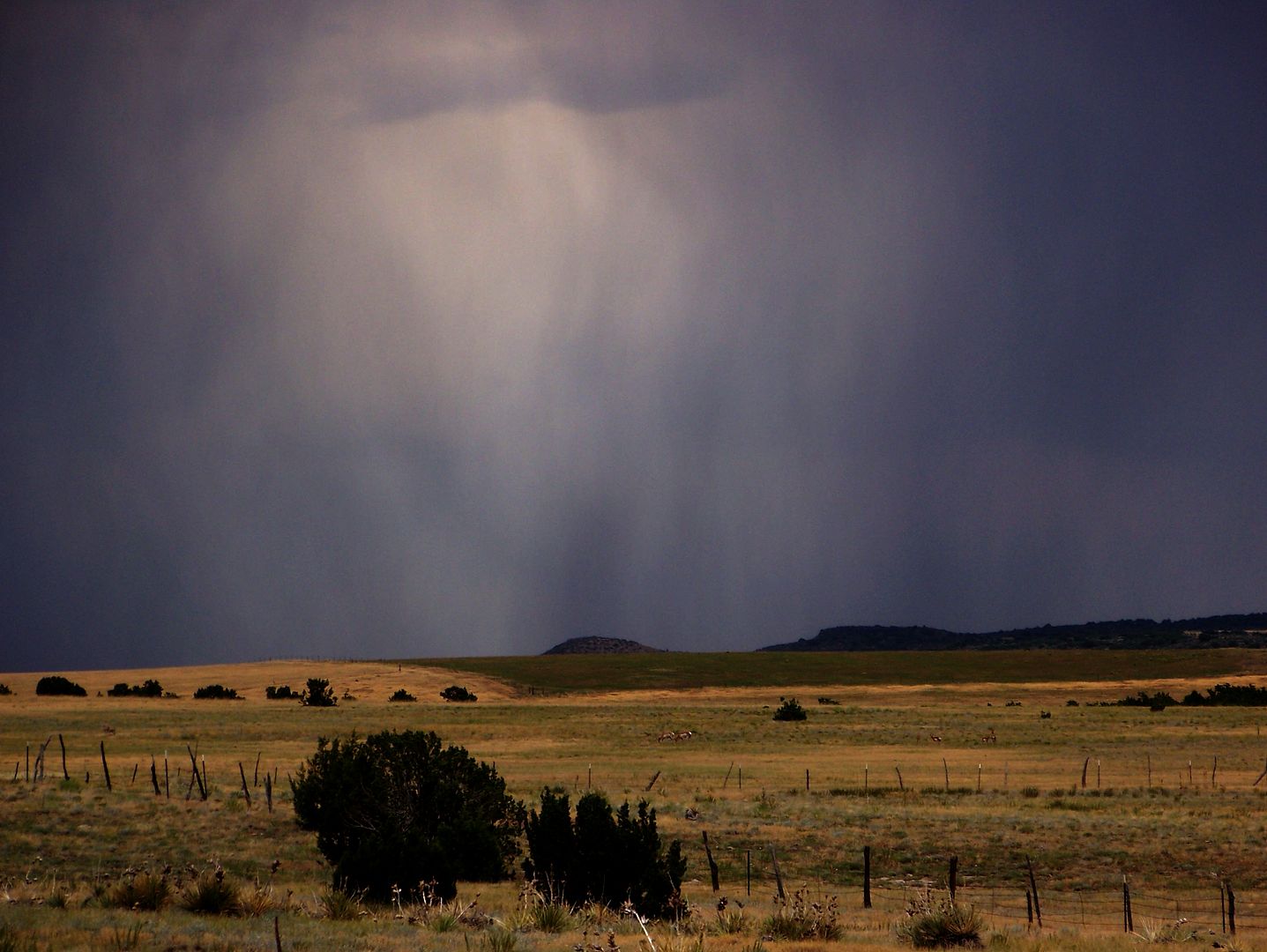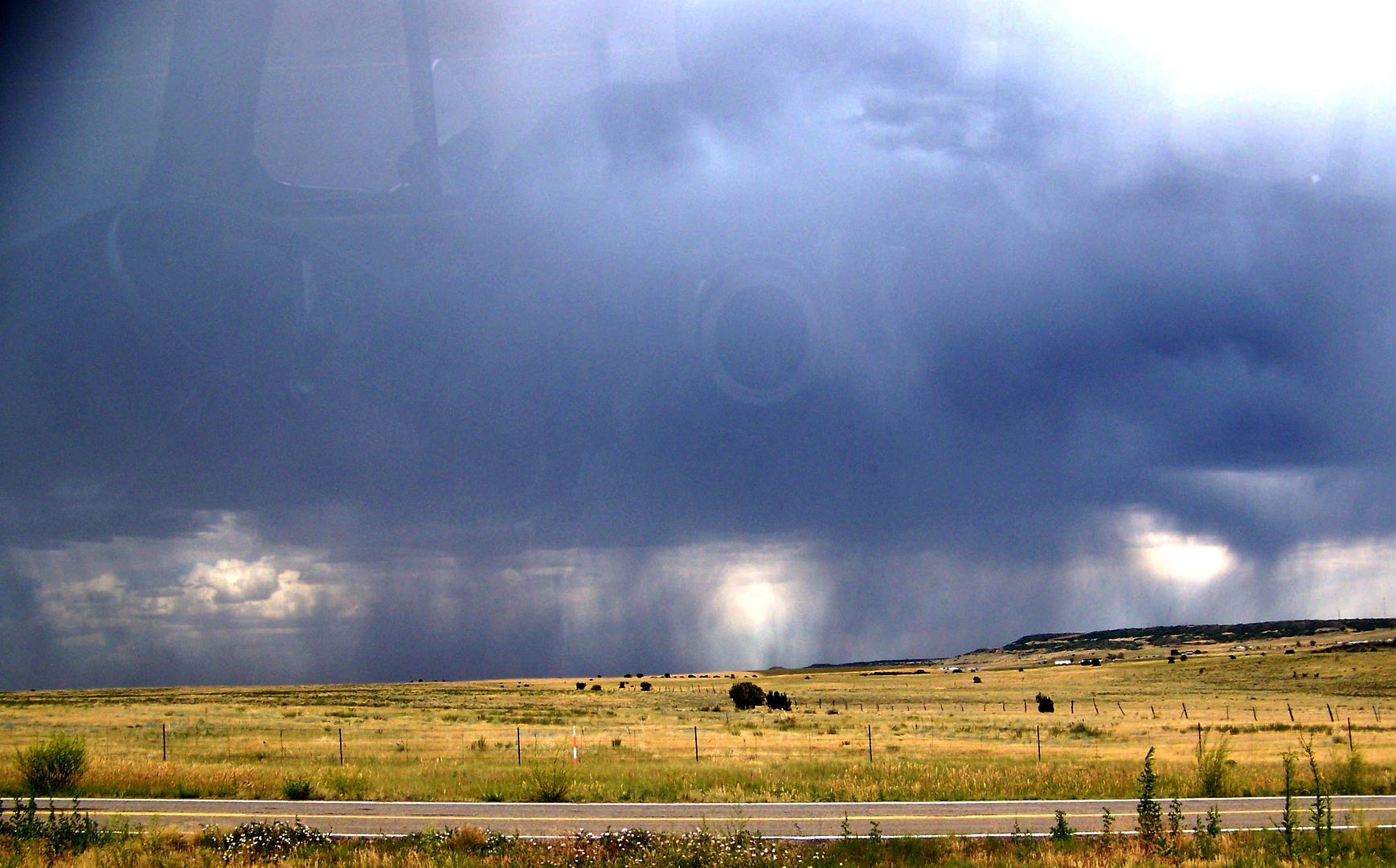 Colorado was the paint-killer state this time. I thought it was a fire from afar as I pulled into Pueblo CO: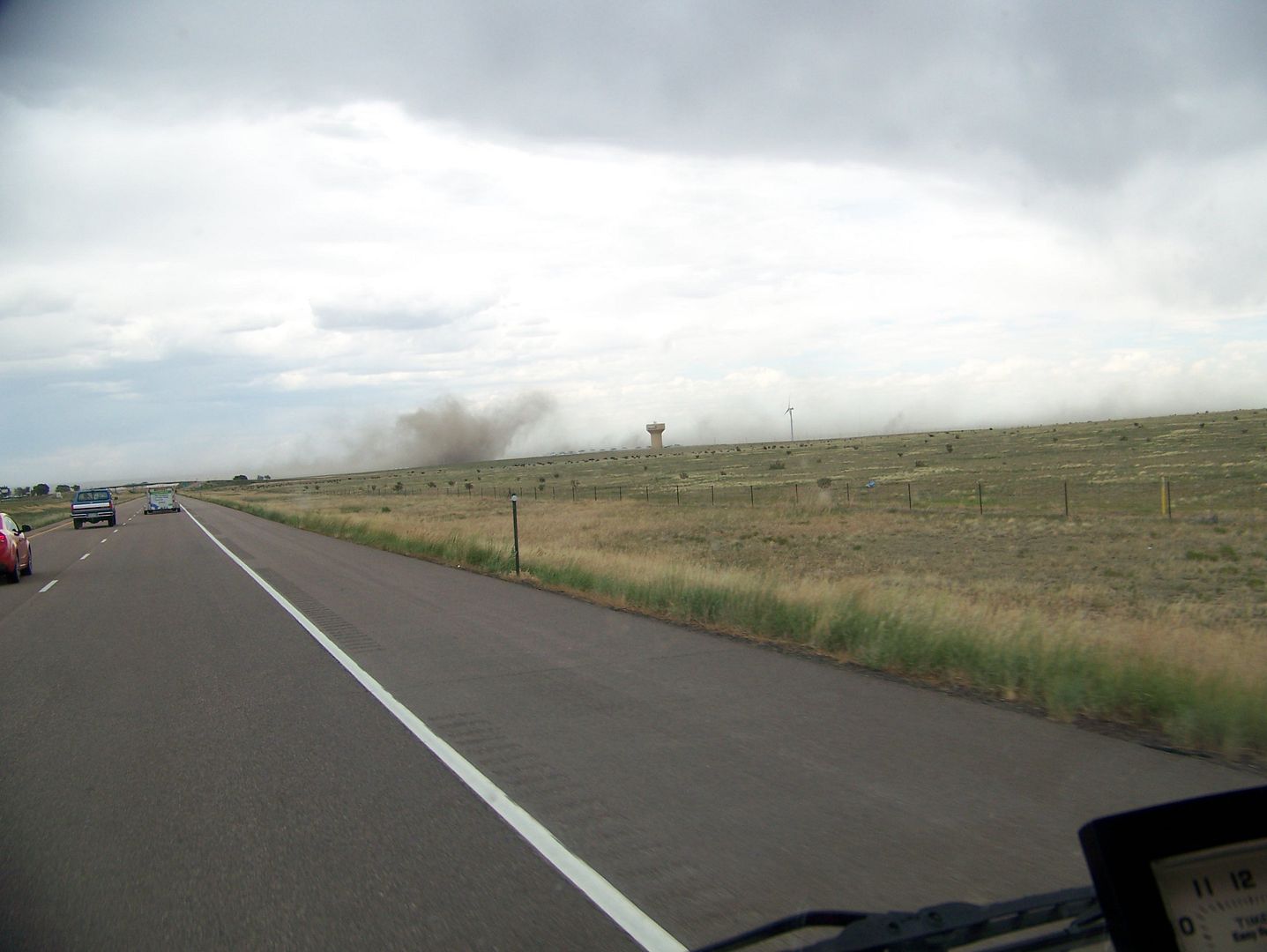 It was a fierce crosswind that had picked up a load of PaintBlaster: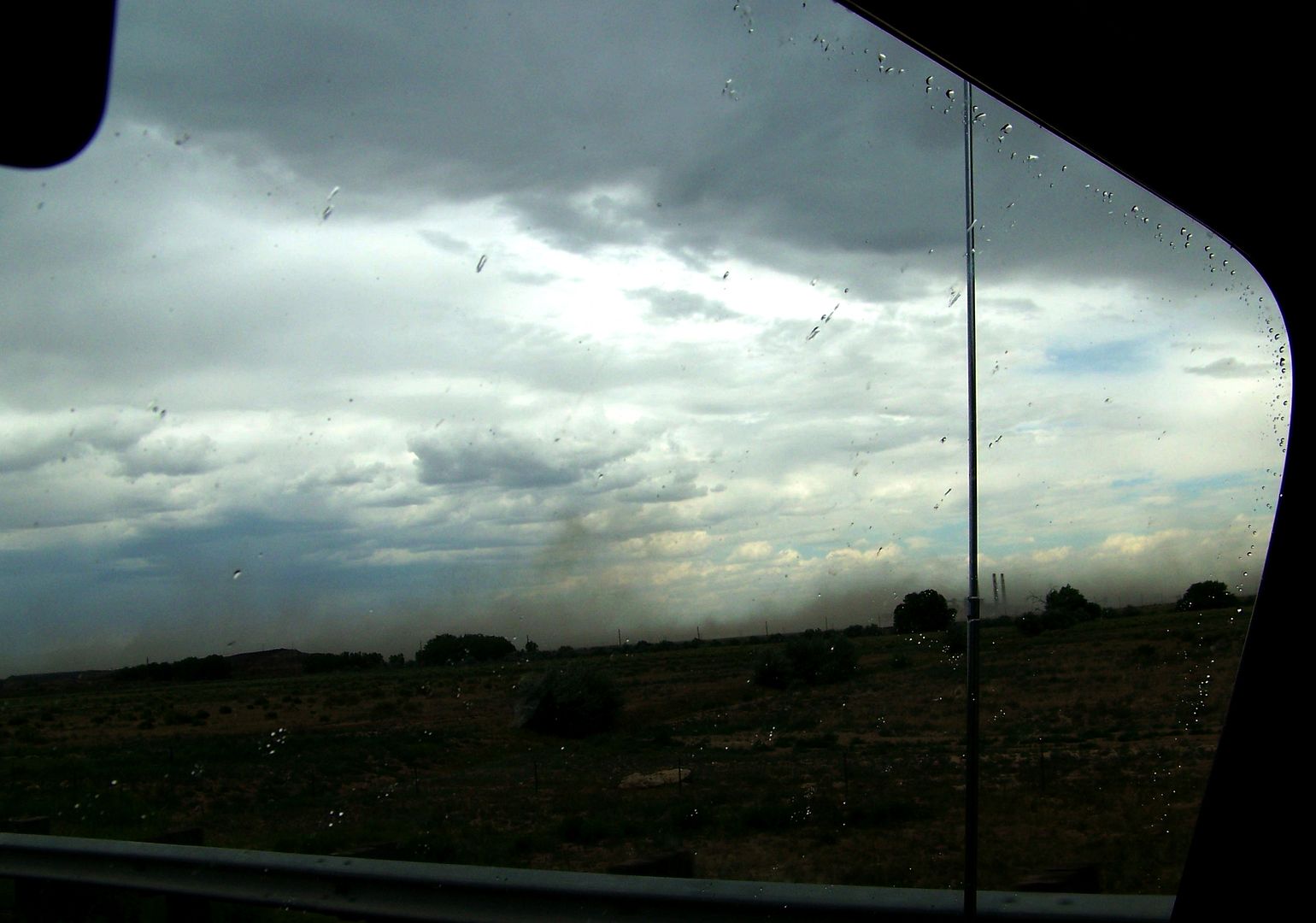 Because we were talking about driving buses in the wind over on theSamba, and some were talking about engineering solutions to wind wander, I thought to shoot a video while driving the bus. You can hear me bemoaning the pelting of sand and rocks against the car as much as anything else. Car behaved fine, just the usual darting.
Had a brief time in Denver area after all, just a half-day appointment with Darren and his very nice '79 Westy with only 140,000+ miles. It had a bucking that he could not eradicate, but we seem to have it under control after some little tricks like shifting the board in the AFM and blocking off the leaking EEC valve that was preventing the vacuum advance from working. Man, what a difference to slip behind the wheel of a fresh '79, hit the on-ramp, pull to 55 in 3rd, and have a whole nuther gear to go. But, Chloe demands that you just settle down settle down we'll get there we'll get there. Like, here is I-70 just out of 5,500 ft elevation Denver, we are halfway to climbing yet another mile in elevation: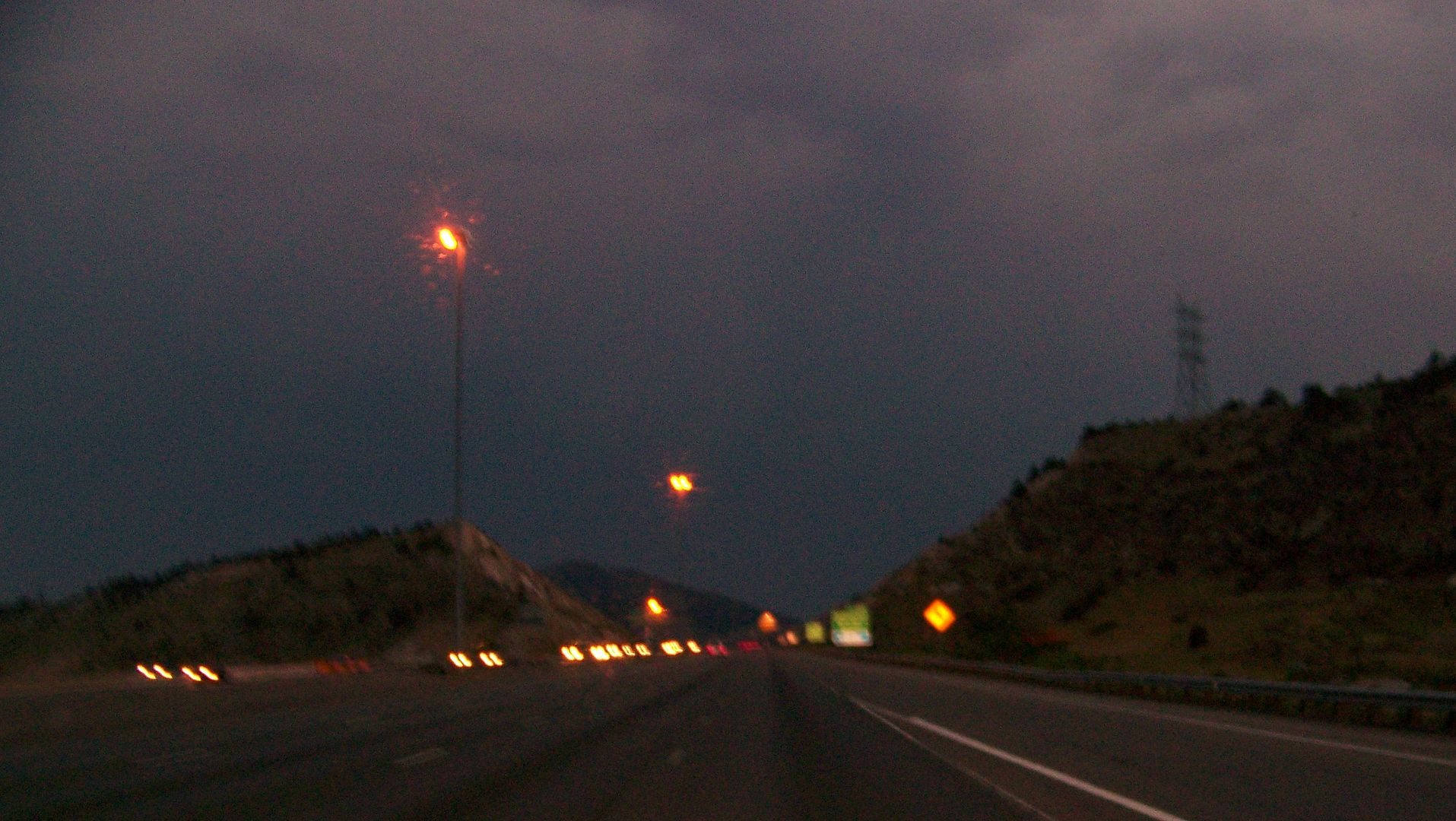 The rushrushrush of traffic coming up behind me was fierce as we labored up the hill in 3rd gear barely able to maintain 30 mph in some of the steeper parts. I had my emergency flashers on for a good 45 minutes with little flashes of my brake lights to extra-alert the people coming upon me in the curves, Chloe must have been thinking "brakes?!? on this uphill? Soon enough, we were on the plateau: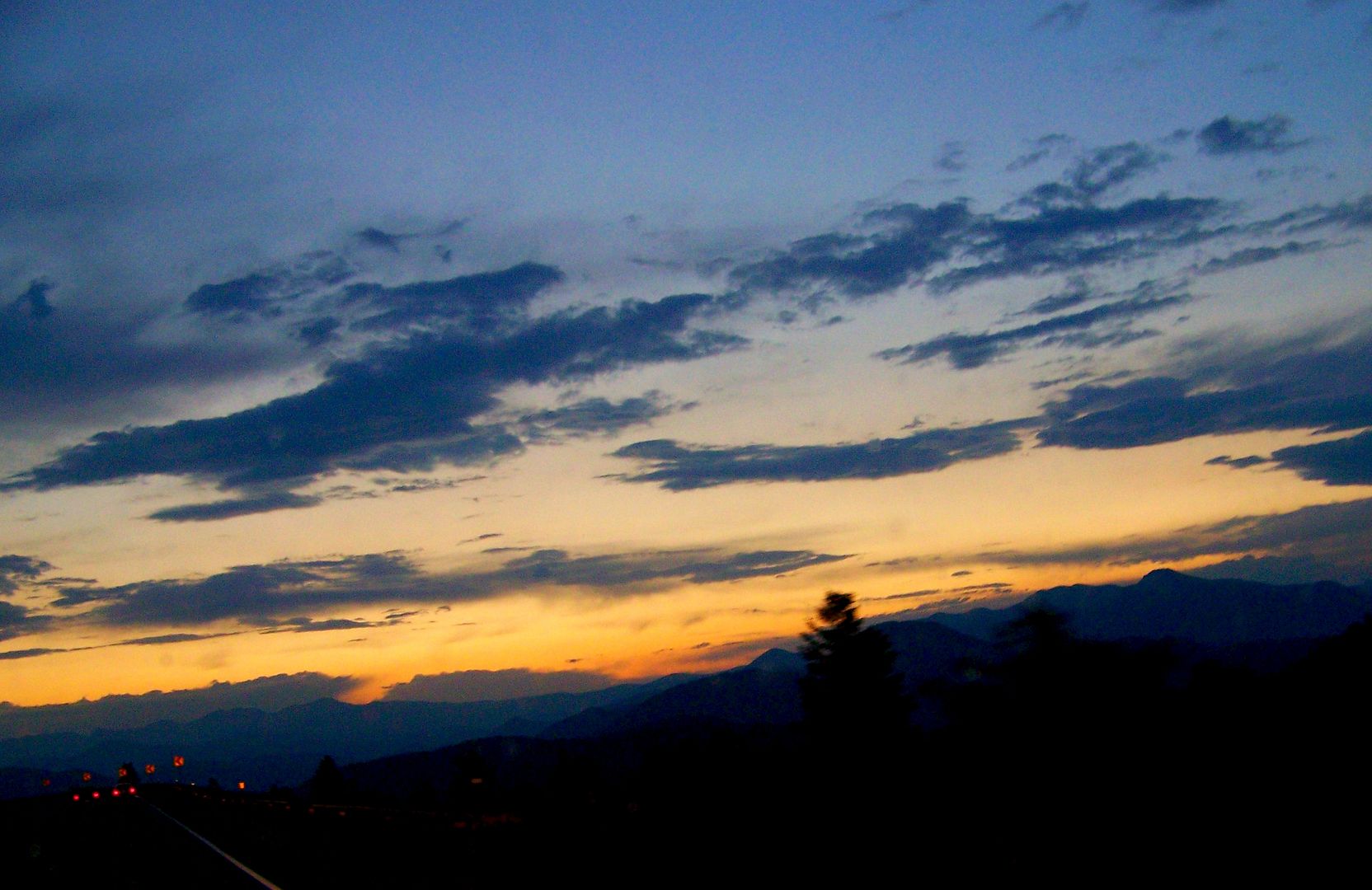 Interstate 70 is an engineering marvel through the Rockies. Such a craggy mountainscape with fresh chasms and "let's put a four-lane interstate through here (no climbing lanes though)! They had to blast a few tunnels through the tight spots, in others, the highway is double-decked on curves. A river below was reflecting the moonlight last night, gorgeous, but you could not linger with traffic and curves and night and reflectors and signs like "trucks do not exit if you lost brakes".
CHT gauge never exceeded 363* as I crested 11,150 feet and it dropped to 174* on the long downhill run past Vail and Glenwood Springs. I kept the revs to no more than 3,600 even on the 2nd gear pull just before the Eisenhower Tunnel (brought to you by a 91% tax rate on the sooperdooper rich), good thing too, as you'll read.
Found a campsite in a niche on a hillside fifteen outside of Parachute CO at 1:15AM, "this looks good, great view in the moonlight!" shut off the engine and heard a weird badadoonk! Staggered back to the engine compartment. My brand new eight day-old "Duralast" fanbelt was neatly bisected and laying across the apron with about four or five breaks in the rubber. Thank-you, Chloe, for your sense of self-preservation and your politeness.
Next morning, I was awakened by the angriest old biddy ever,
"Get off my property! this is private property! I am calling the cops! You get off my property!"
"I'm sorry, my car lost a belt, I will be gone in three minutes."
"Well you get the hell off my property! This is private property!"
"Can you hear me when I suggest that you post a 'no trespassing' sign on your open gate?"
Started the beltless engine and launched down the driveway while her dog and she continued to jump and yip furiously. I aimed for Parachute eastbound on worn-out old US 6. Got up to 40mph at CHT 312* and shut off the engine and coasted down to 15 or so, jump-started and pulled back up to 40mph at CHT of 330* and shut off the engine and coasted down a long hill and jump-started and pulled the long uphill and shut it off at the top with a CHT reading of 370* and coasted down the next hill with the engine off, and then remembered that I saved my old nasty pre-El Paso belt and coasted into a lot next to the tracks outside of Parachute. The old belt flipped sideways and I said, "fine! do your thing . . .". Made it to the Parachute NAPA and yes, they had a belt. Yay, a Gates belt. We, Mr. Counter Professional and I, decided that the Texas AutoZone belt of eight days ago was actually very old stock and it had snapped due to unusual dryness, because it was not glazed, it was not longitudinally stressed, and last night never even hit 4,000 rpm:
I am now in Grand Junction CO about to head south into the 100* desertish landscape towards Bluff Utah. Chloe keeps kicking over my bucket but what a sweetheart of a travelling companion when she's not knocking out your teeth.
Colin