This heat has been unbelievable. It makes me laugh ruefully at these epic weather arguments I get into with the Universe, too cold! too rainy! so now it is searing more heat than even I asked for. "What ... did I do ... to piss You off this time?" when I loll my glazed eyes skyward. I love it.
Mr. I Sure Do Love The Heat here is, as I write, ducking out in a McDonalds to suck up the air-conditioning for a while before slinking out at closing time, praayin' lawdy geezus that it will have cooled down into the upper 80's if I am lucky. It is 9:45PM here in Eastland Texas and it is a genuine 99* STILL. It was 112* at 4:00PM.
It is weird to have that patented Death Valley Stick Your Arm Out The Window Into The Dryer On The Permanent Press Cycle feeling
here in Texas
?
In Death Valley at least, the clothes are dry. Not here! Nooo, here you are riding around in the dryer with wet wool blankets that smell like gear oil soaked cowshit, I shit you not.
I entered Texas looking forward to some more roughing it rural car projects like last years dizzy three day exhaust re-do. But, like the Weather Channel has been promising, it really is hot and dry here in Texas. Forlorn combine just staggered to a hopeless stop:
There were many dirt devil tornadoes, spooky columns visiting the parched brown landscape. Pulled off in this dusty spot to .... yep, tear off all of my spark plug boots*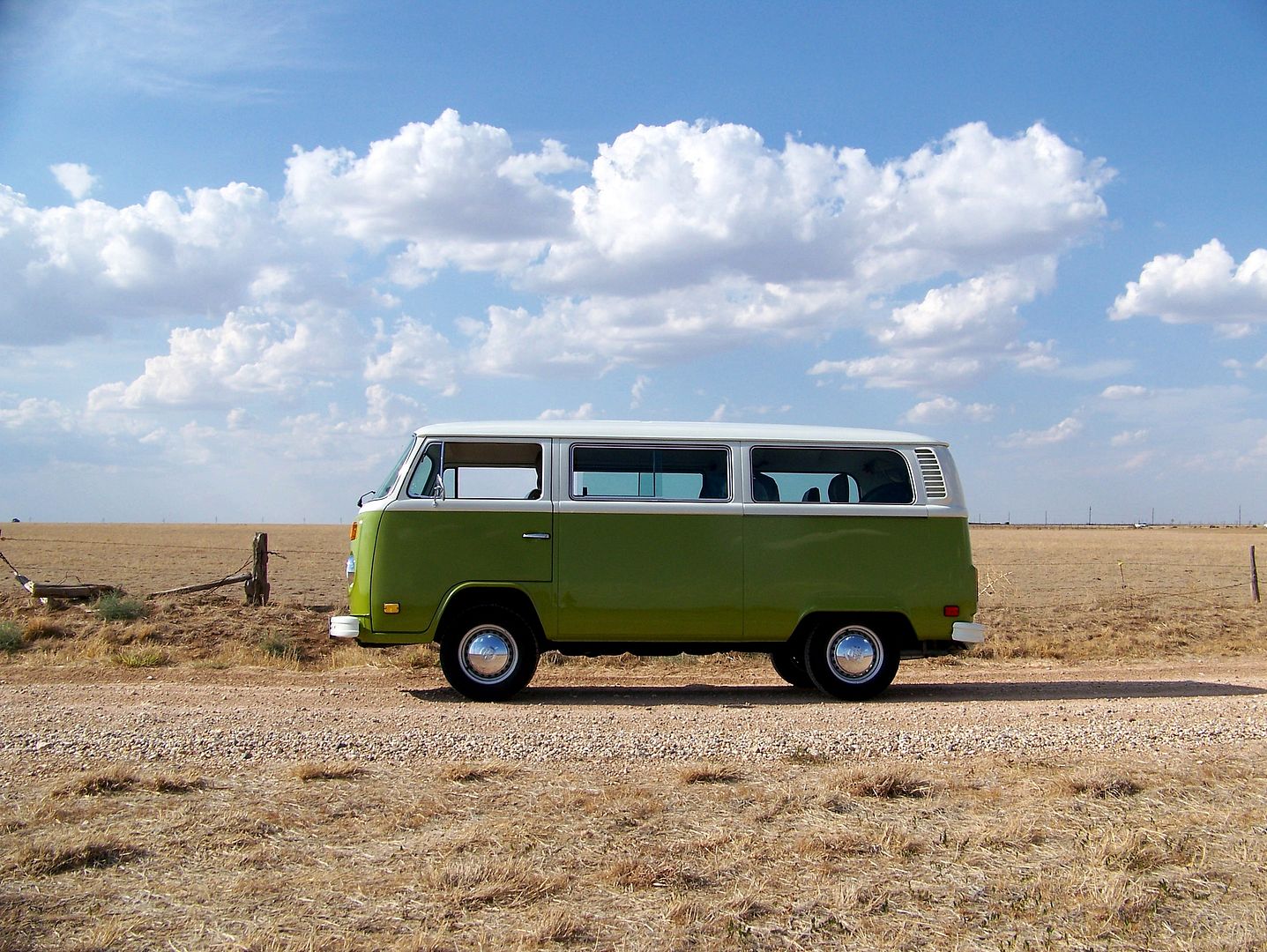 I felt sad for the farmers, so I washed my car here in Happy Texas. The soap dried almost instantly. The rinse was classic recycled nasty-smelling spotty water. But the rain gods were incensed when I said, "that's a nice clean car." Not an hour later, this ghostly Dust Bowl brown dirt storm brewed up across a field, just after I put the spark plug boots* back on and opened the engine hatch**: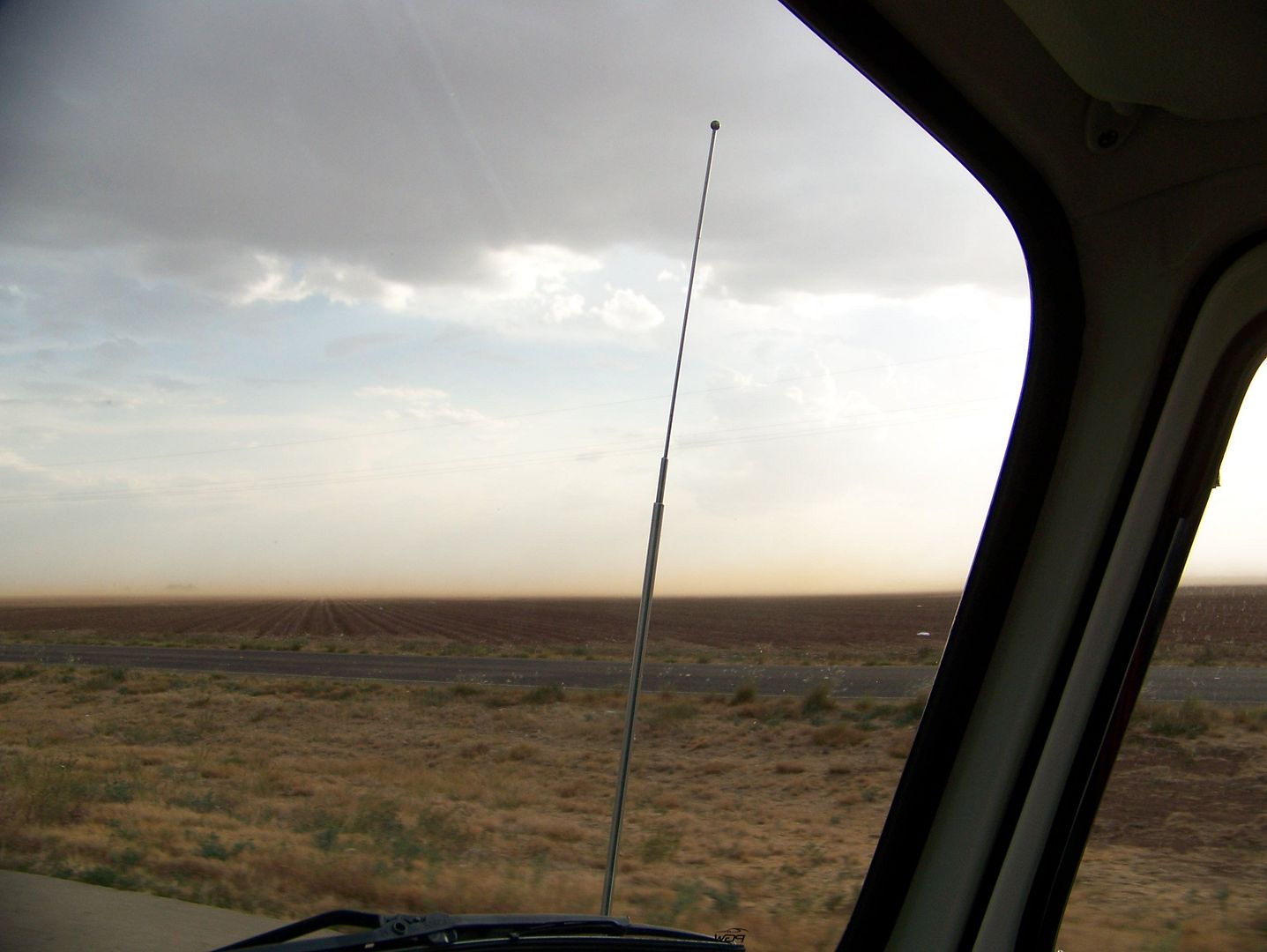 So then it rained all over my spotty carwashed car, and the rain had some sort of fine cement-ish dust in it. I stopped in Lubbock to close the engine hatch** and accept all the thank-you's and godblessyou's. Not one person thanked me for the rain. Well, how could they know? They haven't been following this itinerary:
Hit the road south of Lubbock where the rain finally smelled like fresh rain-pelted dirt instead of aforementioned cowadunga:
Camped in a hot hot hot spot near Lamesa, on a farm field perimeter path.
Not much farming going on, I found out the next morning:
Fitful sleep in unrelenting heat late into the night, about 3 in the morning, I awoke to a totally overwhelming thundering racket where you just don't even try to assimilate the impending tramp of doom. What is going on in this field, as I looked to the south??
It was a stupid train to my north, five engines all laboring to pull a mile of rackety clackety cars. I fell asleep before the train had even passed, because I got reawakened! when the last engine came hammering by (running like crap says I, the middle-of-the-night diesel diagnostician).
Woke up tired in the early light with with rubber mat stripes branded into my skin all up and down, it was pretty funny even if I was grumpy in the early morning sweltering heat and humidity. Walked down the railroad tracks a mile or so. Welded tracks! Pretty good! Now how do they handle heat expansion?? Another fricken train joins me on my morning walk. Molten Sulphur! Corrosive Chlorides! Man this one's one hazmat train.
I was so damn overheated, that I was thinking dire thoughts of bailing out of the itinerary, of calling James Dwan and KirkofShermanTexas, and telling them that I had driven straight through the night to known air-conditioning in Atlanta, that I would get to them later when the temperatures had cooled down. I mean, here I am with
a week
before the next appointment, and I am too hot to do much of anything! Too hot! Paint cans say "spray between 50-90* with humidity below 50%", well, here I gots a 113* outside of Big Spring! But, a beautiful underpass gig showed up at maximum discouragement. I had driven off the interstate and bailed down a frontage road that turned under the roadway and along the tracks passing under the highway. Beautiful! Serious shade! Not a soul to be seen! No tire tracks anywhere! Parked under the bridge (a toast to TrollFromDownBelow, I am now a downbelowtheoverpass dweller) along the deep cut-through for the trains whose windshields barely peeked over the horizon of my parking area. Yeah, so a bit noisy when trains came through, but the shade was welcome and the sporatic cooling 100* breeze was lovely. I removed the tailpipe/muffler/crossover pipe and cleaned and painted them anew. They held up very well over the past year since I last painted them. Note! These flanges get all bent at the ears because WE are apparently NOT REMOVING all the remnants of the old gaskets! The center steel ring of the triangular gasket from last year mustabin hiding on the triangular heat exchanger flange last year. A couple of hits with a chisel and it fell off showing genuine Volkswagen grey paint with circular machining grooves. Got it all back together at 7:30PM, happy with the results. Not happy with the newly discovered split CV boot! Geeze! That's #3 for the right outboard joint!
(it has been swaddled in duct tape - now with 300 miles and hanging on!)
So McDonalds "I'm Lovin' It
s Air-Conditioning
" is closing. It is 11:00PM. It is down to 97* out there. Off into the Texas night to find another broiling "campsite".
Colin-MorePicturesToCome
* spark plug boots off adds 10* to CHTs
** engine hatch open adds 0* to CHTs