Sylvester wrote:
When you go to help Lanval II and Nathan, have them write up the work you all do and take some pictures!

Hmmm.... usually when I pay the money, other people do the bidding. Nonetheless, request noted.

Mike
Went to Irvine again. Nathan@el, one of my loyal patrons, needed a little talking-to regarding the joys of elevation changes upon the fuel mixture. His Vanagon had soldiered on down the CA99 Inland Empire Expressway with a high-elevation leaned-out mixture, and we wanted to see if any damage had occurred. With his report of a "knocking" sound, we approached our diagnostic with some trepidation which I fanned with looks of consternation to better impress upon our young lad the importance of always restoring mixtures as you descend back down to sea level.
First place you check is the valve adjustment. A California Vanagon with a catalytic converter nestled next to the left valve cover is an exercise in irritation. The valve cover bail just cannot go down far enough, it crashes into the converter. Nor can it go high enough to free the valve cover, it hits the upper cylinder tin. So whaddyadoo? You pry the bail clean out of the head pivot holes and watch it spring free with a snap, and wonder how you are going to put it back together.
I let Nathan@el check the right side valve adjustments while I wrestled and pried the left bail back on the cover with a combination of screwdrivers, pry bars, teeth and fingers and a hammer there was a hammer in there somewhere.
His valves were all pretty good save for anomalies on #1 exhaust which had lost a serious six hours, and the intake on #2 which had gained 3.
Then we checked the timing and found the idle timing perfect at 5*ATDC as displayed on the timing scale ..... but this engine does not have a retard diaphragm, so it *must not be timed to any ATDC specification* !! The advance was therefore a punky 21*BTDC at 3,400 rpm. That might explain the laggard performance/fuel mileage. We brought the timing back up to 28*BTDC, and the idle timing settled in around 4*BTDC or somesuch, and readjusted the mixture without the help of my currently useless LM-1.
Drove the car onto the highway and brought it up to 65-70mph to listen to the "knocking". Barely got a little one .... inside the interior. You tell 'em what it is, Nathan@el.
Now, who's the boss? Our petulant prior customer, the pedantic professor, shows up in his RatRide Vanagon. Oh, has he been *smarting* at the notion that this little baldish itinerator
charges him money
to bark orders at him to do tasks. And, as soon as I saw him, I barked orders at him again! The nerve! "Hey Lanval, show Nathan@el how to do the brakes on the right while I replace the left side in peace."
He gets right into the BossMan groove.
Look at him stand menacingly while poor Nathan@el meekly cowers at the right axle, it was chilling I tell you:
Then he put on his horsewhip gloves, I was almost crying over on the other side of the car, "what have I unleashed??"
Well OK .... in fact, it was both a relief and a joy to see him patiently and calmly and thoroughly instruct his automotive arts student on the finer points of self-adjusting Vanagon brakes, and he showed superb retention of the day before yesterday's brake tutorial: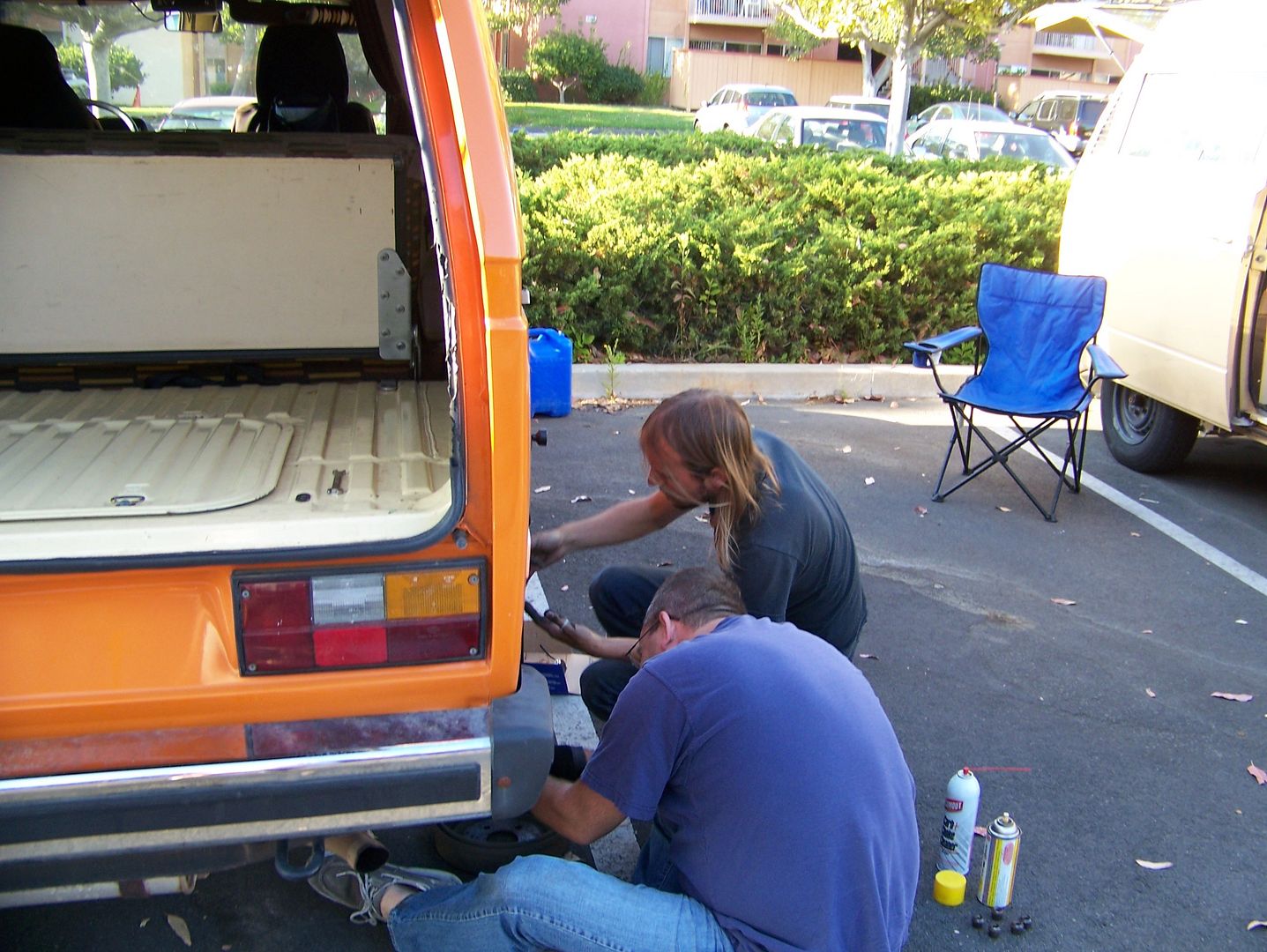 Then we went to Gina's Pizza and Nathan@el and his girlfriend came up with an excellent order of spinach and sun-dried tomatoes pizza. A wide-ranging conversation with some excessive aggressiveness out of the Itinerant Has-Been (Has-Been? Yeah Has-Been Didn't You Just See Your Student Become The Better Teacher, Yeah, You Did) regarding the interplay between the dynamics of southern/northern culture vis-a-vis class consciousness and elites vs populists politics since when was it, Lanval, Jamestown? Had to be there.
I promised them I'd be out of state by midnight, to get back into the sorely needed quiet of desert moon (the traffic in LA metro rattles my mind), but I only made it as far as Barstow where I doggy-paddled out of the raging rapids of I-15, and drove 3.2 miles of dirt path due west into the silvery silence.
Colin