I am fricken dumbfounded ( you think I overwrite ...) by the rapids of time. It cannot be almost the end of July. It has been three months/three weeks since I was at Sylvester's house in Atlanta?? Nine weeks since I was in Providence? A month ago since I was in Verona Wisconsin? Two weeks since Mitch Melissa and I pulled that all-nighter in Montana? Thirty two appointments spaced over thirty five visits? BobD is at 77,500 miles?
The rainy rainy spring has pretty much followed me across the country, save for a week of sunny way back in early July, back when I visited sachmo in the beautiful Pullman WA countryside: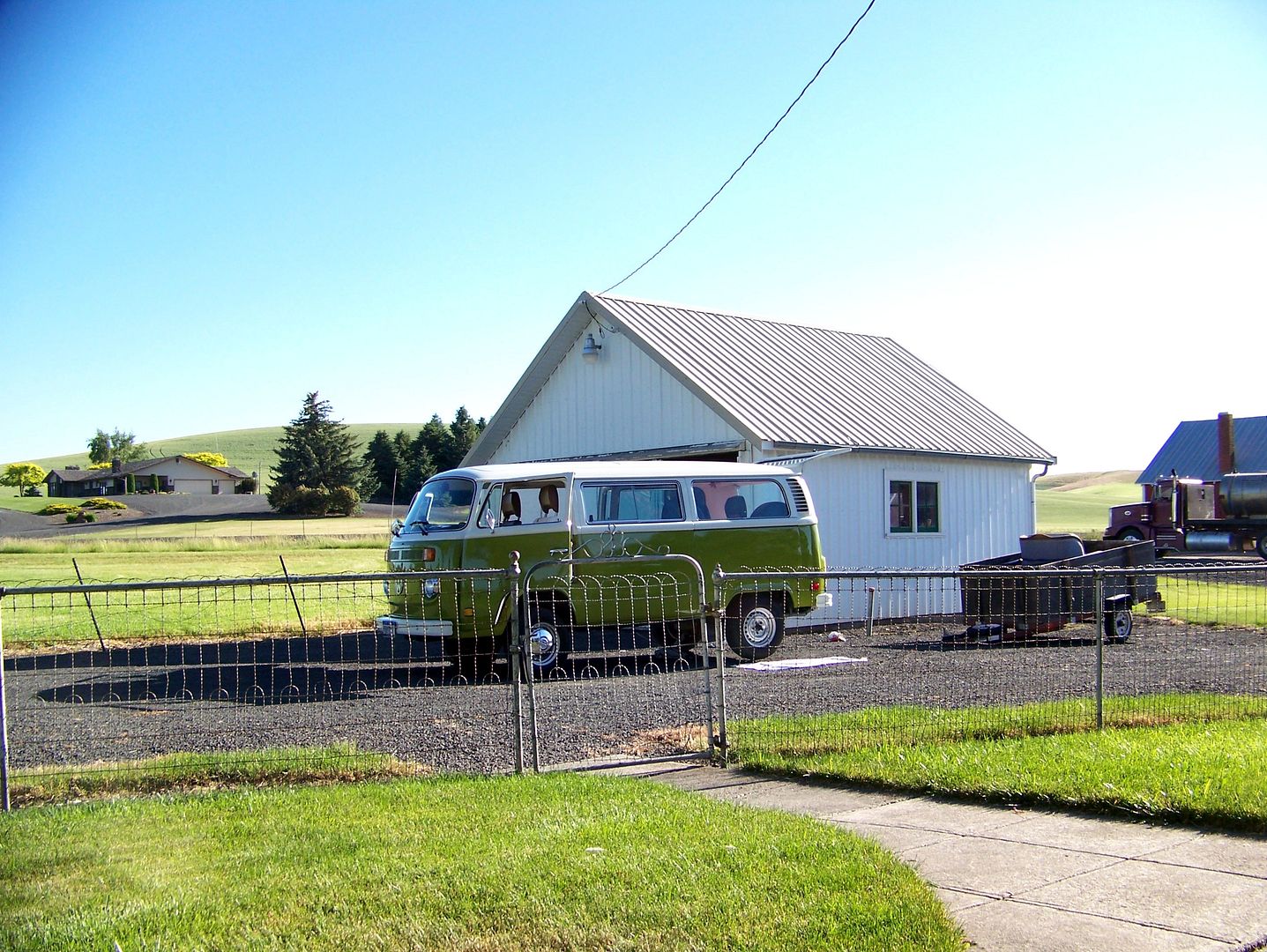 But where is glasseye??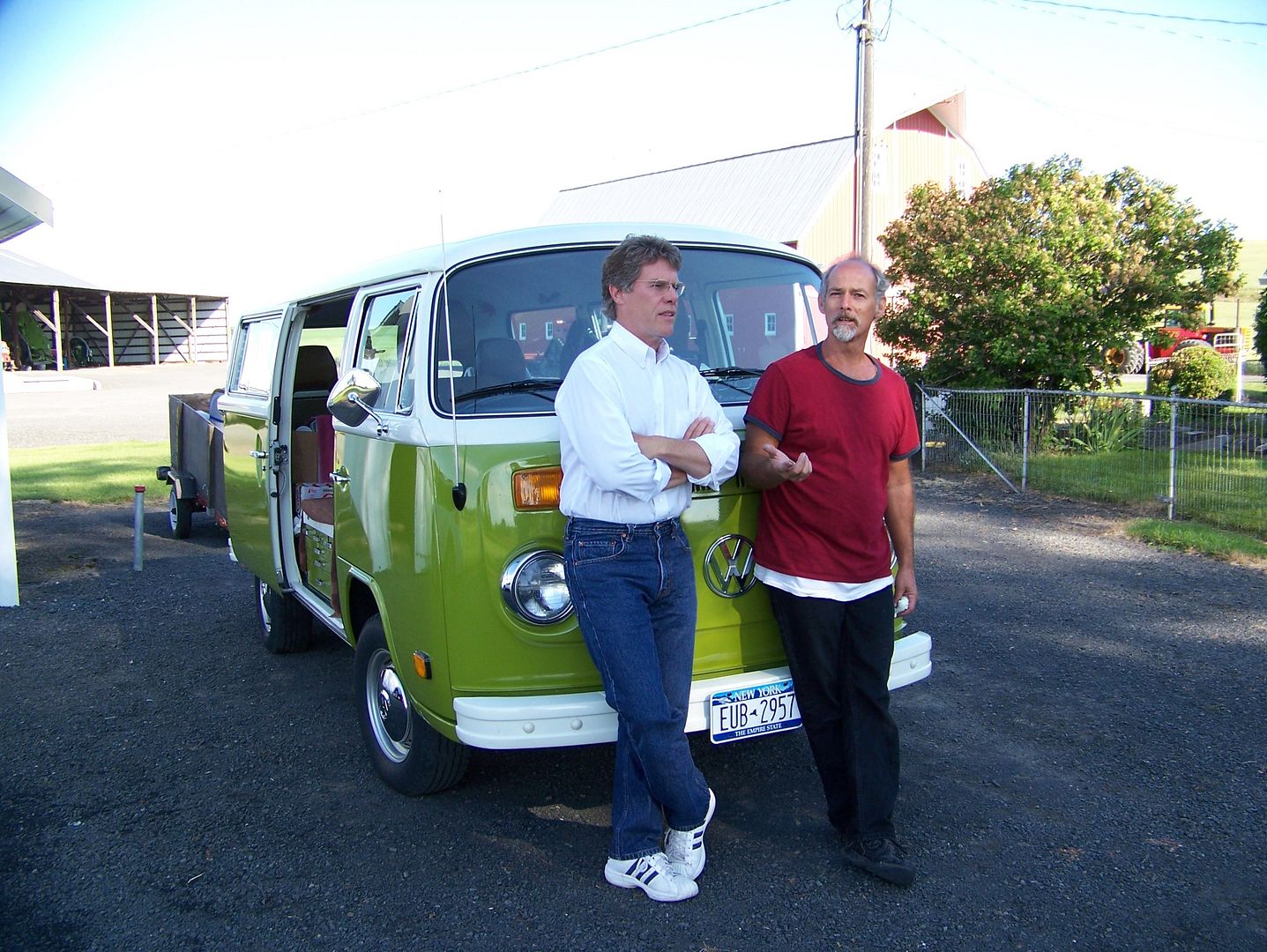 Appalled anew that the PNW has reliably soused me even with this two weeks later in the season than last year's whine at the misty cold July 4th spent with fancypants. Yesterday for example, Hambone and Ruckman101 got an earful of whining while we pulled the engine in the Ruptured Duck in the rain as I complained bitterly and ceaselessly from underneath the car as the left rear gutter drained the roof onto the tailpipe which piddled perfectly upon my pants while I finagled the upper bell housing bolt back in. What they could not possibly know, and neither did I at the time, is that I was revelling in it all. Hanging out with the Portland Contingent has been all about revelling in their Getterdone ways.
Had an interesting porchchat visit with Gorge Runner in a peaceful spot where I might have liked to plan an eco-terrorist cleaning up of excessive power lines:
Sweetpeavw's Bill and Melissa and Paige visit was a beautiful day in the grass, trying to avoid the shade of the big pine tree. I could feel the presence of nearby Mount Hood but could not see it. We found our kickdown in their automatic bus. I got to drive it down that almost hidden gravel driveway. I was happy to see this bus after our roadside limp back to Maupin, it is getting its legs underneath it. Look, I even managed to stand for a little portrait: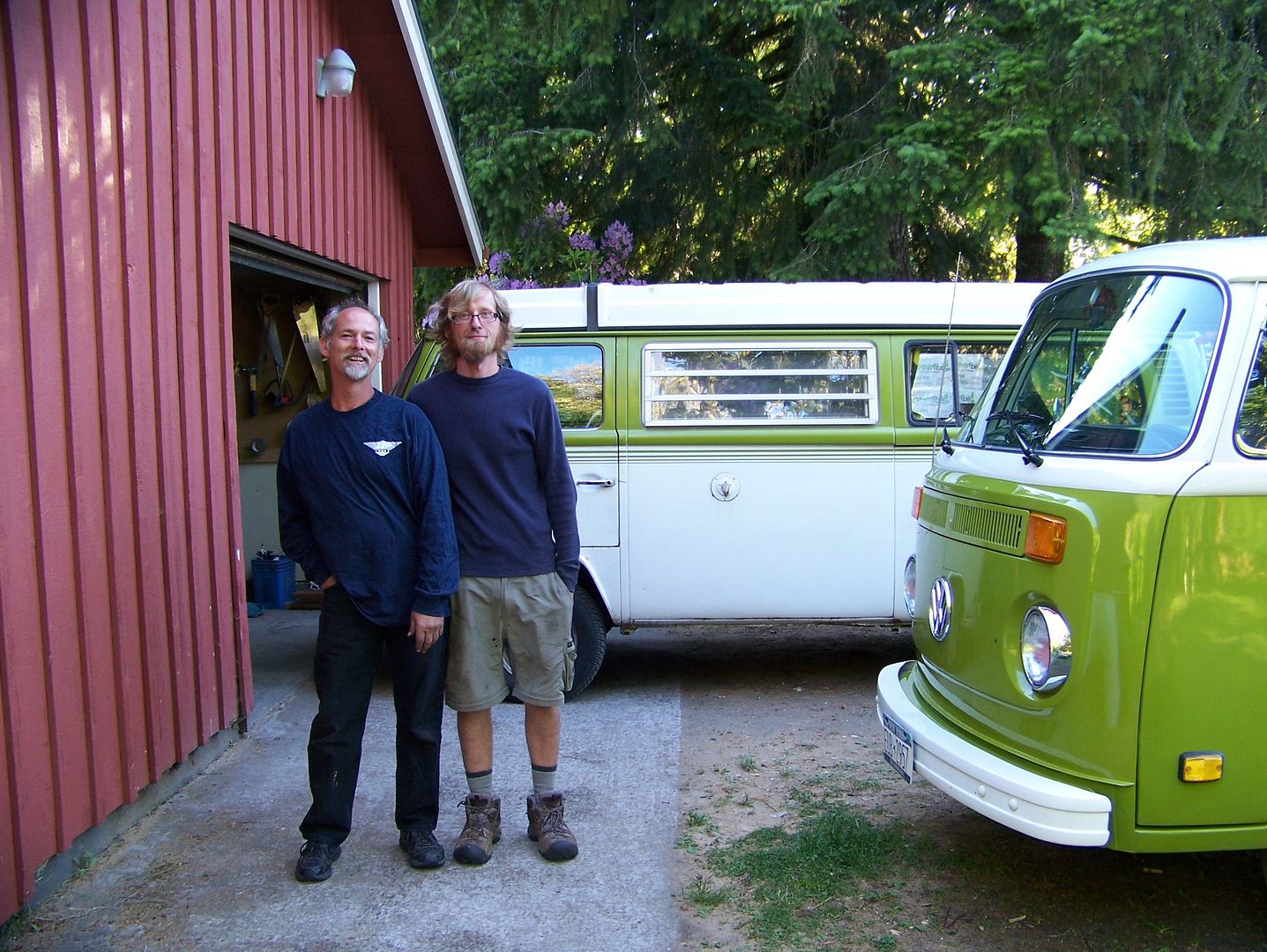 Visited Gypsie. Loved his house perched on the hill like a reprise of a small town Pennsylvania street. Enjoyed his spirited company. Even managed to stand for a little portrait with him, photographed elsewhere. And there was this mountain just over the horizon: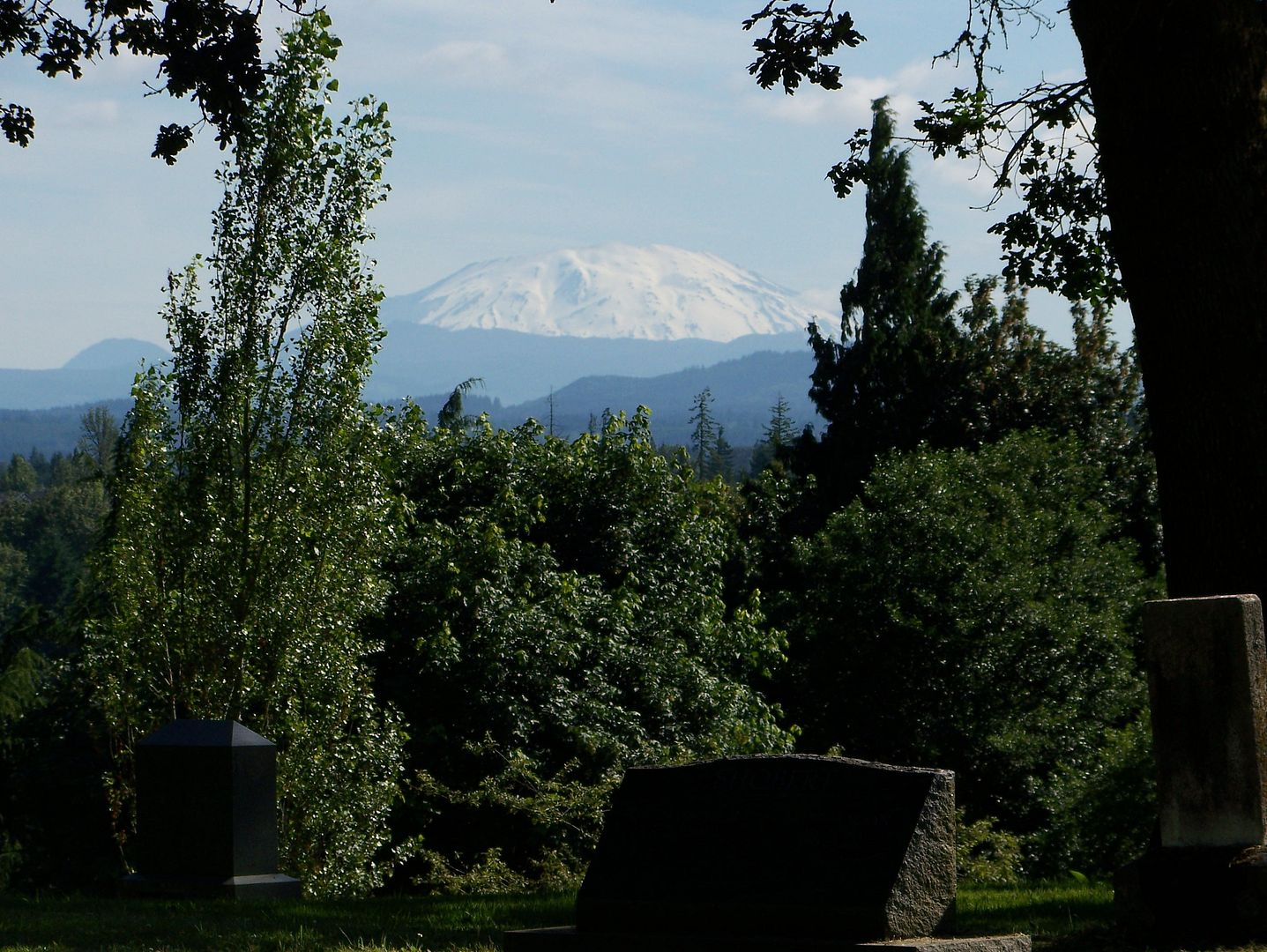 Had an IAC Gathering At The Front Suspension with Sluggo's bus, the one parked in the garage in Los Angeles all stripped out, but here it was, getting its legs underneath it: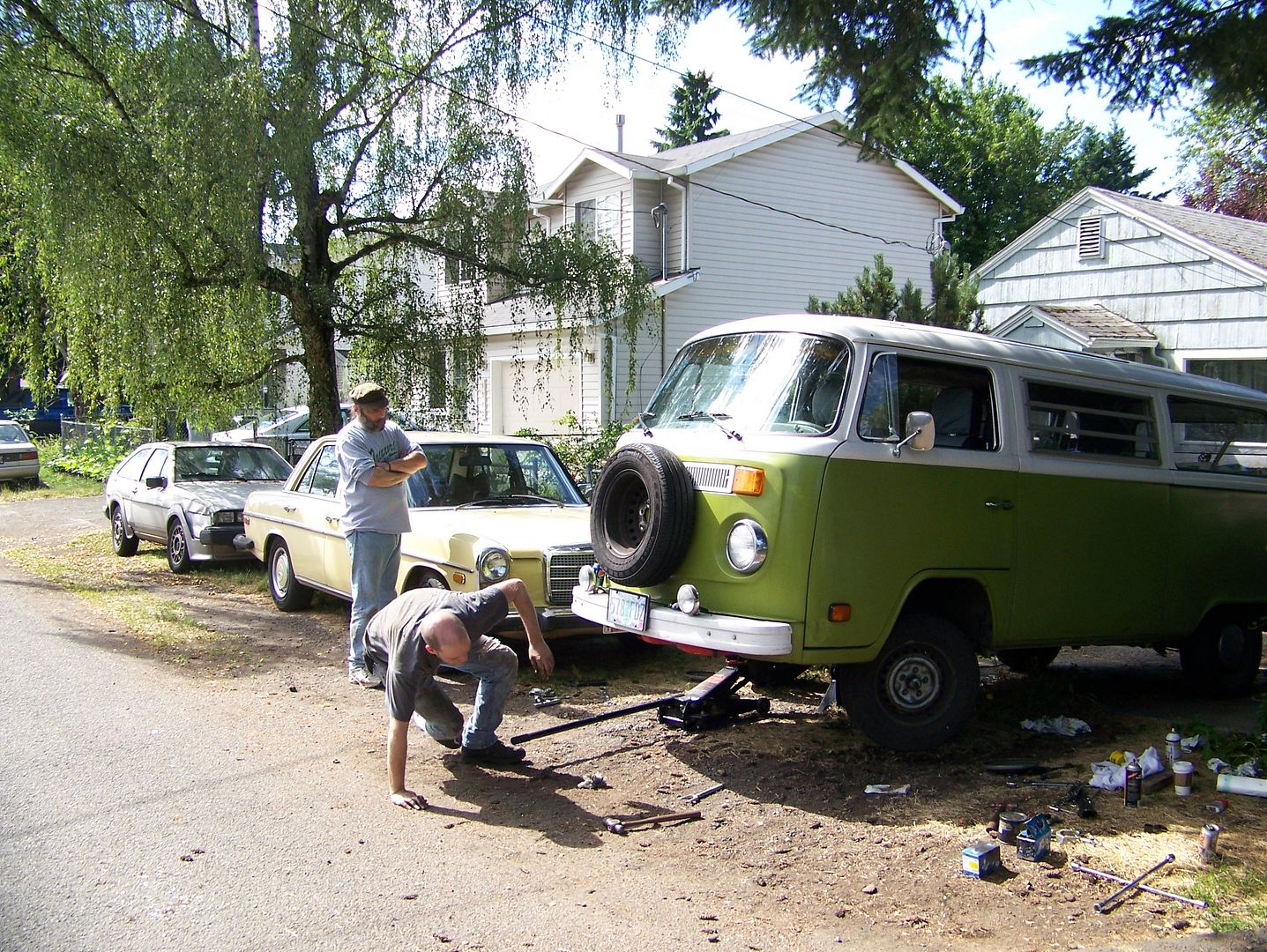 Hanging with people I am glad to have known for ... seven years now?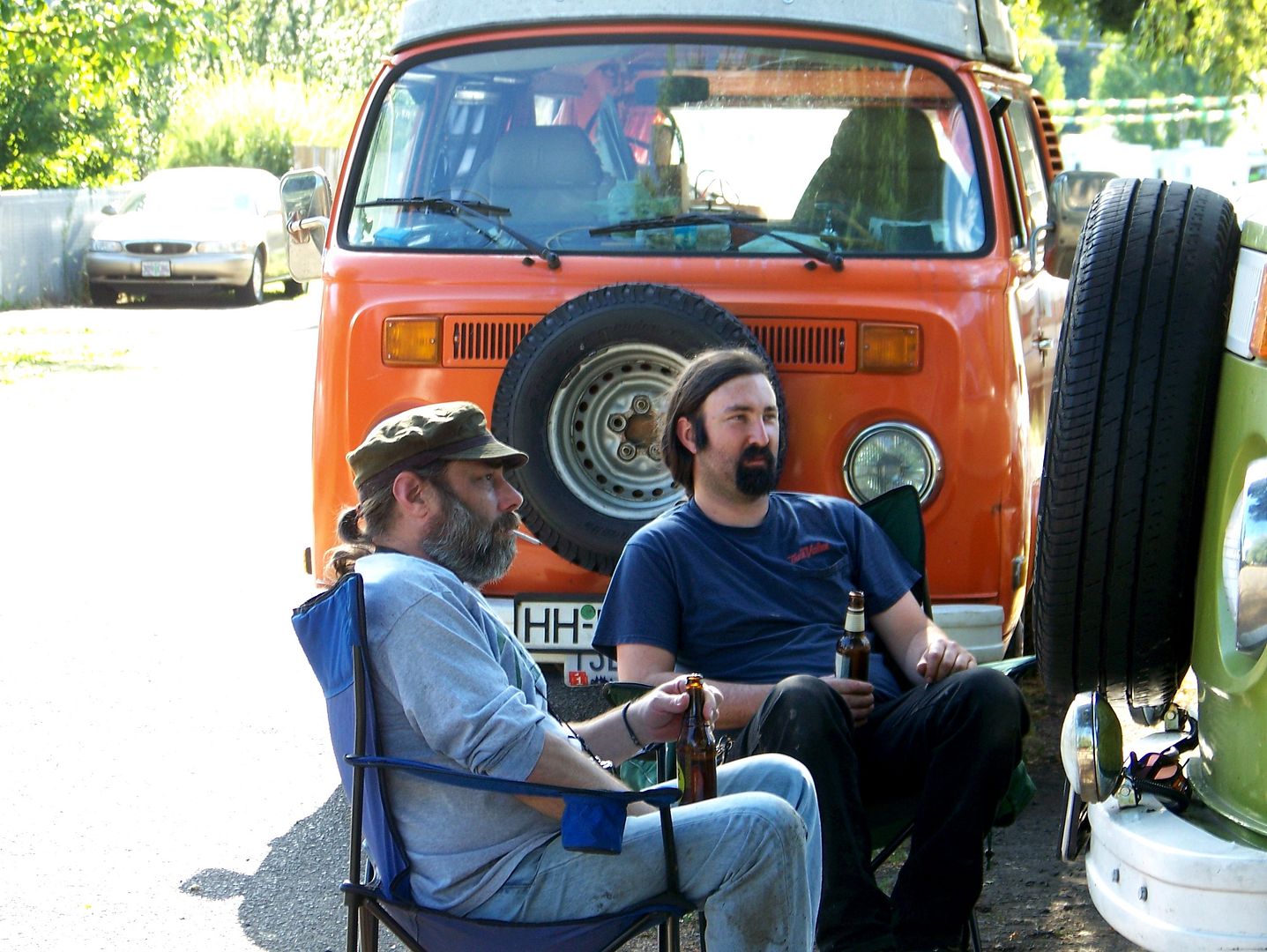 Misszora at the LuckyLab, we have travelled the road of VW together, and she has a yet another to travel, a potential engine swap that I sorely wish I had the time to assist her with:
My May 7th visit in Connecticut, across the country here at the LuckyLab, iwantmybustorun: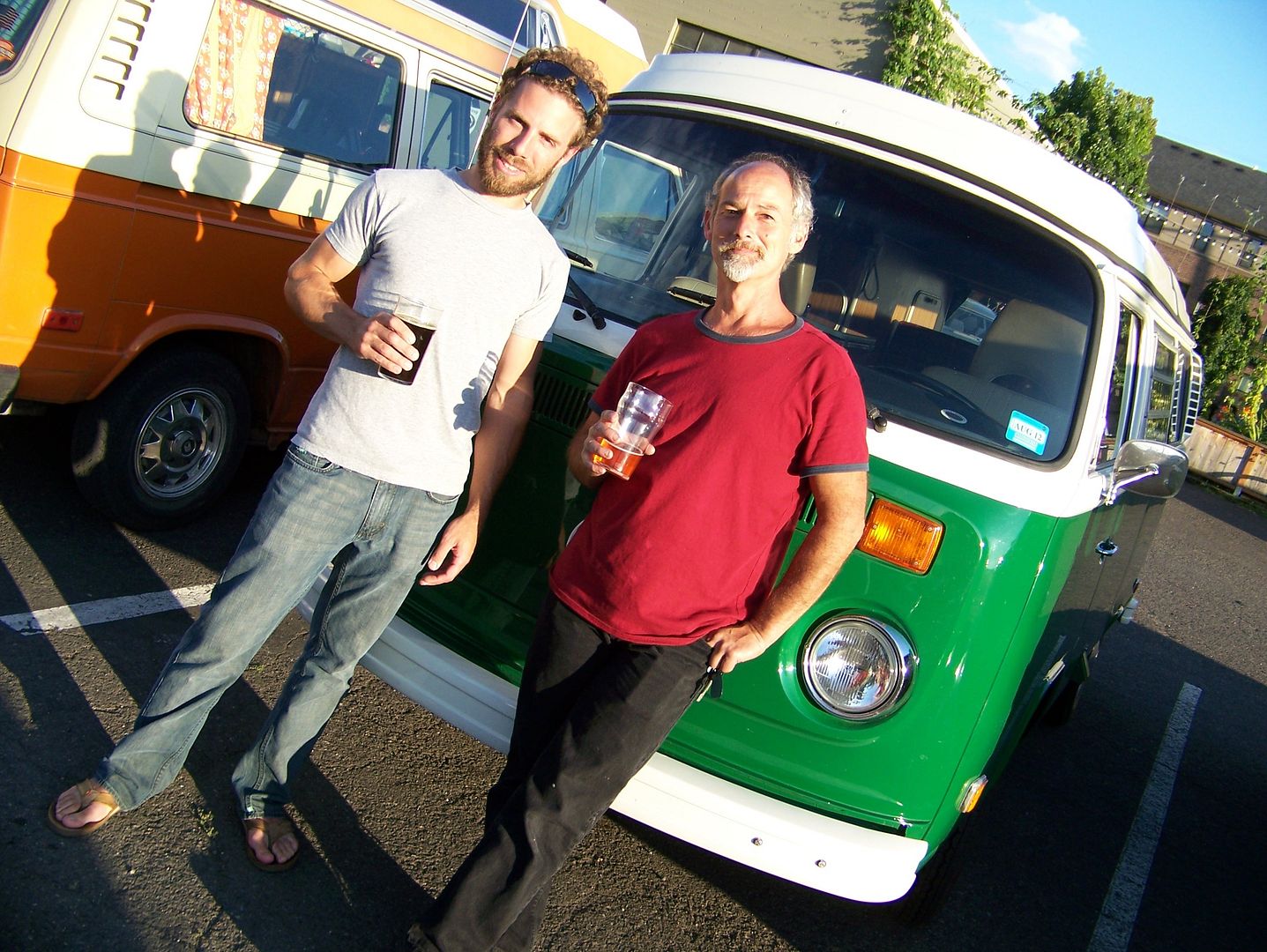 I have to hit the road NOW to get to my appointment in White Salmon. I have too many photographs, too many visits not yet written up, but the relentlessness of time still has me in its grip. I do not yet know if the Ruptured Duck is ready for long distance. Hambone, Ruckman101 and I found things, things to ponder, loose generator pulley, dry generator bearing, strange release bearing noise, engine vibration that I dearly need to eradicate, and time may not give me the chance to fix them. But they gave me a huge dose of helpfulness, watching Hambone just crawl under that car and do that fuel line in the sopping driveway .... man.
I stopped for a cup of coffee here, it is an actual sunny morning!
I asked the cashier, "what is that burning orb in the sky?"
Without a pause and perfectly delivered she replied,
"I don't really know, there was a story once about this thing called the 'sun',
I really don't know."
ColinGitGoinBoy