I have many many pictures and have not had much time. It was a beautiful little jog through New England and the Squareback was a plucky little companion who reminded me all over again how much I enjoyed its loyal presence when I had to do that emergency cross-country drive to get to my dad. I had left it in storage in Atlanta, then brought it to the upstate New York barn where it languished as memories of my father cooled and congealed.
Visited RandyInMaine, cantankerous in a quiet sort of way where you want to pull it out a bit more because cantankerous, as my departed dad would tell you, is a damn sight closer to the truth. We both marvelled like Grumpy Old Men at the VW-Audi scrapers whose rivets came apart from the gentle exercise of fitment in the doors. We marvelled at the idiot who could sell window felts for the outer and upper channels as vent window frame felts, they stuck out a mile in the vent window channels. After we determined that there was a 50/50 chance that maybe the wrong part was ordered, we smoothly segued into the fact that old men maybe don't think as clearly and crisply as the young old days, but so what?
Squarebacked over to the US-1 wheel balancing outfit whose brassy counter person assured me they could tame the Squareback's shimmy. $63.00 later, she was telling me it was gonna be a whole new day, that they had dismounted the tires and rotated them on the wheels to find the "road force optimal spot". 12 miles later, I pulled back in to discuss it further, "Still shimmying?" "Ah yep." "Must be the front suspension." "Ah nope. I will pay you for another balance if they all check in at 0." They most certainly didn't. One was an entire gram out.
"That has never happened," said the new kid. The old guy just got to work. The other customer said, "that is a beautiful old car, is it a Volvo?"
Second balance seemed OK, so I drove to Vermont over hill and dale and curves aplenty. The Squareback was in its element, so light and lively with a lovely note emanating from what used to be the biggest, most powerful VW engine before the Type 4. 28 mpg average over 1,000 miles too. Saucy little non-apologist sitting in the parking lot: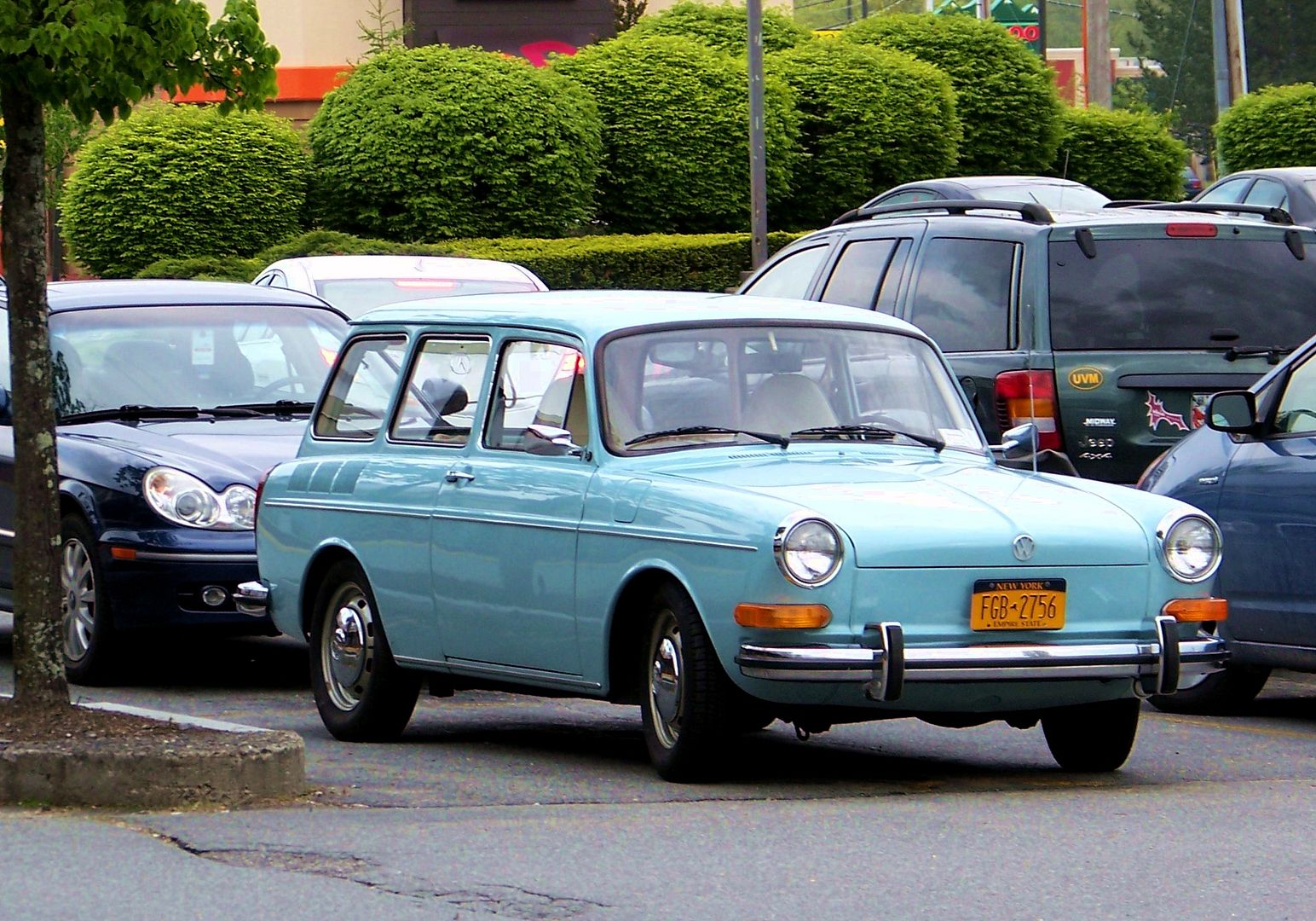 It was so green the last time I visited aopisa, green shoots of early spring, green Westfalia with the green BobD and my greenhorn customer in his beautiful old house of light green, but this time was different. Not only was the Squareback blue, but the new New York license plates are a horrid clash of orangy: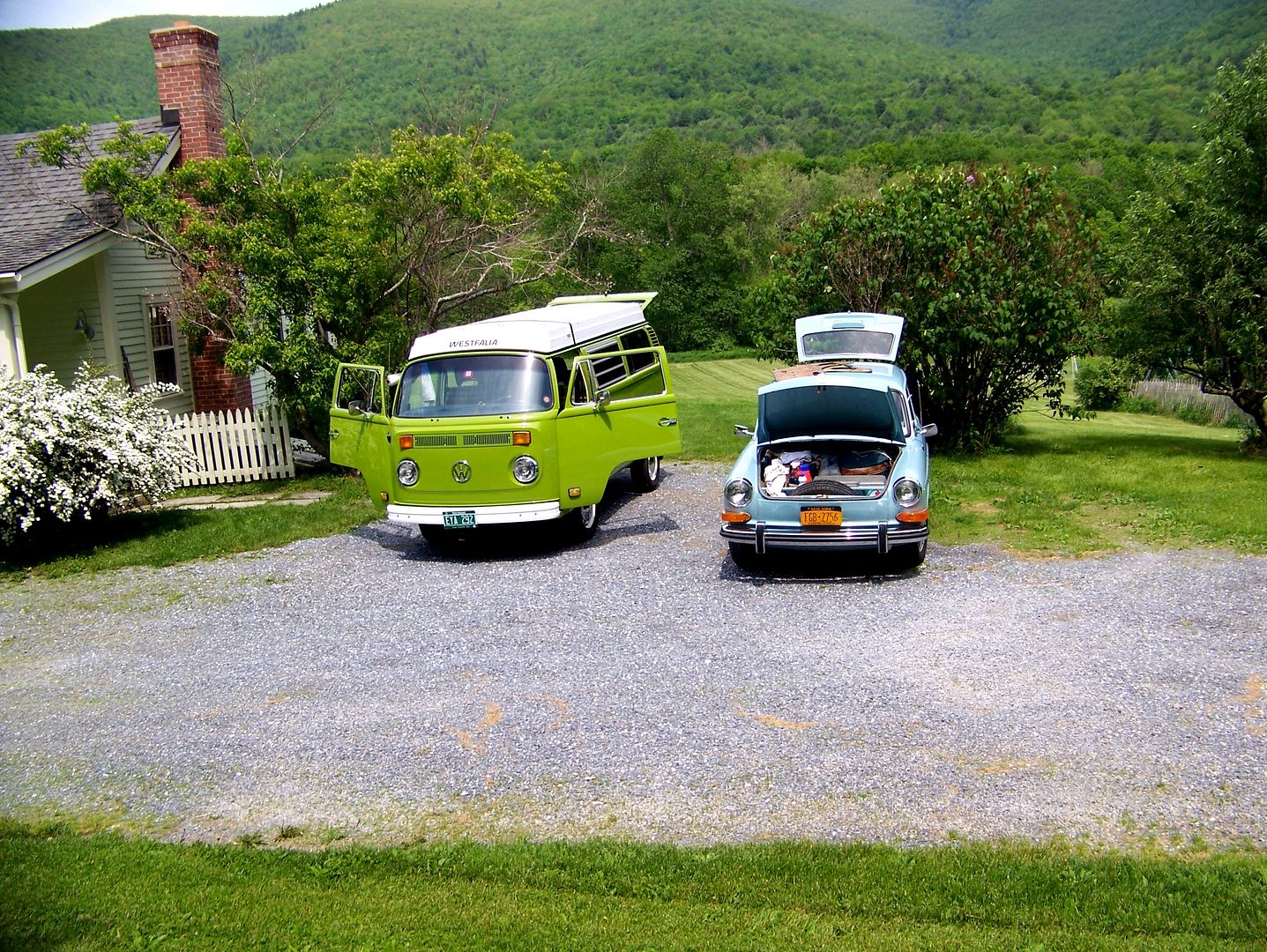 ... and my customer is no longer a tentative greenhorn, but a more polished purposeful purplish red peer:
... while this year's "consultant" was a lazy lolling white/blue picture of insolent unhelpfulness:
... and it was a beautiful full day nonetheless: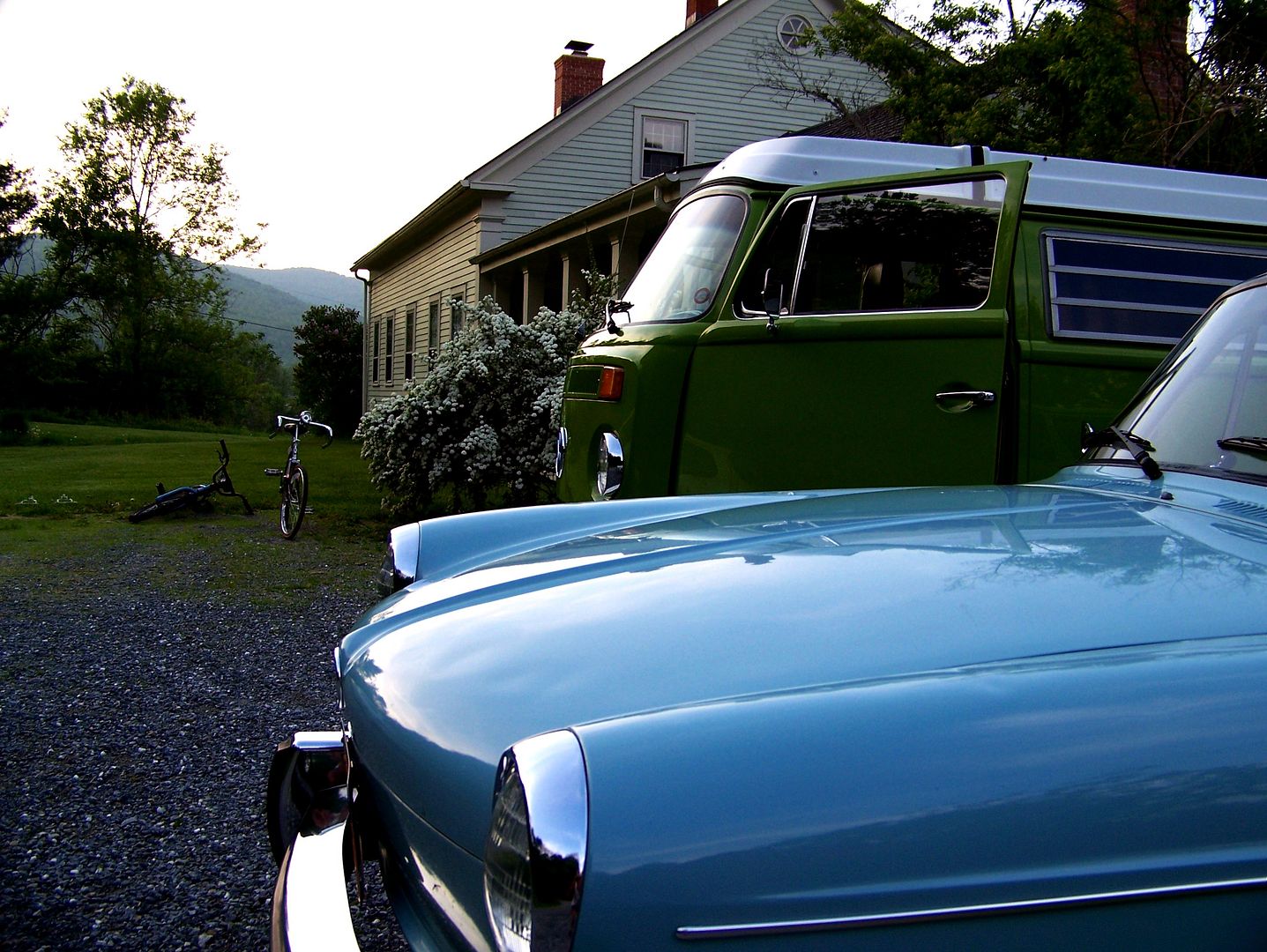 I drove from Vermont to New York in the darkness of country roads with tree canopies whipping under the sky, and I pondered the insane defroster control illumination in the car. By U.S. law, the controls HAD to be illuminated and labelled as of 1973, so VW put this little swivelling
spotlight
on the dash that
you
have to aim at the yellow levers sprouting up beside the e-brake handle. That is how they did it. These Type 3s have serious genetics with the Porsche, the view over the fenders, the bottom-mounted pedals, the rear engine with most all of the beautiful noise with only half the power: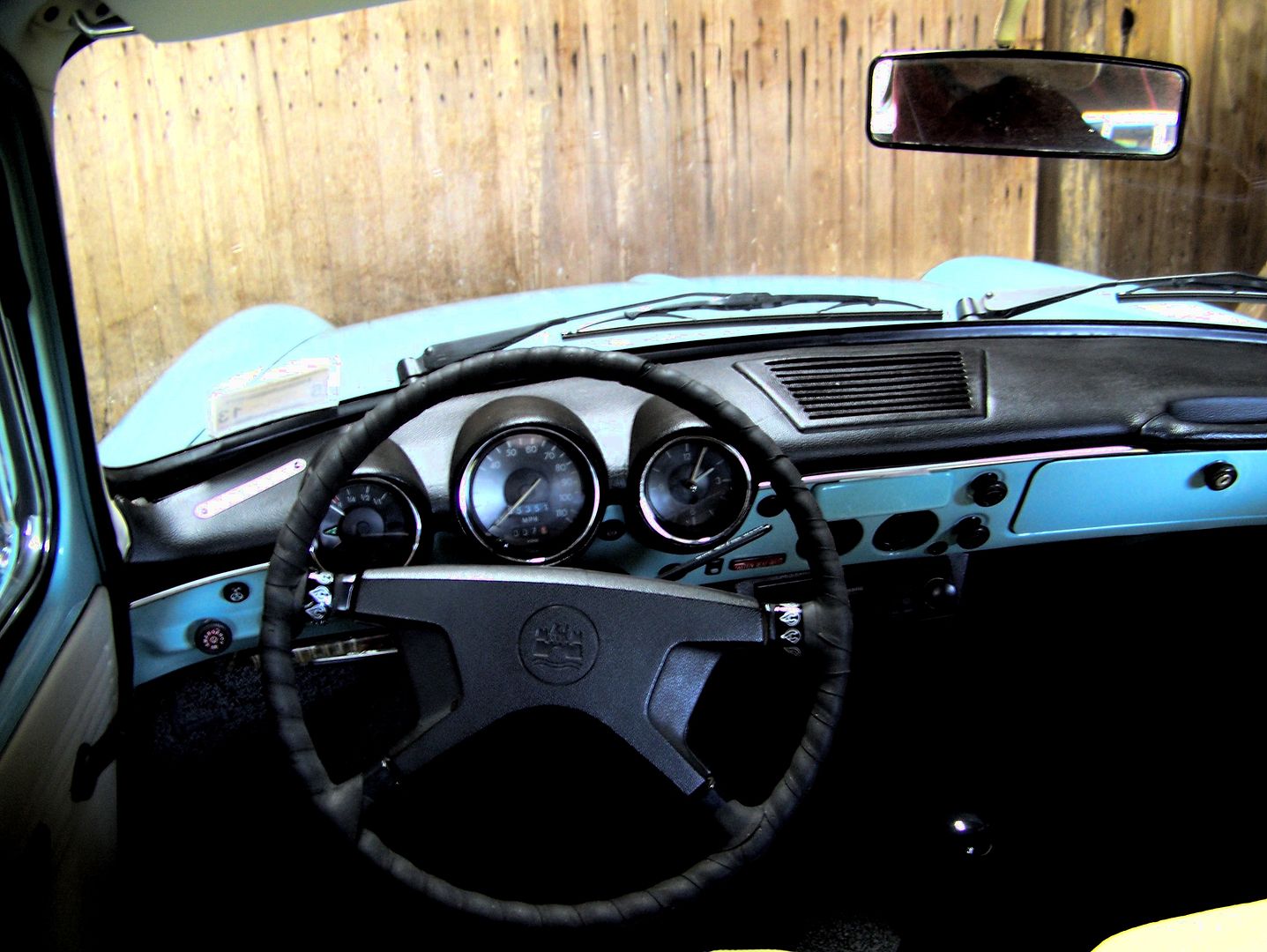 I felt sad again putting the plucky little Squareback in the failing roofed barn where it awaits its next plucky adventure: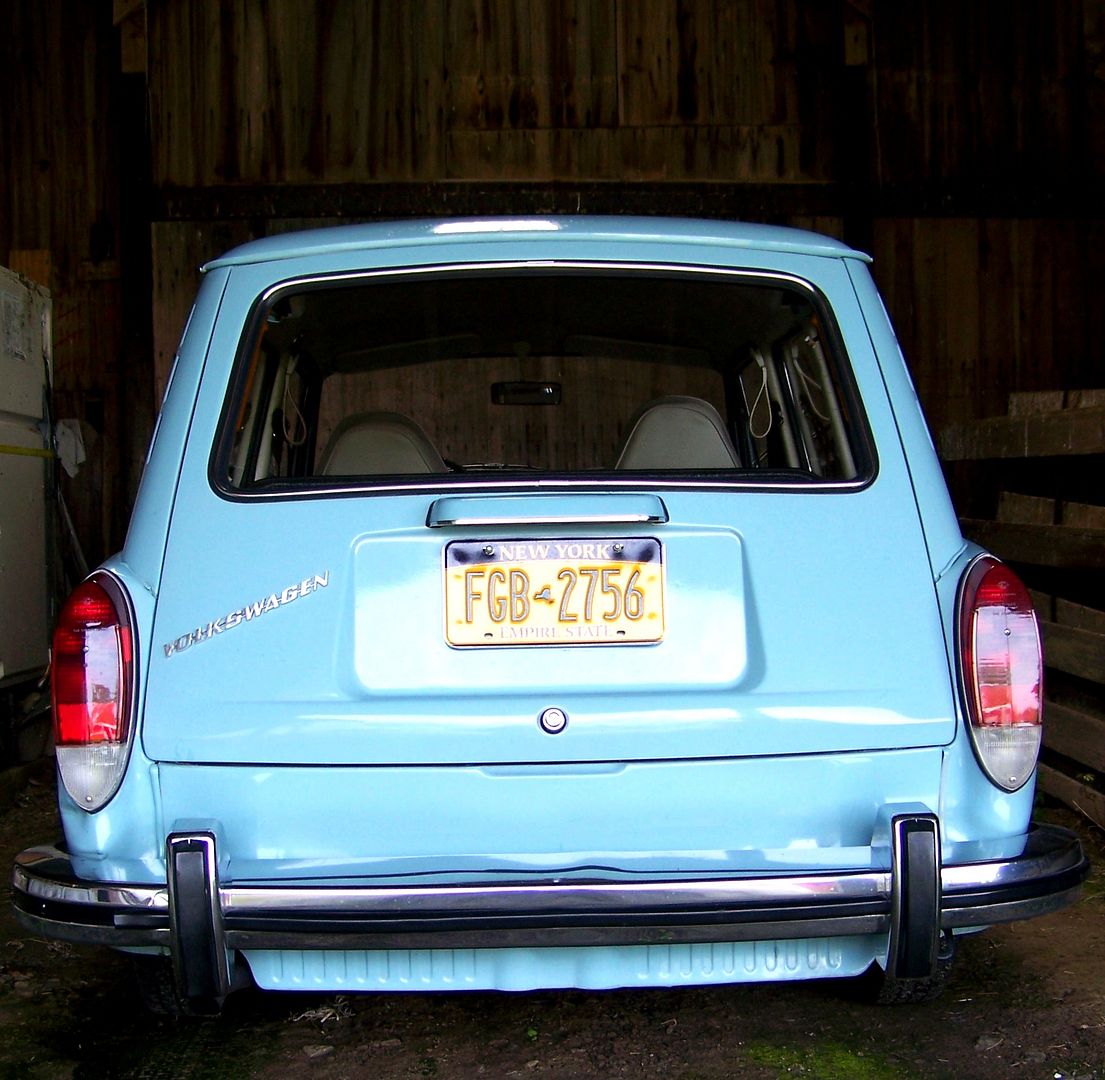 ... and said a little prayer for the BobD to have a safe main itinerary with no sandstorms, mechanical failures, or run-ins with Mitsubishis: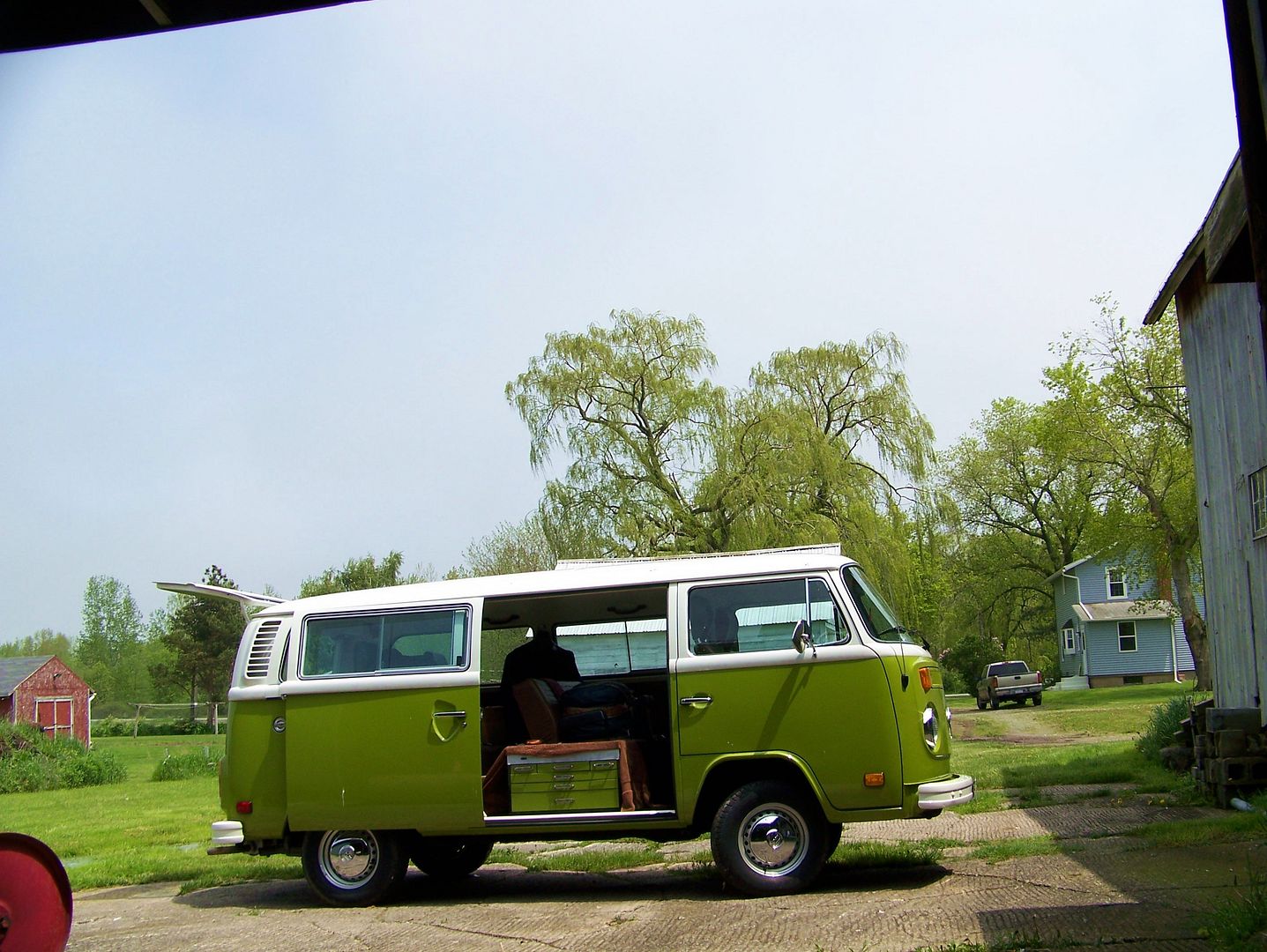 Gorgeous part of the country up there in upstate New York. So is New England, but honestly, my deepest serenity instinct has concluded that New England is now officially over-populated, it feels like it made the shift from agrarian peacefulness to rushy cutesy country-like suburbia.
Colin