Hello. Somewhere in Maryland, then Pennsylvania, then New Jersey, I got the idea to paint the toolbox with that paint I purchased in El Centro CA back in December that was missing all the critical chrome yellow necessary for a correct paint match with the exterior of the BobD. Each state got two drawers of painting. The final drawer was finished here in a closed WalMart in New Jersey: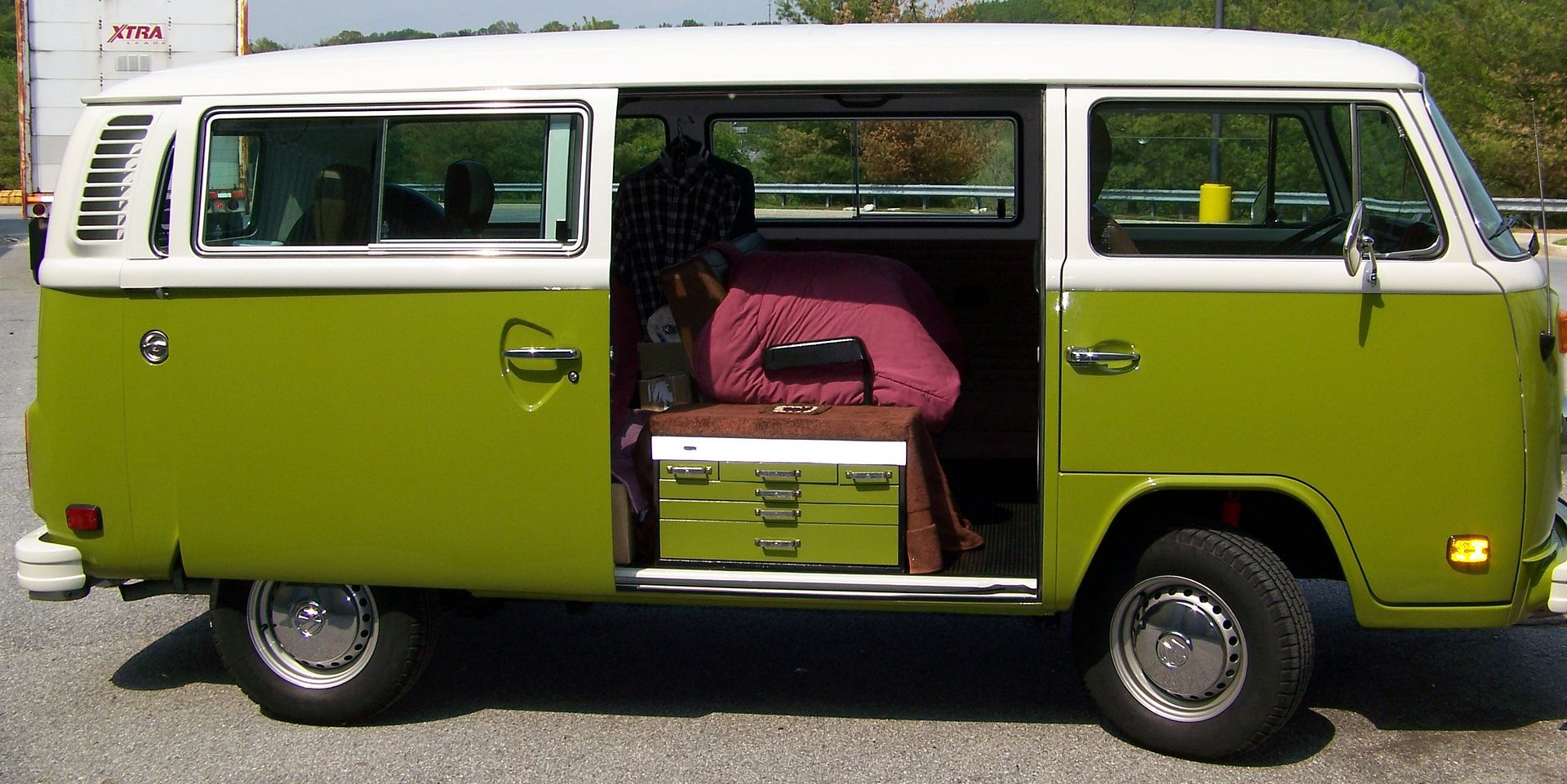 The white stripe is reflective tape. The blue blotch is a chunk of the late great Road Warrior's nose: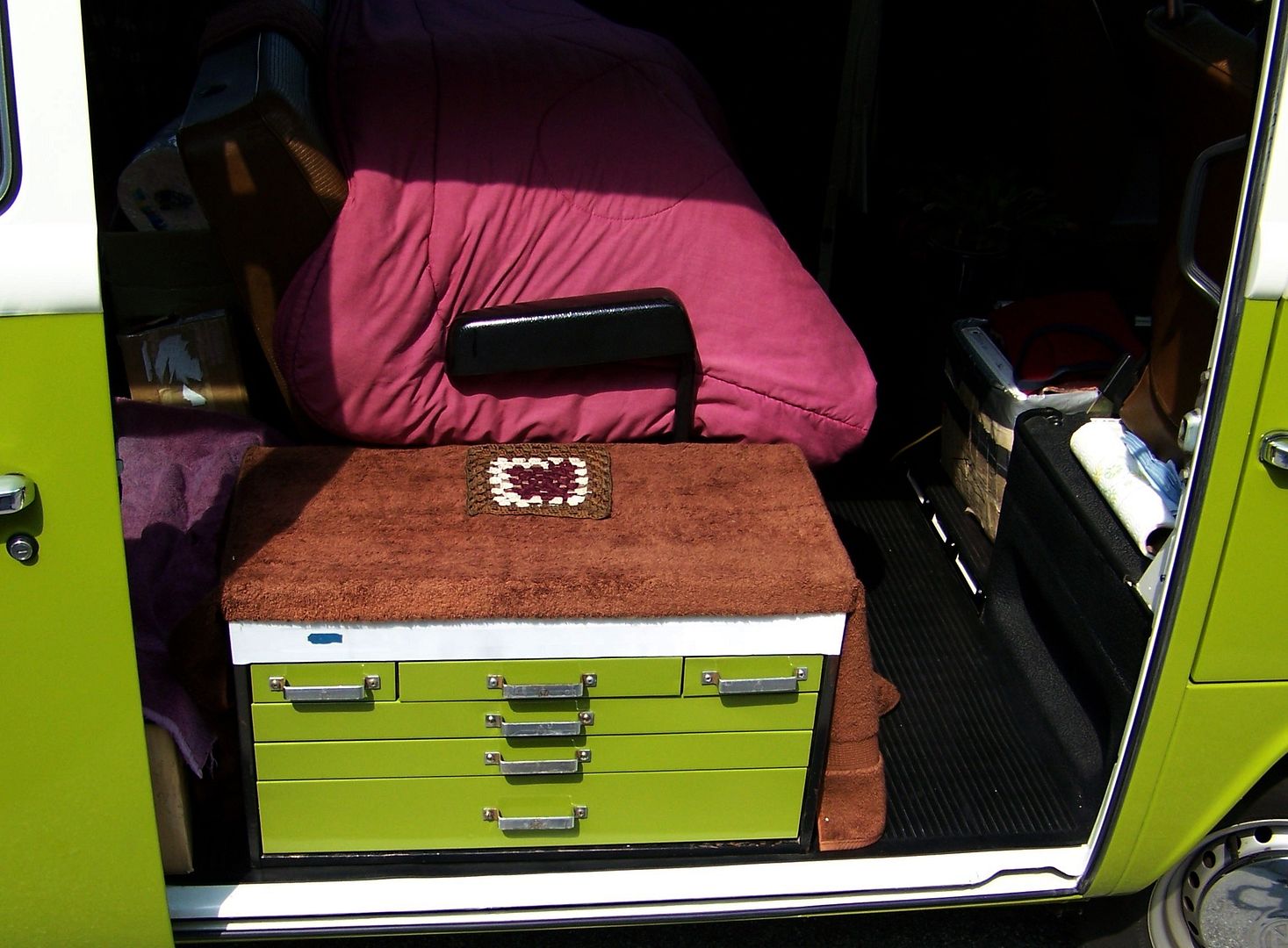 I am in Storrs, Connecticut, home of my first university days in 1978-1979. While I was hooking up the airkooledchris commemorative LM-1 once again, a searing drama played out in the parking lot as a girl finished up her cell phone call with who I could only imagine was Dear John himself.
"No . . . no . . . no, I'm done . . . no, I . . . no . . . no, don't call . . . I said no . . . no . . . no, it really is too late . . . WELL YOU SHOULD HAVE THOUGHT OF THAT . . . goodbye!" followed by six loud repetitions of Jim Croce's Operator while she sat in her car crying. She went into the nail salon next to the Starbucks and came out angry and drove away. I'd have been angry too with the exhaust system on that Camry bellowing like it was.
I was spared my own exhaust issues in the nick of time by the kindness of highlandmurf in New City, New York. The BobD Leistritz had developed a crack > big hole in the end piece where the tailpipe had vibrated due to a rusted out baffle (see:
http://itinerant-air-cooled.com/viewtop ... =43&t=9014
) He had just bought an extractor exhaust system and had his really fresh stock late bus muffler and tailpipe in the garbage alongside a rusted cross-over. "Can I have it?" "Sure, tail pipe included!" Painted it in Windsor Locks, Connecticut and installed it yesterday, barely, with a 6mm CV bolt trying to bridge the clamp to the cross-over.
Muffler? How your fortunes have changed in the span of a day, from visiting the insides of a trash can to visiting the country!: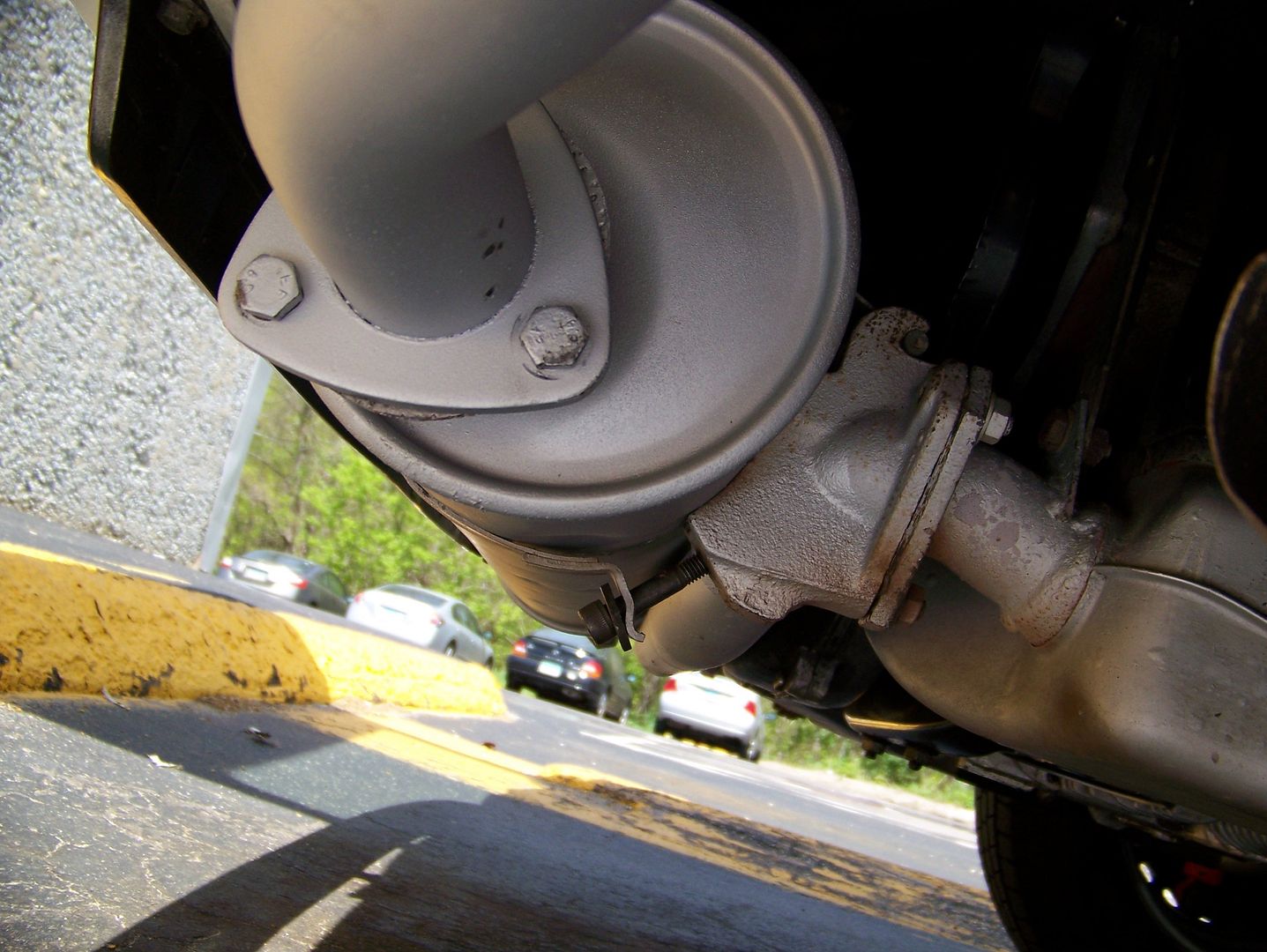 Though originally crabby about the pipe sticking out further than the stock one, I realized today that it works better than stock with the LM-1 probe, no more chafing at the curve: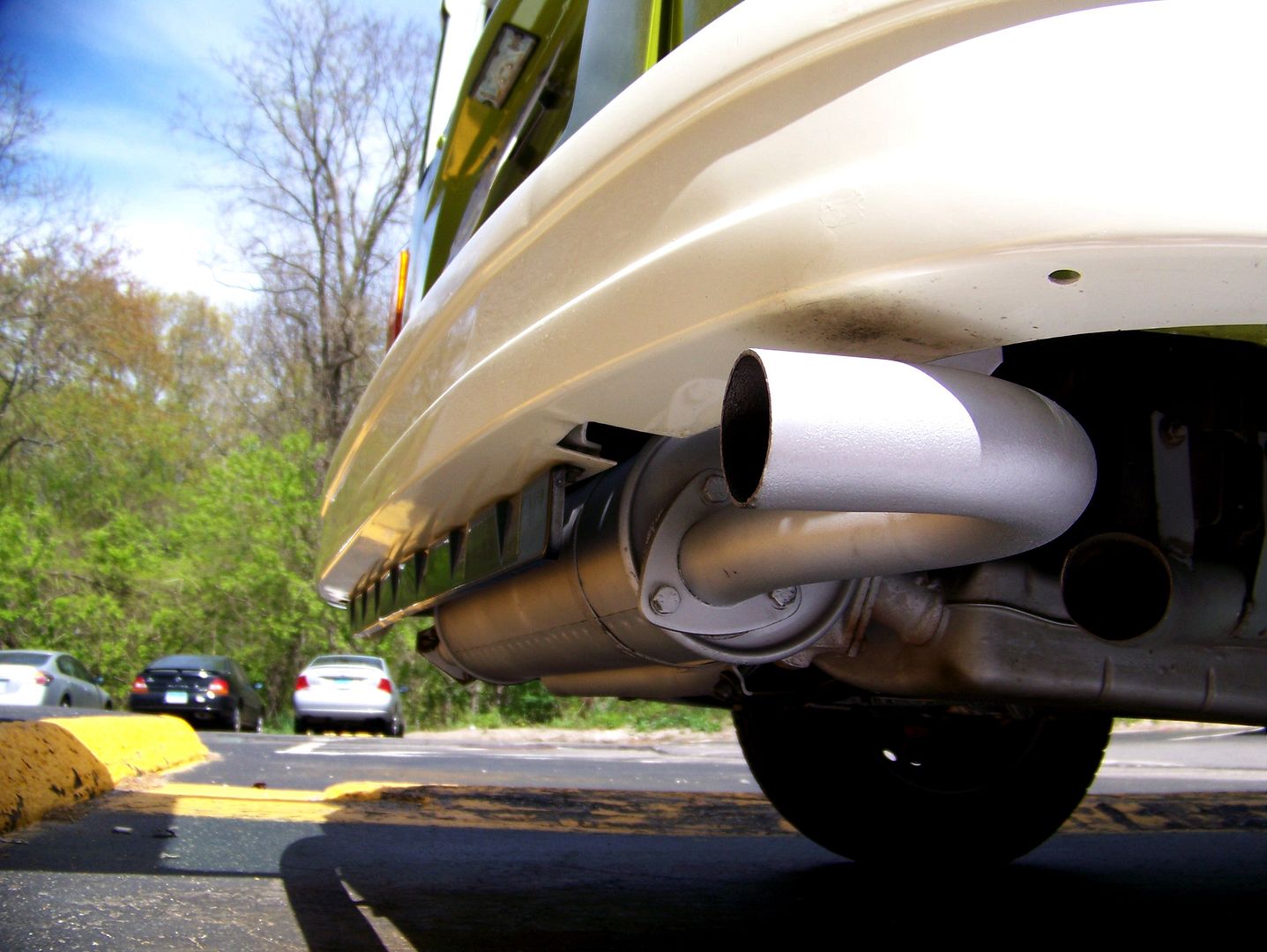 In exchange for his old muffler, I refused to help him remove his engine and his transaxle to replace the shifter ball and hockey stick bushings. Not when his issue was an inability to find 1st and 2nd gear
using an EMPI shifter
, nooo. I took out the BobD stock shifter, stuck it in his bus, and we drove around the neighborhood catching 1st and 2nd just fine, thank you. However, the engine was making peculiar sounds and being very recalcitrant, so we drove back to the house and went searching for why the engine had only 45 lbs compression on #3. Do you know why we had only 45 lbs in #3? Because the rocker shaft was dangly loose. Do you know why the rocker shaft was dangly loose? Because one of the rocker support studs was snapped clean-off. Do you know why one of the rocker shaft support studs was snapped off? Because the last engine repairperson had ............ trapped the serpentine spring (the wire that retains the pushrods) under each rocker stand in the entire engine, missing the Bentley's admonishment to stick the springs in the slots provided. That poor engine! Spring impressions dug into the aluminum heads, spring impressions dug into the bottom of the rocker stands, and we could not do anything to get new studs in the short time we had left. So we did CV joint repacks + new boots, instead. Oh, and readjusted the EMPI shifter with our own procedure after we realized that the Bentley procedure absolutely cannot be used. Let me know if it finds 1st/2nd now.
Highlandmurf, don't let him fool you, is a Continental Road Warrior. He has driven to Alaska and back in this bus ... with incorrect serpentine spring installation since an oil leak repair in Eugene OR and all! Good vibe with this car, I am looking forward to an update, highlandmurf.
Colin