I bought Samantha four years ago and have enjoyed her almost every day since. Samantha truly is a good vibe, positive karma Bus. I have known that since I brought her home sight unseen from Indianapolis is 2007. Samantha was put back together in 1995 after sitting in a California back yard for years, and you can see how cruel those years were to her. Underneath there is a lot of rust, from sitting in the grass and not moving at all. In 1995 she was put back on the road by the PO, who did not get all the rust and bondo off the body but had it covered up, and it is showing. Four years without a garage have not helped either, but soon I will have a new home and a garage for Samantha and I to work in. Samantha and the house will be my hobbies, and I have promised her as best a restoration as I can do when that garage becomes a reality. So I drive her every weekday, in a city where air-cooled VW's are so rare that I may see another than Sam once a few months. So, I restore her a piece of a time, and that is where Colin comes in.
Colin and I have replaced the clutch, the exhaust, carburetor, intake, heat exchangers, front brakes and now the rear brakes. I bought mine from Bus Depot, and I did not buy the hardware kits because I read on here were most were crap, and I hoped all my hardware sans the shoes were OK. I did get two wheel cylinders, not the $75 ones, but the $16 ones. The shoes I got were not riveted on, but adhered and two were a little off on the surface pad to the shoe. At first I was going to use my shoes on the Bus since they did not look bad, and we cleaned and re-assembled the passenger side drum, only to find the drivers side leaking and the pads chipped on the side. So, off came the passenger side again, Colin re-doing that side in one third the time it took me the first time. And here is the wrench in the cog, my top spring on the drivers side had snapped and was still attached, and I had no replacement. I called Zabo and he had some, but he was out of town. The guys at Stockornaut Restorations had one, but they were a distance away. Colin thought we could find one at the local FLAPS store, so off to AutoBone we went. I did ask at the desk and we got nothing in stock, with Colin mentioning to the counter guy this was the bane of corporate America, just junk and no choice. But lo and behold I found a kit that seemed to be made for ACVW's at Advance Auto, they had let Colin and I dig through their inventory and we found a bag that had the closest spring, and even had the retainers, clips and pins that we used on the drivers side wheel.
This is how crunchy the drivers hub looked: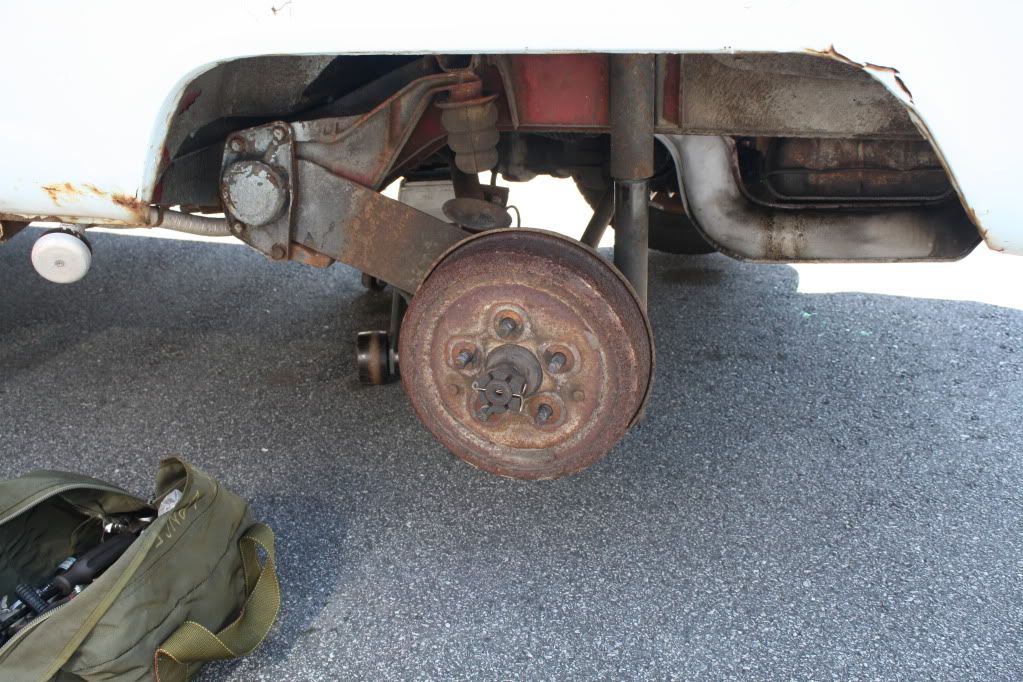 Here is Colin looking at the drivers side hub, it was leaking from the cylinder, so we replaced it too: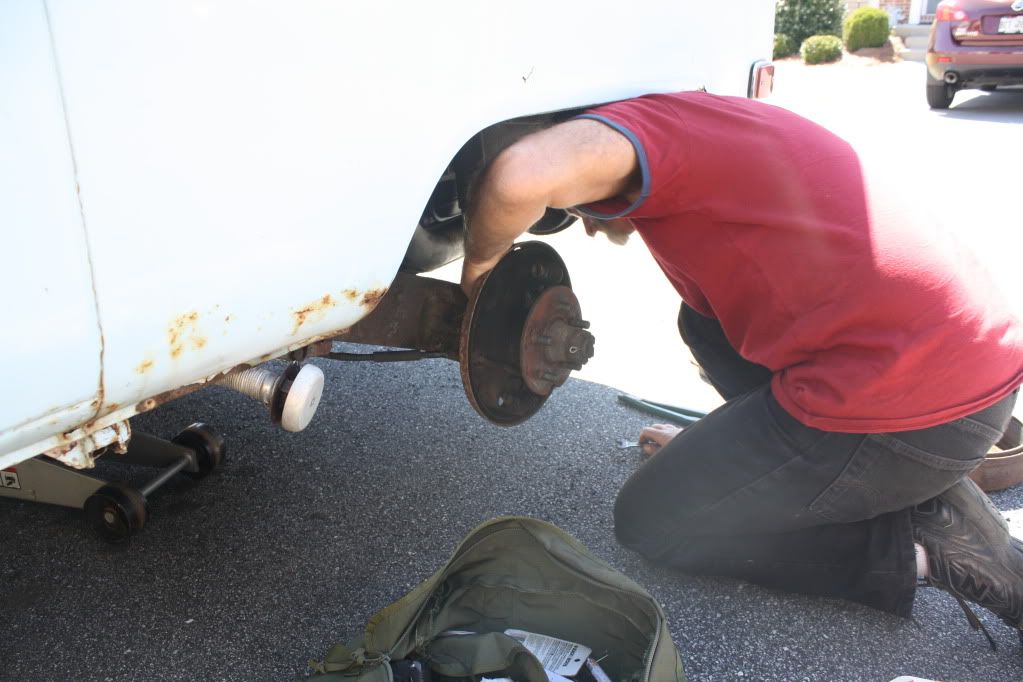 We cleaned the backing plate, Colin sanded the drum in a criss-cross pattern, and with the new retainers and spring, the drum went back together like budda.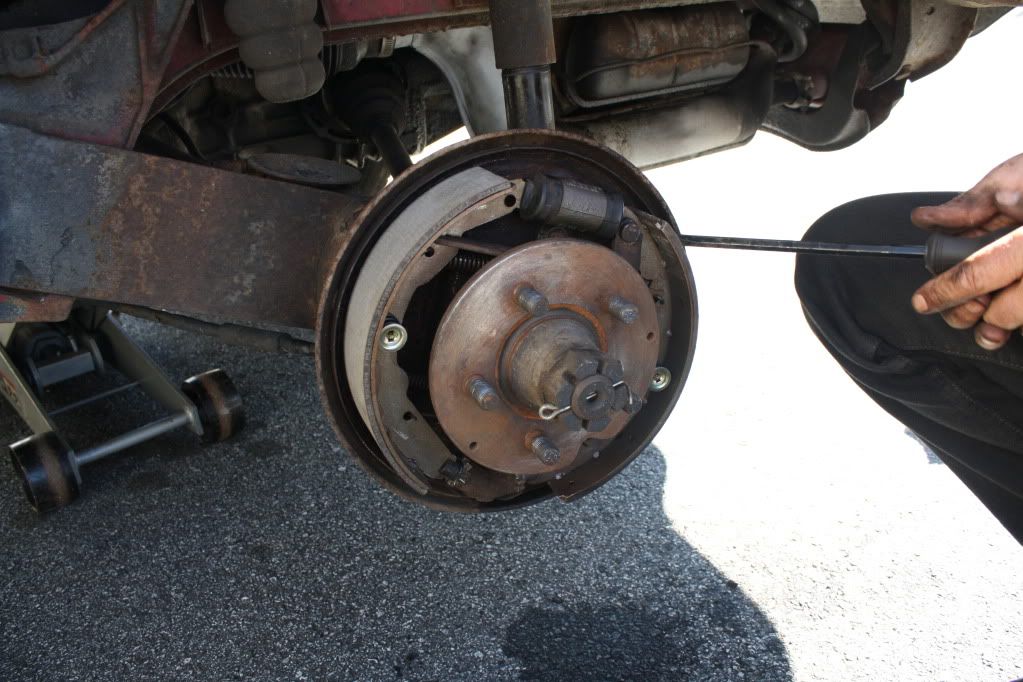 With Colin there the brake job went a smooth as could with only a few bumps in the road. Samantha really is a good karma Bus, with all this rust you would have thought the hubs would have had to have been heated and pounded off, when it all just came apart. I put both sides back together, Colin then instructed me how to properly adjust the parking brake. Remember, adjust brakes, then adjust emergency brake. Now 5 clicks and it is set. Here is both sides painted and ready for the wheels: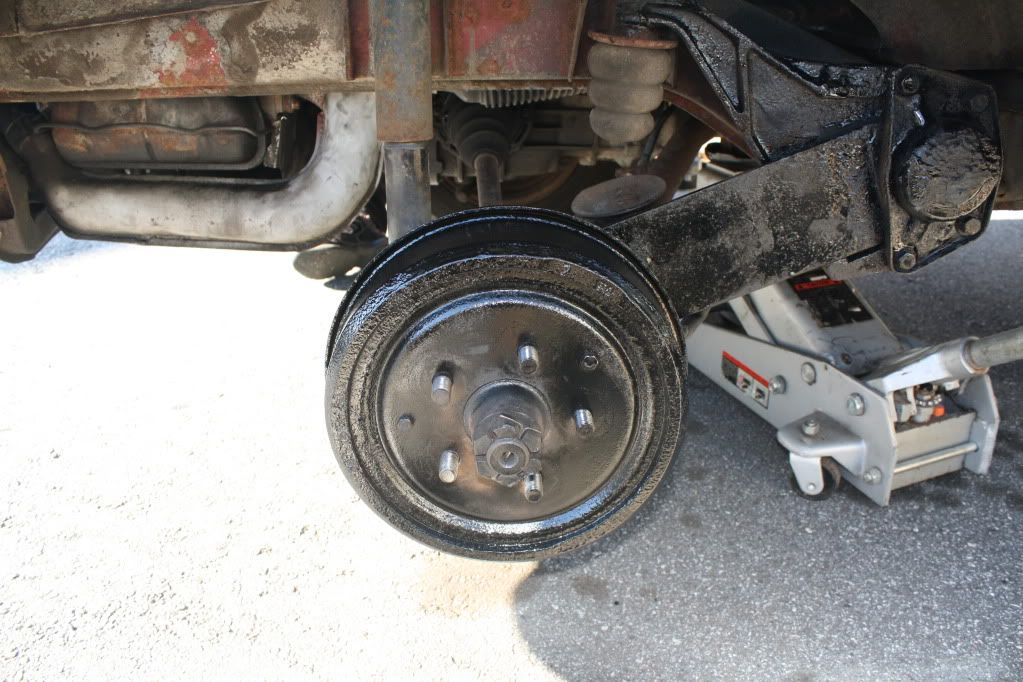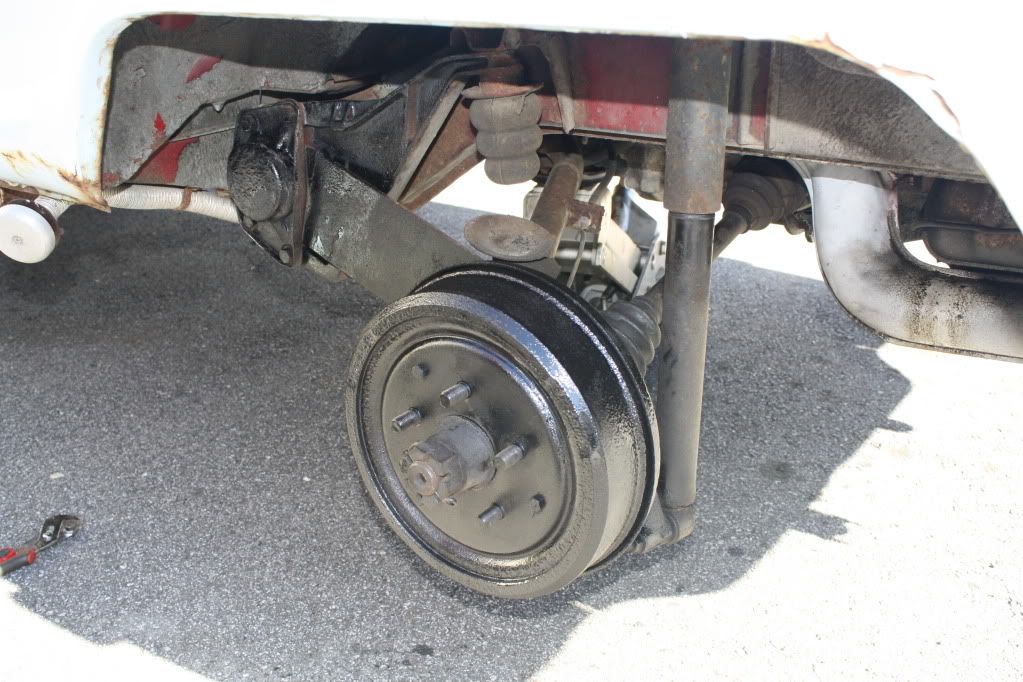 We also replaced my oil pressure sender that was leaking, and adjusted my rich running carburetor. It runs without that lag that had developed this winter, and will use less gas now. With a few test drives we had the brakes perfect and the carburetor running great! Samantha is now running and stopping great, with the Atlanta run you over traffic, this is a must to have.
So here you have it, have the Itinerant Air Cooled mechanic visit you and fix a part of your favorite ride. Then you can take that knowledge and keep these nostalgic running museums on the road a few more years. Peace man!