I made a left onto CA167 east from that beautiful hot-brake descent to Mono Lake, why? you ask, why? because there were clouds building south, that's why. CA167 turns into NV359 or something, and I thought gaily to myself, I don't have to pay $5.18 a gallon in Nevada! The landscape
switched
channels in a matter of 25 miles. As soon as the sun was well and truly going to HELP ME GET UNDER THE CAR FINALLY, I dived down a dirt trail to Nowhere: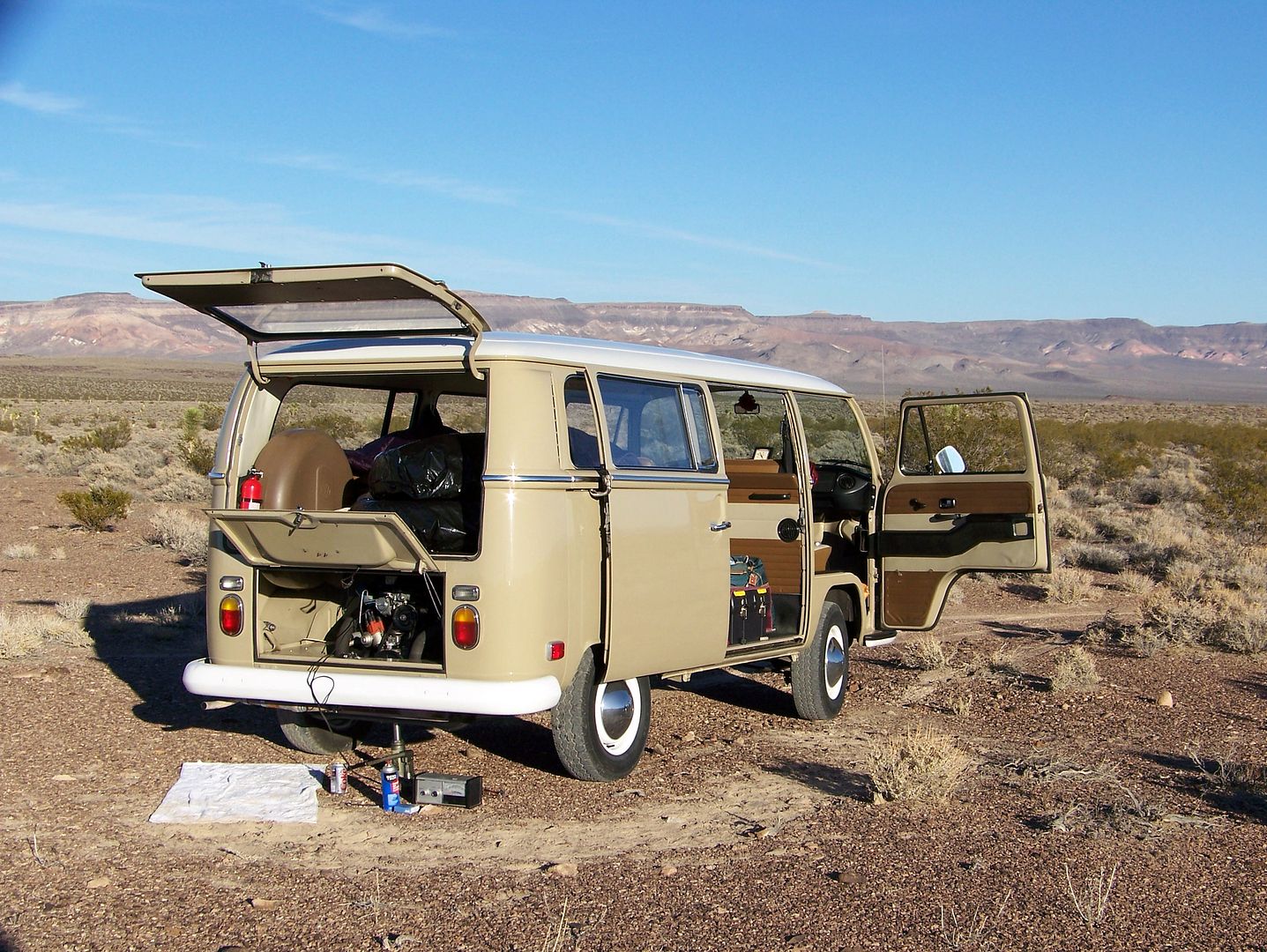 Valve adjustment! We have problems, Skippy! All exhaust valve clearances are closed up by .002" or more. Don't know why I didn't notice in Battleground WA that each exhaust valve screw was sticking out of its respective rocker arm noticeably more than the intakes. Now they are all sticking out even further. Either valve seat recession, stretched valves, or some dunkydink head rebuilding is the reason for the screws sticking out, but the closed clearances have this engine on probation.
Exhaust leak repair! The hideous crap exhaust clamps that came with the new muffler up in Portland gave pj and me caniptions during Trip Prep. They are categorically useless. Luckily, airkooledchris and I had procured some proper clamps in Eureka, and I set out to install them. Type 1 bus owners? Just get in there and use the fiddlefricken multipiece clamps, they are not THAT difficult to install.
Oil change! Oil was clean except for Mike's little no-no when he rebuilt the engine ... lots of paper towel fuzz in the strainer screen!
Then it began to rain. Yep, the clouds found me, ha ha take this, baldyboy, you can't escape us, and the rain pelted dirt. I loved it.
A whole new beauty unfolded, browns and purples and desert starkness and the little brown bus just puttered on as the temperatures picked up, yes! Who needs the now-repaired Non-Noxious heater now?
This engine has a superb note, generator whine piercing through the classic horizontally-opposed aircooled thrum, and the miles somehow manage to pass by with alacrity. I pulled off to .... well .... wax and touch up the interior front door paint. I don't need no bodyshop overspray primer blotch and general Portland mold plus innumerable dings and seatbelt buckle chips, hah?
See? Interior looks pretty with the early evening desert colors: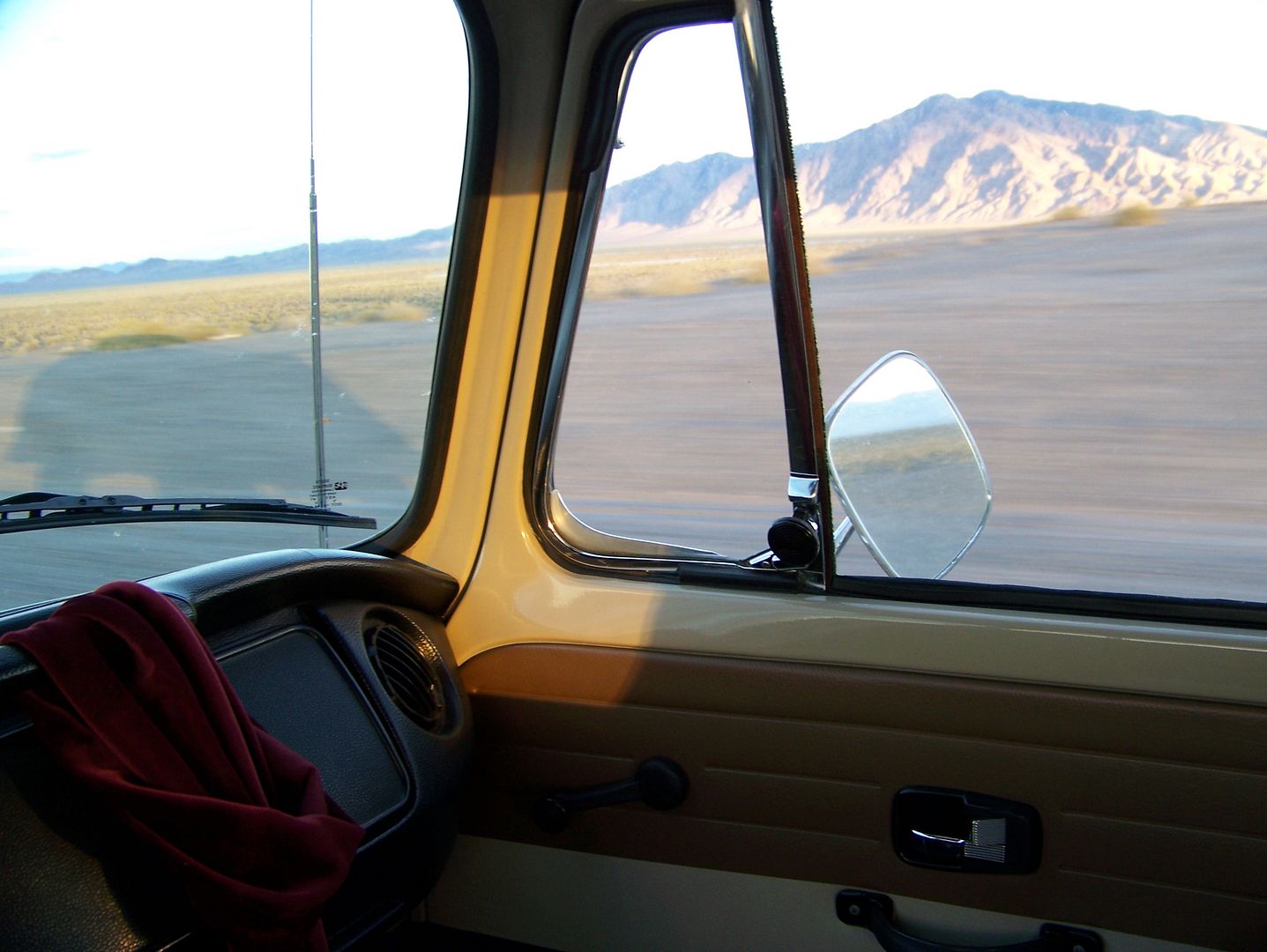 I can't describe that evening desert painting as I reached Tonapah. Here: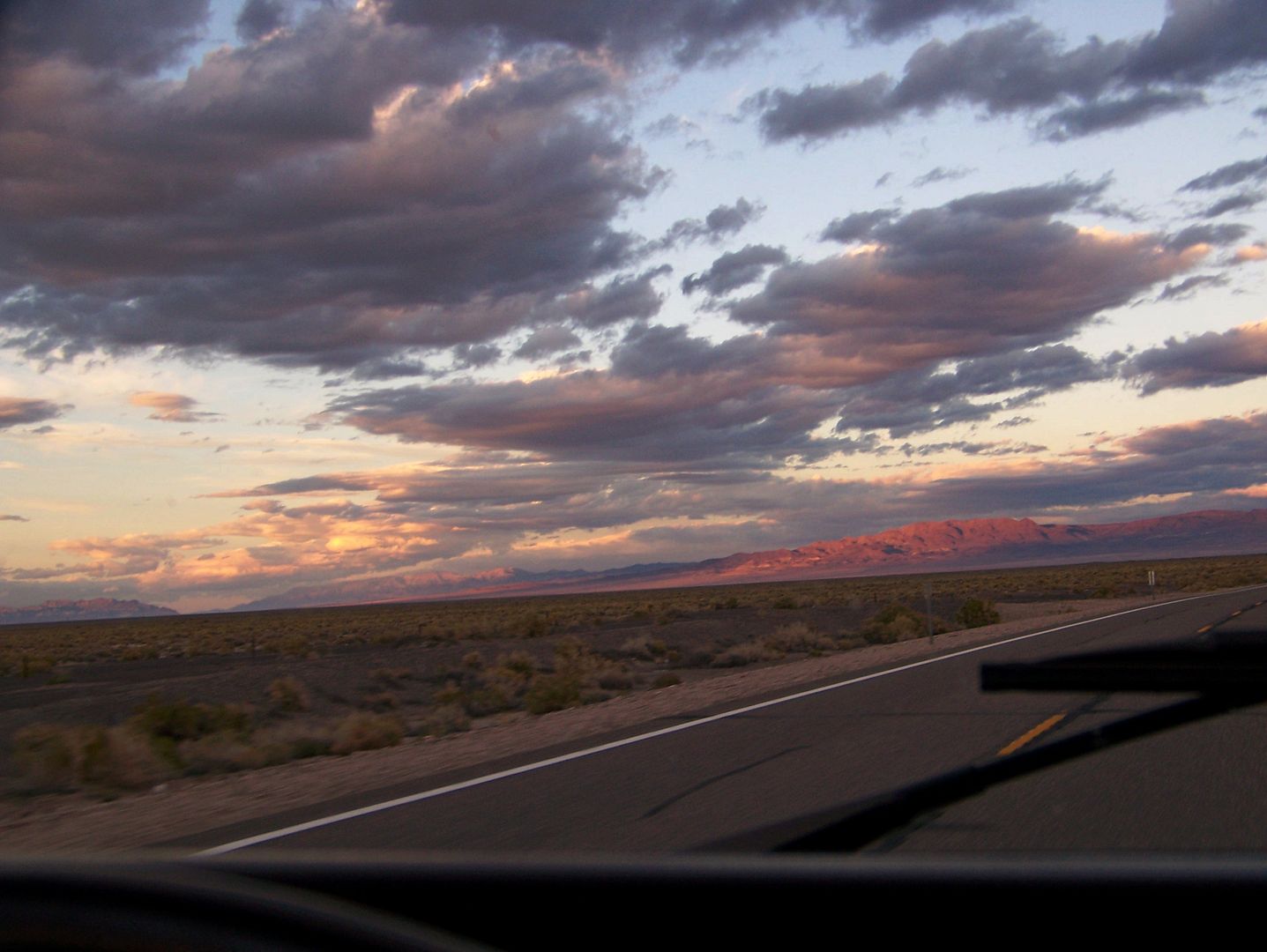 Found out that the Bosch motorcycle headlamps do a brilliant job of lighting up the night after an adjustment in a cement plant driveway. Drove to Shoshone in the night, and camped the valley where I spread my dad's ashes, the moon, the silence, the perfect warm sand underfoot. Oh, and the failing generator bearings. And the oil leak.
Hey pj, you here? Remember that Guesswork Camber Adjustment? Here is a photograph of our right front tire 1,000 miles later. See how we are now contacting at the outside shoulder of the tire? NOW I can put on the new tires ....: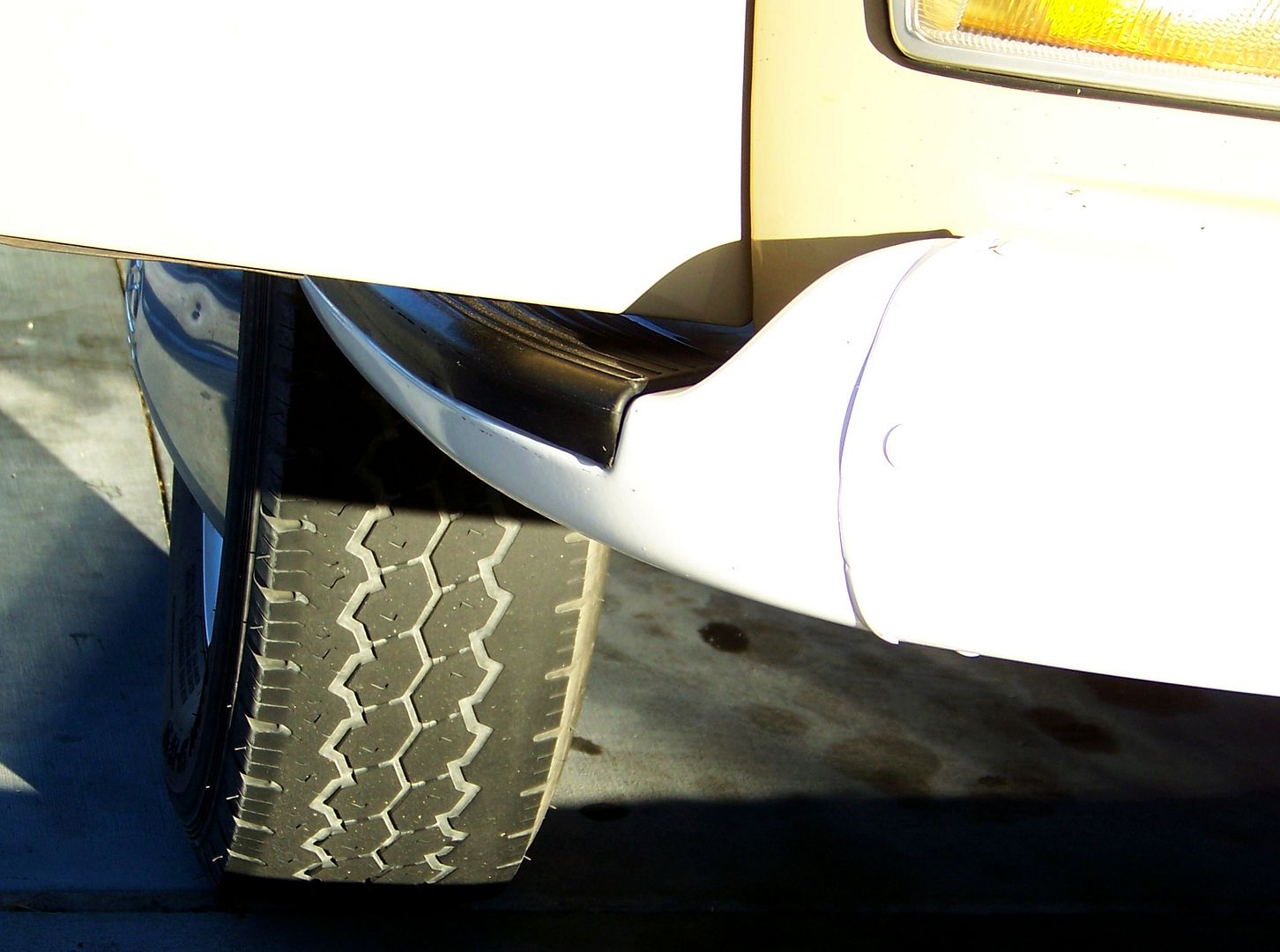 I am getting some oil cooler seals and a front seal and will drop the engine tomorrow. Hambone? Remember our discussion about case repair? I will find out tomorrow if the case is cracked. Remember that generator on my parts list? Good thing ....
So pretty, this drive from Portland to Los Angeles. Here is the Starbucks in Barstow where I got accosted by the Phillipino tourists and they still haven't fixed the wifi:
The Adventure is getting adventurous ....