I was pining for peaceful after the noisy cows and thundering trains, but had resigned myself to the encroachment of civilization known as Dallas-Forth Worth. The real ranches like Milton Brisbee's were long gone, but we still had the curlicue brick or stone grand entrances to wrought iron gates ... leading to little 3-2 att gar 1/2acre houses.
Just when I thought, "it's over, no more big Texas", I spied a dirt driveway slipping into the brush along a very suburban side road. Now there was a big Texas ....
tree: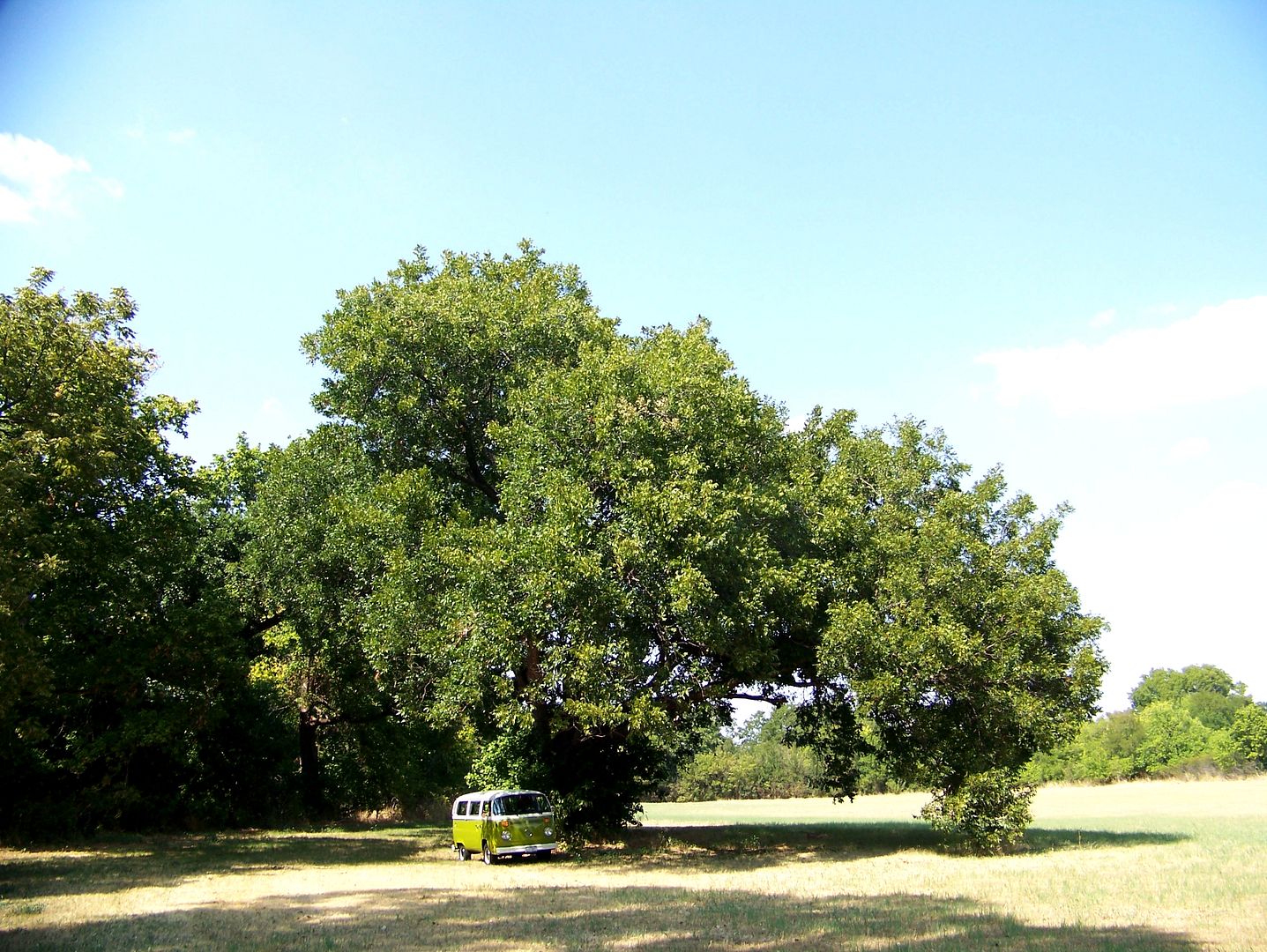 And this tree had a whole meadow surrounding it. Gorgeous quiet hot summer afternoon and magically all the houses and gates and trucks and traffic were gone. Just like that. Just a big meadow with a huge overarching tree canopy, I was enjoying my own Avatar Moment. A quarter moon gave me just enough light to do an evening walk around the perimeter of the meadow with silhouette shadows along the edges and moon bathed silver grass in the middle. A heavy almost crashing rustle in the underbrush let me know that no matter how emmeshed in human civilization I get, I am still an animal. The hairs stood up on the nape of my neck and a flood of adrenaline put me in hyper-vigilant stand-by, is it going to be fight? or flight? I continued along with quiet padding and told myself "no fear! you send out pheromones". Considered the State Of Nature on the way back to the car. Nature has rules. Most of the animals we see get them. Otherwise they are already someone else's lunch. I felt the conundrum of animals in that moment. Woke up to this, which was more gorgeous than my poor camera could capture, Dawn Light Through The Tree: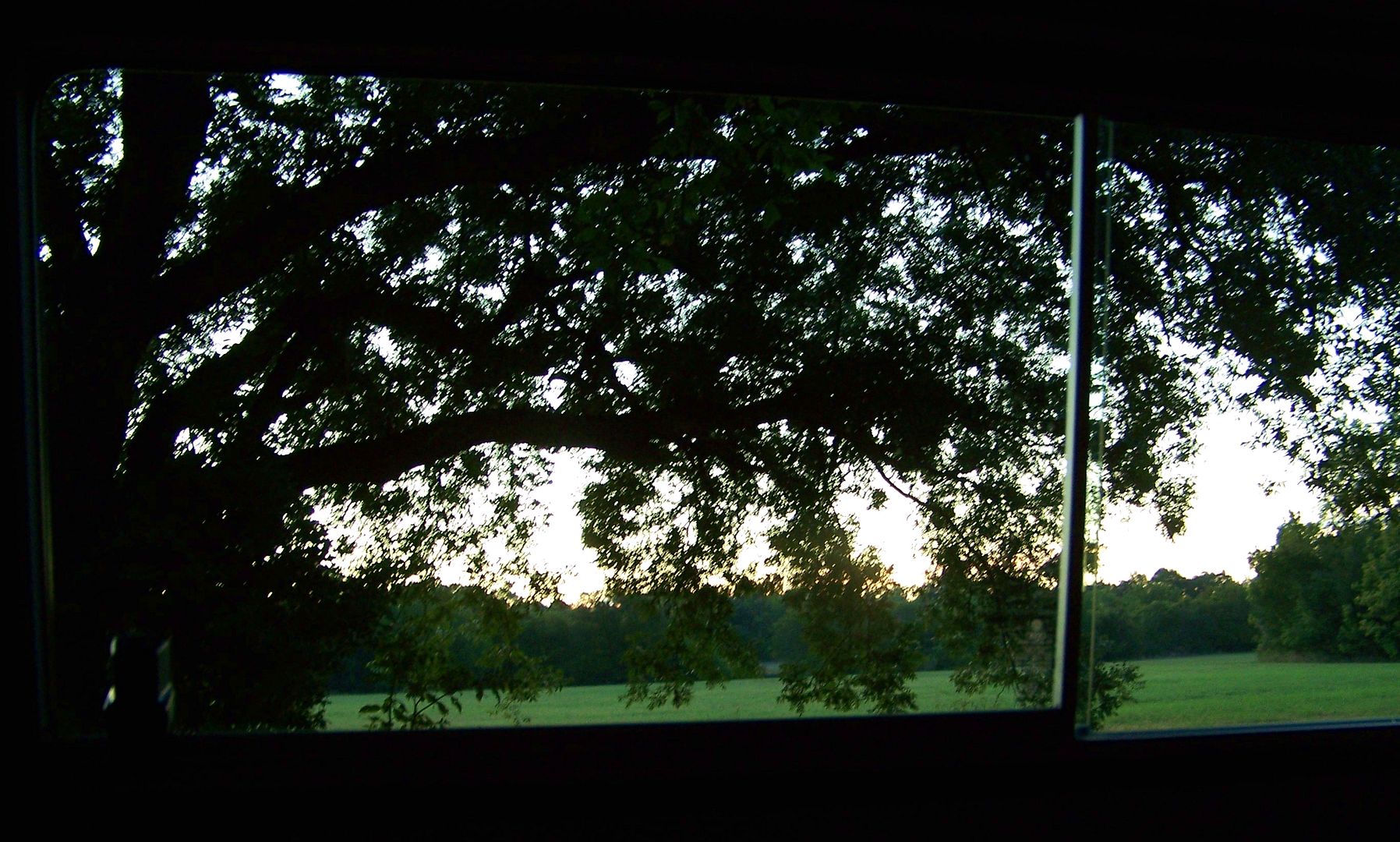 Took a dawn walk and expectantly awaited the sunrise. When in a perfect Frolicking Through The Buttercups and Daffodils state of bliss, how do you suppose Nature brings you back to Earth? Try Skunk Aroma. That'll do it.
Came back to the car: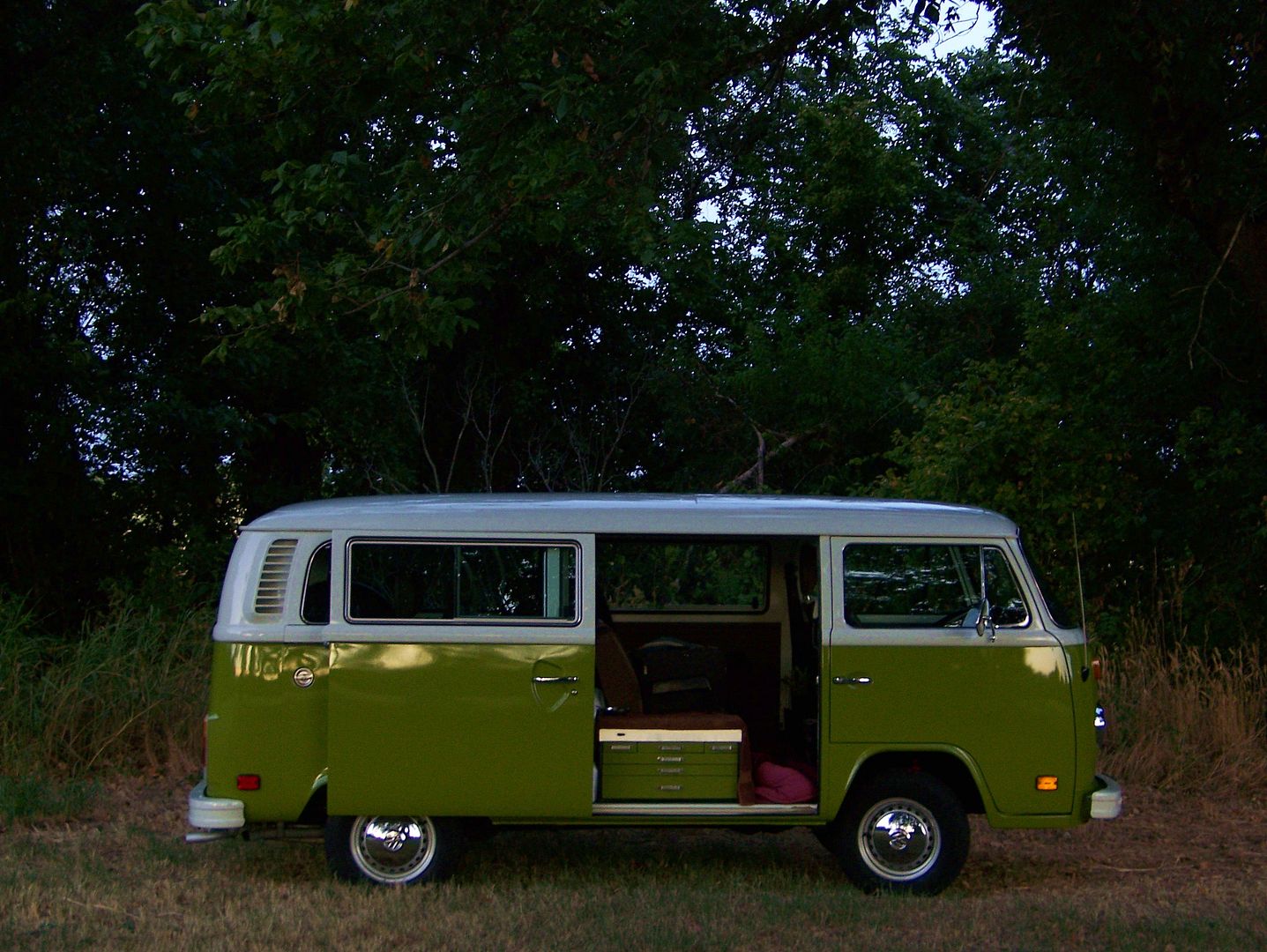 There it is: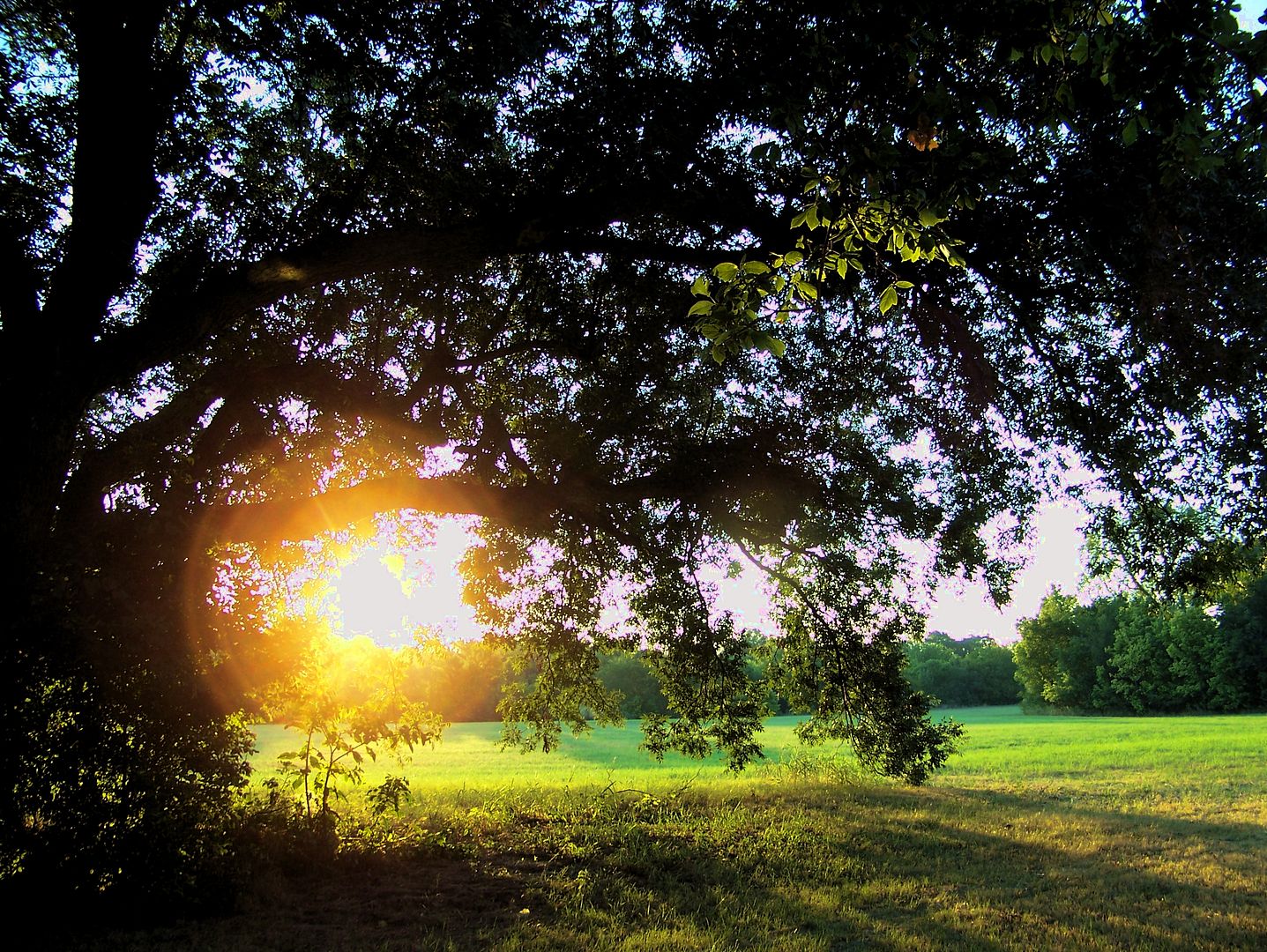 Car lit up in the early sun with that maddening-to-match chrome yellow hidden in the taigagrun L63h3: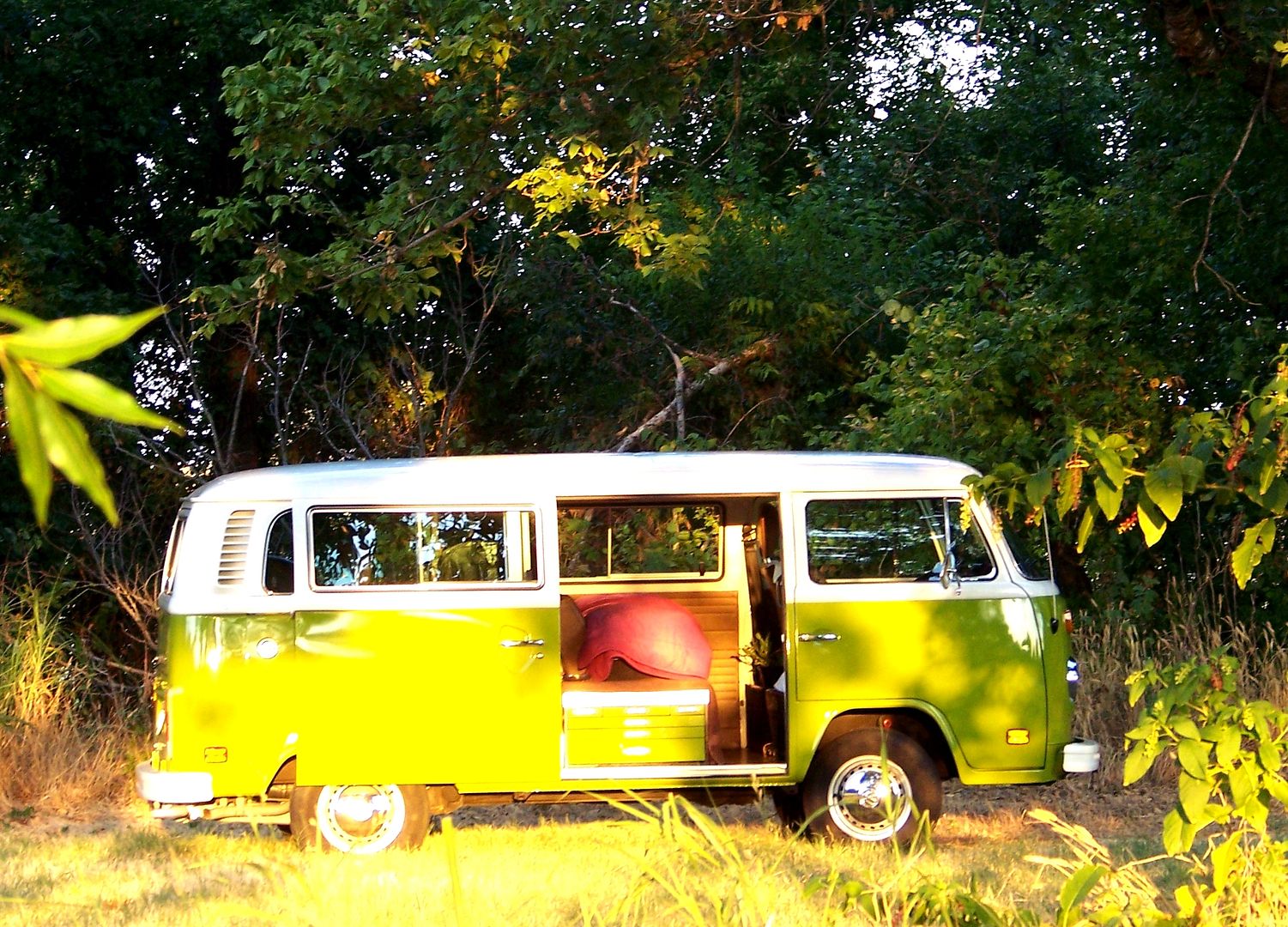 Today's project in this beautiful isolated spot in the middle of suburbia is to paint the heater control valve dump tubes. As you know, any time I set out to paint anything in Texas, the winds pick up. What you can't see so well, is the ridiculous engineering under this pedestrian scene, the wind-absorption bowed branch strut. Looks like praying mantis: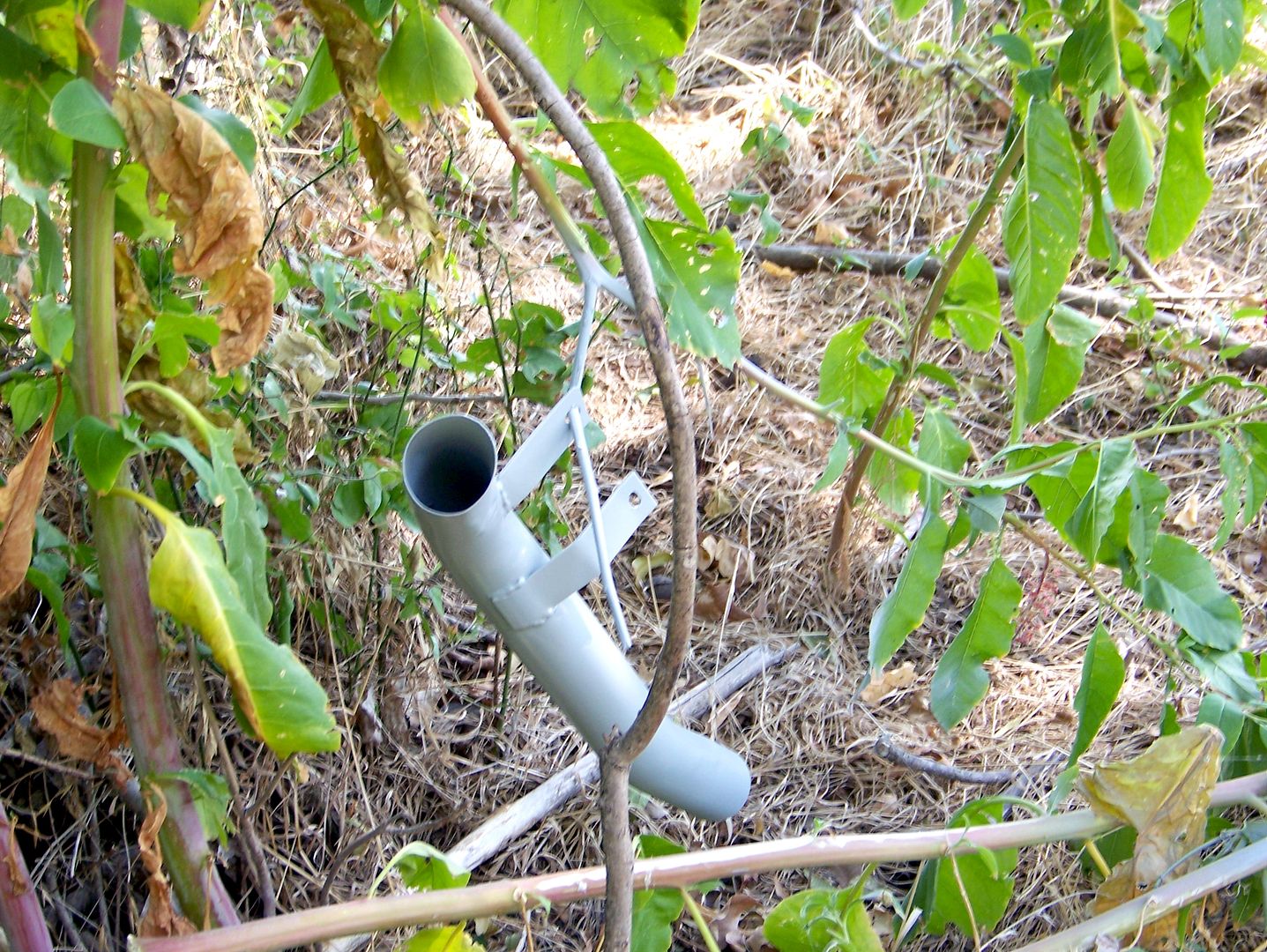 I had originally used "New Ford Grey" Duplicolor Engine Enamel, but I really have to say, I am done with Duplicolor. Lousy! Dried so fast in the wind that there were bubbles in the surface, and the color was all wrong. So, I reverted to the Squareback intake runner trick: Primer grey followed by a light clearcoat. Excellent color match: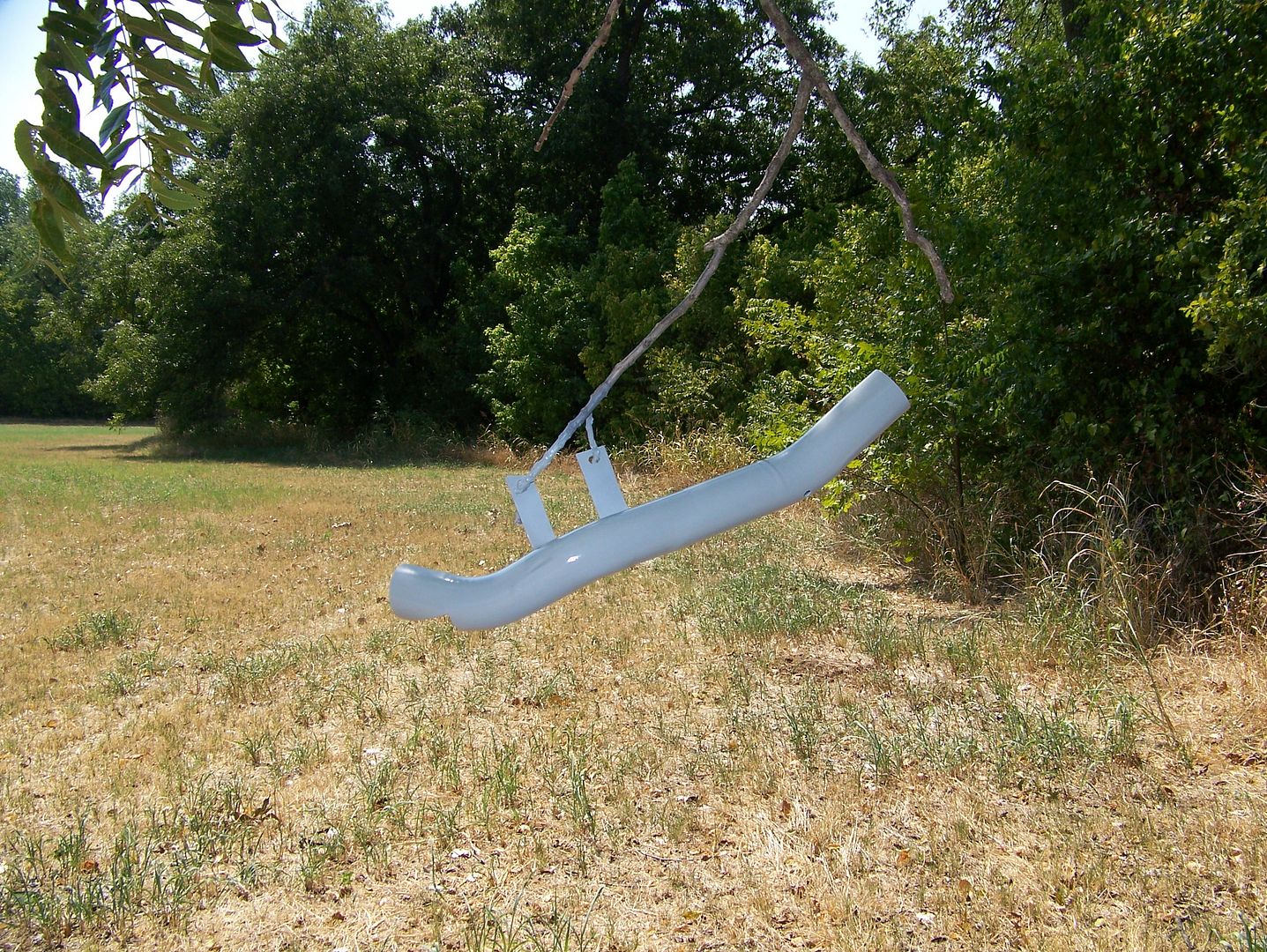 Then, because Sylvester shamed me months ago about the accordian tubes clogged with nasty way-over-applied undercoat, I washed and polished them: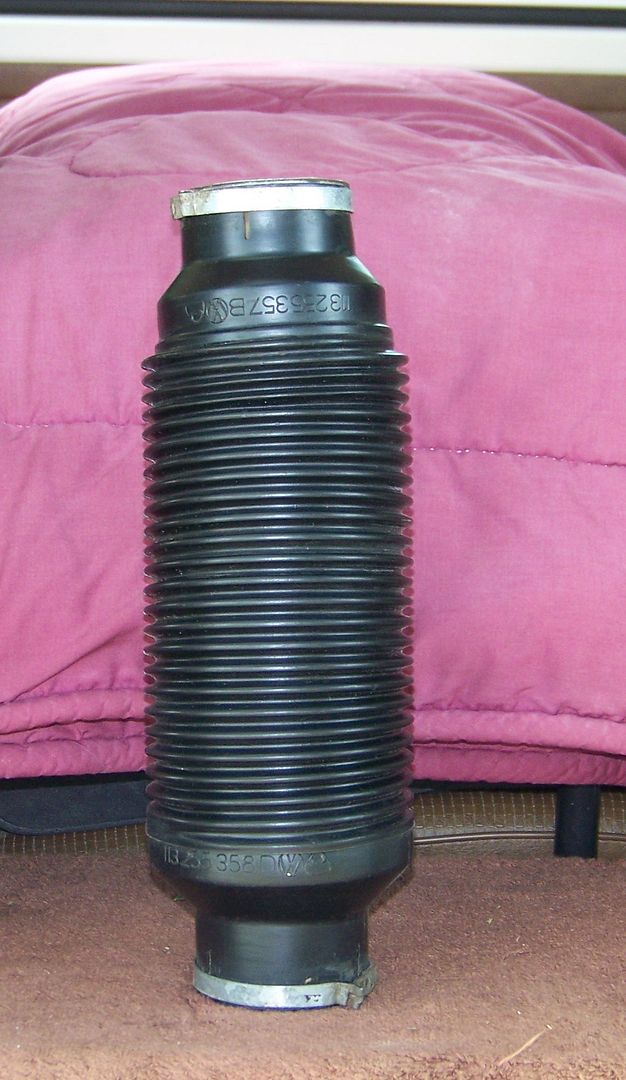 ... and repainted the engine hanger wings which were somewhat rusty under the way-over-applied undercoating. I am glad I will never meet the people who charged Bob D. so much money to undercoat the bus: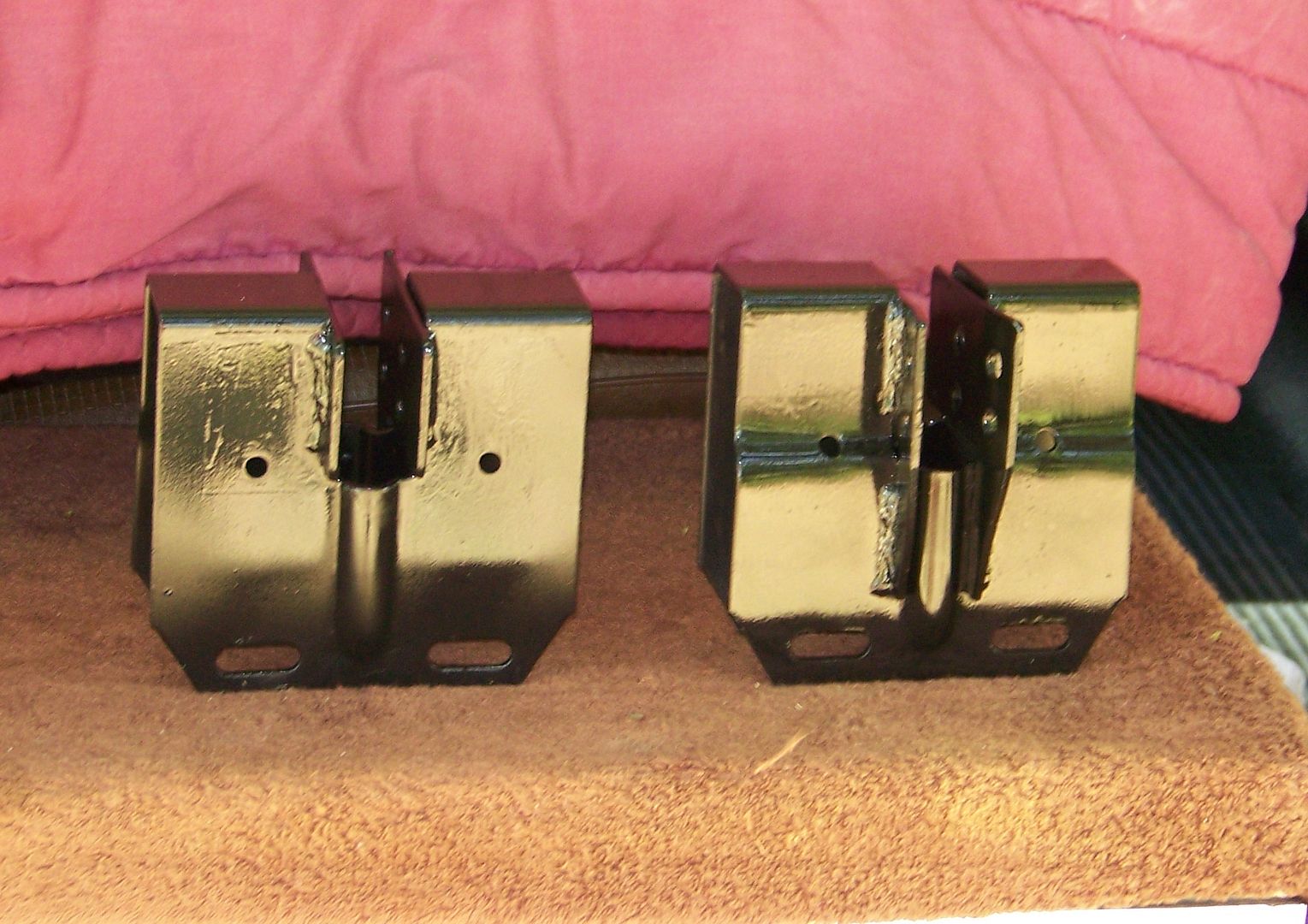 Reassembled left side:
Reassembled right side: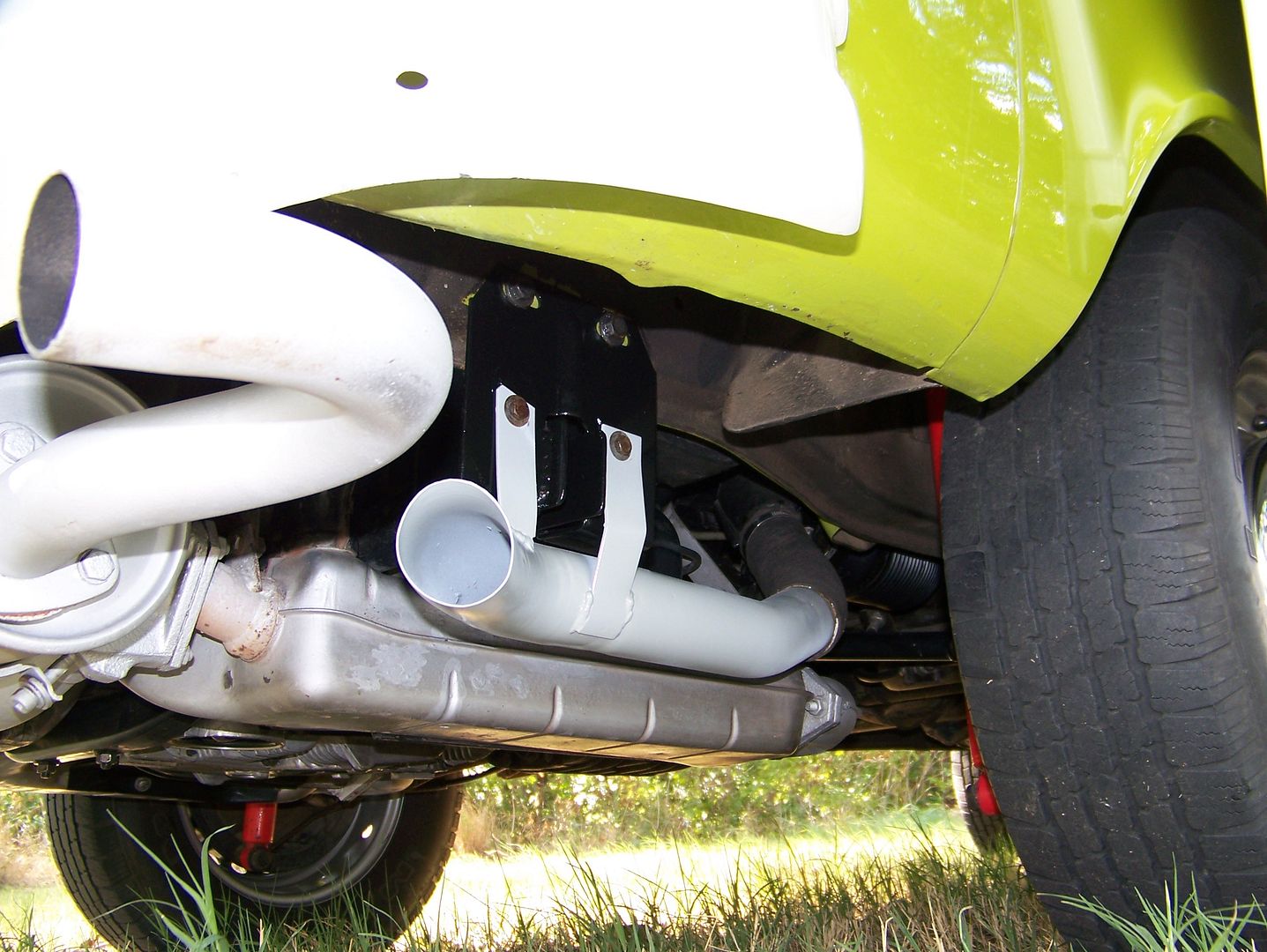 I was in love with that big old tree by the time I wrapped my two day layover in the meadow. I love reading about people who save old trees from the march of "progress". This gnarly old tree had Presence.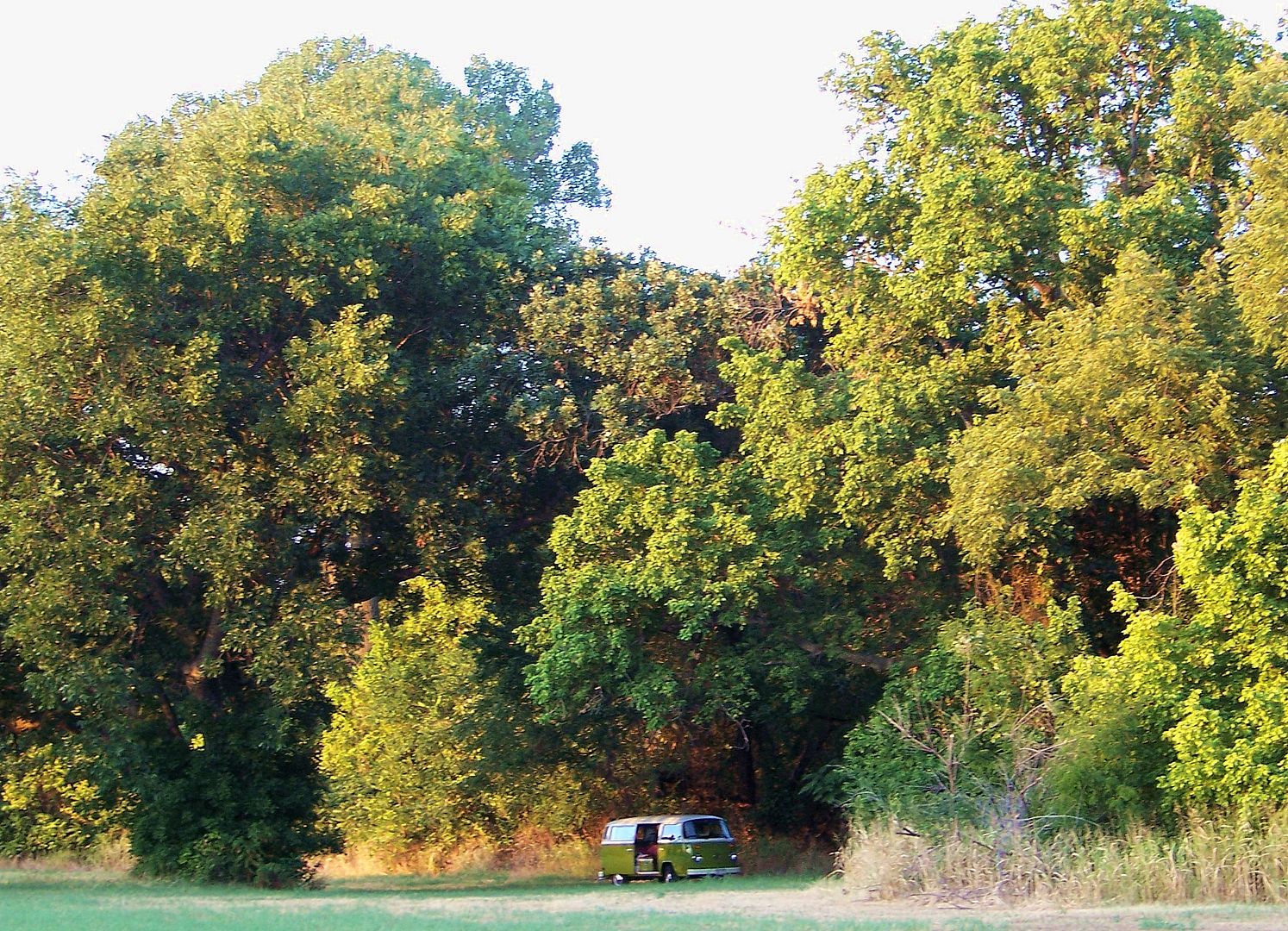 I am near the border of Arkansas on my way to Atlanta. A call in Florida then Kentucky, then I fly to Portland to start a whole new fall adventure with the TBRRupturedDuck.
The BobD has been a loyal hardworking and incredibly competent companion through all of this. Other than a couple of stupid junky CV boot failures and a melted Pertronix, the original components have performed flawlessly over the past 46,600 miles.
Colin