It has been a glorious glorious ten days of stunning heat in Texas, and I have loved every second of it even while batting at annoying insects and getting bitten by incredibly arrogant little ants. Drove down a road, a long dirt road along the railroad tracks to my right. Passed these guys. What are they?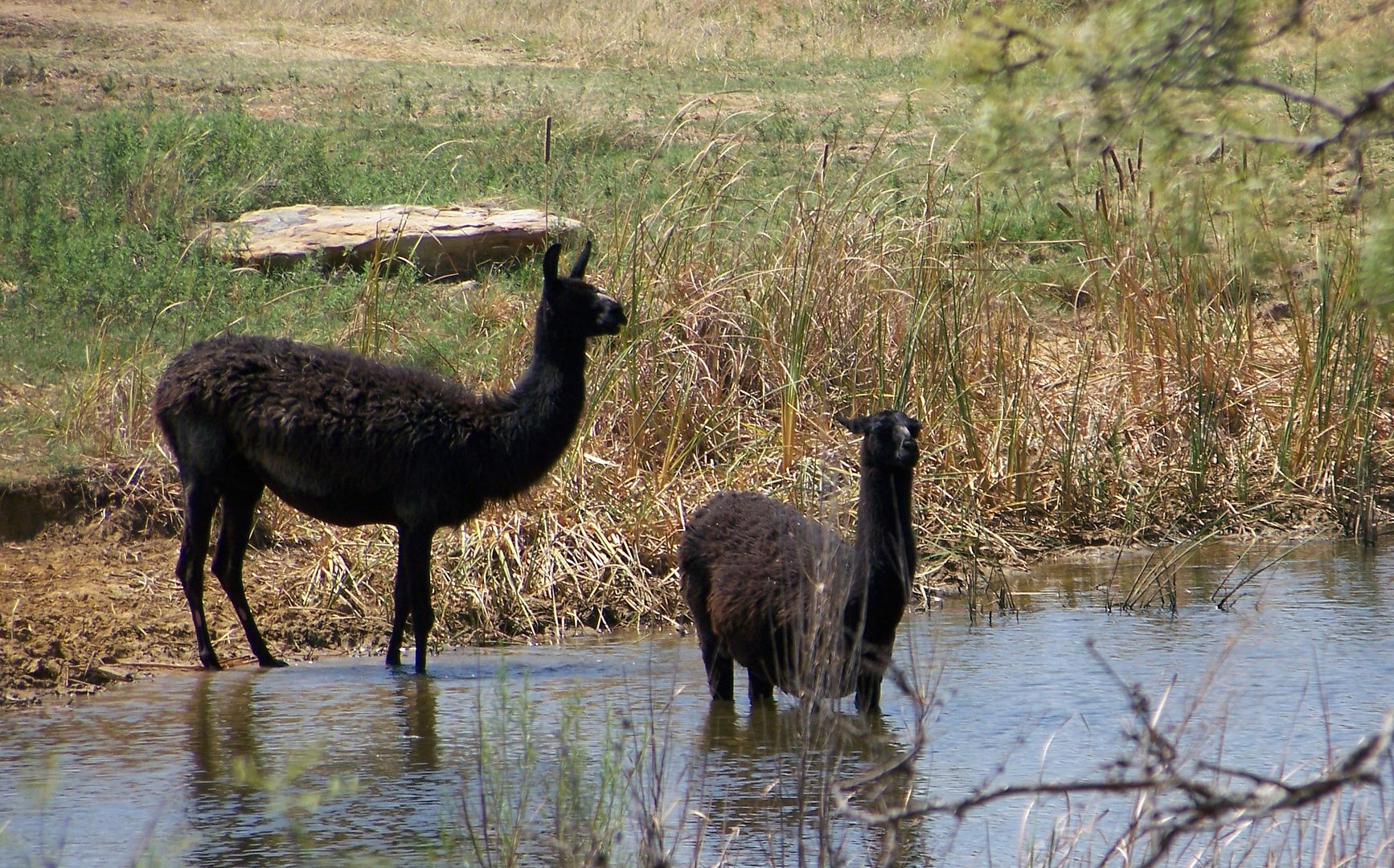 I needed a decent bit of shade and I needed to be out of people's way, because it was time to do some more exhaust. About 5 miles in, the road crossed the tracks and ran parallel along the other side to whatever ranch I could see up the hill yonder. I continued on a rutted railroad inspection trail? until it came to a very fine view of said ranch. Did a thirty point u-turn, and parked under some trees halfway back towards the crossing: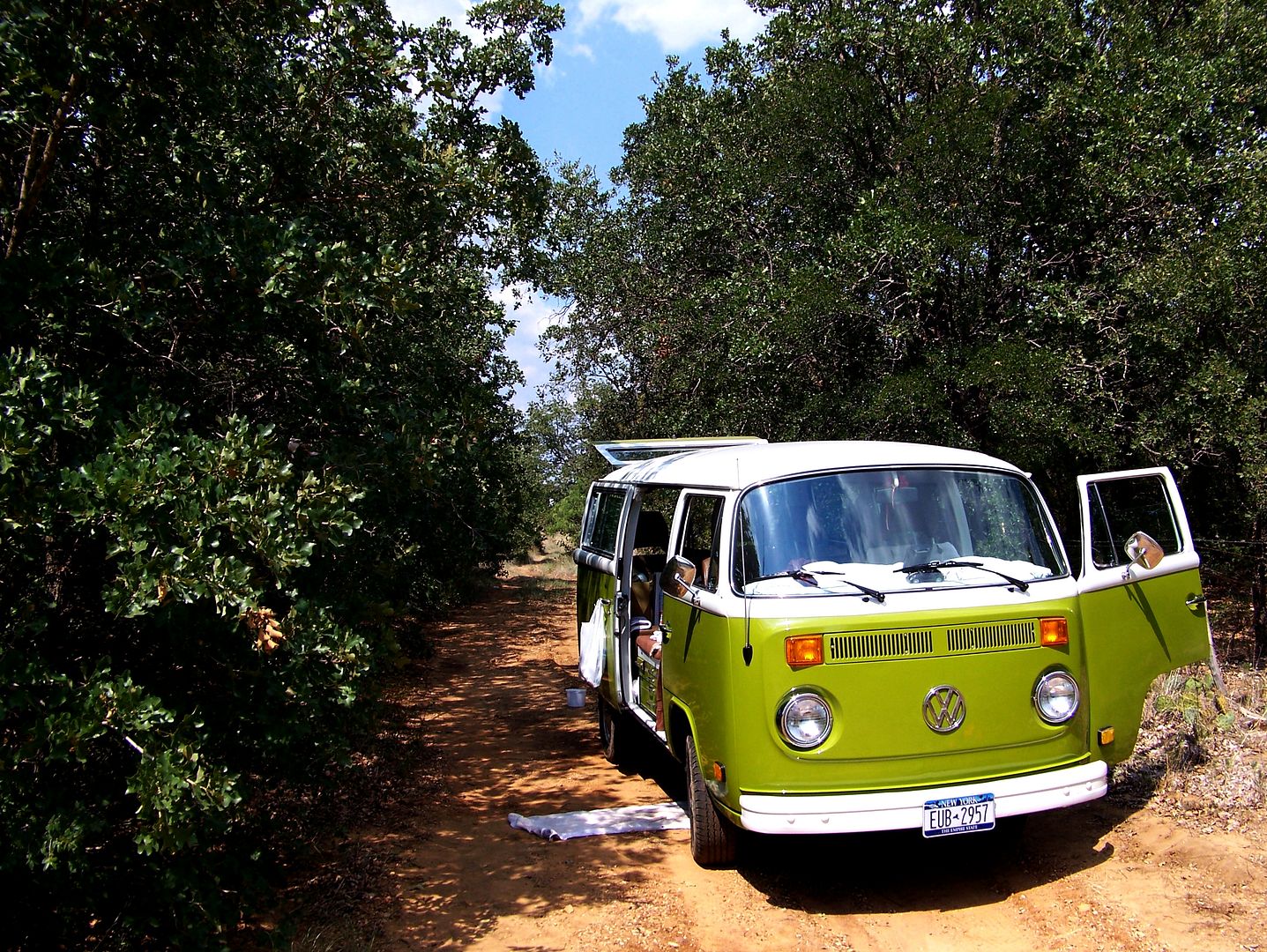 Happily removed the u-tubes-sans-jackets in preparation for installing two nice used jacketed ones that came in a box with the BobD. Looked at the rust speckles on the currently installed ones since last summer's exhaust refresh. The speckles seemed to come from very small pinhole imperfections in the iron flanges. "Ha" thought I, "I shall dremel the new u-tube flanges absolutely smooth before I paint them.:
This operation was almost a reprise of last summer, incredible heat, lots of dirt, flying gnats, and some horse flies from across the tracks, but the ant colony I parked over was the real treat. These were incredibly small little red things that bit like sharks. Managed to file the flanges flat, 120grit sand all surfaces, wash in a Motel6 bucket of water and Tide, dry, and finish sand with 340grit. Look, a fence post again, I have a painting rack. Before/After:
Light was failing and the mosquitoes were coming out in the relatively cool low 90s and so was Mr. Pick-Up Driver who didn't know it, but he was going to have to back up a good 1/4 mile, I wasn't moving.
"What are you doing out here?"
"Painting some exhaust parts."
"Why all the way out here?"
"I tried to find a place where nobody would ask me to move."
"Well, I ain't going to ask you to move, I just wanted to know what you were doing out here. That's a nice-looking car, restore it?"
"No, it is original, and I am trying to keep its exhaust system from deteriorating, I don't think I can find replacement parts for it anymore, like that one on the fence post."
"Me and my buddies used to drive one of those things, we'd go hunting and fishing in it."
"Well, I am driving all around the country helping owners hang on to them, and with all the rain I keep attracting, this exhaust needs some more paint."
"Rain? You attract rain? Lord knows we need some, can you bring some this a way?"
"I'll see what I can do."
We talked another half hour or so about most of everything under the sun, then he stuck out his hand.
"Milton Brisbee."
"Colin Kellogg."
.... and he backed up a 1/4 mile in his Toyota Tundra and drove off to his ranch, while I decided to take a walk on the railroad tracks in the dark night and adore the hot breeze that wafted in this beautiful spot. Came across a glaring flourescent white light that was blinding me and casting mean shadows when it suddenly blinked a huge red. Not ten seconds later, the thunder of an approaching train suggested that I hop down from the railbed. Got back to the "campsite" to enjoy a silent night under the stars. Nix to that "silent" part. The cows across the track were in a talkative mood. We had them all, tenor moos, baritone moos, pathetic squeaky complainy moos, and a magnificently comedic basso profundo moo that gave pause to all the other cows. These guys wouldn't shut up.
The next day was blistering hot by 8:30AM. I got the exhaust back together by noon: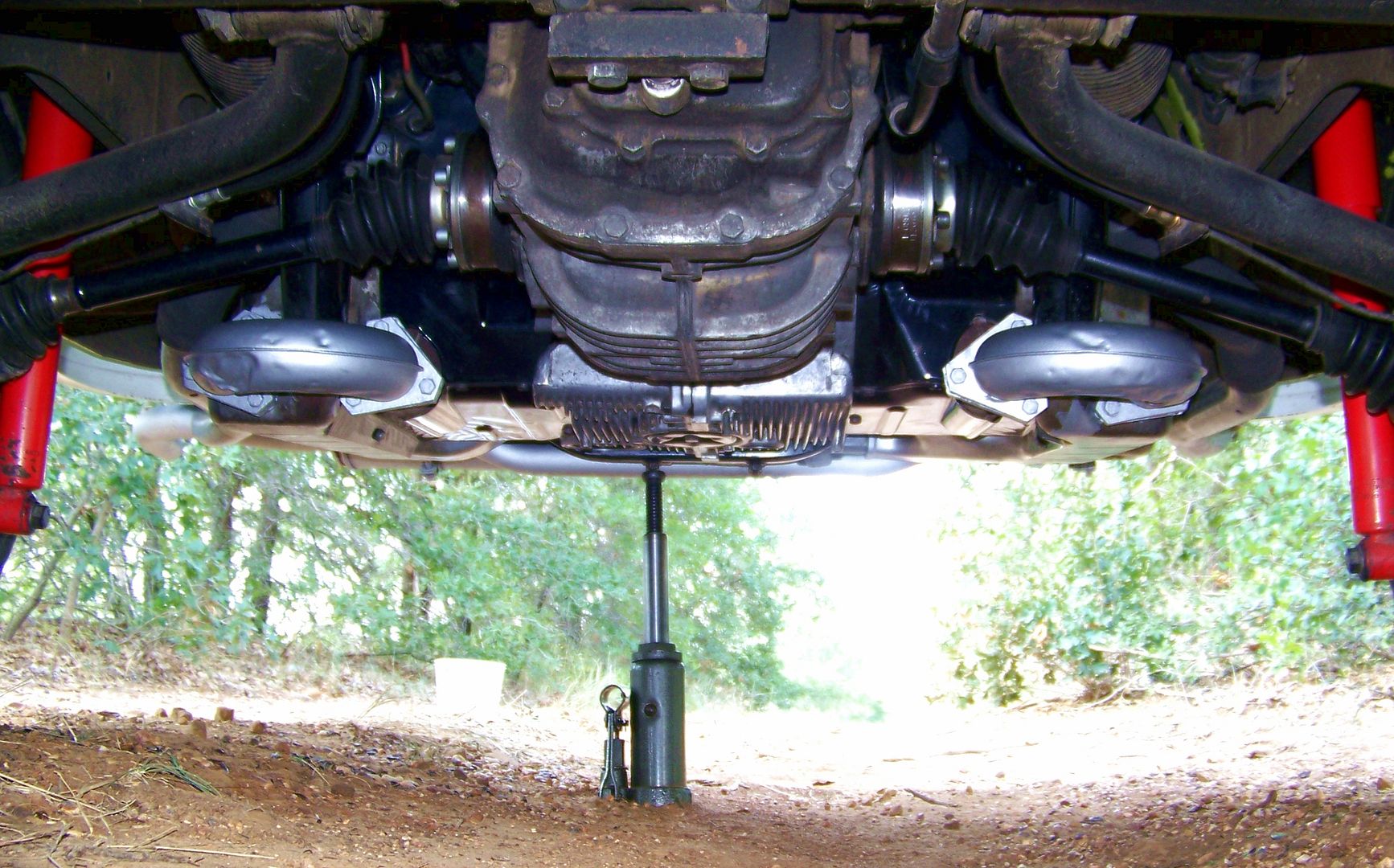 The duct taped CW boot now has several hundred miles on it, but the duct tape seems to be holding up, good thing - I don't have a spare:
Drove out of my little spot and bid the SURE, NOW YOU'RE QUIET cows farewell: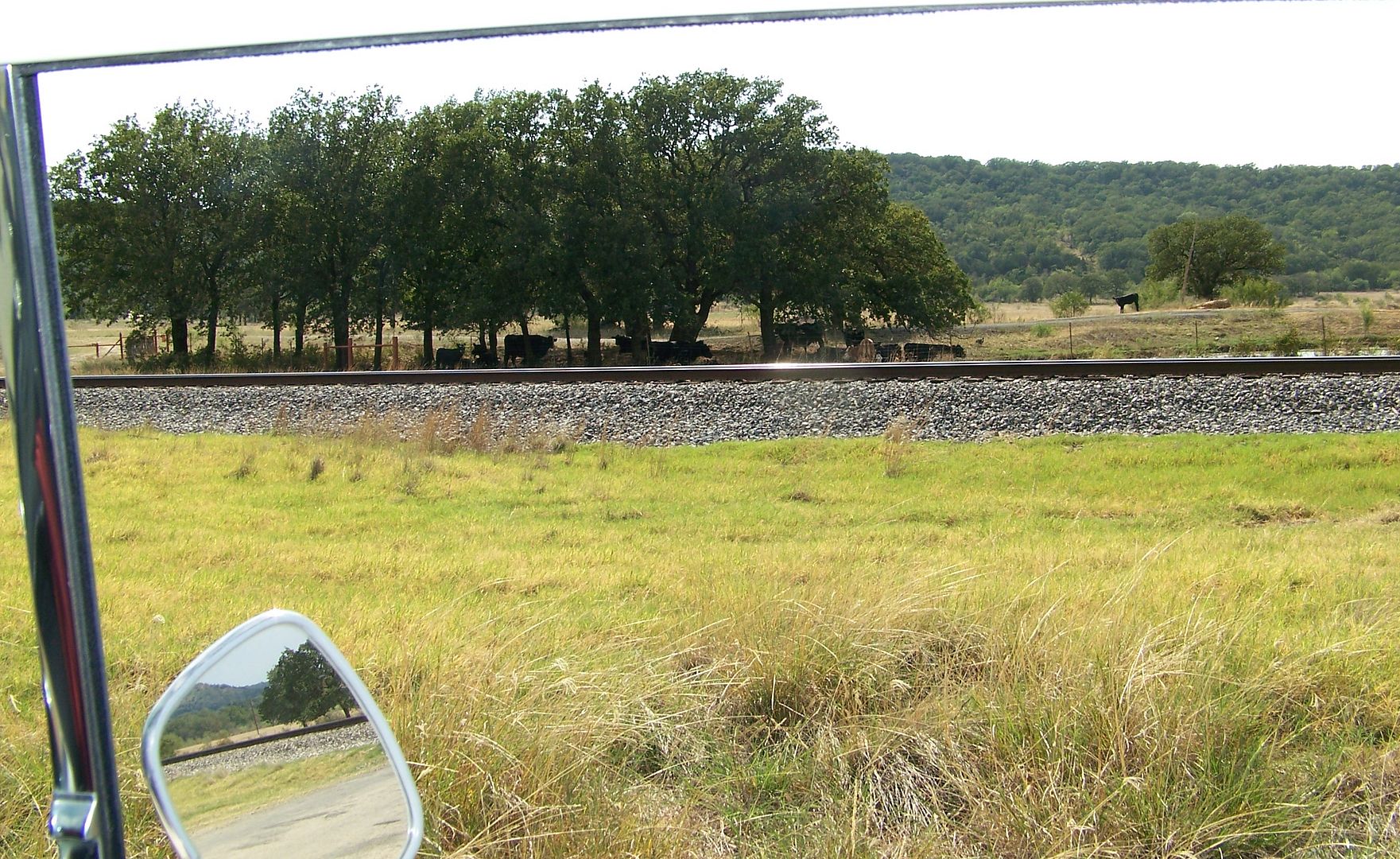 Idled in 1st gear at what must have been a walking speed along the tracks while trying to follow the curing instructions. At the end of ten minutes of idling in 1st gear down the road, I had to let it cool twenty minutes. So I walked along the tracks: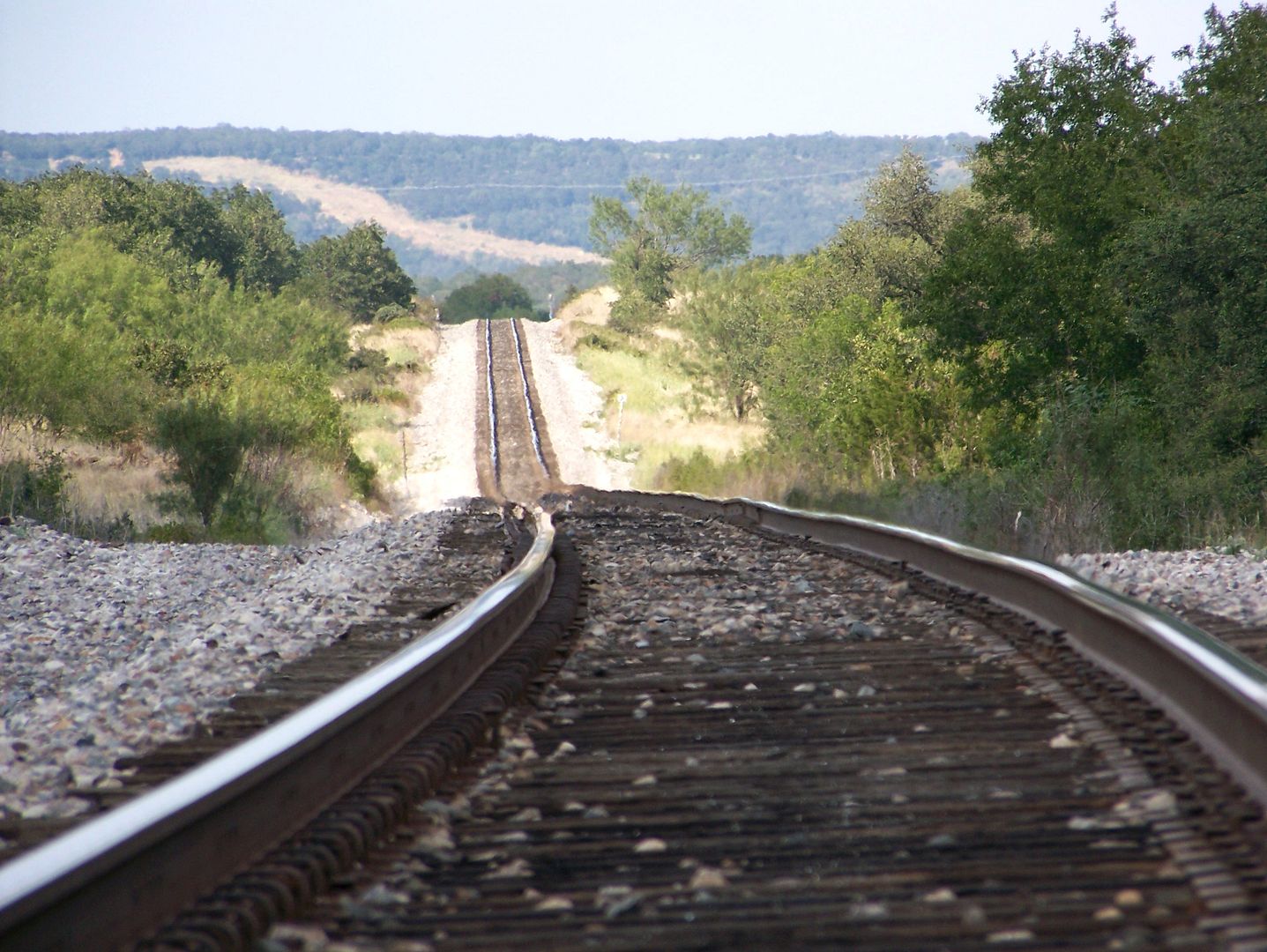 Drove another twenty minutes at idle and had to let it cool twenty minutes. Took another walk along the tracks:
Finally got out to the main road and as I looked back towards where I had just come from, it looks like I perhaps brought Milton Brisbee a little rain.
Colin