So this jtauxe guy, whattaguy: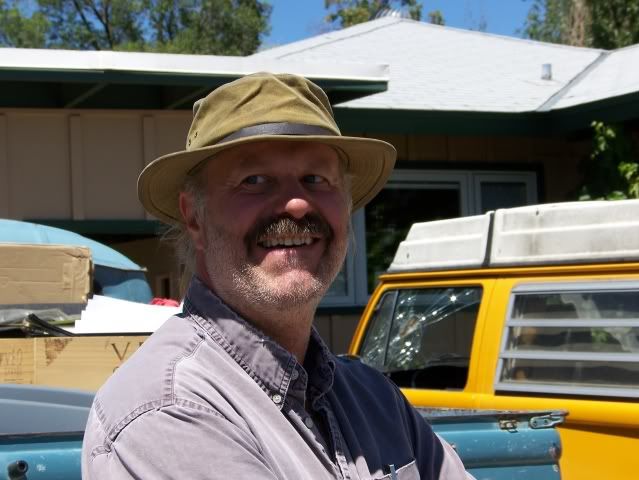 All enthusiastically all spring he sent me PMs, "I think I have another customer for you." I was sketchy on the story, but apparently he owned every VW in Los Alamos see, and when he would sell one, he would recommend that the buyer employ my services. And in the end, we had three customers in addition to him. And, get this, they all seem to be friends too. On my last day there, we had a reunion of all the buses we got running: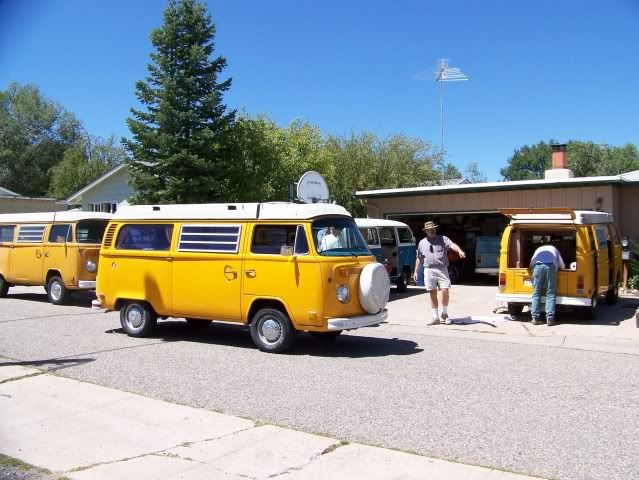 My first customer was Peter, the owner of jtauxe's old Yellowbird 2, a pretty '77 Westy. Peter has a fine intelligence and a ready sense of humor (and a piano that I just had to play). Peter snagged a smooooth double-clutch and you could tell he would incorporate it into his driving:
My second customer was jtauxe himself, the owner of Bluebird, a righthand drive doublecab with a Type 4 engine: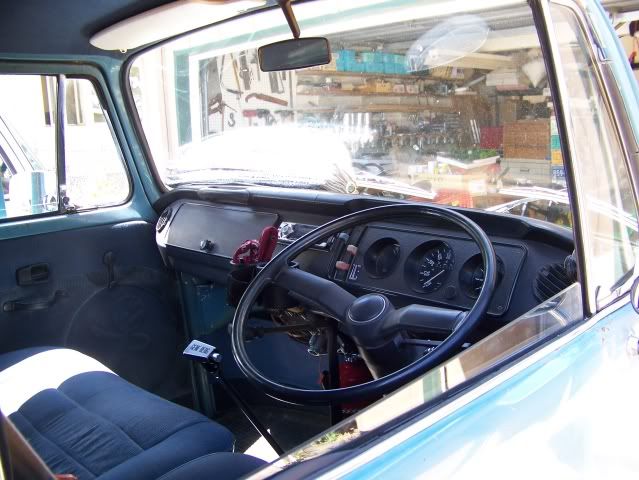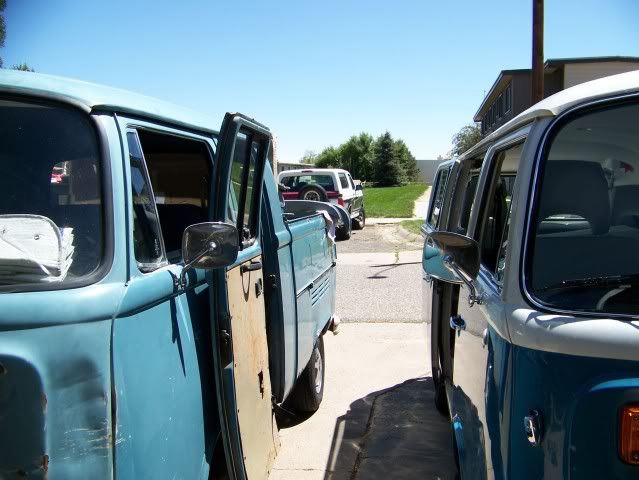 jtauxe has a fine intelligence and a ready sense of humor (and a piano that I just had to play), and thankfully he also had a serious interest in geology with which to fill me in on my raging curiosity of the gorgeous landscape. Right in the hall . . . a relief map of the ancient volcano and the every gulch and gully that comprised the land around us. Here he surveys the reunion of his gathering Volkswagens: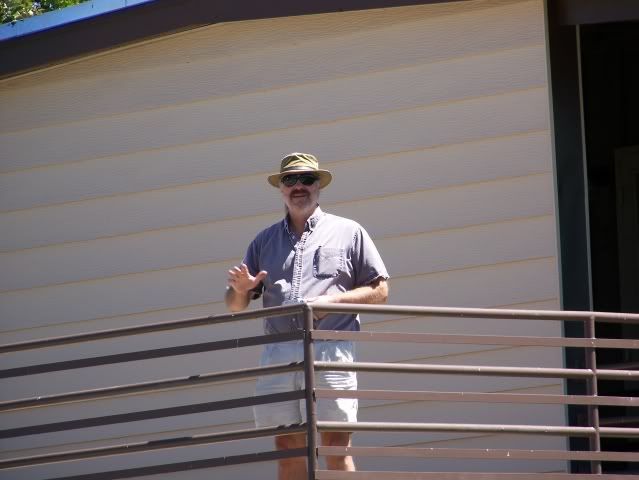 My third customers, the Bowers, were jtauxe's parallel regret to mine of selling the BMW. They now own Yellowbird 1, a beautiful fresh clean and thoughtfully gadgeted '76 Westy.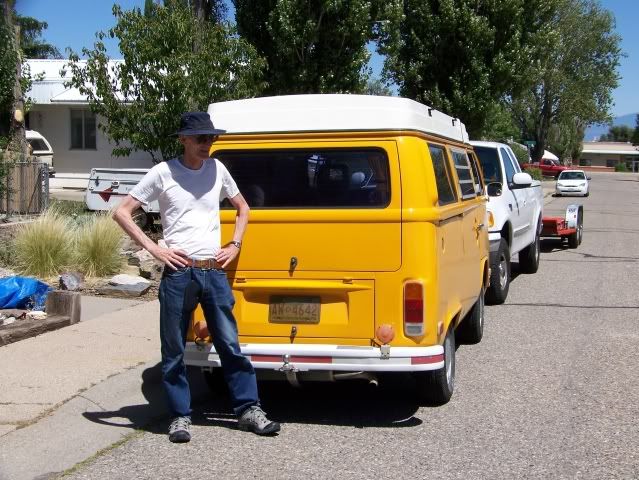 All of us present wasted no time in reminding jtauxe of the rashness of his selling this car. The Bowers were inundated in VW maintenance and we also had a fascinating lunch conversation about taxes and healthcare (. . . and I got to play the Steinway). Mr Bower knocked out a smooth double-clutch downshift that you could tell lit up the lightbulb. Excellent pluck as he bravely braved valve adjustments and timing and fuel injection in the bright sun: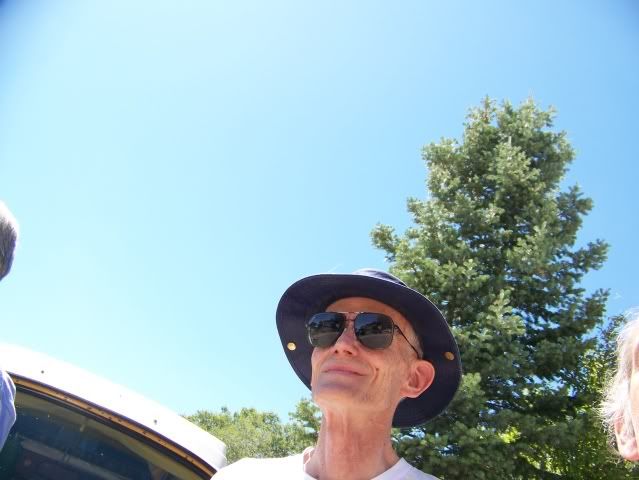 My last customer was Jim from Phoenix who drove up in a Ford F150 and a trailer to haul off Cassandra, jtauxe's other yellow '76 Westy. We were supposed to leave it alone, John! but the lure overcame us and we got it running the day before Jim arrived. And it was smooooth. And poor jtauxe . . . rue anew! "Maybe I should call it off," he mused. But no. Jim and I spent the day going through maintenance issues and we backed it onto the trailer and held jtauxe back as it rode away to its new life:
Honestly? Jtauxe has THE bus. This thing is remarkable: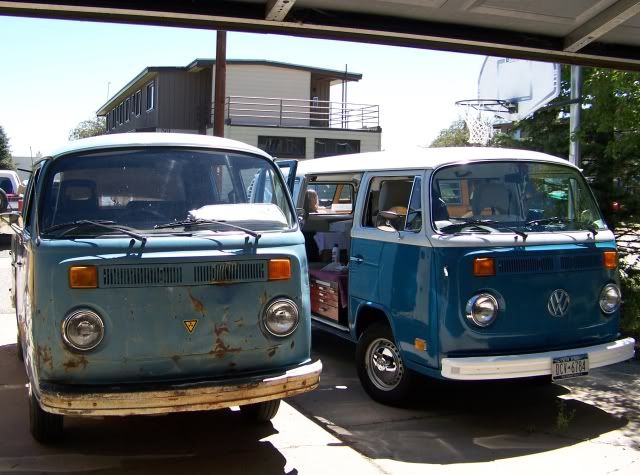 I had an unexpectedly enjoyable couple of days. This Los Alamos gang is a bright bunch (musical too!) and I loved the conversations we had and the scenery was just gorgeous, and even my exit put on a heck of a show. . . next post. Thanks for bringing together all of these people John.
Colin