It was a beautiful welcome as I headed down Route 199 from Oregon to the famed 101:
My beloved heat gave way to that Pacific Ocean coldsink of barely 60* as I entered the Eureka area to visit airkooledchris, but the scenery was spectacular: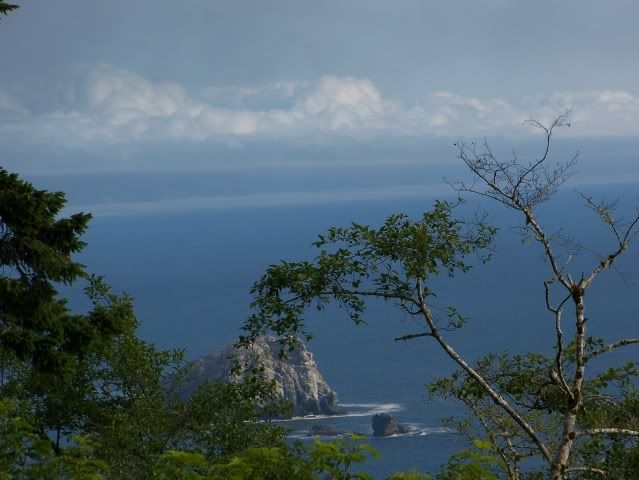 Highway 101 is a challenge of slow RVs and fast Porsche 911s and some sidewinds, but my bus was quite in the mood to join in on the downhills and developed some dark stripes on the outside tread blocks where the cornering loads had rolled the tires over. Here, I had braked severely from about 65 to the edge of the turnout. Had there been any misjudgment, not only would I not be here posting photographs, but there would be some news story buried in the local paper of a splatted bus-on-the-rocks: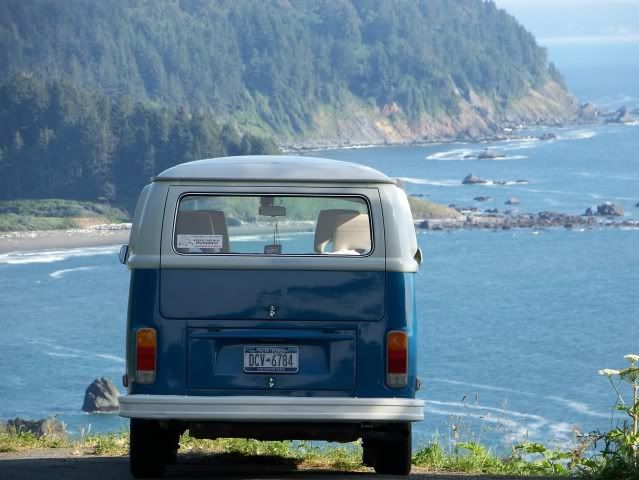 After a fascinating day of airkooledchris Vanagon engine games, I headed immediately over to the heat of the Inland Empire via Route 36, a winding road of breathtaking hairpins and changes in elevation. We had endured a cloudy day of Pacific mist, and the cloud cover finally broke somewhere around 11:30PM as I climbed a hill and was treated to a primordial moonlit sillhouette of mountainside tree profiles and scuttling clouds and a remarkable milky mist filling the valley floors. With the heater keeping it cozy inside, I comfortably surveyed a landscape that could have been sub-freezing if not 80*. Finally shut it down around 1:00AM when even a hairpin curve coming up could not keep my attention. I pulled off into a large turn-out and enjoyed my first true silence in months, silence and moonlight . . . Restoration To The Soul.