So today I got stuck for the very first time in this billy goat of a bus.
It was Route 66 ouside of Needles in 105* baking sunshine, I says to myself, "hey! nice bridge, made of wood even" (Rte 66 has wooden bridges out here) so I pull a hard right off the pavement and skip down the incline right into the wash, the gravelly, sandy, rocky, mostly sandy, wash. Now I have done this a thousand and one times and the first rule is Always Keep Moving Through The Questionable Stuff. But I had a question. Where to? It looked like it was only getting worse and I could not map a path that gave me firm ground in the time allotted (the time being my rapidly diminishing momentum). When I came to a halt with idiot lights galore, I then had to obey the second rule: Thou Shalt Not Spin Thy Tires. I gently rocked the car back and forth, but the front tires had sand dams and the rears were going down more than forward or backwards. "Shit!" said I.
Shut off the engine and pulled all the sand, gravel, and more sand out from around each tire and out from under the hot engine. I collected 40 flat-on-one-surface rocks and made a cobblestone road back from each tire and stuck a few sticks to guide me through the rear view mirrors. The hot engine is not feeling too frisky at this altitude, and it wants to stall as I rock the car out of the ruts just enough to grab the rocks. Finally, I get a little widdle bit of momentum and start backing up when the transaxle jumps out of gear. No momentum now, just a lurch sideways into the softer sand still. The front tires are sand dammed even worse. The German Supply Roman Helmet tailpipe is an inch from ingesting sand. "drink some water!" yells my woozy medulla oblongata as my eyes swirl black spots through my field of view.
Back to the road grading (gee, it seems a little warm today) and rock-laying. Since I do not want to repeat this step, I gather another 40 or so rocks and make a nice WIDE cobblestone street with curbs even. Now when I back up, I keep my right hand firmly on the gearshift apologizing the whole time as I slip that clutch as though to punish my every Itinerant Air-Cooled Lesson Ever Taught about how to be nice to your clutch, man it was vicious but the bus clamored out and shook itself off with aplomb as I backed up the hill. Anyways, it was a beautiful wooden bridge that shook its timbers every time a car passed over head.
These three pictures occurred later: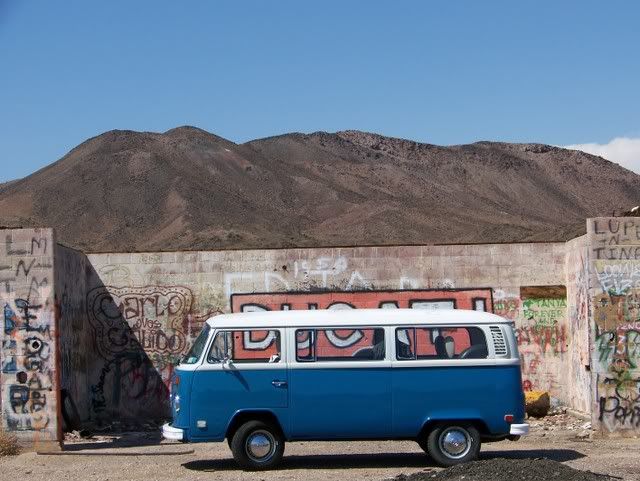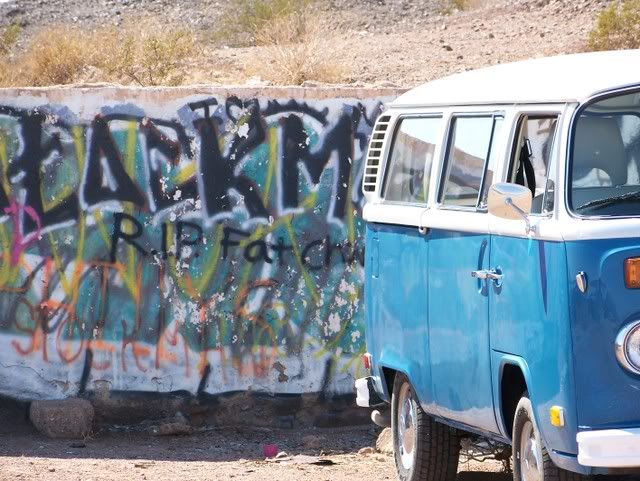 It didn't really say, "R.I.P. Fat Chick", it said "R.I.P. Fat Chad" with poor penmanship.
Colin