So, I had scurried across the state of Texas to do a James Dwan day, and I had driven up to Oklahoma to do a Barry Smith Worst Steering In The World! day, and then hurried to Houston Lake, MO, to do a day with Hippie's friend, Bill. Bill had been deeply traumatized by a couple of successive engine failures, big ones, expensive ones, GEX ones, independent mechanic ones, and it was my job/desire to restore to Bill the air-cooled Volkswagen joy: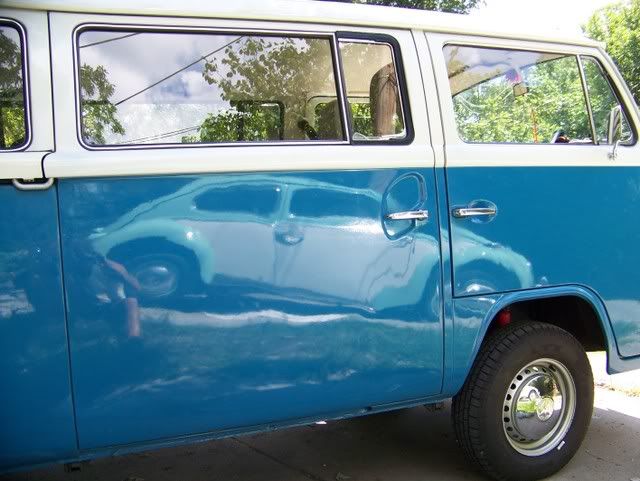 We worked on his bus first, got it running, drove it and drove it some more, and then a little more, because driving is what you do with a VW, and a traumatized owner needs to see and hear and drive his air-cooled VW. (I note only in passing that you all MUST be GENTLE with gearshifts, GENTLE!!!!!!!!)
Then we replaced axle boots on the early beetle. A bit challenging to work it all in place, a bit challenging to discover air leaks in the new split boots no matter what we did. Then we sat in the car and just hearing the noise when stepping
on
the clutch, well: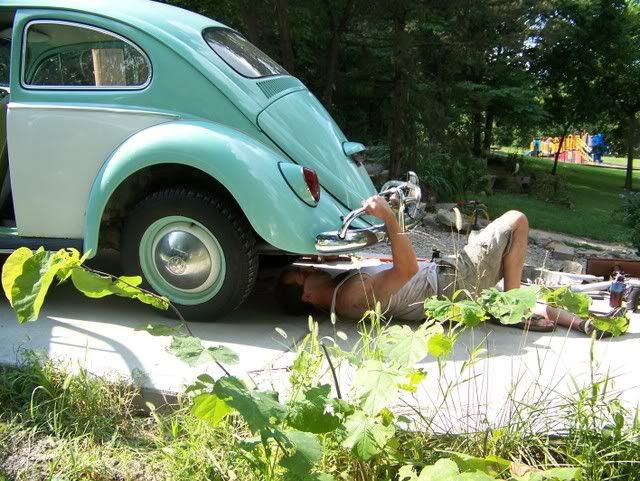 At 5:05PM, I says to Bill TheVolkswagenTraumaVet, "we're taking out the engine even though I have to be in Saint Louis tomorrow morning at 9:00AM sharp." Bill is a little perturbed at this, but when the engine was on the ground by 5:30, he was brightening up a bit. I sure wasn't. There were shards of magnesium all over the place. Flywheel was too big. . . Got out my Dremel and attacked the bell housing while Bill removed the pressure plate so we could put his old one back on:
You see, some nameless vendor telephone assistance professional had told him erroneously that he could use a finger diaphragm pressure plate without the collar that you MUST install with the early style "floating release bearing" transaxles. Fie! Fie!
At 7:02PM, we take a test drive and I beg little beetle to please be good, and whatever that weird noise is now when we take our foot
off
the clutch pedal, please go away, please. Bill's ashen face wants it to go away too. That charming little beetle then went about fixing itself. All nice and quiet by the time we return to the homestead. At 7:40, good and tired, I must drive to Saint Louis, so I bid Bill goodbye and hit the road. But there is a beautiful full moon that jumps over the horizon in Kansas City And I was so busy trying to find the right shot that I got lost in the midst of Kansas City: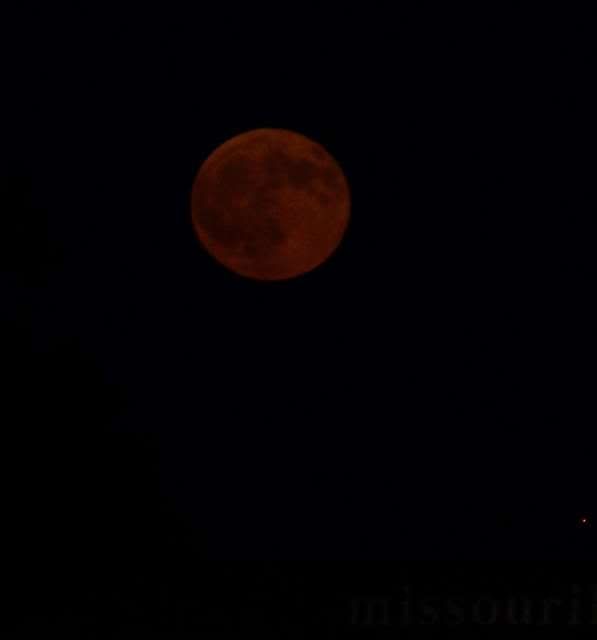 Found my way back to the interstate by 10:30 or so. And drove and drove to Saint Louis, arriving at 2:30AM with a six hour nap til RusselK: