I only saw downtown Dallas from the horizon as I tucked underneath along I-20 to Garland. It was a focused high-speed trip across Texas, and I have eight MOV clips shot at 30 minute intervals for use in the Big Screen Release of IAC The Movie.
At James Dwan's house, I was treated to his newly painted bus:
. . . and he was treated to an IAC new black lettering/numbering and red nail polish plus clearcoat grafitti attack on his timing scale: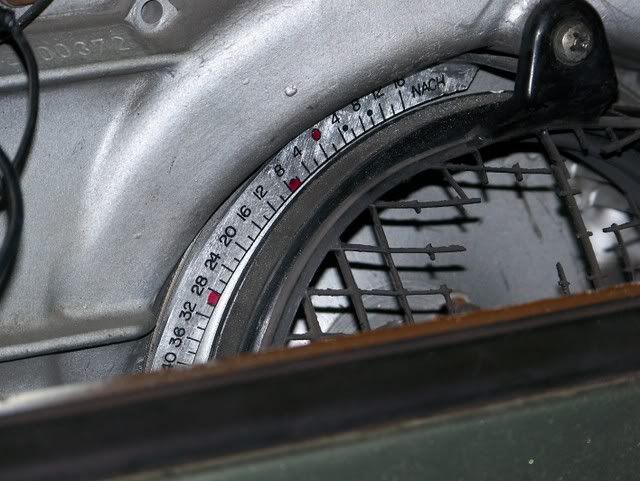 which we then put to good use: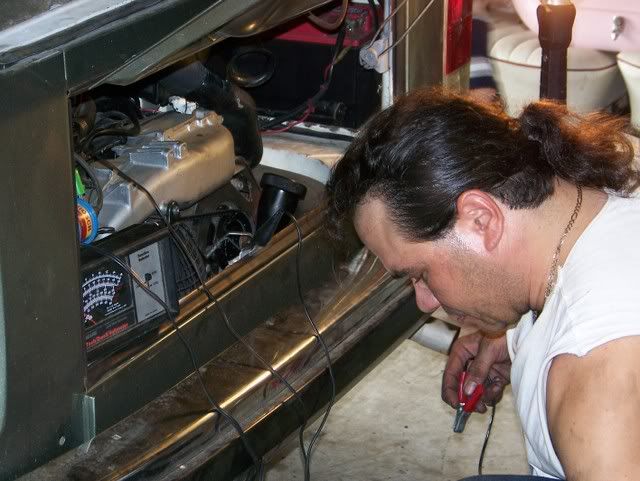 This bus is in the midst of a slow evolution amongst the two other VWs in his fleet. We had a hilarious test drive down the street in the half-assembled unplated uninsured pink Superbeetle-with-challenged-exhaust-system where his paranoid panic of police came to gorgeous fruition. Right across the intersection at the corner, COP CAR! Screech to a halt. S**t! Now what? I backed the car up and parallel parked at the very nearest opportunity, got out of the car and sauntered across the street to strike up a conversation with two startled residents in the midst of minor outdoor chores. Under my breath, I told them to "make it look like I came here to visit YOU" and we launched into a loud empty conversation about the Mercedes 450SEL sitting there.
Quietly, we discussed if a U-turn would raise the interest of our COP! sitting there. The residents, having warmed to our task, offered to drive us home in another car. James and I decided not to leave the Superbeetle there all half assembled and unplated, but nice offer, heh?
Eventually, the COP! drives off, and we have to determine if the COP! will come around from behind and close off the northeast flank of the street grid. Hmmmm. Eventually, we decide to HIGHTAIL it home and we did. Chastened, I drove the Superbeetle down his street a couple of hours later to diagnose it. Here's a diagnosis. The battery is damn close to dead. Push start just barely got me home. Anyways, James is a solid participant in the love of these cars, and I enjoyed my day.
Colin