I am on the road to Los Angeles. Yesterday was a glorious 121* in the Death Valley run from Pahrump to Baker.
It was so hot. . . how hot was it? It was 144* on the pavement, 137* in the dirt along the road, and 121* on the Baker thermometer. There was a headwind too, so I throttled back to 65mph and downshifted early on the mild uphills. Beautiful hot approach to the big valley I photographed last year when taking my dad to Oceanside. Here you can see the Dumont Dunes' light sandy stripe spilling across the valley floor: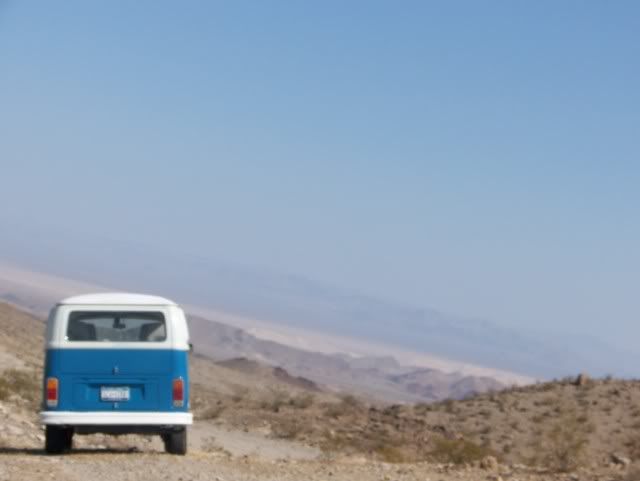 If you look closely here, you can see the little strip of roadway that was the approach shot from last year, I am further up the hill here:
The car ran beautifully! The steering! The steering! The steering is back!
(Walter at Bus-Boys sent me a new set of torsion arms, so I replaced them under the porch awning in Pahrump (Charlene and Greg, thank-you!) in the 105* heat with paper towels of greasy stickiness stuck to me like toilet paper with confused ants and gusts of sandy wind and dog hair, but the job was easy and I should have photographed it and done a write-up, but . . . it was too hot and I was too filthy to touch the camera. I finished up at 11:00PM and played the piano until 2:30AM (I will post the latest composition when Photobucket stops crashing my ati2dvg driver)
I am so happy to feel the road once more! To return to center after a corner! To only have to pay attention to the wind gusts and not re-centering the wheel laboriously! And it is
light
once more! No more hairy down hills where the steering wheel just stuck in place mid-corner when I needed the natural caster to tell me how hard the suspension was working! And the ball jopints are still new and not broken-in!
And there is a metaphor here! Don't put off for tomorrow what you can do today! Three years of asinine, annoying, boorishly stubborn, center pin destroying, joy robbing, wooden steering during these amazing and beautiful country strafing adventures, it was my own procrastination that stole the simple pleasures of good hard driving and replaced them with a background anxiety at every mountain downhill run.
Fuel pump behaved too. With the heat control valve thoroughly seated, the new aluminum heaterbox exhaust ducts installed, the heat shield finally in place, this car took the hottest day in the desert against the wind in stride. The ebay cylinder heads with unknown valves did their job with nary a complaint. I am once again convinced that these cars, in stock trim, are friggen bullet-proof: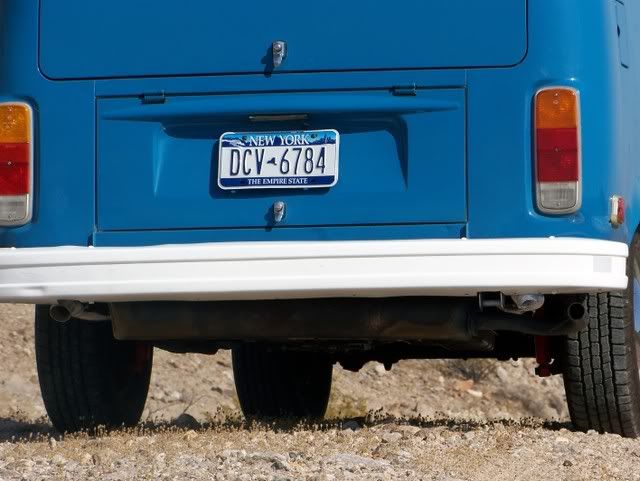 I am in-love with my old VW again, and it wasn't even its fault that it was a pain to drive for YEARS. Laaaaaater!
Colin