But first, how about a little Northern California Waxing Moon Over Fires:
Today was a lovely day at 7,000 feet. I climbed rocks and wrestled junipers:
My idiot impatience blew out a funny photograph as I crashed my laptop during upload. (svchost was hogging the processor and I shut down a couple of redundant ones. . . guess they weren't redundant) It was the below shot with that 1,000 foot drop off and a road sign that said "END" no kidding! Way below, wedged against a tree, was a tiny mashed pick-up truck bed but the truck must have just kept on going: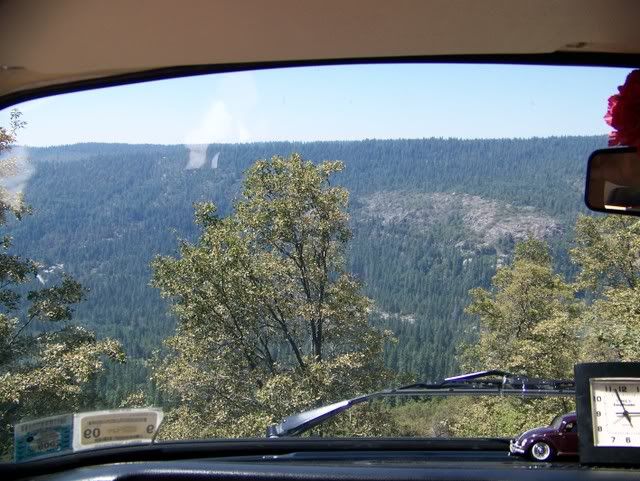 This is an attempt at arty:
"
IAC Photography, famous for its compelling and daring juxtapositions of natual splendor with a taut political tautology has stretched the imagination of
. . . a couple of . . .
people over the past several
. . . minutes. . .
with a stimulating new eye for
. . . . trees and stuff."
So THEN I drove down the big hill. . . right the hell into a 25 mile long traffic jam. CalTrans decided that FRIDAY must be a good day to trap the Lake Tahoe weekenders from San Francisco or something, and closed all the lanes but one outside of Reno. Now there was this '68 or '69 bus up ahead that I wanted to carefully catch by brilliant lane-change artistry through the jam, but my fool pump decided to go into its well-known guardrail kissing death rattle as the slow traffic heat soak in the engine compartment started boiling the fuel AGAIN (with good California 87 octane fuel, this pump is damaged no doubt). As we crawl down hills and climb up others, I am shutting off the engine and then doing high-rpm 1st gear runs to get more cool fuel flow, AND I am spastically trying to catch the faster lane with backfiring and herky jerky on-off spastistosis. Finally, the jam the 25 mile long jam comes to an end Look! They're fixing a guardrail, and that was all my fuel pump could stand. NO power, engine dead, and I am barely 100 feet past the single lane that flowered to three. There are a lot of pissed-off people that can't WAIT to make up for lost time, and they are kick-down accelerating like mad and there I am 3.26mph in my old van, man, and I can't even get mad at this poor fuel pump (it first got traumatized when I ran out gas outside of Dallas in 2005 just at the 500,000 mile mark, and ever since, it has spoken with chattering when I let the tank get too low or feed it crap from Grants Pass). But Mr. Red Volvo 18 Wheeler can get mad. He was behind a huge RV in the left lane for the past 10 miles making his 42 cents per mile at a rate of $1.68 per hour, and he swings to the right only to find me SLOWING DOWN. I heard his brakes too. He laid into that air horn like I jumped out in front of him or something. I was merely gently expiring to a halt against the guardrail, no shoulder either.
Guess I won't catch up to the '68 or '69. Probably made their day. "Hey Brenda, that late model bus can't even catch up to us, you did good with that point adjustment."
After sitting there in a total fix, I tried to start it again, and it starts. I launch hard along the guardrail (remember those stiff ball joints? I sure did) trying to get some momentum as quickly as possible before the pump chatters dead again, and a new truck dude is all over his brakes, there is NO shoulder here! but come-on!! I had been just sitting there with the flashers on for several minutes, he saw that back at the traffic jam release chute so any movement on my part is increasing his reaction times so what IS HIS PROBLEM?? Punishing me for being alive, that's what. That and his $2,575.50 fill up at the last Flying J.
Anyways, everything is running well here in Carson City, Nevada, the smallest state capitol I have ever travelled through. I shall camp under the moon, and wake up under the warm desert night's stars, and I will play the piano tomorrow night. . . if my fuel pump decides to let me.
Colin
(maybe I should install this here new Facet pump?)