I start the day grey with that Pacific Ocean cold-sink overcast chillishness as I dodder out of the bus into the path of a mystified Mexican driving a way overladed Ford truck. "That's a high center-of-gravity" I observe as he veers and counter-corrects a few times. My entire being shifts into winter-mode and I want a cup of hot coffee, strong, and several boxes of doughnuts. Instead, I slink through Starbucks for a quick shave using that excellent Skin Stripper Anti-Bacterial Slime Soap dispensing dribblingly from the sink. I put a paper towel bib over my shirt and rake the blade across the stubble as I apprise the new evidence staring at me in the mirror, I am a young Old Man now as opposed to the old Young Man of yore. Shaving done, I brightly ask the Starbuck's "barrista" (new hire) for a "refill" (four day old paper cup leaking at the seams a bit) "tall" (small) cup of "Aribicabicaba" (strong)"Would you like anything to eat along with your order?" (hell no, that stale frozen/thawed sugary crap?).
I arrive at the Ritterhome to find a beautifully arrayed VW Operation in full swing, complete with plastic bags labelled infinitesmally "screws for the fan housing". We are to dress the engine and install it, then we can tune it and test drive into the sunset happy happy happy.
I love this shot of his engine. It looks strangely purpose-unidentifiable, just a 1930's art mechanico-deco Object, vulnerable in this up-ended condition, and I want to re-organize it and get it installed in its home: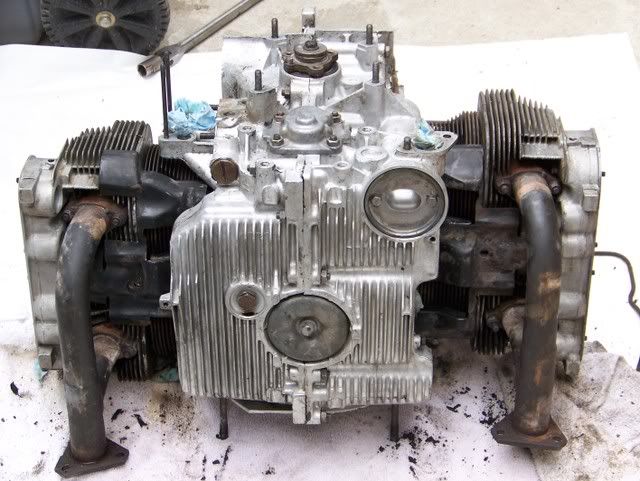 We dive in and replace the long-ago-hydraulic-but-recently-doing-business-as-a-solid- #2 intake lifter, and reinstall the pushrod tubes and rocker assemblies. Here is Ritter installing pushrod tubes vertically, hopefully the last time this engine will be in such a posture. It finally has a full complement of truly hydraulic lifters, and we look forward to a smooth and quiet middle-aged engine with its newly settled-down end play and fresh front seal and graphite ring and a fresh release bearing, 228mm clutch disk and 228mm pressure plate to go along with its 228mm flywheel:
But! Once again, we have tripped into the Obstacle du Jour, a common occurance in this 2008 Itinerary, where the love and the enthusiasm of the current mechanic-in-training far exceeds the current circumstance of an engine that has Suffered In Its Past. Like a few other engines I have visited, the lovingly attended parts by the current owner, have evidence of great prior violence. The day crawls down to straightening and hammering and bending and orienting and fitting engine tin whose fresh fresh new paint just splinters right off as we try to get screw holes and captive nuts to align with each other. Such a damn shame. How do we pre-prepare Itinerant customers for these sorts of unknowns? The rear tins were so savagely bent and distorted, that Ritter could in no way have known that they were impossibly out of alignment. It was a difficult undertaking to restore compound curves using the bench vise as an anvil and a 2x4 as a dolly. But, the tins finally were acceptably close in fitment to each other: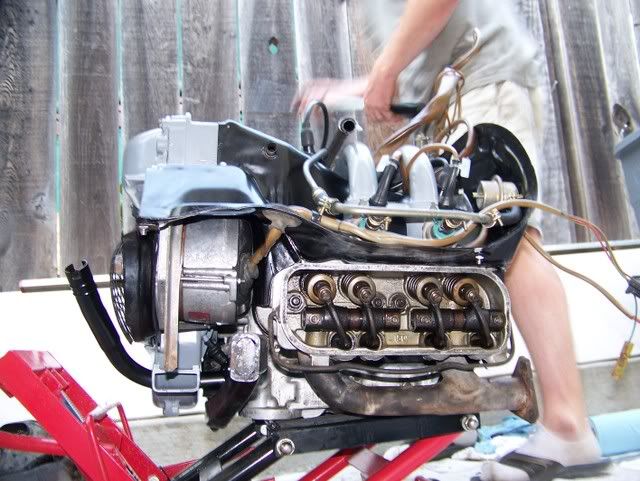 We were visited by an enthusiastic groupie who was charming company for the well-rested Itinerant, but perhaps a little less charming for her responsible field supervisors (please note that I am familiar with children and their energy and curiosity, I am not at all nonplussed by their participation or desire to participate):
Much later in the day, our demoted groupie was now the Water Girl and she was diligent to our hydration requirements. The engine finally arrived at a state of Reasonable Assembly, carefully put together with all of the tenderness it had clearly missed out on in its prior life: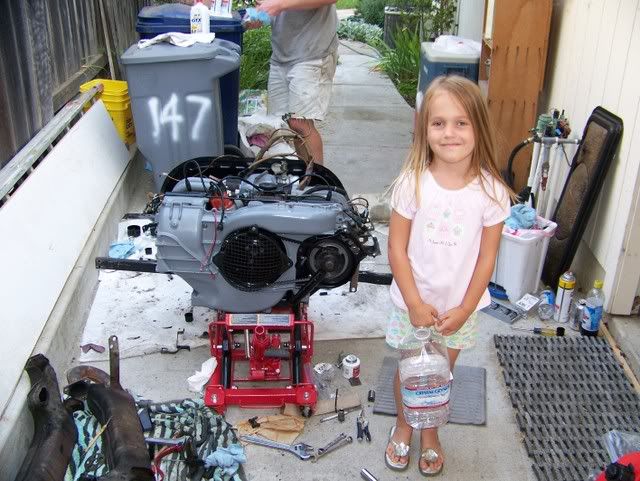 BUT! We have an Appointment II to get it in the car.
Next day is tractoman, with another engine that must leave its engine bay in a 1975 orange Westfalia with orange plaid interior (I like these orange Westys):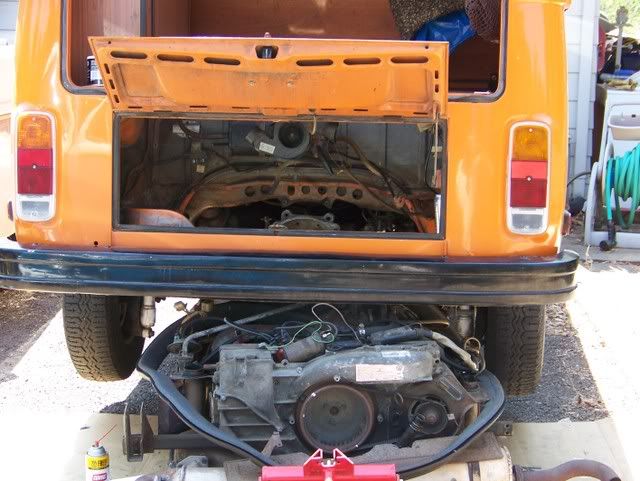 This little bugger pulled a surprise on us as I showed tractoman the Nicest Way To Remove A Type 4 engine. Like, why isn't the engine clearing the input shaft? Because the input shaft is coming out with the engine! WTF? That thing is free to slide back and forth right out of the transaxle. Investigation yields that this is an 091 gearbox mated to an 002 215mm clutch bell housing. Uhh, someone dint put a circlip in there, Drrrrr? After shoving the input shaft back into the transaxle, with only the 3 to 4" clearance between the engine and bell housing to stuff my hand through, we got the engine out. We decided to do our front seal/endplay/graphite ring/clutch disk/release bearing replacement underneath the car where the shade was. I was getting all dire with tractoman on re-installation issues likely to loom, like a visual alignment of the clutch disk instead of that centering tool, the aforementioned loose input shaft, the stud that backed out of the case, the wobbly floor jack piled high with lumber to hold the transaxle at the angle we wanted, but it sort of fell in while I was harranguing. (!) Nice!
Then we timed and tuned: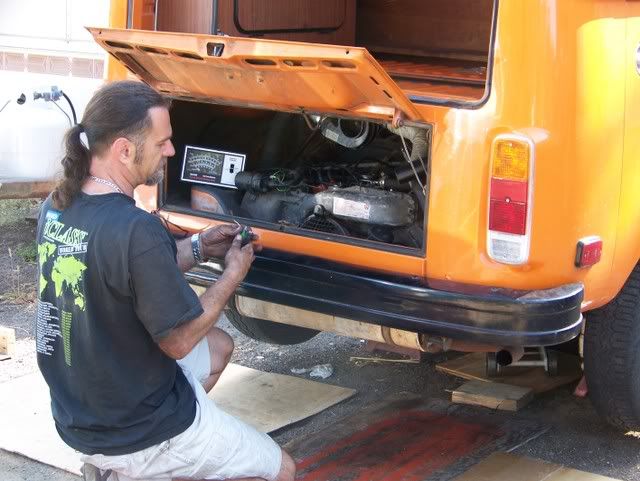 Nice car! Good steering! Smooth engine! Balky shifter! Fixed that! Good intelligent company!
Colin