Poor bus. 100* heat and hill after after hill, but worse than that;
what is with that gas station in Grants Pass selling low-octane crap gas as though the elevation was sufficiently high? I hit the road and the engine started stumbling in about 100 miles. I thought it was the fuel pump, so I pulled off to cool it down. . . and shot this year's Mount Shasta Bus Shot ( August of 2003 shot is in theSamba gallery):
Then, as I was filming a shot of the almost dry Lake Shasta on the I-5 bridge, bam! the engine dies dead as a doornail. Hit the emergency flasher, and squeezed out a couple of photographs as the speed dropped below 30 mph: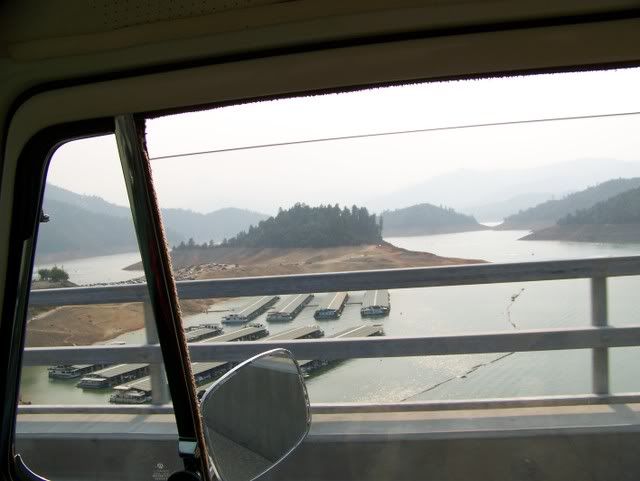 Bus came to a dead halt on the inside curve of a hill just past the bridge, parked so close to the guardrail that I cannot open the passenger door, trucks are rushing past and rocking the car as I grab my towel and scrunch under the car to eat road grit from the air wash of the incessant parade of trucks blasting past. Now I know you have heard me complain about trucks and their lousy lane discipline as of late, the sound of tires buzzing on the shoulder strips has wakened me many a time in some rest area with a start, but I gotta tell you, if I heard anything like that right here under the bus, I would completely freak. So the fuel pump is tackity tocking like mad when I energize it from the starter 13mm nut terminal. The fuel filter has some tank rusty bits and paint chips from the recent Oregon gas attendant wars, so I pull it, mindful of the exquisitely hot exhaust plumbing and 100* day, and I backwash that bad boy with GumOut the elixer of gods, and get a good spatter of chips, rusty bits, and even a flying filter from a really good blast from a really close truck. No time to screw around! Get this done! Reattach the filter and the hose leaks. Tighten the clamp a tad. It squeezes the hose off the end of this fine Made In Israel plastic fuel filter. Gas bath, truck wind, road grit, fear for my life, and finally got it all together and primed the pump which is now a nice quiet mellow dudududududududududu-du-----du-------du. Engine starts right up and I pull up the hill on the shoulder at 30 mph with flashers and take some more pictures, at least you can't smell the gas on them!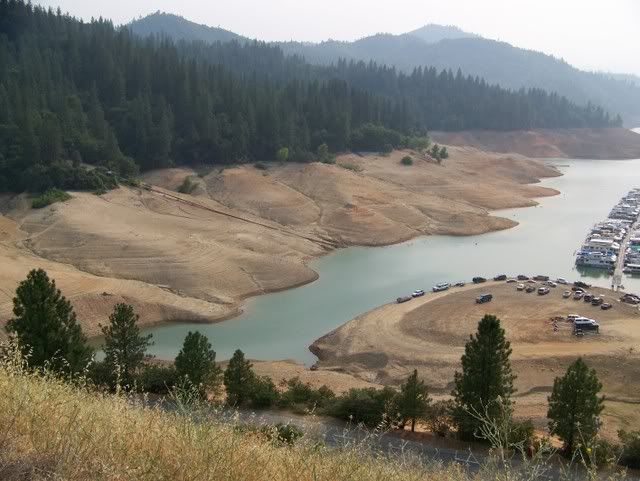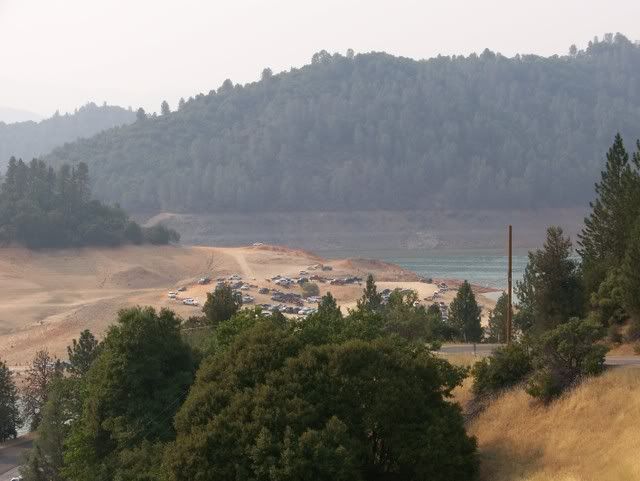 This poor lake is so low. Look close. The hordes of Recreational Locusts are just descending into the lake bed to party on. . . .
Drove on, well pleased with the favorable fact that I was not killed in a fiery wreck. But fire was still on my mind. The skies have been whiteish all day and that cloud hiding the summit of Mount Shasta was a cloud of smoke. Here is a staging area for an aerial attack on the fires ravaging northern California (because that is what fires here are supposed to do):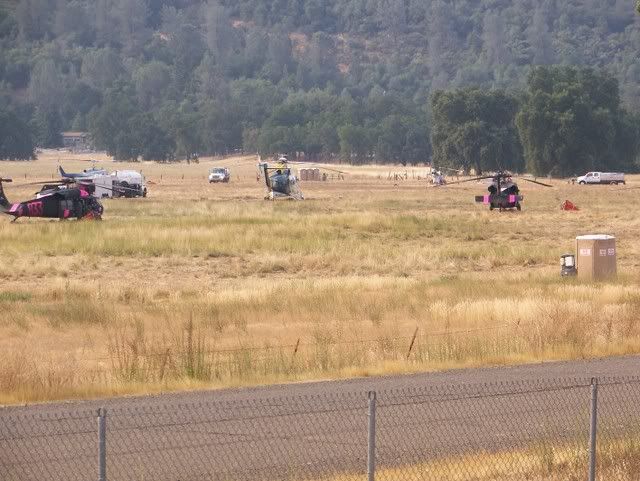 And here is a big-ass helicopter getting filled up by a tanker: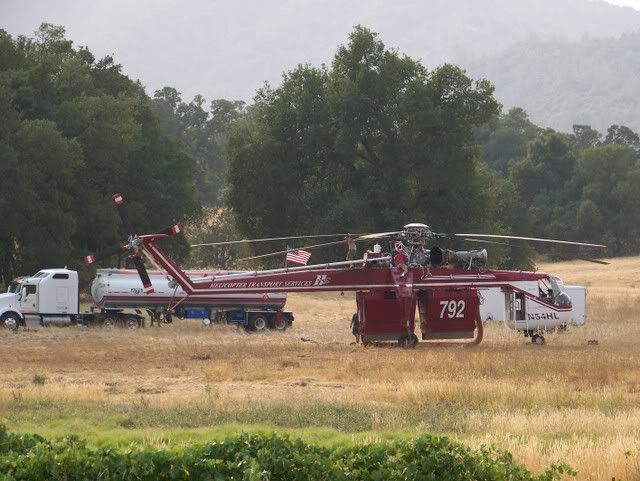 Right after this shot, the car just puked to a halt again, complete loss of power but no idiot lights until I pushed in the clutch. With my 15 seconds of coast time now upon me, I put away the camera AGAIN, looked along the guardrail AGAIN, sized up the truck traffic and their lane tracking AGAIN and came to a halt. . . . on an exit ramp with a Shell station visible through the trees. "Fuel pump!" I says to the fuel pump, "yer screwed, I don't care if you overheat and die, I am getting off this freeway." So I hotwired (no fuse protection either!) the pump to the starter 13mm terminal and it is making a death rattle. I flick the filter trying to splash some fuel into the pump, but the death rattle gets worse. Then I squish the outlet hose and try to tilt the filter down to get some fuel into the pump on the inlet side. But wait! The pump quiets down and goes into its mellow dudududududududududududu-------du------dudu---du---du-----du. "Aha!" but no one is there to listen, "vapor lock due to a dip in the outlet hose." Like a toilet trap, a pocket of gas vapor has occurred and the pump has been dashing its plunger silly trying to push air that refuses to go anywhere. Air. From Lousy Gas Vaporizing in the 100* heat. Thanks Grant's Pass Whomever with the 85.5 boilable horsepiss and ethanol. So I get to the Shell and fill up with 87 real gasoline, and I am looking just as hot and cranky as I feel. That's why, at Starbucks here, when I found out the A/C is not working too well, I snapped at the counterperson to please perhaps turn down that car accident stuck horn section passing itself off as jazzzzzzzz just a bit. To which she replied, "I am glad you asked, for they make us turn the volume up to 3:00 on the dial all day, and I hate music. . . have you been working in gasoline?"
I am literally right next to Bus-Boys here in Redding, and I so desperately want to get some new trailing arms. . . . but the itinerary marches on.