So, I left off with the return trip to misszora whereupon we indeed did reassemble the engine just in time for the Monday LuckyLab all the while I was thinking "those spigots were pretty rough". Here is Marc(k?) and Paige at Almost Engine Start: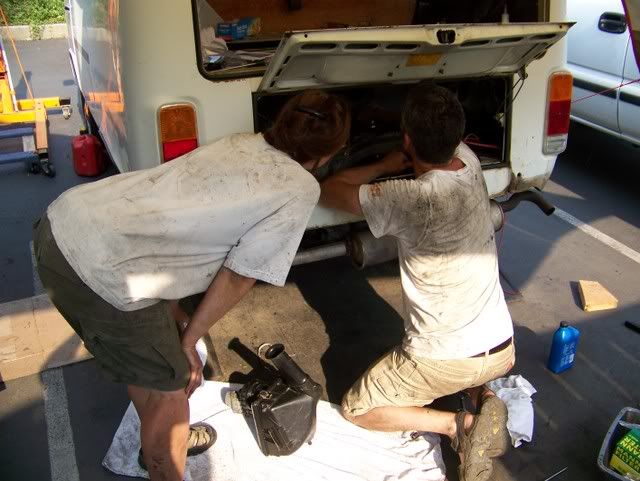 Though their excitement was infectious, I was thinking to myself "those spigots were pretty rough" as we drove to the LuckyLab. And indeed, I heard a canary chirp under acceleration. So here are our intrepid mechanics flush with the patina of their hard day: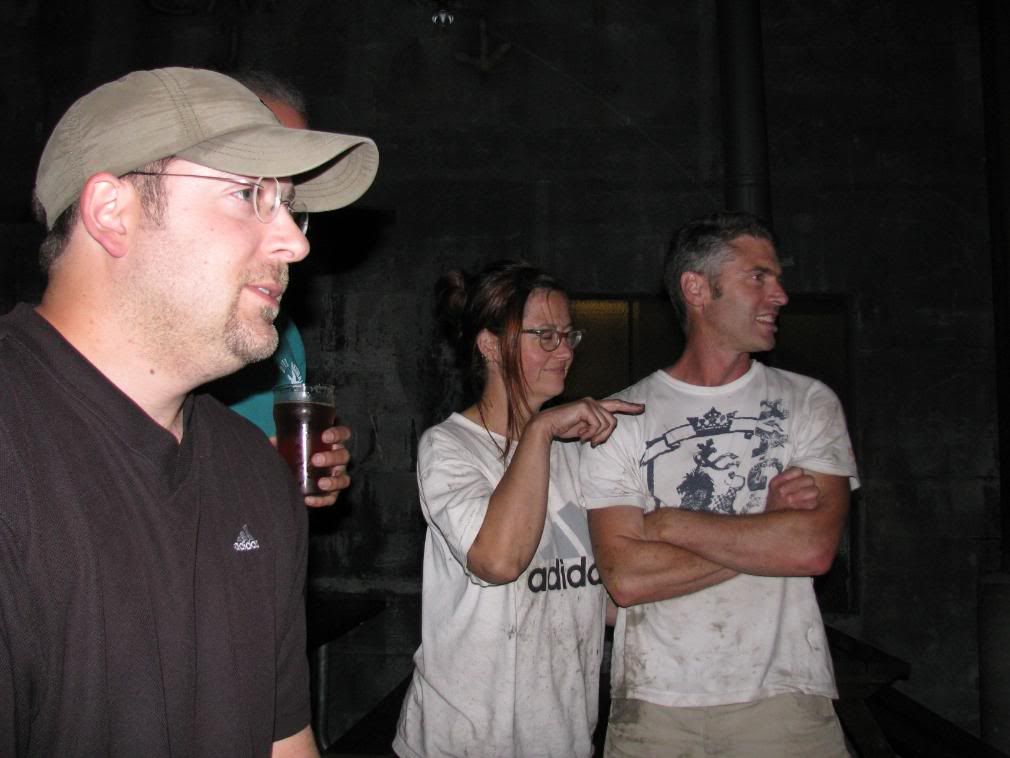 And though the beer tasted excellent, and the clamor of VW enthusiasts was heartening, and Westy78's VW drove like a dream, I was thinking "those spigots were pretty rough", so if anyone caught my distractedness, it was merely a case of WHAT THE HELL AM I GOING TO DO NOW?? as I enjoyed the companionship of people who I've known for almost half a decade. Anyways. . . the next day was yetanother, yet another day, yet another VW bus appointment. . . yetanother was his name, too. Thankfully, it was a satisfying day with an actual victory of improved driveability and a customer whose insights and intelligence were a pleasure, but those spigots were pretty rough.
So what do you do you do after a yetanother day? Yet another. With dhoch14, who has been running around like a nut himself flying across the country to a wedding and cleaning his engine operating theatre and obtaining some needed parts to boot. Here he is, in the midst of places he's never been: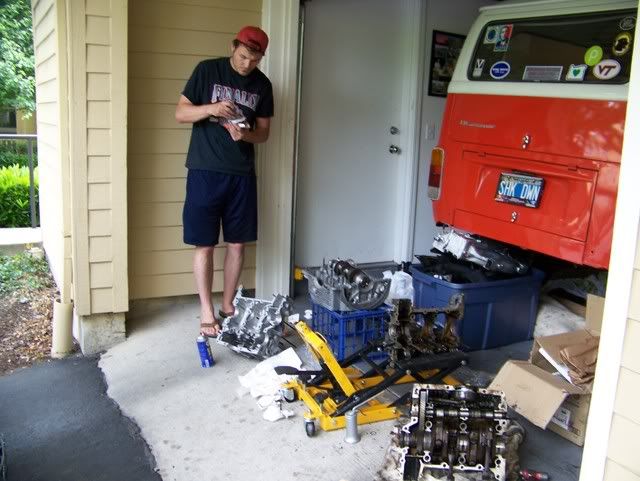 A fascinating little bit of forensics presented itself to us. Tristessa had given dhoch14 an engine from which we scarfed several critical parts, but look!
These are the main bearing shells for main bearing #2 out of the tristessa engine. Have you ever seen such an amazing Martian moonscape? These bearings were not only worn, but eroded. The cause for this magnificent display of ruination could be any of several tantalizing no-no's. I'd start with imbalance of the reciprocating masses, move on to severe low rpm lugging, then pass through water contaminated oil with attendant acid sludge, and perhaps finish up with the more likely cause. . . extremely high mileage with loose bearing clearances. Believe it or not, loose clearances increase oil
FLOW
from the oil supply hole to the outsides of the journals, that volume of oil can wash the lead out of the bearings over time, and the banging around of the crankshaft in that loose saddle could give us that beautiful etched copperplate work of art. Here is a fresh bearing before it knows anything of the traumas of life: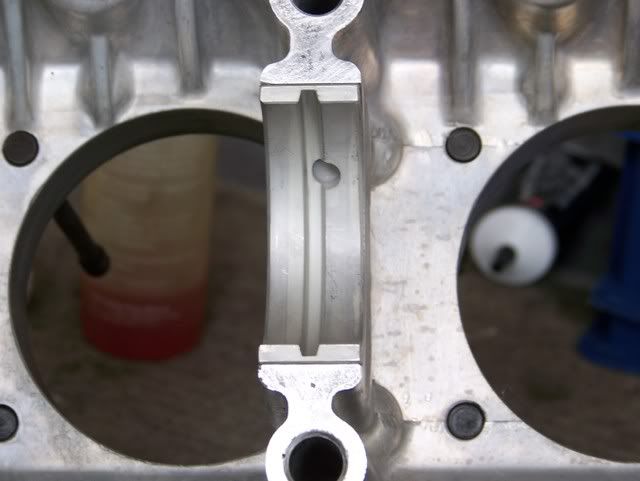 I will give this to dhoch14. He has shown initiative, pluck, drive, and diligence in this, his first, overhaul project. The details are many, the organization of such an intricate project is key, the cleanliness, important. Yet, surprises await even the most wizened of mechanics, and his engine was no different. The cam gear was just too small for this case. Having lived with cam gear rattle, I would not subject anyone else to its insulting sloppiness. Dhoch14 is onwards to further vistas alone in his craft but supported by legions of Itinerant Air-Cooled forum members. . . and his lovely cohort in crime, German Girl: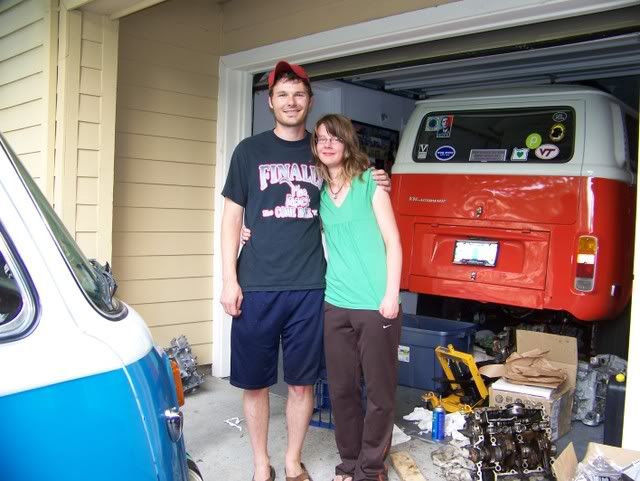 Then what did I do? Drove to Eugene of course, because I HAD to drive LiveonJG's green Westy that had languished in the garage quiet lonely still suspended between the days of old and the unknown days of future past.
What a nice car. . . even with a rusted out front beam, it drove smoothly with easy steering, smooth engine, and passable brakes. It needs to get out more. Then we looked at Ripple, that beautiful loud purple (that just misses obnoxious) Westy with the handsome interior (sorry about the front passenger seat muscling in on the portrait).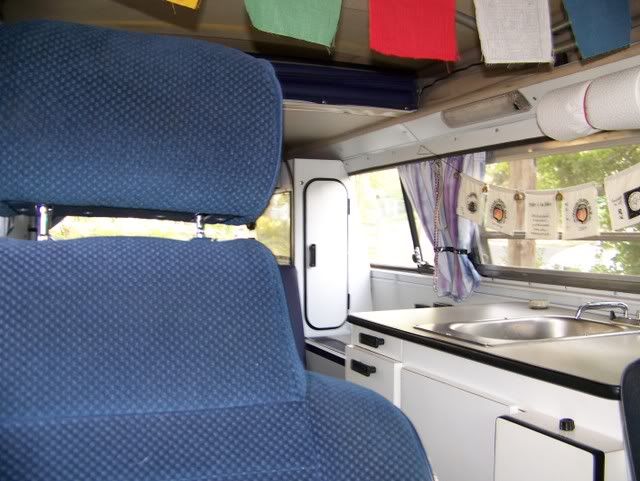 So the idle was a little quick, we took care-a-it, ARRIGHT? It idles fine now, THAT'S ALL YA NEED TA KNOW.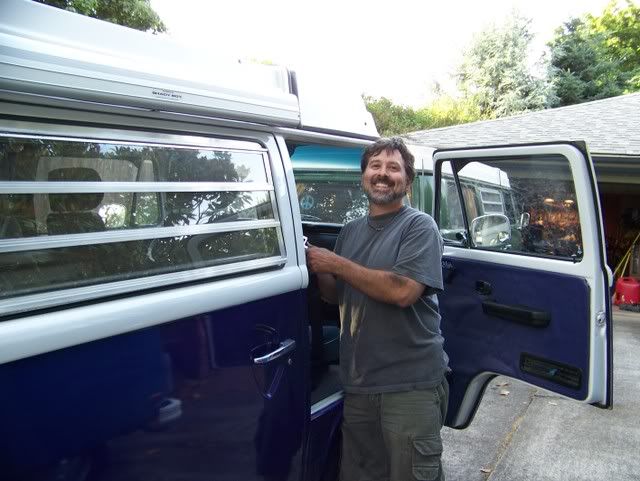 I am on Day Two of a Needed Rest.
Colin