It has been busy. . . .
This is Kevin75 standing next to his bus after our day. Though it was a bit overwhelming for him to be immersed in automotive arcana, it was a pleasure to bring to him the spirit of of this slightly battle-weary bus.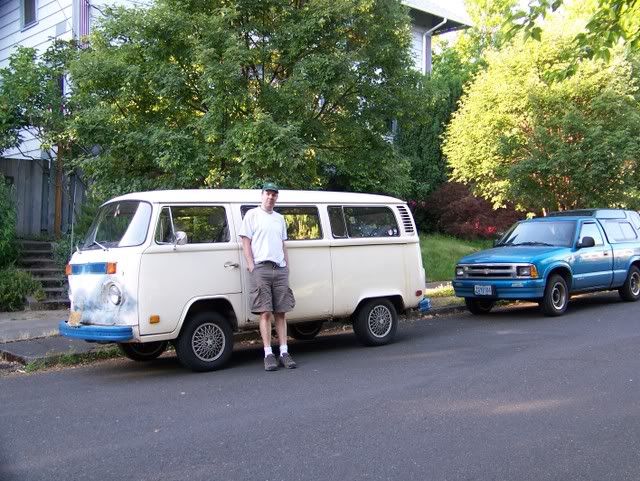 After the tune-up speil, we went on a test drive that presented some of the most horrendous noises I have ever experienced in an automobile. Horrendous intermittant grinding and chucking emanating from the gearbox when my foot was on the clutch, these noises seemed completely independent of whatever gear was selected. At the local store parking lot where we picked up some brake fluid, the noises were loud enough that people were looking at me like "does that IDIOT know how to drive a manual transMISSION???" I felt so bad for the poor thing. But what was it? I came to guess that maybe the reverse idler was smacking the 1/2 synchronizer after a tough spell in its recent past when the clutch cable partially broke and it was driven without full disengagement. Don't ask me why, but I thought, "let's shut off the engine and select reverse and coast down the hill forward and let out the clutch against the stopped engine." Kevin75 looks at me with that slightly bemused look. But it just seemed right, to kick the reverse idler hard to see if we could bang it away from the 1/2 synchronizer or sumpin. The rest of the day, this bus drove like a sweetheart, and I am extremely curious to know if it is still quiet. . . Kevin? Yaah? Naah?
So next day was dhoch14 engine rebuild. But we need a little janitorial interlude, so I bailed at 2:00PM with a return date (today actually) set up to actually get it together.
Next day was misszora, my friend, the white bus that I dearly wanted to minister, since it has endured much mechanical mayhem from creative mechanics who jes love their welder. I arrived to an engine sitting clean and pretty, awaiting a cure from its little chirp: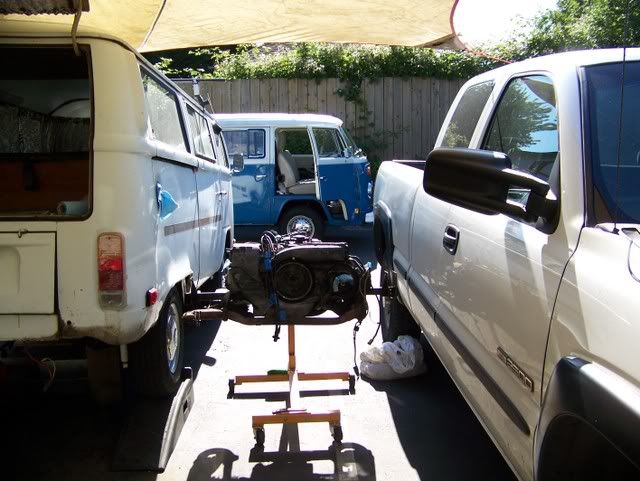 Soon it was not clean and pretty. You can see a nasty burn-through at the #1 cylinder barrel, and this was the quiet side of the engine. Uh oh:
And this was the canary side, where the burn-through was recent and small, canary chirps are little leaks, big leaks are ticky, more like a leaky exhaust manifold or flange.
So, I get stupid. I decide to Itinerant Scissorhands both heads. But here's the thing; it is painstaking work to razor down a cylinder head spigot and I had to do a total of FOUR spigots (if you cut one head sealing surface down, you have to bring down its pair so the head and the two barrels are still properly parallel). I love this sort of work, but I forget that we have a ten hour day and each spigot deserves a good hour. My fatal decision was to let the crunch of time dictate the results. . . with a weak sort of lack of conviction, I announce the heads ready for installation around 4:00PM: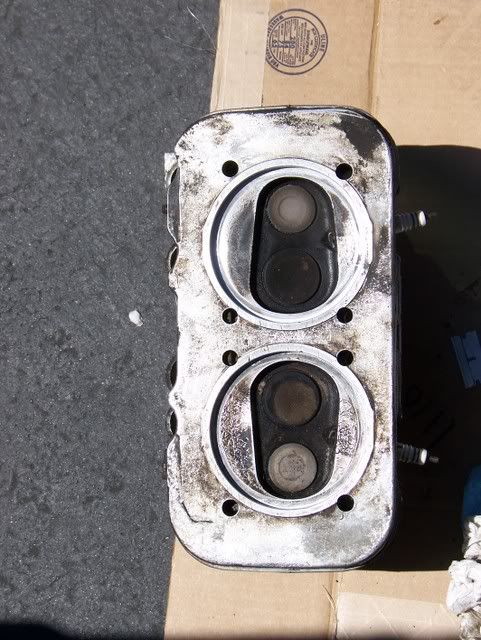 Now Paige does not know this, but I found her own tender ministrations beautiful to behold: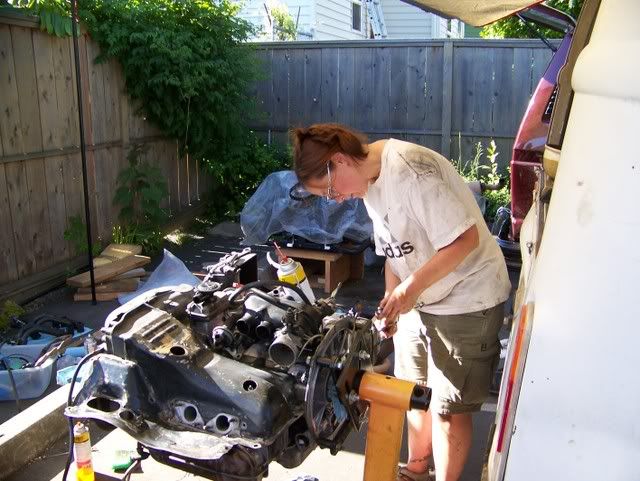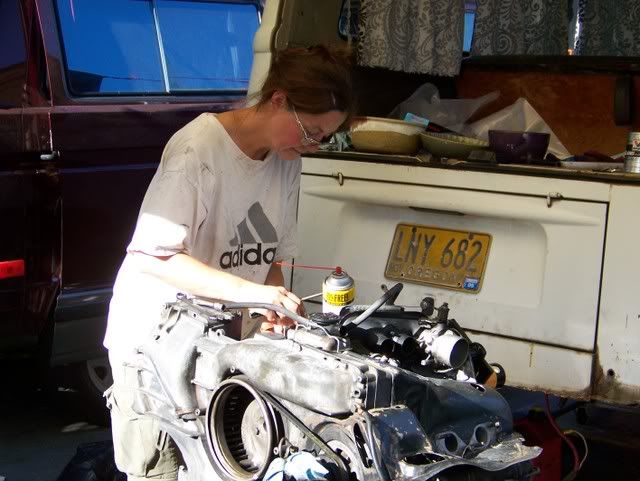 This is exactly what I am seeking, this sort of connection with your old VW, yet I am watching her and Mark (Marc?) put this engine together while I have writhing inner irritations with time why does it have to slip by so damn fast? And why do people WELD exhaust systems to alternator brackets??
At 9:00PM, we call off any further reassembly due to the impending arrival of guests, and we too set up a return date to install the engine and sore exhaust system in time to get to the LuckyLab at 7:00PM on Monday.
Next day, it is off to Hambone Manor for a day with his perfectly just-right companion, his '69 bus where we muscle in a a new rear window in the 100* heat (perfect temperature for keeping sore muscles loose) and install a new transaxle flange seal and pack CVS while we marvel at the engineering. And pictures of childhood like this:
NEXT day was IFBwax with his beautiful Charlie Brown bus and the Party Pickle and the very most affectionate supervisor I have ever seen, she just draped herself over the Mechanic In Training and was very supportive of his efforts to file exhaust flanges. But that we all had such friendly supervisors. . .
NEXT DAY was back to misszora. . . but I must run, I have another call to get to, I'll finish this up later.. . . .
Colin