So, about the refresher, the breather from the road, that was to be the Deschutes River RendezVW. . . . .
I was transfixed by the spector of this poor Vanagon Westfalia arrival dangling from the end of a tow truck like a caught fish. . . and indeed, it was caught in my sights. "I wonder if it needs a razor blade?" I mused to myself. After a properly discreet ambulance chaser lawyer interval, I shambled over to offer condolences. Overheated? Head gasket? Gushing water? Straight from the cylinder head? Hmmmmmmmmm. Maybe take a look at it in the morning? I remember telling tristessa that I was hoping it was just a plastic pipe crack or sumpin, because head gaskets do not open up like that.
Next day, both tristessa and I showed up like a pair of buzzards at a roadkill. Just poking around, it looked like a head gasket all right, but the quantity of water was startling, head cracked in half? I saw a black sealish looking thing dangling, and asked tristessa to hold it up while I cinched down the head nuts which were amazingly loose 5 ft/lbs 12 ft/lbs and only three near 20 ft/lbs, waterboxers like 37 ft/lbs. Well, that was stupid. Later we discovered that it was naively hopeful to waste the time hoping that a little tightening would help anything.
We slowly backed into a little disassembly and easily got to the point, as happens with any mechanically-minded 12 year-olds, where our curiosity was going to get this thing torn down in a hurry. By noon, the cylinder head seal was free as was the cylinder head and that seal was blown to shreds. Shreds. We canvassed the gathering like homeless vets, "excuse me, god bless, but do you have a waterboxer cylinder head perimeter seal?. . . . . oh you don't? well thank-you anyway and have a nice day." We considered a bungee cord cut with a groove. We considered a fuel hose sliced open length-wise. We considered perhaps this was a hopeless task, but it was sunny and the Vanagon family had Plan B lined up. Then as I was looking at my passenger side rubber wheel arch mat with a 16 year Ultra-black RTV patch that is fine, I thought let's slather the shredded seal and give it a 24 hour cure if we cannot find a seal down here in Maupin. We drove up to the local car parts place where the proprietor was also the tow truck driver who brought in the vanagon the night before. How surprising and disappointing that Maupin (pop 488) did not have a 1.9 or 2.1 waterboxer overhaul gasket set. . . . . .
Back at the Vanagon, I am looking at this shredded cylinder head seal that is supposed to fit securely to the case water jacket perimeter with a deep channel, and it looks insanely stupid to try to fix it. Cooling systems do run with 14 psi pressure, that pressure will blow the thing out in a jiffy, particularly with the daunting hill as their only escape.
I tried to create a RTV seal template on greased cardboard with the black Ultra slowly tarring and feathering me, I was so sticky that I couldn't get my finger off the seal without it lifting and sliming all out of position. Finally, I told tristessa that I could only pull this thing off if I set it on the case and blobbed RTV directly on it. The Shreddo-seal sagged at all the torn spots and the black Ultra slowly gooped toward the ground. . . . but wait! I have ZBlair Green Clothespins for my Squareback headliner! Saved! I just need to clamp the seal all around the perimeter! Yay! not.
The stupid clothespins grip so tight that the seal + Ultrablack just squirt off the case/water jacket perimeter. I am a tad irritated. But tristessa comes up with an ingenious DoubleGreen Clothespin Clamping Reduction Technique of clamping the handle of one clothespin with another, to reduce the pinch to a perfect "just-so". That is what saved the day:
You can just see the 12 clothespins or clamps or whatever, all delicately propped against each other holding the curing seal in place.
The head also needed a dose of Itinerant Scissorhands razor-machining since it had over .003" warpage across the surface (twice in a very short run actually).
The owner, Gary, was looking at me like a drought-stricken farmer might look at a blue sky, the green festooned globbed seal made the engine look like hair-curlers at the opera, and frankly, I was on the edge of feeling stoopit. I blobbed another layer of Ultrablack RTV on the encrusted seal after finally removing the green clamps, and told Gary and fam that I would come back at 7:30 PM to install the head, then in the morning do a final torque and reassembly and they could hit the road at noon IF Gary and I flogged the Vanagon up and back down the hill successfully.
We did an initial fill of water at 9:30AM and spotted two leaks. One was right near the head. . . . but it was just the water inlet's gasket. I used a HEAT RISER gasket for a Type 1 engine wallowed out with a razor blade, ugh ugly, but it worked. Then it leaked out of this nasty plastic "H" pipe under the water reservoir. Tristessa was being called off the job to get his day going, so with no pride left, I just decimated a Diet Coke can with a pair of scissors and wrapped the H pipe crack with Ultra RTV again and a hose clamp off a BMW. Gary had been softened up by now, broken down really, and his glazed hopeless eyes registered no surprise with the pile of Diet Coke can shards, busted experimental gasket remnants, stuck-together green clamps, tools and great glued paper towel piles, and my twittering promise to have his "repair" done by noon.
The stupid cylinder head is NOT leaking. I do not hide my surprise. Tow truck guy comes by and he is skeptically putting together the Plan B to tow the Vanagon to Bend. I say, "Wait!" Gary starts the engine and I gingerly place the radiator cap on and slowly build pressure while bleeding the cooling system by milking the hoses. Seems to run OK. Mystified myself, I invite Gary on a test drive up the hill with a promise that the hill will allow us to coast all the way back if it blows.
Well. Up the hill. Down the hill. All is dry. Vanagon runs. Pretty good.
Then they drove it home: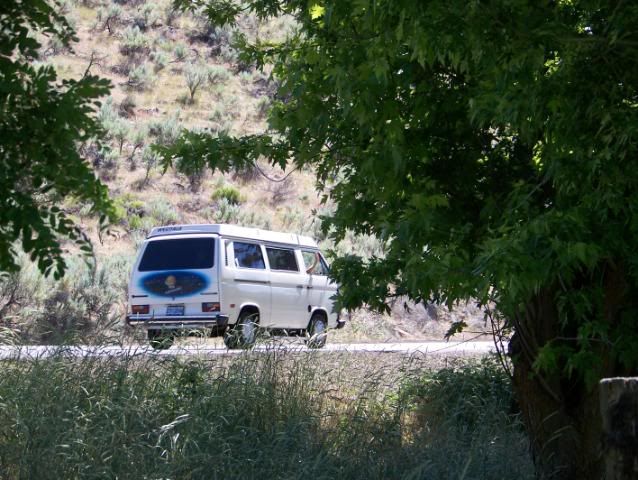 I am still mystified. . . . . but onwards to whc03grady's bus which got a brake adjustment (after we cleaned and lubricated the star adjusters) after a hilarious extended effort to "jack the vehicle up" in the soft grass.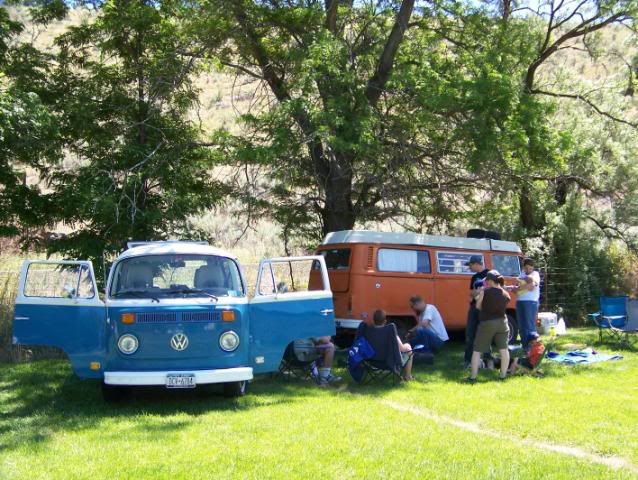 Back on the road, a lovely weekend behind me, all of those good people and their good buses and a re-ignited fire inside of me to keep these cars going with both cool competence and warm spirit in a community I like better still.