It has been quite a journey so far. I put on some new tires, Michelin LTX MS 195-75-14s in Livonia Michigan and it has been nothing but wandering and darting and misbehavior. Jacked tire pressures up to 40/50, down to 32/44, no difference. Had a weird lurch to the left every time the car took a wind gust from the left. That sounded like too much toe-out on the rear (the loading up of the suspension causes rear wheel steering) so I pulled off the road and jacked up the right rear.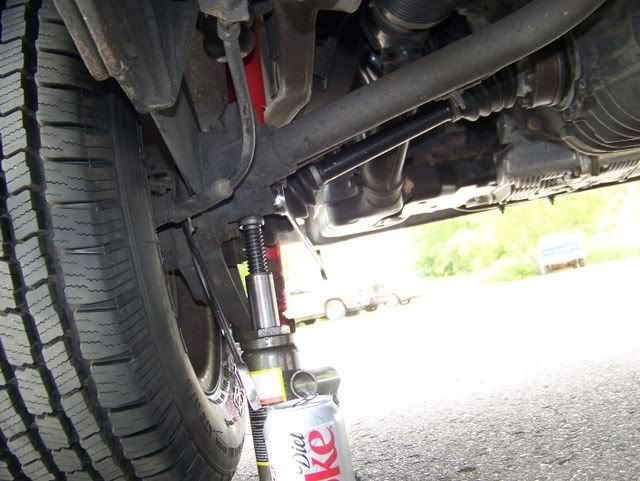 Loosened those big bolts/nuts holding the spring plate/diagonal arm/wheel bearing housing and kicked the entire mess forward, here you can see the matchmarks are now about 1/4" forward of the spring plate.
And here I have moved the tire in at the bottom to get rid of a little camber to match the left rear wheel's camber in the jacked state.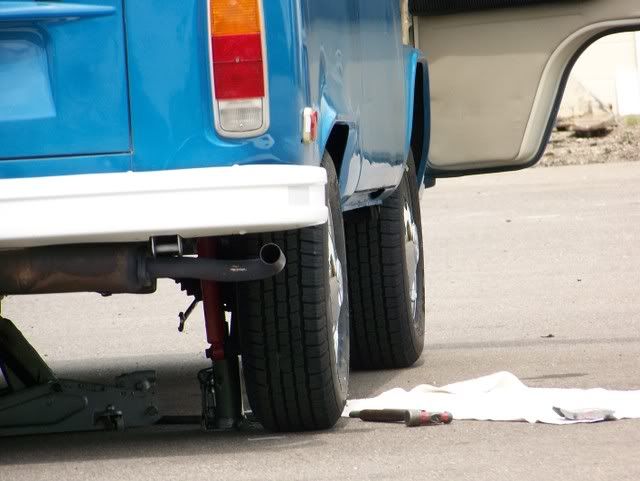 After tightening the bolts/nuts, I hit the road to enjoy some more fierce wind. And, indeed, the left lurching was now gone, but the wander was still apparent. So I then decided to reduce the positive camber on the right front wheel and remove a little toe-in on the front axle (positive camber requires a little toe-in, when you remove the positive camber, you remove a corresponding amont of toe-in). After this adjustment, the wander was a little better, but the steering was stickier (positive camber helps get the steering axis under the tread, negative makes the steering effort go up).
Then the skies opened up. Had a busy couple of days with Locoqueso followed by mattg, both of whom have very nice cars (here's while at Locoqueso's):
Tried to get to the Galena campout in nw Illinois when the skies opened up some more with even fiercer winds while on the narrowed I-90 corridor under construction. Finally called the gang in the mud out there and told them that I had decided to get booking to Montana.
Then the skies fell some more. . . next post.
Colin