When we last left our two intrepid hero's, it was Monday night after a successful clutch run. Amazing how far you will go to get a clutch. Tuesday morning found me working from home, desperately trying to get as much work done before Colin arrived. I let him use my office for his Internet fix, should have gotten a picture of him typing on my ironing board. We started late, I should state I only planned on replacing my clutch and new firewall tin, but with Colin you will always find more to do. Now my Bus Samantha has rust underneath, and apparently had been hit in the passenger rear, we didn't pull off that side bumper bracket, it was hammered into the frame. I wish I had more time too, my rear bumper needs rusting and painting, I have rare splash guards on it. Here we are pulling the wires off the Hun engine: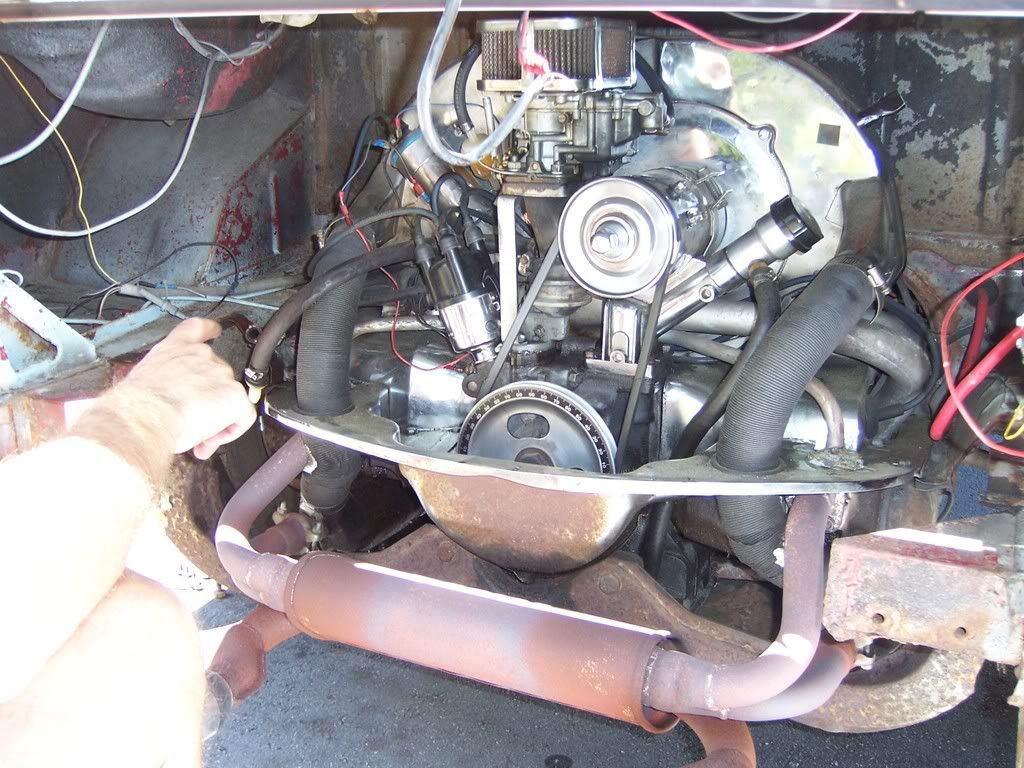 Gotta love the Empi bling bling baby. That Empi muffler has to go too, but not today. Notice the accordion tubes going to the muffler directly. Empi fresh! Once the Hun was out, we discovered the PO PO installed an early spring plate, but a late throwout bearing, never heard of that before. The clutch disc was not horrible but worn. Colin checked my endplay, a whopping .007. And no shims to help, so it will have to survive without them. Here is Colin doing just that: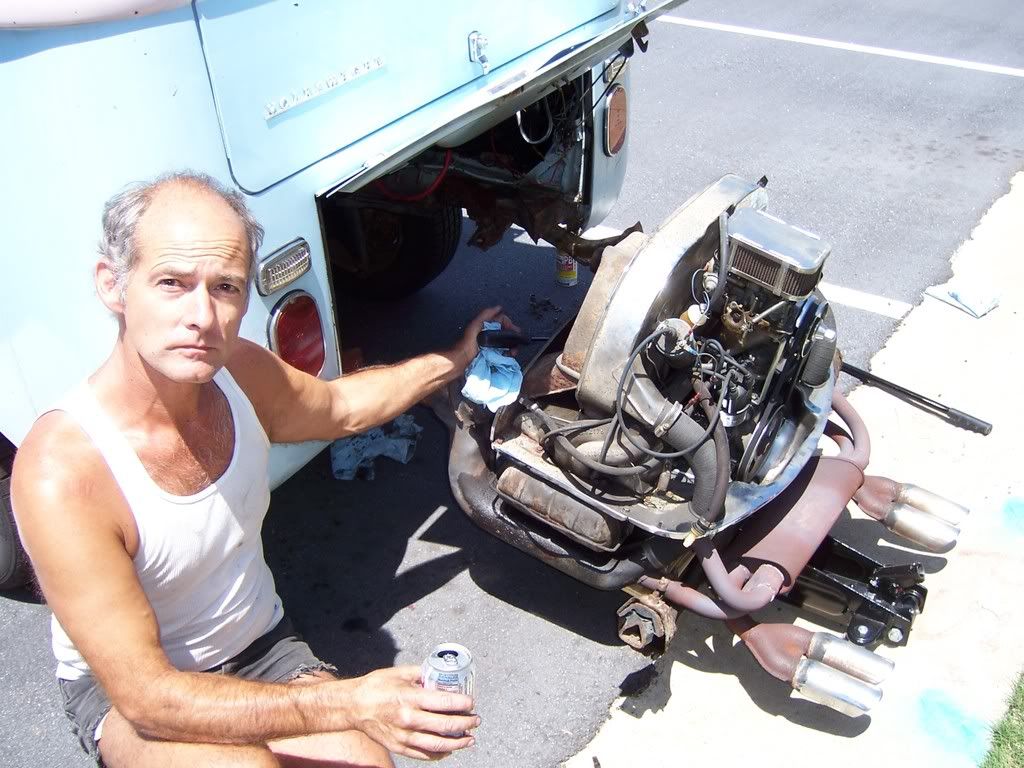 Here is where we noticed oil on the disc, not a lot but there was something leaking somewhere. Colin wanted a look behind the flywheel, out came the 36mm socket and breaker bar. I held one side of the engine while Colin stood on it, pure human torque. Colin noticed the rear main was a bit oily, and lacking the felt seal but having the rubber O seal, he replaced my crusty one. It looked like it had been put in used. He sanded the flywheel where it met the seal to smooth it out. A little more human torque, and the flywheel was back on. BTW, Colin weighs 150lbs, so he stood 2' from the end of the wrench. Just future reference for you. Here is where it gets wet and sandy. We oticed there was oil coming from the top of the block, Colin asked me where the likely culprit was, my estimate was the oil cooler. Off came the fan shroud, carburetor and generator. Colin had new type 1 rubber grommets for the oil cooler and case side (I did too, I just didn't find out until AFTER we were done, DUH!). Potentially some of this oil worked it's way down the the clutch and flywheel too, so Colin did not want me replacing another disc in the summer, what a human being he is. Here is Colin taking off the shroud: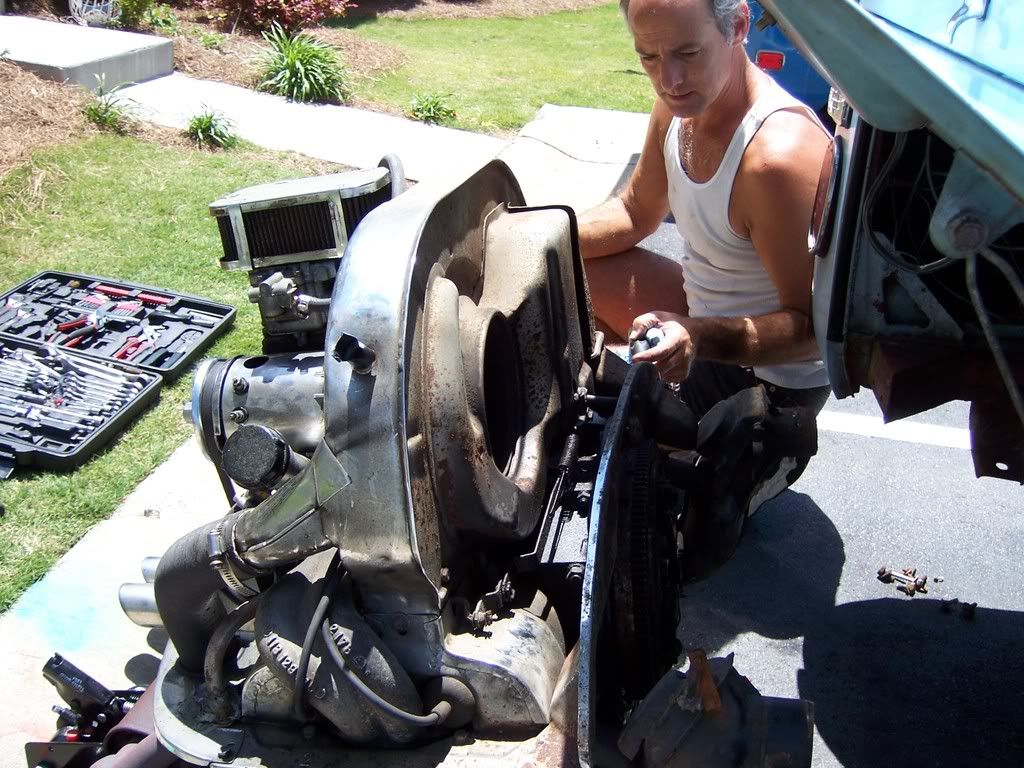 We put it back together while I put in my new firewall seal (I had one of those too in a box in the Bus, found that afterward too, DUH OH), since Samantha had none and with the silly Empi Bug chrome firewall, was burning the biscuits of my engine. Not to worry, I had a replacement firewall ready to go, just for this fix. While in the engine bay, I decided to clean some of the dirt and loose rust from here and there. And here boys and girls, is my safety tip for the day. Even though you have the batter disconnected always when working on your ACVW, it can still be dangerous. I have a VDO oil temp dipstick, it is connected via two wires to the gauge and coil. I didn't disconnect it, just laid it on the side of the engine bay. Whilst I was sweeping the crap from the tin below the battery, I accidentally brushed the dipstick and it fell on top of the battery and thusly the terminals. It was the Fourth of July in the engine bay, with me in there and the engine blocking my exit. With sparks flying (Say, how far away is the blocked off gas line? Two feet away? Wow, were you scared?), I stupidly did the wrong thing. Without thinking, I grabbed the dipstick, bare handed. Right before I grabbed it that red flag went off in my brain, saying "Hey, why is the dipstick so red?" Probably because it was melting silly wabbit. I got the dipstick off the terminals, nothing blew up, but it cost me three very long blisters on my fingers and thumb. Two things to add, one grease feels very nice on a burn, and VDO makes a tough dipstick. It practically melted in half, and still tells the temperature, just not sure how accurately anymore. I told Colin not to tell anyone about this, but figured one of you may learn from it. Here is the engine ready to be put back together: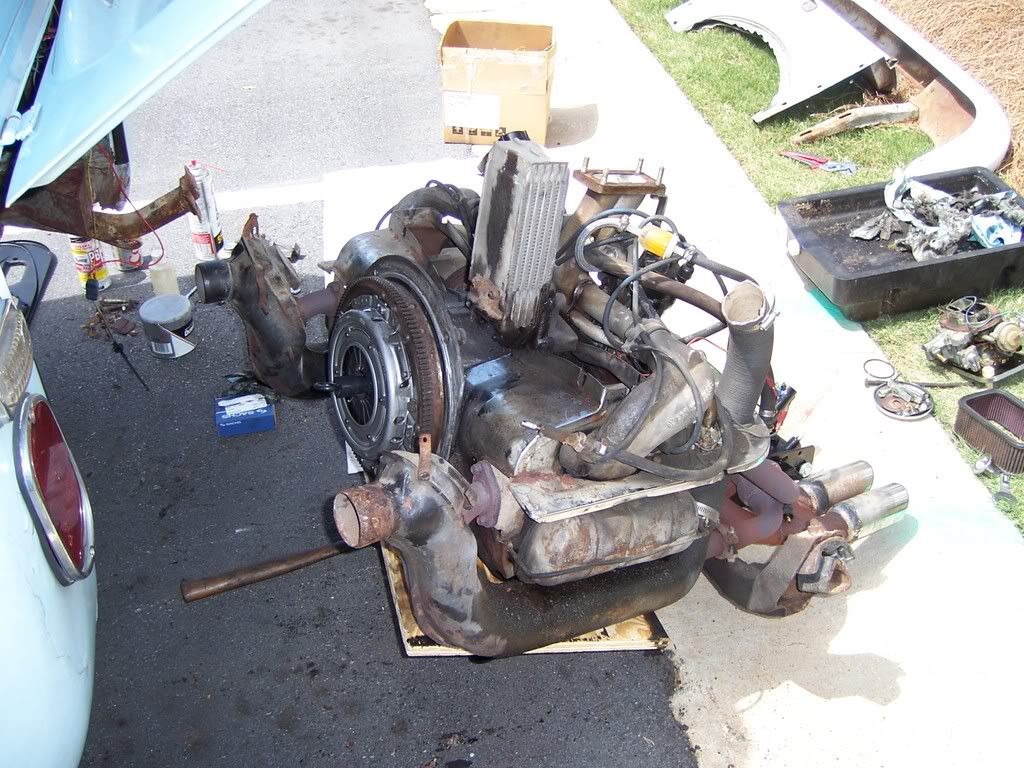 I will add my lower studs for this engine, and it is a Bug engine, not a Bus, had one of the nuts JB welded onto it and came out of the case, as did the other one. Going to have to get a couple of those, huh? With difficulty we got the tin, carb and shroud back on, and had a more difficult time getting the engine back in due to the lower studs. But Colin can cursedly coax anything together I believe, and I say that literally. It was 2030 when we got it back together and took it for a test drive. With a little throttle adjustment (Hey, you figure out a backwards Weber), and clutch adjustment, Samantha clutches smooth as silk. It will take me awhile to get used to driving a new and properly adjusted clutch. Colin made me promise to fight the rust this summer underneath (Rust never sleeps, bondo never lies). We properly fed Colin with takeout Chinese and had a pleasant conversation until after 2300, when we wished Colin well on his return trip to New York.
In conclusion, I mentioned that even though I only had a clutch to replace, having Colin there with you will fix what ails your Bus. As always, he went above and beyond for Samantha and I. Just make sure you have Gumout, sandpaper, spare parts and Diet Coke, I only gave him a twelve pack.