*BWPig "Bandwidth Pig"
At the behest of Glasseye, a guy with a good photographic eye, I took his printed map and went forth into the mountainous wilds of our own country.
He said, "Go into the mountains or I will hate you forever and a pox on you besides." Such recommendations are not to be dismissed lightly.
I saw the mountains I was to conquer:
But, I first spent an evening in Red Lodge at a red lodge. It rained cold rain. Next morning 7:30AM was colder still and drizzly but the sign said "road open" so I drove down the open road: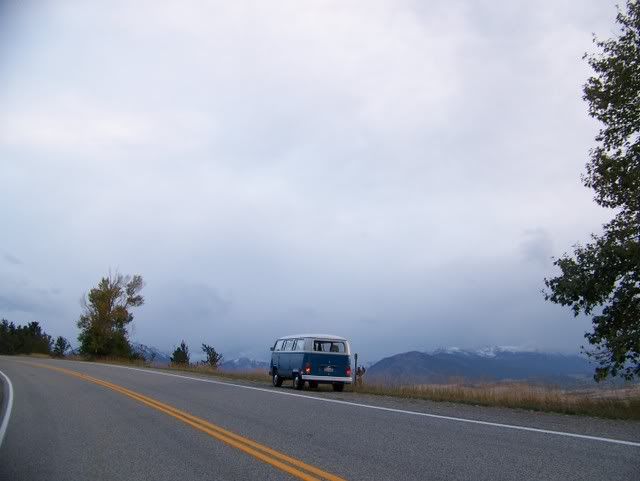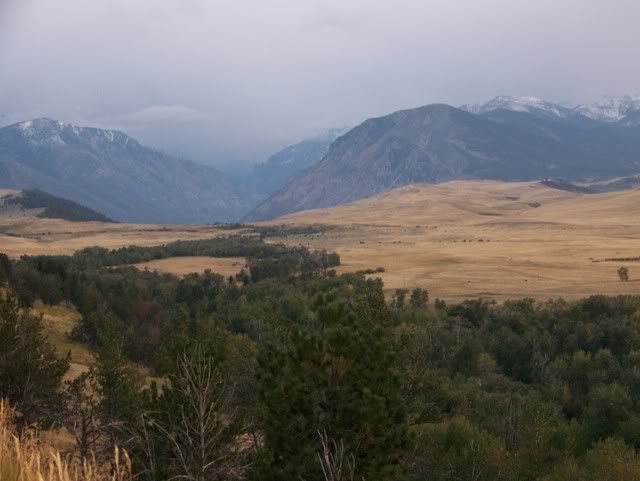 The elevation was 6,100 feet at the lodge. It was closer to 8,000 feet here: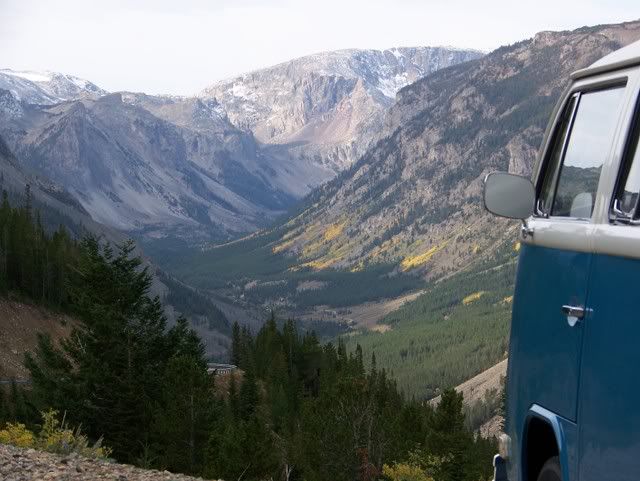 Here I had enjoyed some serious switchbacks and could see my progress laid out below and below and below some more:
Once above the tree line, the road opened up a bit as did the sky with some nasty little ice/rain/snow. This picture was taken after delicately disembarking from the vehicle in a lurid display of drunken staggering, "damn! it's like slippery or sumpin'."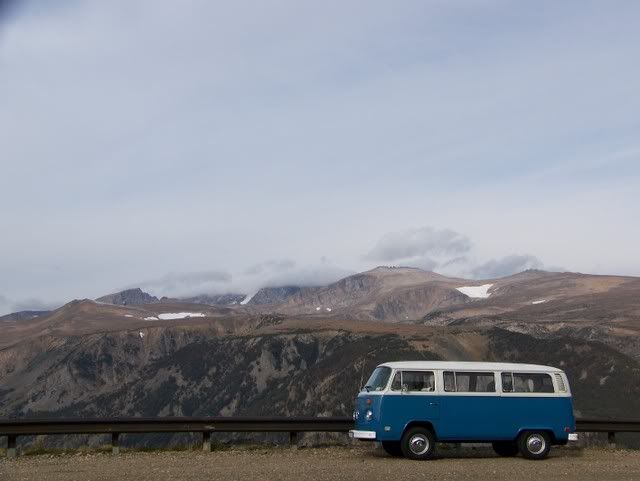 But the primordial newly released from the Ice Age look to the landscape was undeniably beautiful. Mosses and lichens and hardy little scrubby plants were wedded to the rocks. The ("scuttling" would be the self-conscious essayist's word) clouds were close enough ("to reach out only to find ephemeral vaporousness") to really feel chilly and damp (even with a real pair of pants and a real shirt and a real jacket, chitwnvw).
Alas! What should I find on switchback #248, but a clot of tourists. "What are they so interested in? Looks like a typical SmokyBear sign turn-around. And like the many after me, I drove past only to see this:
I slinked back to the clot, chastised. A fellow motorist deigned to lose some heat from his cozy interior as he cracked the window down, "road was closed fifteen minutes ago. I was the first one flagged to stop. They say it'll be closed all day." After a while a truck came from the other direction. Mr. Wyoming Ranger (that side of the gate was Wyoming) popped out of his Dodge and locked the road gate, "I almost lost it twice back there. We're closing the road until afternoon if then." A hard-charging Dodge Ram towing an enormous camper blasts past doing a kick-down downshift, whooooaaaaaaaa there is a stop sign and a gate right across the road! and yet another slinks back to the growing clot of indecisive travellers.
After my feet froze up good, I peg-legged the clutch and went back down the hill to Red Lodge and cut over to the valley floor and stared at the cloud-socked mountains I was just in and drove Montana 310 to Wyoming.