Indeed a battleground. . . .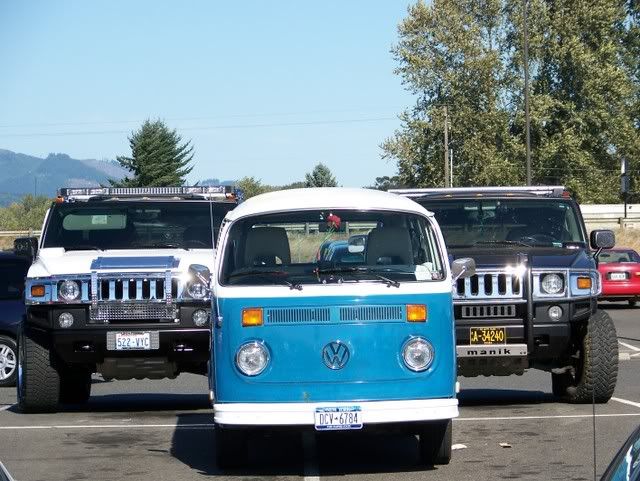 So, I moved the Adventurewagen write-up to its own thread.
Battle Ground was my quickie appointment with plj who had two VWs, a very nice 1971 camper with Chrysler metallic red and white paint, and a 1973 Thing with metallic blue paint.
It should be noted right here, that we displayed a heartwarming delicate and totally adult America At Its Best conversation that was initiated by a "I can't stand John Kerry and I really can't stand Hillary Clinton." Somewhere in there one of the two participants mentioned that upstate New York rural rednecks actually respect their new senator.
But the bus was a beauty, with stock exhaust, a mellow and gracious engine that was very happy to get a valve adjustment, light steering made slightly more accurate, a gearshift made lighter by application of great gobs of grease, and a workmanlike brake adjustment. Once again, I had a customer shooting looks at me as I wound it out to 45 in 3rd, "hey, it is DESIGNED to run at this speed." (it is, you know. . .) (well, it is). We did find a missing doghouse cooler tin. Now what good is a dog house cooler if it is going to spew hot air into the engine compartment?
The Thing was a blast to drive. Quite firm suspension like the old microbuses with a bug's quick steering and snappy clutch/brakes/accelerator. We discovered a left dustcap on the right wheel. What does that mean, class?
. . . . . . . . . . . . . . . . . . . . . . . . . . . . . . . . . . . . . . . . . . . . . . . . .
Correct. The speedometer cable hole was a nice small incursion point for bearing-killing dust. We smeared red RTV over the hole and a repack is in the future.
Sent on my way with banana bread, it was a blessedly blessedly easy day.
Take care of your historically significant very nice VWs, plj. I enjoyed the sunny day on real flat concrete and a real garage and our beautifully moderated conversation, sprinkled with some of those saltier observations. . .
Colin