I had to work with the local VW guy, Doghouse Repair of Pahrump NV. He got me an Autolinea head from Brazil with no ledge and no breather and no threads for the temp sensor 043 101 355 CKBR or something. No returns no refunds no nothing. I asked, "if the head is defective, would you accept a return?" "Nope. You read the invoice." "Well, would you give me your supplier so I could work with them?" "I DON'T DIVULGE MY SUPPLIERS." "You are seriously telling me that you take my money with no recourse?" "Yup." This guy, he gives the hobby a bad name, he gives small business a bad name, he gives humanity a bad name.
So, here is my Autolinea head from Brazil. If you were a trusting neophyte, you might happily install it "it's new! hot damn!" but if you are like me, wizened and skeptical, you might note that the flashing (casting material squeezed out between the mold halves) has made this head's cooling fins literally unbreathable. I had to drill those holes, ten of them.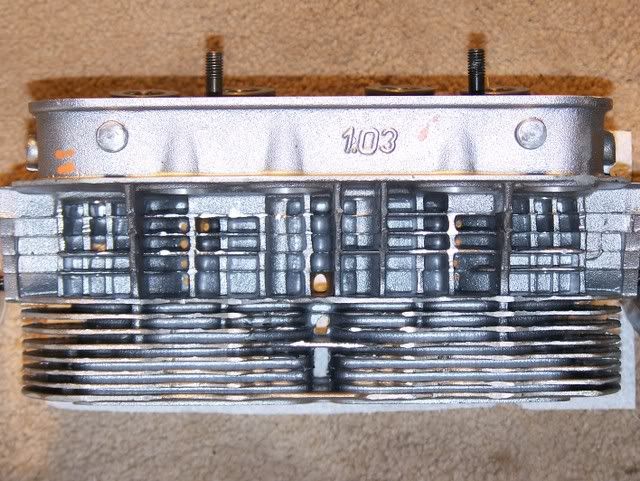 Compare to the old head. You can easily see the port outlines from manifold to combustion chambers, and you can see the critically necessary cooling "slots" above the exhaust ports near the outsides.
You can see more clearly here the critical airflow capabilities of the original heads.
Yet, after a couple of hours of drilling and filing, this was the best I could do for the new head. Their casting has a couple of spots near the exhaust outlets where it was just too solid to even try. You do have to think like an engineer before you go weakening ports or combustion chambers, but you can tell when it is flashing because there is a straight shot from top to bottom, if you have a deep fin slot with a floor that is mirrored on the other side, it is flashing. I got to use an original head as a guide. This is an issue that needs to be addressed by anybody buying brand new heads.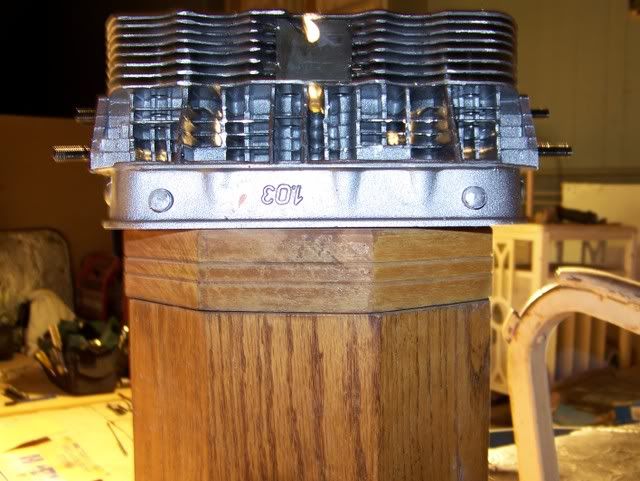 The lack of a breather was the other issue. Mr. Doghouse rolled his eyes and told me "you don't need one for
that
car." I center punched the casting boss and drilled every single bit in my drill box, one after the other, until I had it up to 7/16" The fact that the hole opens up along the side inside the rocker area (in this picture, you can see a shiny reflection to the left of the #3 exhaust valve retainer) means you must hold your drill very steady so it doesn't try to cock.
Here you can see a copper pipe tapped into the hole. Fits snug and the hose fits snug on it. Clean ALL aluminum flakes from every surface on the head. Do it again. Inside the ports too. And again.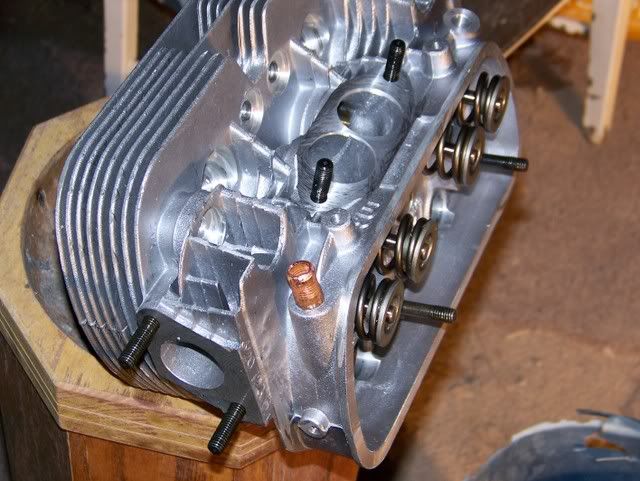 This new head did not have the ledge where the cylinders join the combustion chamber. I asked, "will this imbalance the engine?" He replied, "you would never feel it." "Will it change the compression ratio from 7.3 (post '71) back to the earlier 7.7 when the ledge did not exist?" "What the hell are all of these questions? Just put it in, you'll be fine." "Do you have 1.5mm sealing rings?" "NO." "Well, if you don't offer returns on parts never installed, you should have a solution for parts THAT ARE INCORRECT." "Just put it in, you'll never notice."
Here's the new head installed. See the nice shiny copper breather? Also, you must loosely place the intermediate rear tin in place before you install the head. That intermediate rear tin is located under the fan housing outlet.
Classic Type I pushrod tube balancing act as you proffer up the head. I stretch them in order from smallest to longest, and start the smallest nearest the front, then you can successively tap the head in as you insert each pushrod tube, they'll all stay in place with no problemo that way.
After reinstalling the front and rear exchangers, and muffler, you can't really see the saw marks (I wouldn't normally do that, but the propane torch in the 44* wind was getting me nowhere), but that clamp is waiting for an application of muffler bandage and seems to be holding OK. Nice original muffler that I desecrated, too. . .
Engine is completed here, with nice loose .007" valve clearances so when the heads wear in to the cylinder barrels and the valves wear-in to the seats, they'll still have some clearance.
The generator cleaned up nice with a simple toothbrush and can of GumOut. Compression test came in, after a 30 mile test drive, at 120 125 120 120, so maybe Mr. Doghouse was right. Just lucky.
Car is running more smoothly. You might have noticed that the #3 cylinder had gross coked deposits surrounding the spigot. It had been leaking oil out between the barrel and the head for some time. I THOUGHT it was a pushrod tube seal. Au Contraire. . .
Colin