. . . . with planning, you too can take all day to change the oil and adjust the valves.
Here's How:
First, take your time deciding which gear and how much emergency brake you need to push the car to each valve adjustment spot. These Type 3 cars, after all, have no readily accessible pulley to line up your TDC spots. I found that 3rd gear and two clicks of brake let me push the rear tire and it would hold when I stopped. With both valve covers off, I merely looked for an intake valve that was open and shoved the car backwards until the exhaust next to it just began to move. Opposite side of the engine was then ready for an adjustment. So #3 intake was the one open, pushed the car until the exhaust just moved, adjusted #1's valves. Then pushed backwards until #4 exhaust just began to move, adjusted #2's valves. Then pushed the car backwards until #1 exhaust began to move, adjusted #3's valves. Then pushed the car backwards until #2 exhaust valve began to move. Which valves did I then adjust? (10 pts)
But wait! There's more!
Looking at the rocker areas, I saw black. Is this black prior black? Is this black recent black? How can I determine that I am keeping this engine cool out on the highway if it already shows evidence of heat? How can I live with this atrocious evidence of wanton neglect?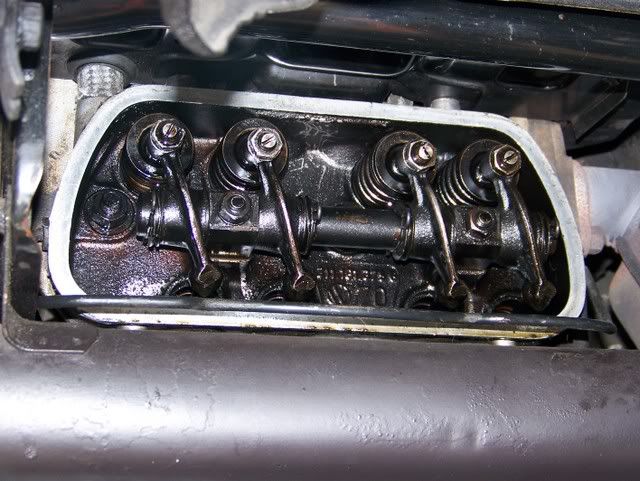 So I decided to clean clean clean these cylinder heads until I felt comfortable being able to make subsequent Tune-up Day determinations that I am keeping this lovely engine adequately cool. Block the pushrod tubes with non-shredding paper towels. Lay a piece of thin cardboard and a towel over the heat exchangers if they are painted. Toothbrush and little spritzes of GumOut Carb Spray can get the job done without stripping paint and destroying your driveway. When done, please oil the valve/rocker and rocker/pushrod interfaces and each side of every rocker arm.
Once again this engine shows me a very fresh young car under the ravages of heat and people who lay 4X4 lumber across the front fenders.
The inside of the valve cover here is flawless. The nuts on the rocker supports are untouched since the day this car was built. . . as are every other nut on the engine and exhaust system save the valve adjuster nuts/oil strainer nuts/crankcase-to-bell housing nuts.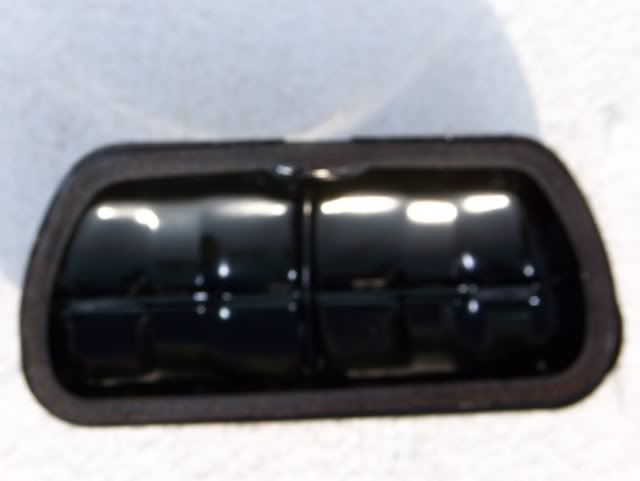 But wait! There's more!
Even with a careful rocker area cleaning, these Type 1/3 engines without filters deserve an immediate oil change after fooling around with surfaces that hold sludge. After heating up the engine, I dropped the drain plate, but oh no, the strainer got hung up on the studs. There is a springy clippish sort of deal that holds it in the pick-up. Someone. . . . . got impatient and bent the flange which then dug into the threads of the studs. . . and left enough filth between the gaskets and the strainer flange that it was peppered with crap dents. I straightened the flange, opened up the holes, then filed the flange surfaces and stud holes to get everything nice and aligned. You need to spray/clean the heck out of this thing, no filter on the Type 1/3!! It is now happy to pop onto the pick-up with an easy bloink.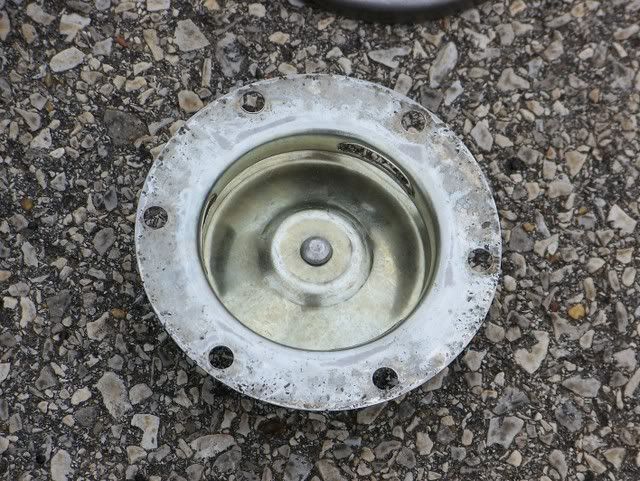 To help the paper gaskets have half a chance to actually hold back the oil, file the drain plate. You will find that the stud holes are puckered if prior oil change associates have over-tightened the nuts. With newly flat drain plate, you can get a nice oil tight seal without much torque on those nuts at all.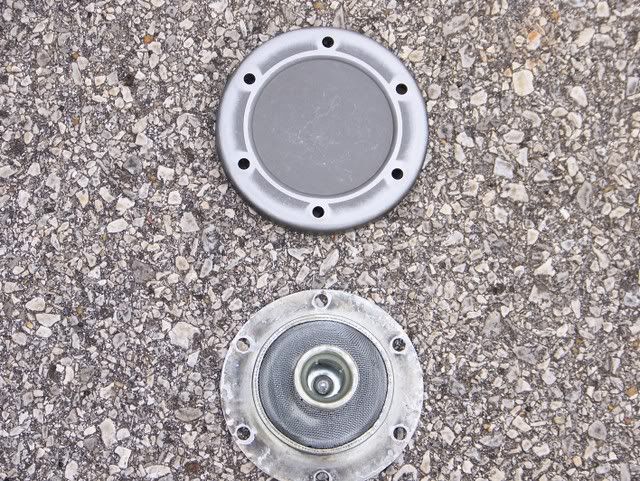 Oil change whenever you are bored or every 3,000 miles with these Type 1/3 engines that have no oil filter.
Colin