What the heck I sez, it is a nice day and if I don't escape the forum for a little break I might end up with no friends left, right Scott? So at noon, I left Starbucks with my grumpy pissed-off mood about lousy aftermarket parts and went to the storage facility where the Squareback sits waiting for adventure. I know, why not remove the Squareback's engine to try to get rid of the horrible vibration that starts at off-idle and comes back in at 3,000 + RPM? At 12:45PM, I had the FI harness disconnected from the brain and laying across the engine, the oil filler and air intake boots free, the fuel hoses off (you do not need to block them off) and the generator/coil/reverse lamp wires safely tucked away:
At 1:30PM, the engine is on the jack, the transaxle has a 30# cylinder of R-22 and my laser thermometer as a shim underneath it, all engine carrier and bell housing bolts are off and I slide the floor jack back just enough to clear the input shaft and drop that sucker down.
At 2:00PM, I have the pressure plate off and my silly ass idea has been laid to waste. What silly ass idea? The idea that if you have a non-indexed pressure plate and flywheel (from its clutch job before I bought it) you can guess a decent match-point by placing the balance drill holes in the flywheel and pressure plate across from each other. Ah, that idea apparently didn't work last February when I dropped the engine to try to get rid of this vibration and detail the engine compartment. As a matter of fact, the vibration has been worse since then. I figured I had it so horrible now that I accidentally stumbled across the max-bad point, and a pretty good chance of curing it today by rotating the pressure plate 180* from where I put it last February: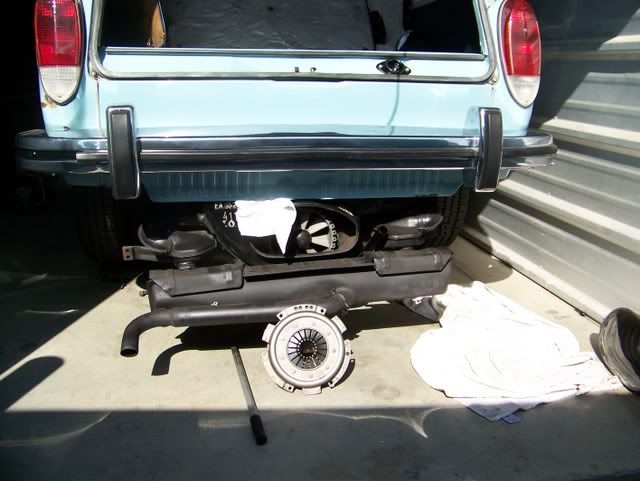 The engine was so close to the bell housing that I had to align the clutch disk with a mirror when I re-installed the pressure plate. With a little help from the sun reflecting up in there, I was able to eyeball-center the disk pretty good. At 4:00PM, I started the engine and lo! smoooooth as the engine revs up and down. Took it out on the Georgia 400 for a blast up to 70-75, what a nice plucky little car, my baby Porsche wannabee.