A Bitter Crabfest Drowned Especially From Georgia Highway Inundated?
After Bountiful Cheesehead Dinner Experience Fresh Garden Highlights Inspired?
Absolutely Bummed Cold Days Enveloping From Gigantic Hurricane Initiated Jetstream Kickass Looping Moisture Nemesis Over Particularly Quixotic Roadway Sousing Thoroughly Unappreciative Victim Wrongfully
X-ed Yonder?
Yes.
Put the Lexus back in storage, bye-bye soothing hush: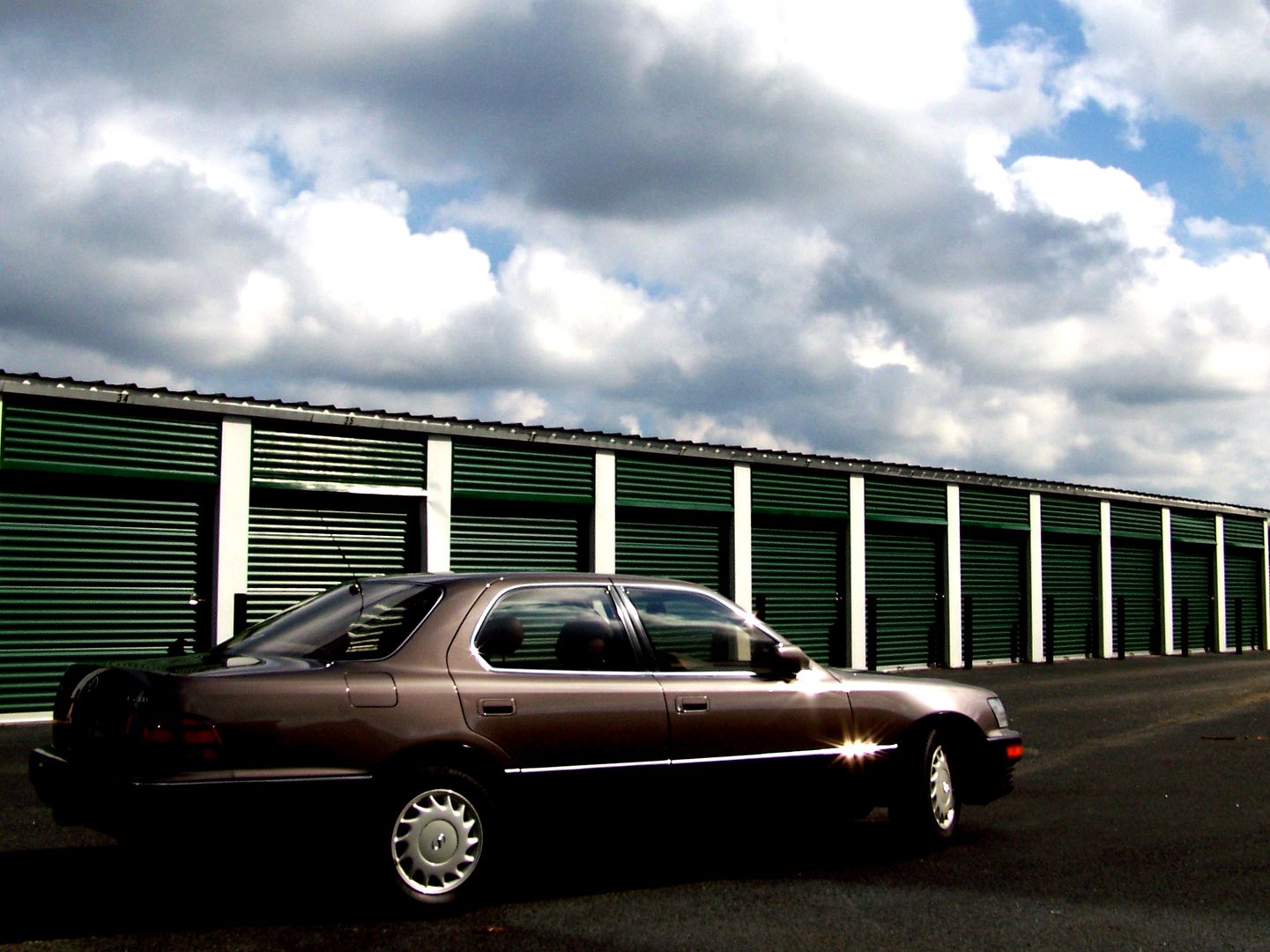 It was off to an epic stupid drive through the remnants of Hurricane Nicole from a 9:00AM start in South Carolina to the Baltimore Beltway at the following 2:30AM. I have not driven through such sustained rain in my life. My aging brain was in no mood to decipher the bare traces of roadway only rarely visible between barrages of truck spray for hours on end. Have my marathon driving days jumped the shark?
Here was the beginning: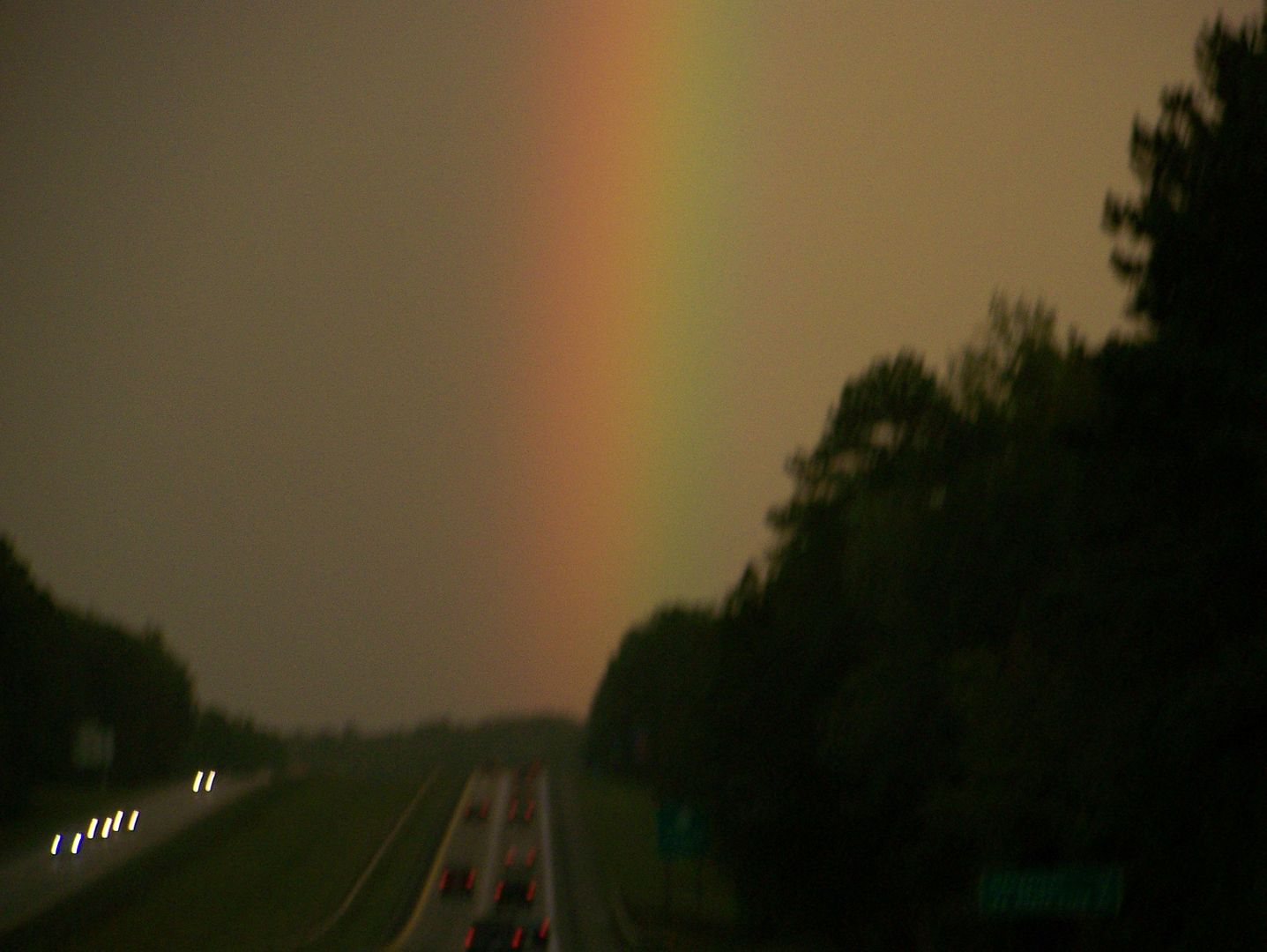 Pretty huh?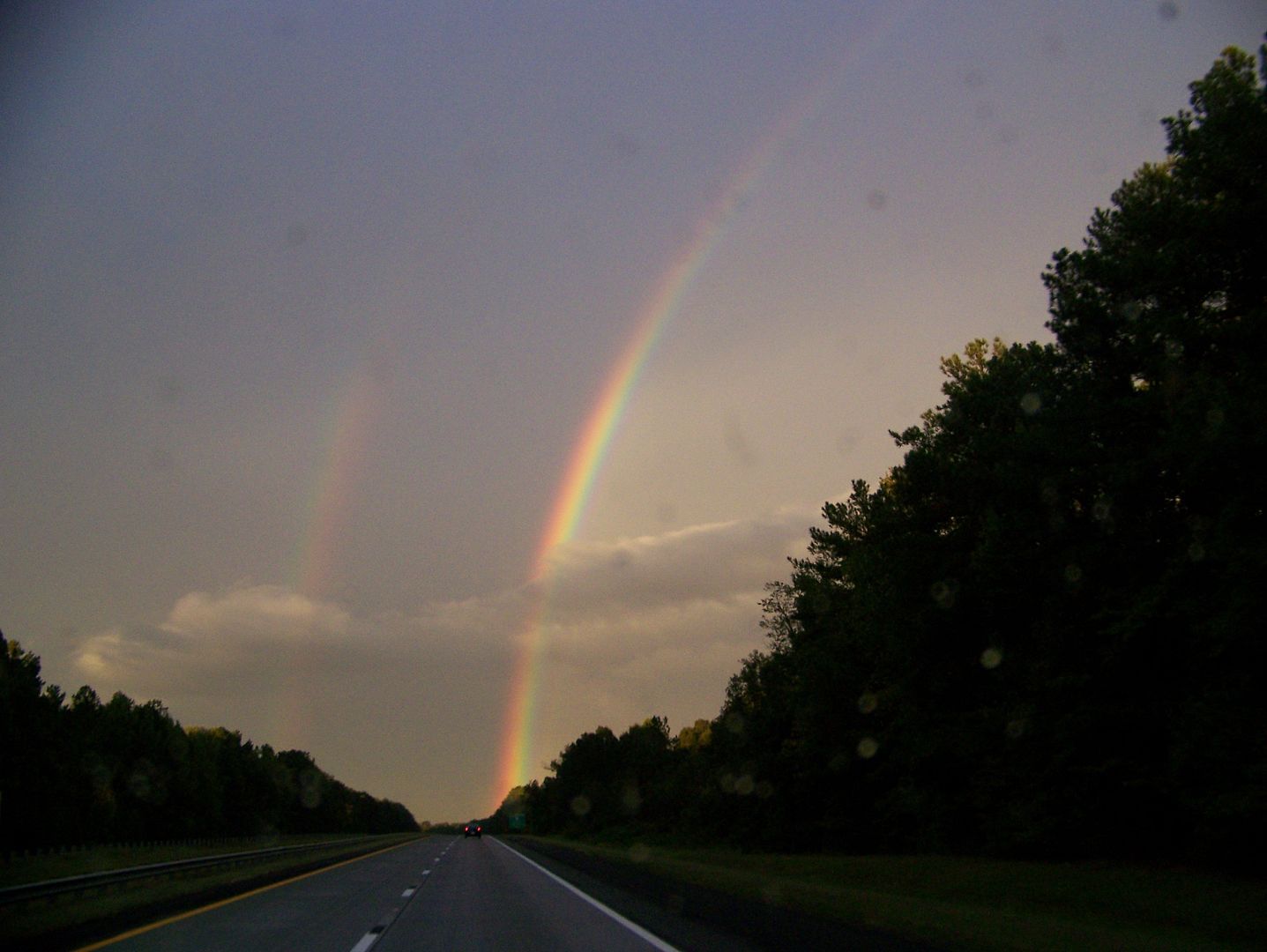 Well, not from my crabby old goat perspective: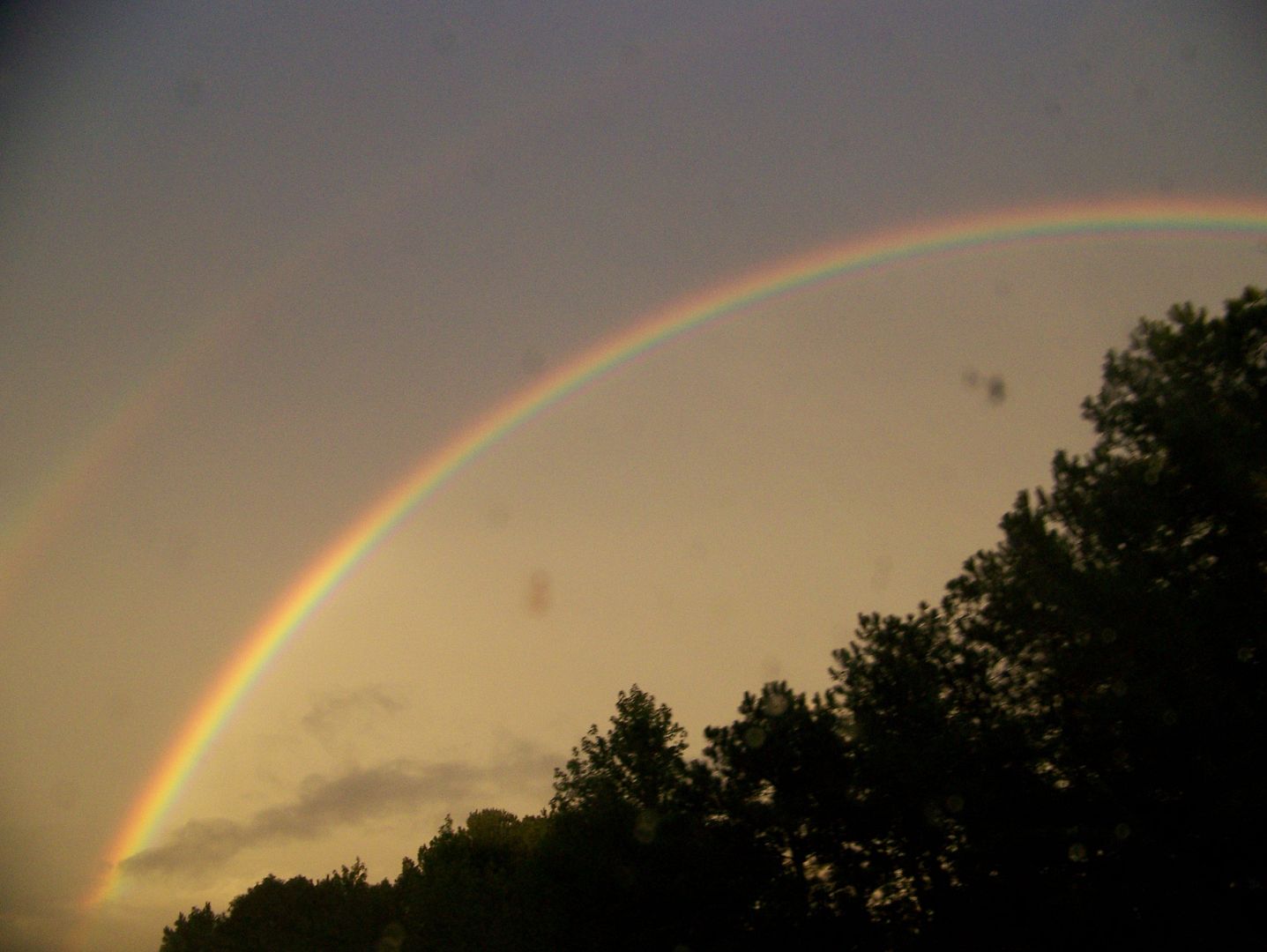 You know why? I'll tell you why. That wall of moisture was visible through the windshield. If it had been the rear view mirror as I was driving towards the sunlight, maybe it would have been pretty.
The last bit of light before the cursed clouds swallowed me:
Drove and drove. It rained and rained. Then, when fatigue settled in, the wind picked up. And some more. The BobD was blowing around like a leaf at the end of a leaf blower. Told myself, "hey at least the traffic will be light with my excessively late entry into the Washington Baltimore rat race corridor."
Ahh, no.
Capitalism is eradicating the peaceful night, and the poor truck drivers were out in force moving all of those Chinese plastic doodads to a WalMart near you, being paid by the mile, so 75 mph in the pouring rain is only evidence of being the "go-getter who is not afraid of hard work" who got hired at 37 cents per mile.
Dog beat bleary-eyed exhausted when I pulled off I-495 onto my final exit, what should Fate offer as yet a new test of my durability? Yep. A lake. Heat exchangers got thoroughly immersed and shot Insta-Sauna Steam all over the windshield as the radius tightened up and the fork had poorly marked signs and the roads were shiny reflecty dark and the heck, let's call it a Mitsubishi Eclipse behind me had its blue bright headlights on high beam, I was completely Befuddled Old Mansville.
But . . . I was also the triumphant driver crossing the finish line after a 740 mile race in the rain. Camped in the parking lot of a Public Storage outfit. Still wired. Still raining a horrid drumbeat. Clock said 2:50. Appointment was at 9:00AM. Dozed briefly while my "pillow" wicked water from the leaking wheel well of the drowned BobD.
. . . . "what the g*dd**n h**l is it with these fu**ing muthaf***ing cracka-**s dumba**es now why dont the g*dd**n gate open the f**kin h**l up stupid sonofabi***es," was my 6:00AM alarm clock.
A patron of the storage unit was annoyed that his repeatedly punched-in code would not open the gate. I opened the sliding door the better with which to establish furious eye contact. Midway through my glare, I realized that I had NO BASIS to stare at him. This was not a motel.
"Hey, the gate didn't open for you either, huh? What the g**amn h**l I pay my bill! I PAY my bill. That is one nice car!"
I was only 30 minutes late to my appointment with Cheesehead. We did a productive day of replacing bug heater cables, and letting her do the valve adjustment: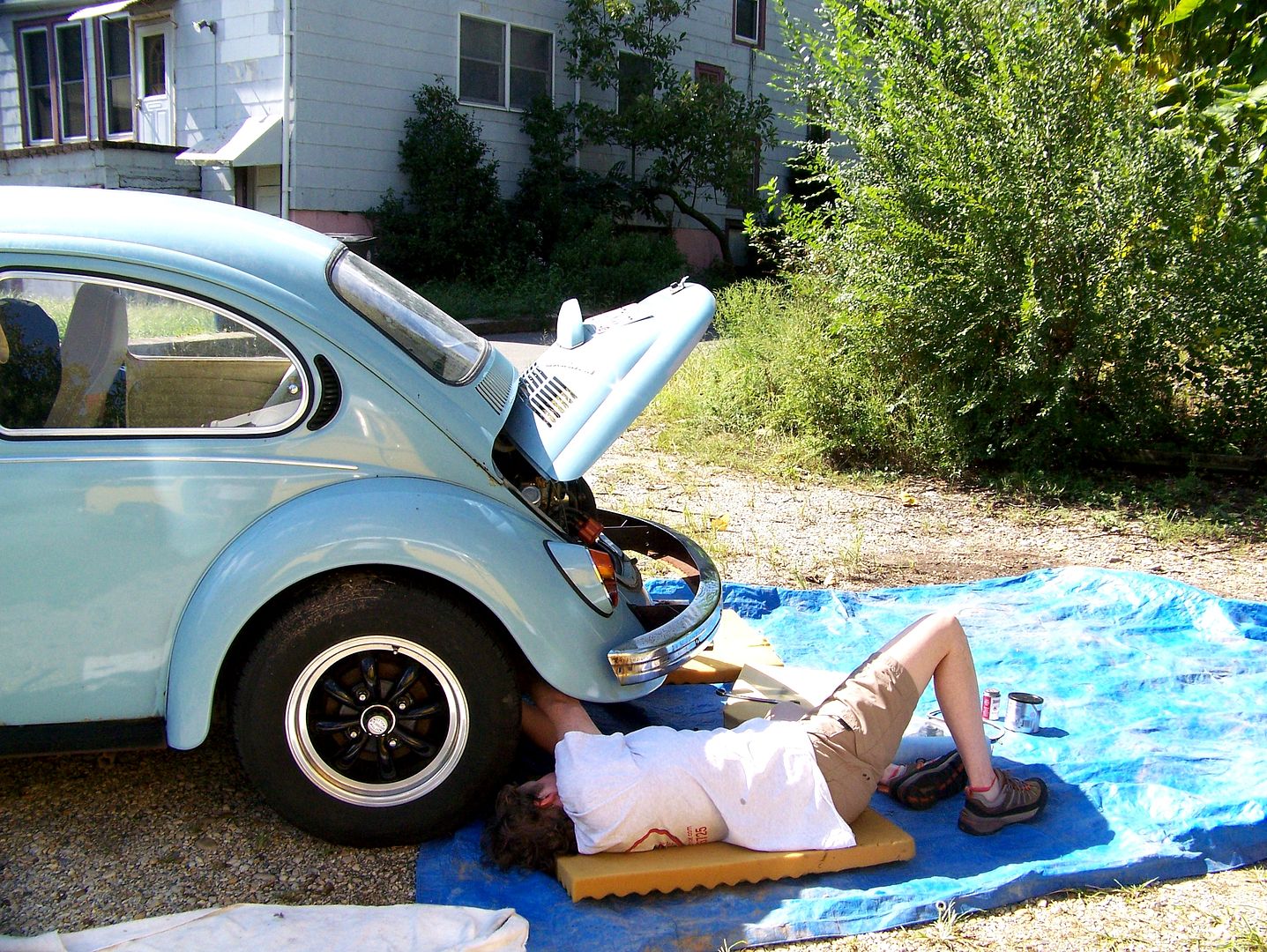 We also confounded my brain further with a LM-1 test-drive of her Raby powered bus. It went pig rich on the off-throttle, uber-lean on the idle, and drove quite nicely, if I say so myself, a little 62 mph in 3rd gear to clean out the carbon . . .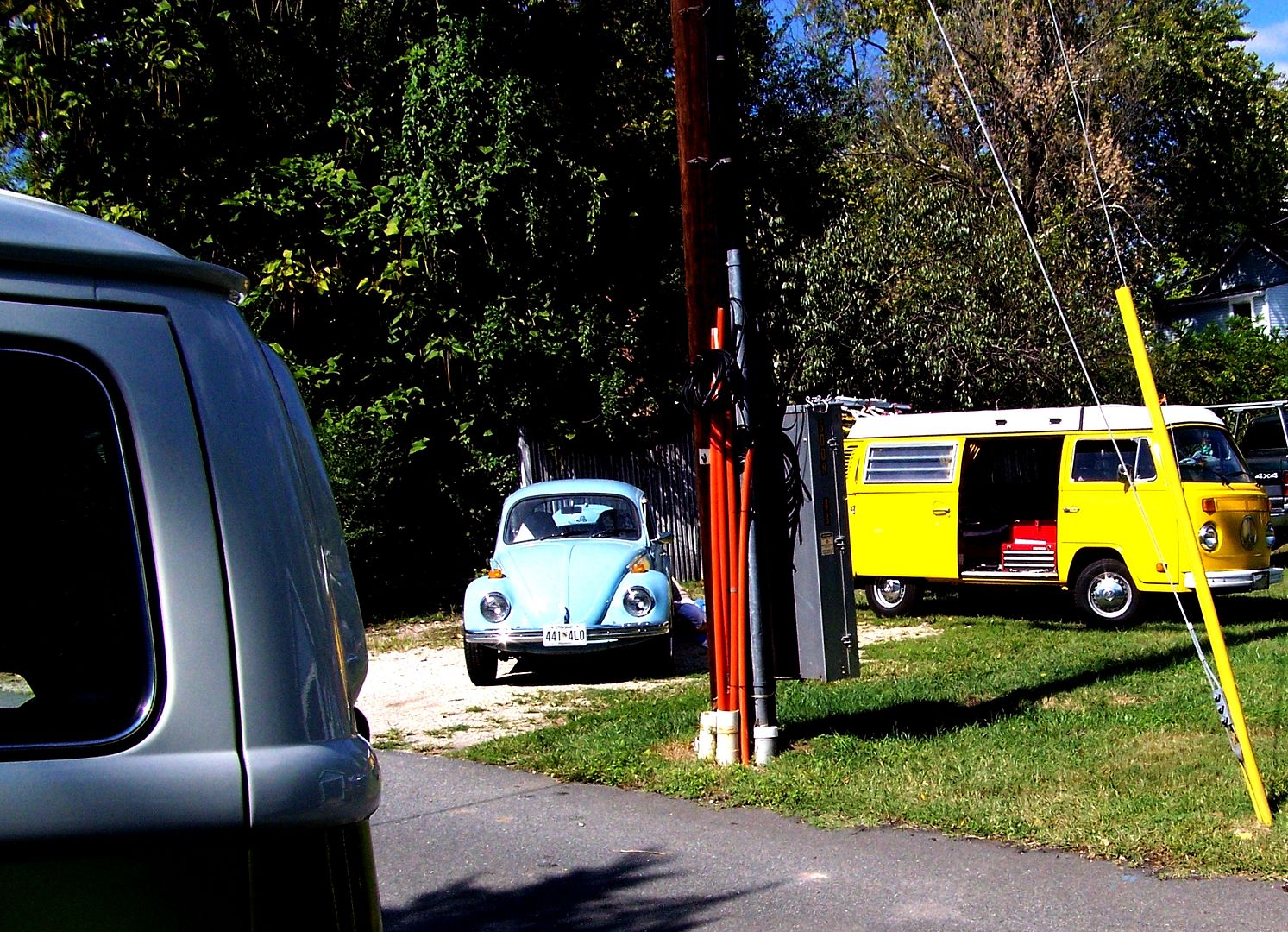 Then we had a lovely dinner at her friends' house across the street (I even got to softly plink their Kawai piano after the kid was put to bed) but the salad was spectacular for this rapidly fading basketcase.
I love youse guyz. Til next time.
ColinInNooJoisy