. . . . when I am due in Jackson, Mississippi? Yep.
With this "lifestyle", if it so happens that you are driving from from Arkansas to Mississippi and the 96* heat/humidity/bug index totally destroys your night's sleep to tatters, you get up at 4:30AM and you Drive North. That is what I did. That night was a disaster of buggy bity sticky heat, but in this Mississippi River Watershed, there is no escape. The land barely is able to drain the rain to the ocean. The fields all have deep ditches that try to allow the watertable to drop below the crops, and these ditches are swamps of fetid fertilizer-turbo-charged scum that makes mosquitoes insanely happy. I found what I thought was a decent campsite under some stately trees in the middle of nowhere, but it was actually Mosquito Dancing and Dining Martigras, I provided the dining, they provided the dancing. When my blood started decorating the headliner of the BobD as I attempted to smite these torturers, I called it a night. Drove from just outside Little Rock to 100 miles south of Saint Louis, and earned a full 15% drop in humidity and a good 10*.
The next day's campsite work area was pretty and I was able to color sand the remaining wheels in relative peace. But the evening, though cooler, was buggier still, and I was two days of grime tastier to the insect life outside of Sikeston, Missouri. I gave this spot up at a more reasonable 7:00PM when a horde of tiny mosquities rose from the piles of felled trees and vines where some industrious soul had attempted to make a road through wild vegetation. That was going to be my spring plate bushings camp-out. No, no, no. As I drove out at my self-enforced speed limit of 14 mph on these long county gravel roads, I was accosted by a pick-up truck guy.
"What are you doing out here?"
"Driving through."
"From where?"
"From the last paved road outside of Sikeston."
"Where are you going?"
"To the next paved road up ahead."
"Then where?"
"Jackson Mississippi by Sunday night."
"Well, it seems strange that you would be driving out here."
"I am enjoying Missouri on a whole new level than the usual Saint Louis concrete."
"Well, we have had problems out here."
"Really? What sort of problems?"
"Drugs. Vandalism."
"Seriously? Out here?"
"Oh yeah, people come out here and make trouble."
"I can't believe that these beautiful fields and trees and sky and peaceful sounds could possibly inspire trouble."
"Oh yeah, we have had problems."
"Well, I tell you what, if I ever decide to become a trouble-maker, I will pick a different car than this big ol lime green VW because it sure has attracted a lot of attention."
That made him laugh.
"So what are doing, sight-seeing?"
"I have been sight-seeing this big beautiful country for eight summers now, and my way gets paid by people who also have air-cooled VWs who want to know how to keep them running by themselves. I feel pretty lucky to be able to take the gravel roads through life."
"Yeah, well I have to take care of my family, I have been farming this land for my whole life and every year I feel more owned by my responsibilities, I don't know if I will ever be able to retire, when I think about it. Well good luck on your travels . . . " and he tiredly stuck his Chevy Silverado back in gear and drove off to his family.
I camped at a parking lot across from the truck stop whose lights appealed more to the bugs than me, a welcome change. Hit another gravel road and don't know how, but took a labyrinth bunch of turns and ended up on the Levee. The Mississippi River Levee: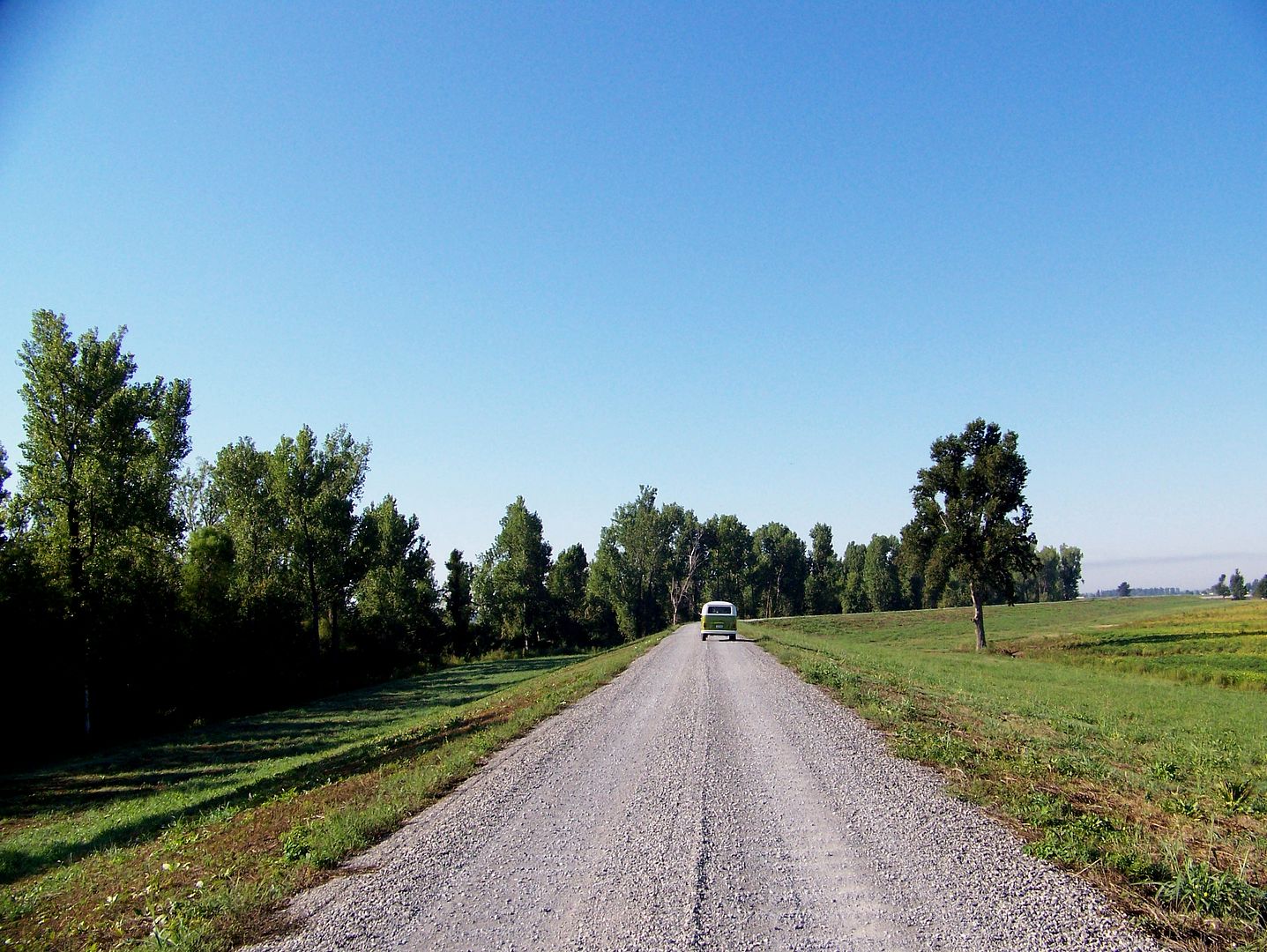 So I drove down the levee: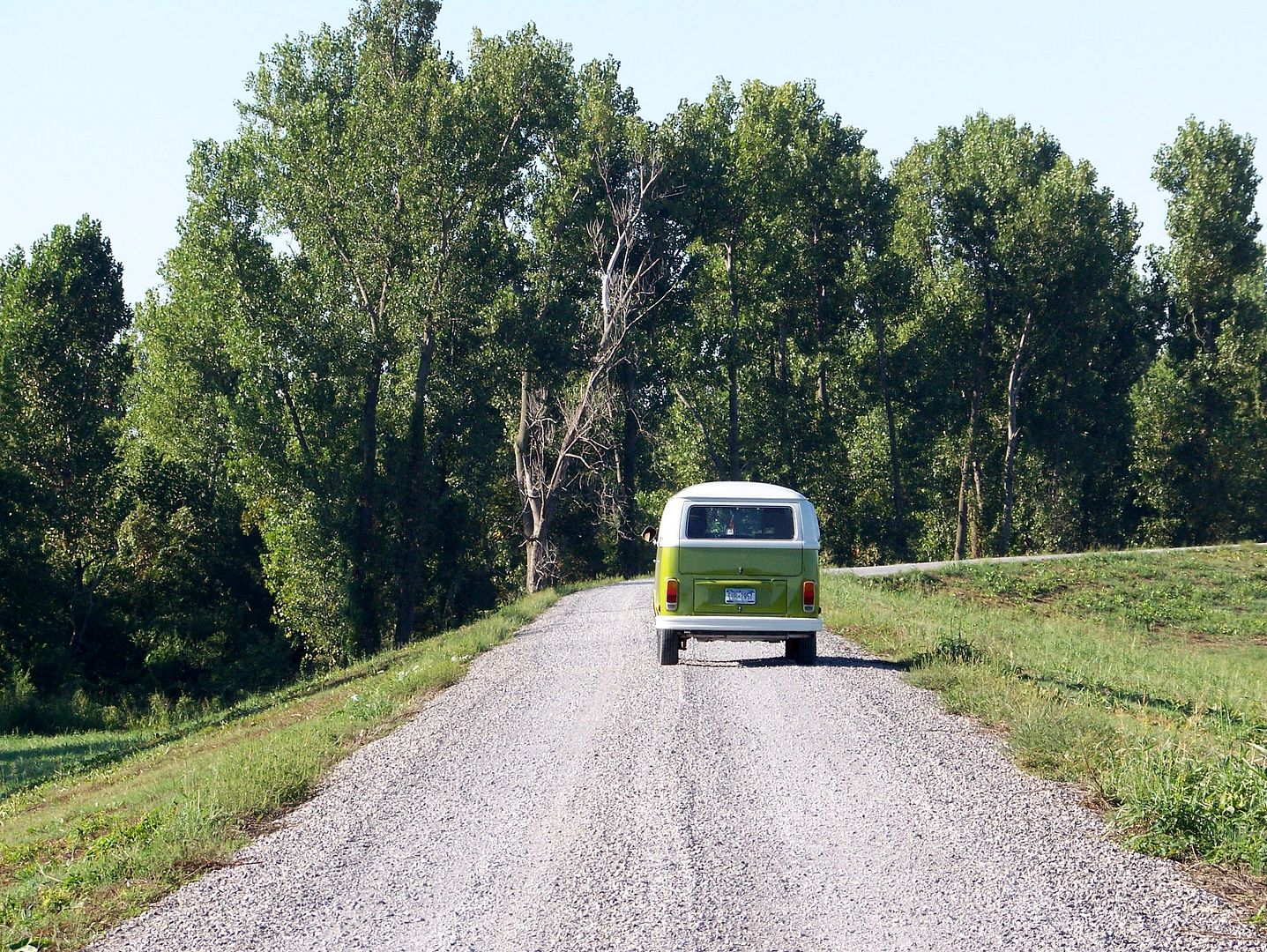 Caught a shot sort of under the bus . . . :
. . . . and took a turn down through a thicket into the flood plain . . . where not a soul was to be seen: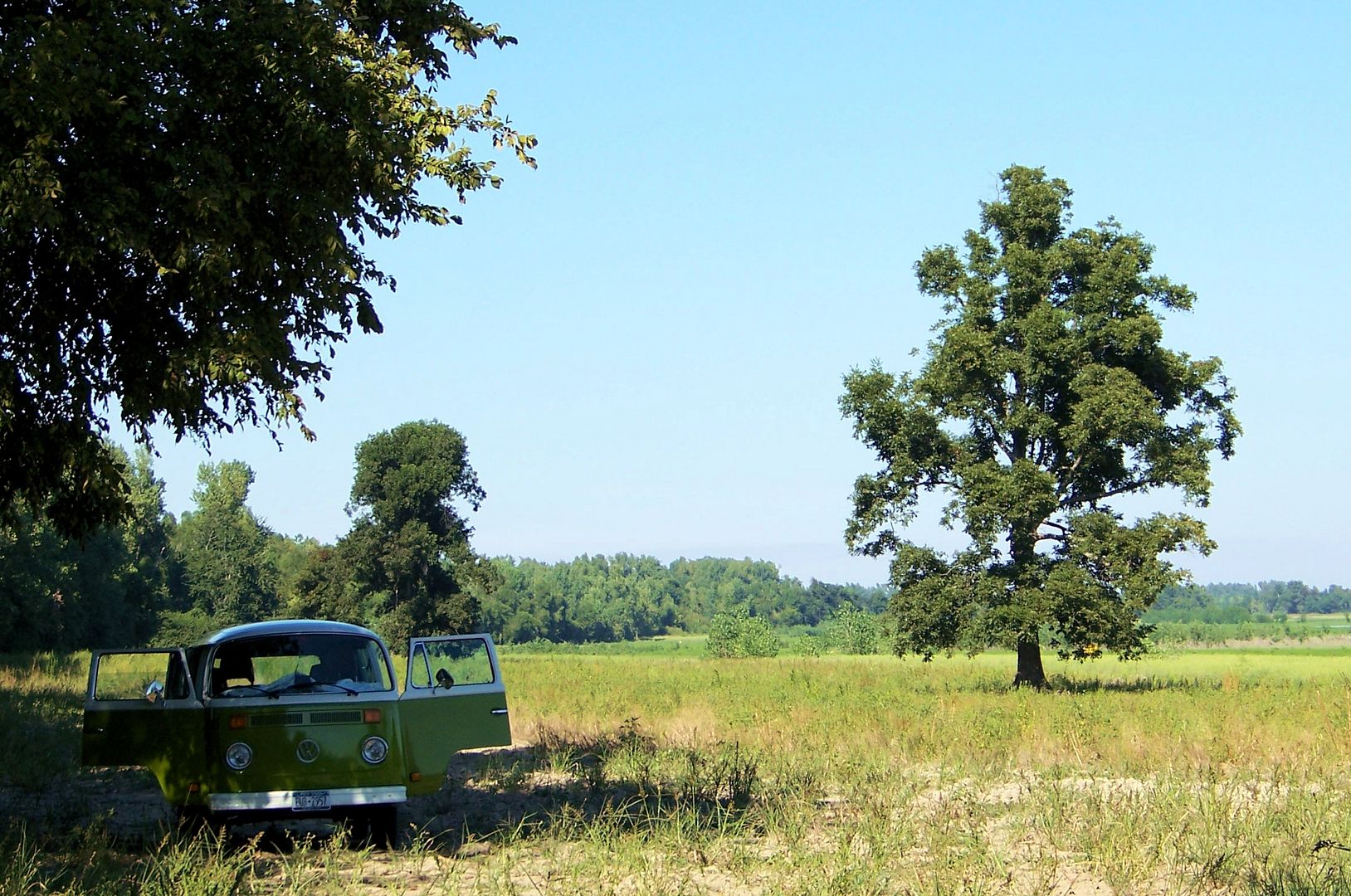 I spent the day color-sanding the bumpers, carefully, deliberately:
. . . . and got them damn good and dusted up along with the newly color-sanded wheels on the 8 miles of dusty gravel roads back to the main road which led me to the interstate.
Tomorrow? Jackson Mississippi. 96* they say. 67% humidity. It shall be a motel night though them electricical lights spook me these days.
Colin