. . . but first I had to survive redrita Pennsylvania. And before that, I had to get
to
redrita Pennsylvania . Which meant that I had to travel through 1funbug Ohio ... after I had finished up with equinox and Troll From Down Below. It is all becoming a blur. I hope to chime in on those prior calls which have posted, and I need to remember to update that thread that Alman72 of no breaker point gap/busted transaxle housing/dangling Bowden Tube/mangled shift coupler cage fame ALSO had a completely loose #1 rocker assembly with the nuts and washers in the pushrod tube recesses AND IT STILL GOT HIM HOME.
But I am here, now, to tell you of how close I came to blowing a fuse and blowing outta here. One other forum member fielded the call, I was so done done done. Seriously, the humidity and the heat took me down to a drifting sleepless puddle of damp misery. There was that record rain event up from Pensacola to Maine that I drove into mostly unaware. The poptop actually leaked into its canvas, onto the sink counter and the carpet, the taillights filled with water, the rubber mat under the driver's seat got damp, my two week new WalMart's Finest BS "Dr. Scholls Gel Inset" sneakers leaked into my socks, the daily (thrice daily!) Motel 6 wash-down wash cloths never did dry out, the rain beat down, there was no campsite left, the ground around me was puddles and sodden biologic decay, the mosquitoes were clamoring to get out of the rain, and NaranjaWesty ran absolutely perfectly. Thank-you, NaranjaWesty now at 87,030 miles, and sorry! It's what we do.
I really did enjoy our day at 1funbug's house. He had a fun bug, too. Looks like pretty serious fun: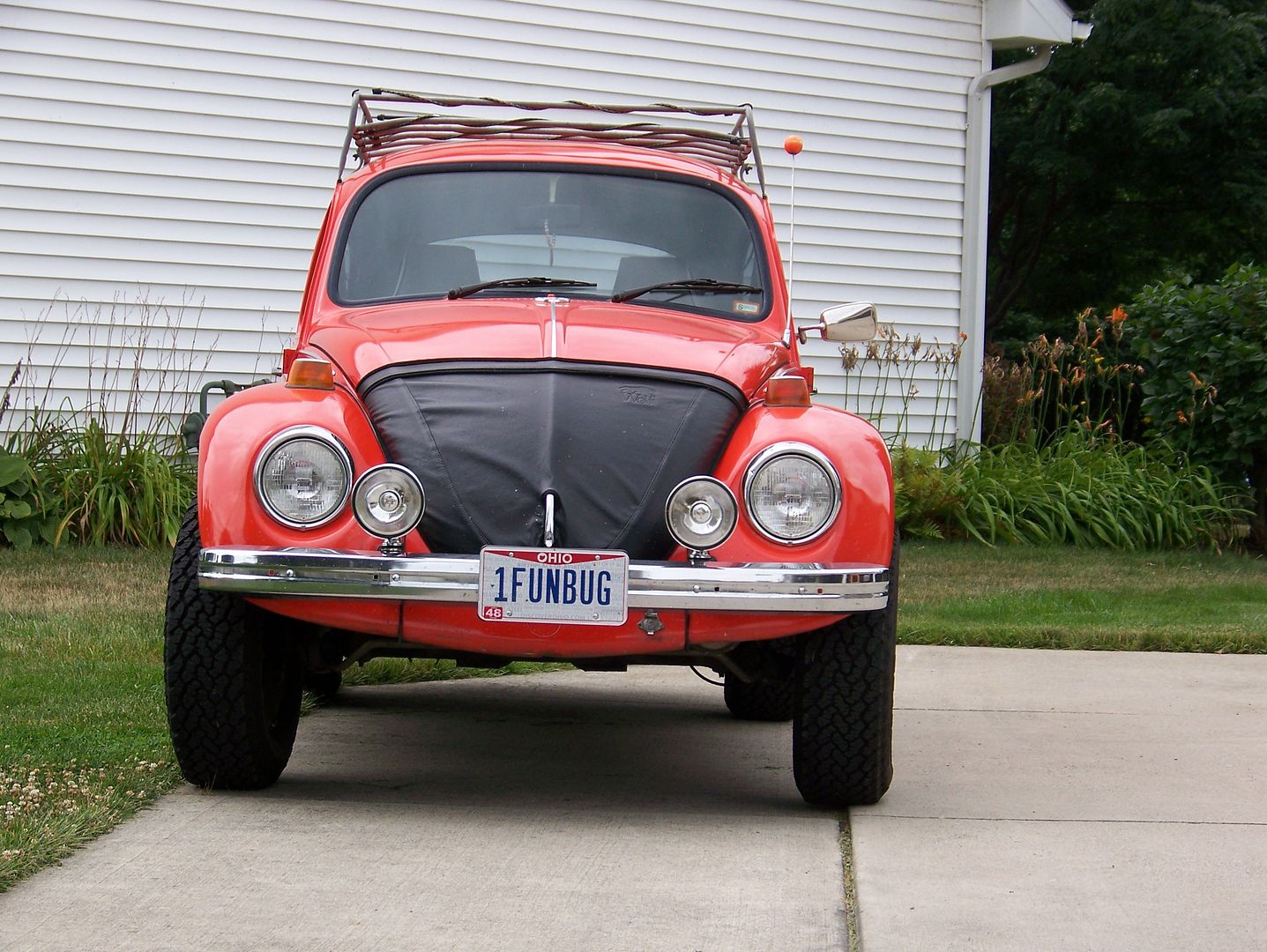 But I was there to assess a very nice 1977 Westfalia with a Raby engine kit. The complaint was low oil pressure. We hooked up my oil pressure gauge and went joy-riding:
The oil pressure indeed dropped down to a minimally acceptable number as the engine heated up. We had a spirited paper/pen concepts discussion about VW's pressure relief valve physics, and I was heartened to see that 1funbug assimilated my wandering explanations. The upshot was to drive it and listen for noises that suggest unhappy bearings. I am fairly certain, however, that the engine is going to be fine. Update us, 1funbug
( ed. he did:
[b]http://www.itinerant-air-cooled.com/ ... 13675[/b]
)
With alarm, I saw that my highly anticipated three day gap between Ohio and the Pennsylvania call was forecast to be rainy. I had deferred so many stupid little projects all the way through July, and now they are going to be deferred yet again? Disappointment welled up in me as I started cursing the clouds. Pennsylvania's topography is pretty tough on a dry day. The tectonic collision between Africa and North America (long time ago) had really crumpled Pennsylvania into these long arcs of mangled crust known as the Allegheny portion of the Appalachian Mountains. Pennsylvania town as perched on the sides of these mountains and the roads just snake through them with steep shoulders and limited sight lines. Because I refused to pay the Pennsylvania Turnpike tolls, I did the whole dang traverse on secondary roads. Then the rains. And the trucks. Hurrying trucks and spray and blinding blue headlights. Did I mention the trucks? Two varieties. Semi's hurrying with their blue blinding headlamps, dump trucks, Dodge Ram duallys, everybody is in a hurry, and there I am peering through the spray and the rain, is that my turn?
Redrita's appointment day started with an emergency touch-up of the poptop's bolts which I had to assume were allowing water in way up in the canvas regions: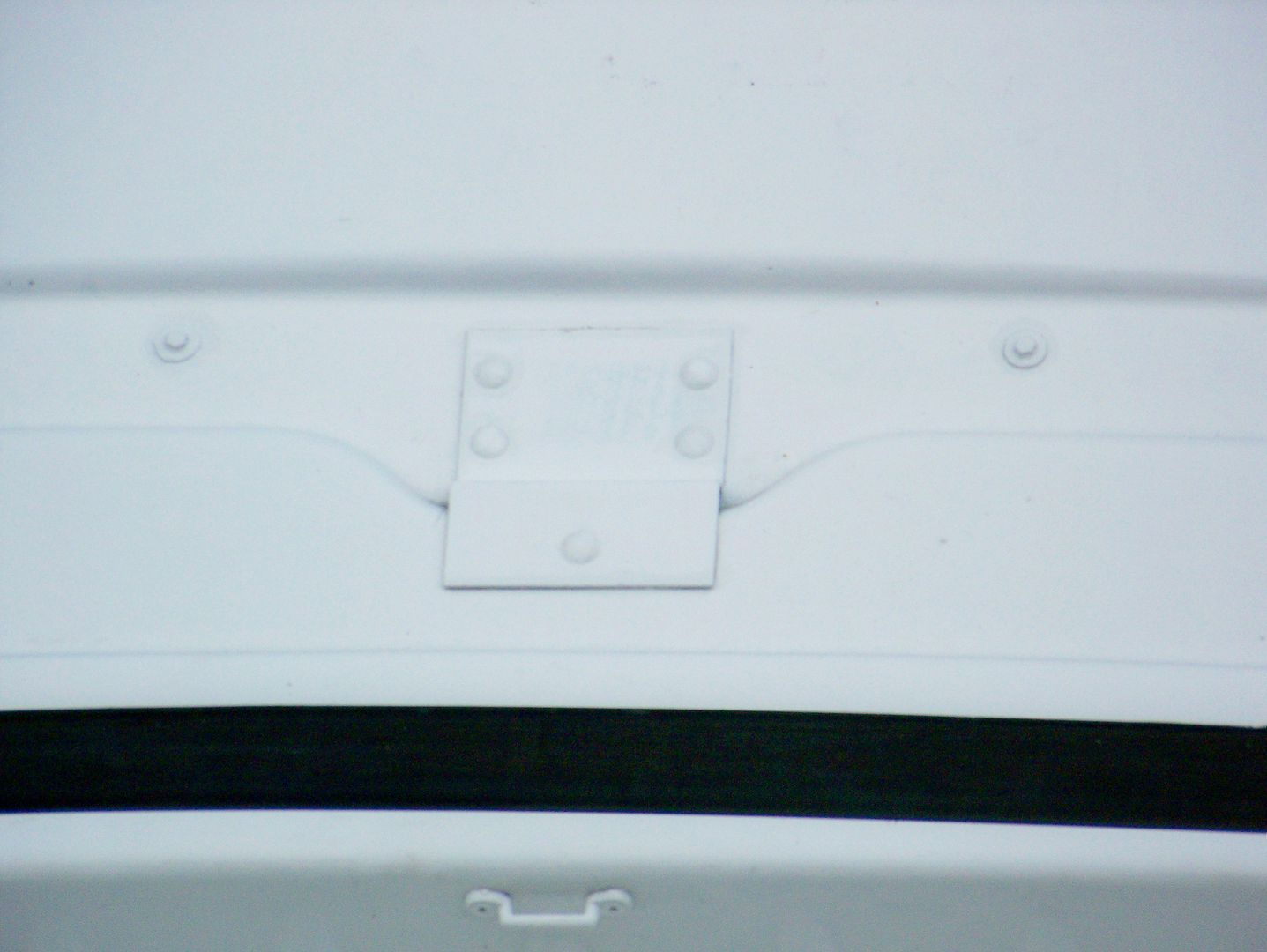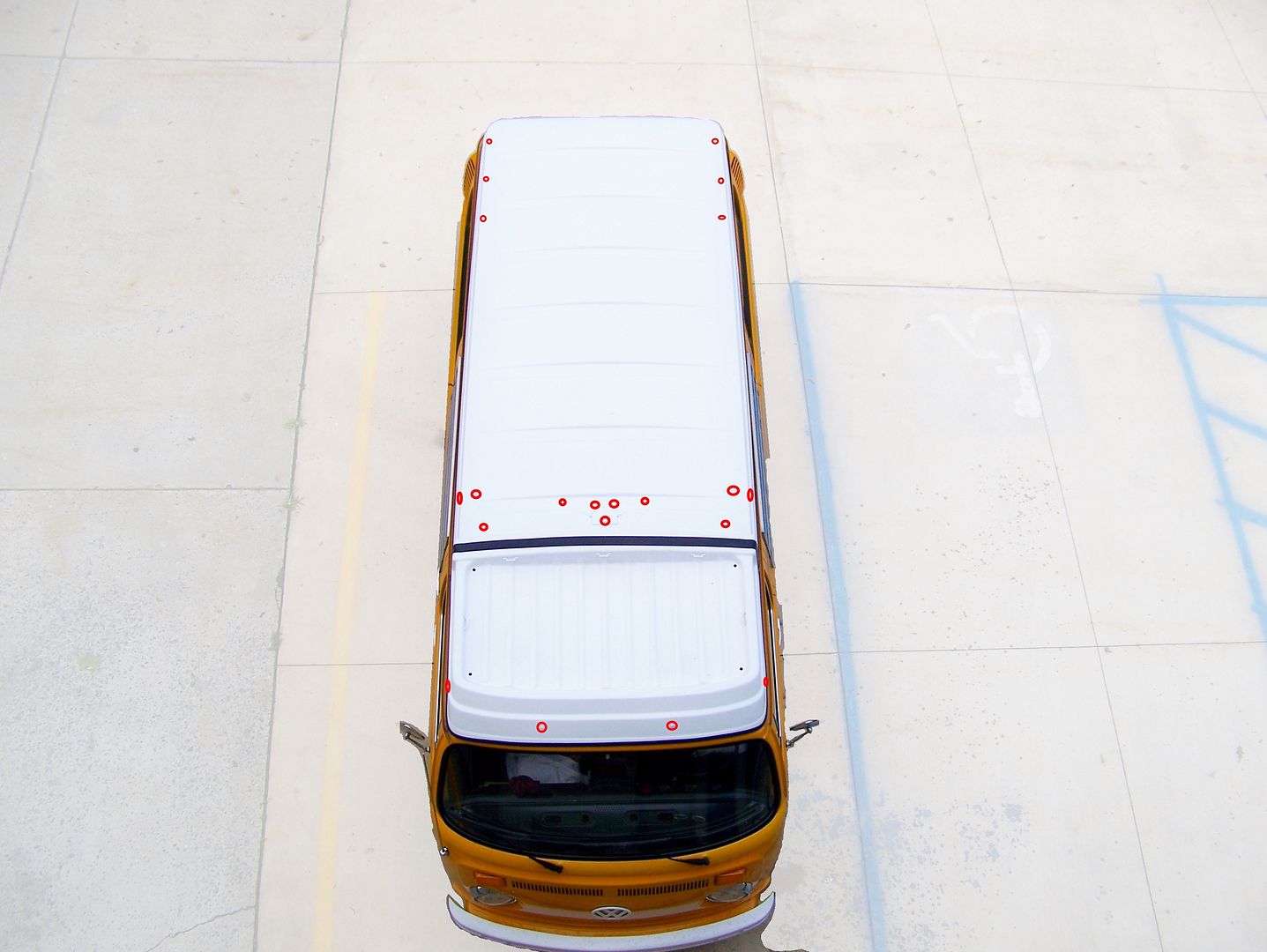 The forecast for our day was "thunderstorms and flooding". It did, and it did. Redrita is a 1971 red Westy, and it was snug in its canvas cave. We did a brief morning concepts session and followed with a check up of the valves and points and timing and carburetion. As you know, no engine is allowed to run without functional idiot lights. Yeah, so we had that dash apart to discover that the prior owner had gone to town on the wiring. It was a puzzle just waiting to be solved. Hours later, we had idiot lights and even a right headlamp. Much much more to do there. We topped it off with a new old oil bath air cleaner, I was so happy to see that chrome rust horror aftermarket thing removed. It rained. The rain was so fierce that water trickled in from the sides and pooled just behind the engine in a muddy lake. In our cozy little canvas cave, redrita proceeded to make us all damn good and sick with fumes, odd fumes, too many fumes. The upshot was that the cylinder heads are loose and the engine really does need to be torn down. I enjoyed the banter with Tim and Jennifer. We needed high-quality banter, the work environment was a real test of stamina. The rust inspection showed some horrendous body work (foam!) (plaster?/bondo?/fiberglass?/ all applied with a shovel) and some new rust areas just loving the damn rain. I have to say though, that the test drive showed a plucky spirit in redrita, and these guys are going to have to make some decisions as to how to proceed.
Redrita was to be the last call for the next two weeks. I was to go to the upstate barn and plough into the fleet of old lions + Squareback. But all I could see was sticky hot gooey humidity and daily forecasts of rain training up the eastern seaboard. I left in a downpour: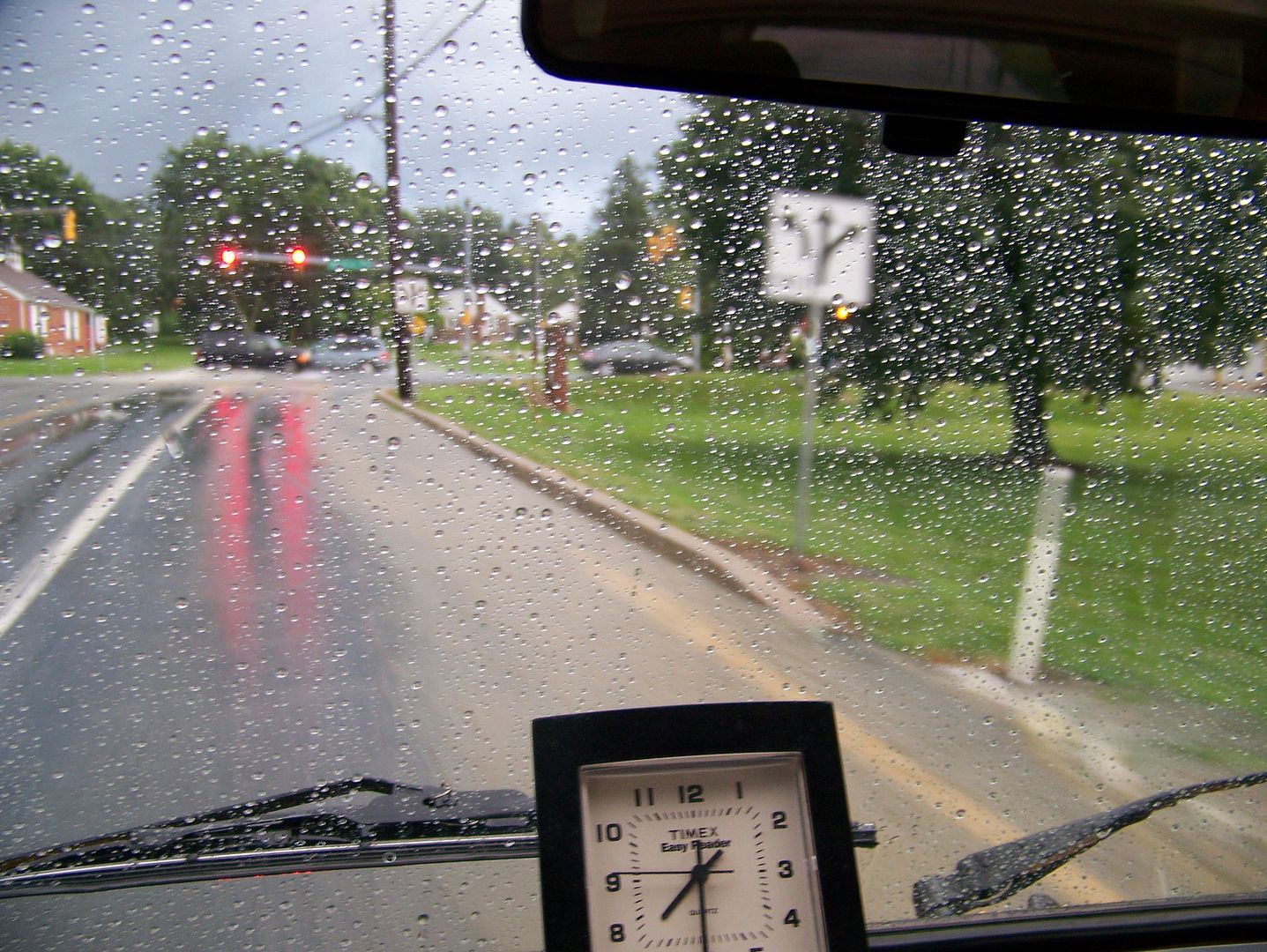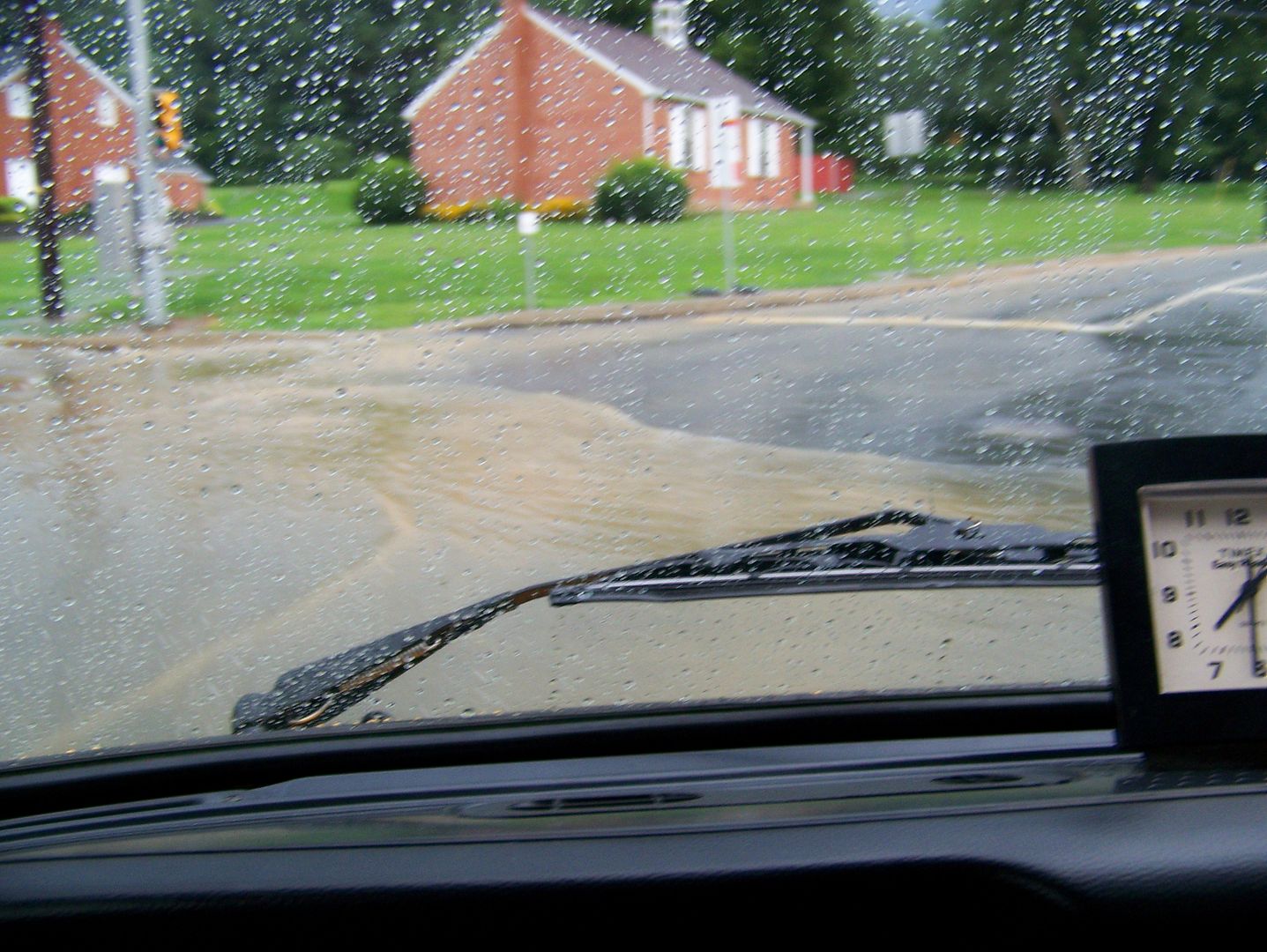 Got lost in the central Pennsylvania swamps of closed roads and poorly detailed detours . . .
Where do you camp in this? What projects can you do in this? Even a brief sunny day will barely evaporate the trillions of gallons water soaking everything into a muggy sticky mess that of course will relieve itself in afternoon pop-up thunderstorms. I was dreaming of being where I am supposed to be this very second - in the desert, under the stars, doing days-long projects and glorying in the stillness of a startlingly crystal clear starry night with the trucks gliding across a faraway interstate in the distance. Joyful.
So the petulant rage kept building. Trapped in the humid heat. NaranjaWesty damp. Me damp. Hating my circumstance, sleep-deprived, stuck in a pretty little box day after day, here's the Susquehanna:
The plan was to bail west, catch my cancelled Columbus call, hit up the Saint Louis guy, and head west until the humidity map showed 25% dammit. The plan was tell everybody remaining to add one digit to the month. Blow off the wedding in New York. Save my sanity. Come back when the temperatures have dropped ten degrees. Then Cindy called, "can't wait to see you."
(to be cont.)