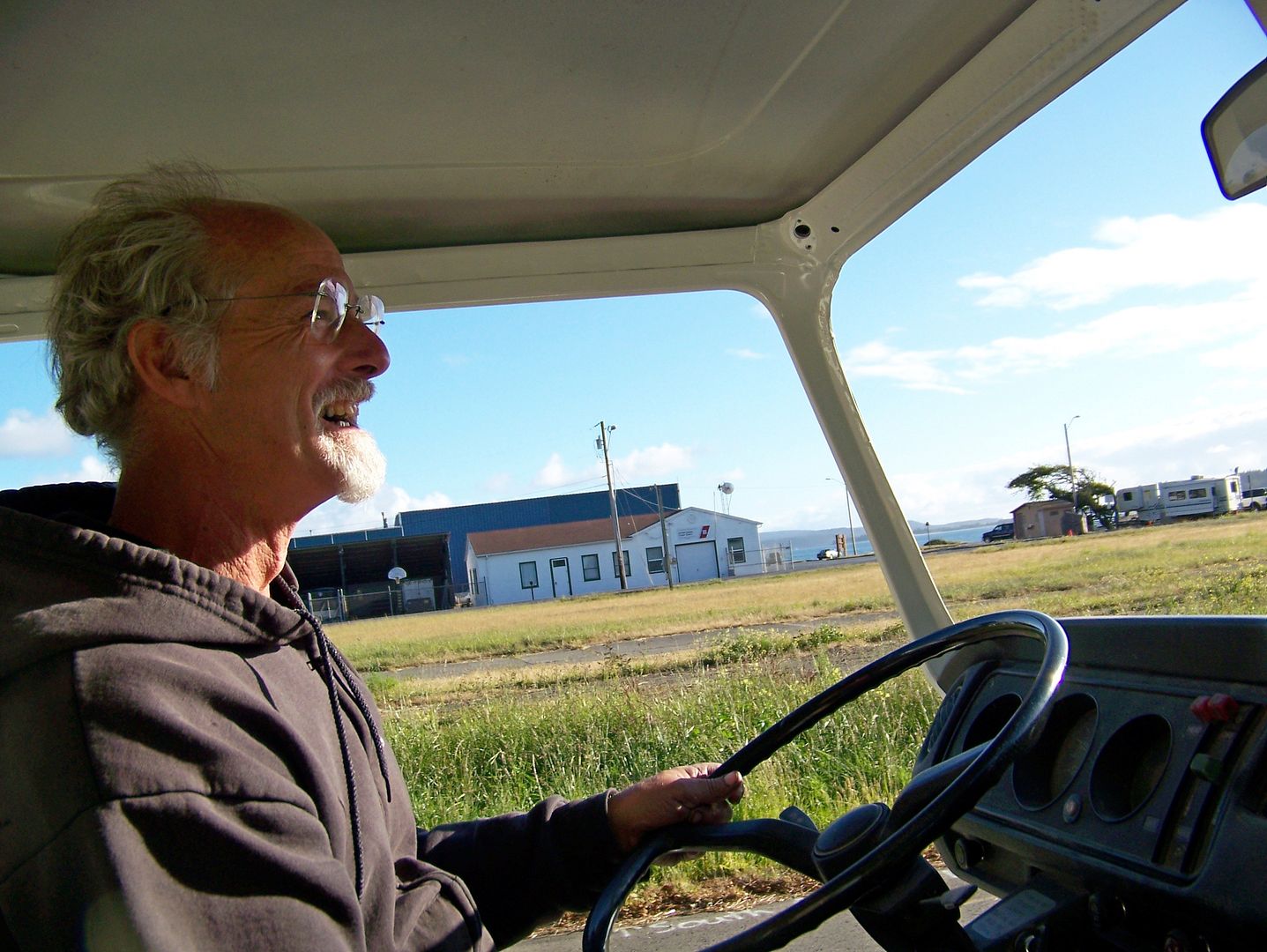 After the delightful heat that was mine, that I
earned
, by driving from Eureka CA to Redding CA, to enjoy that lovely drive up I-5 (yes, I said "lovely") into Oregon, I had to sadly wend my way back to that icy icy Pacific coast on a beautiful road by name of OR 42. Showed up in Coos Bay at sunset and washed the car in a car wash that was perfectly situated to accept all onshore winds straight through the bay. Imagine, if you will, the spray reflecting off NaranjaWesty like some episode of "Deadliest Catch", I was surely to catch my death of sniffles.
Camped along US 101 across from some huge pulp mill. Then it rained. I woke up to rain. Drove to my Seventy3Bus call under hideous morning clouds and mist. We dove into a successful day of valve adjustment, breaker points, timing, and I don't think we ever even touched the carburetion.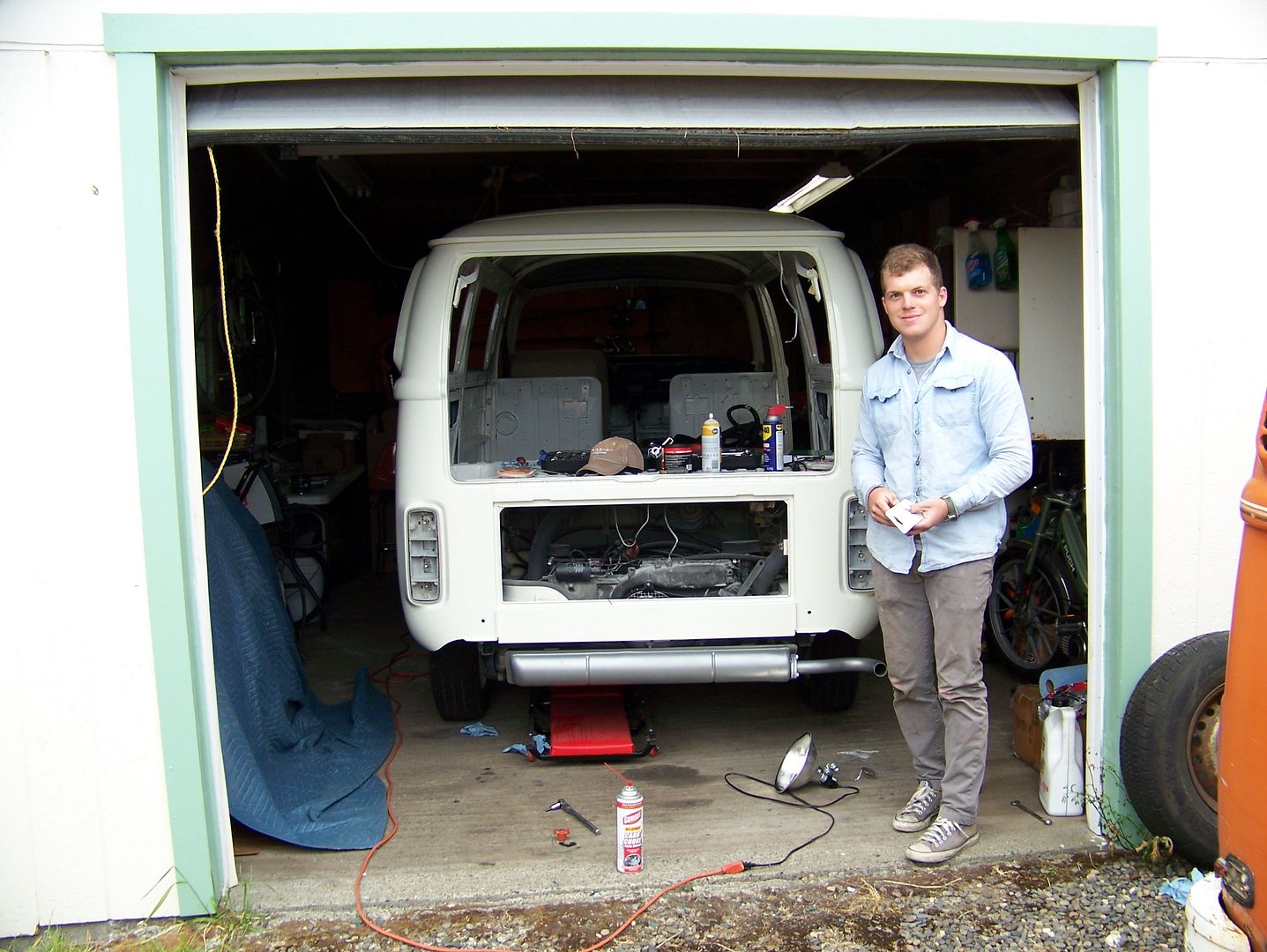 We did, however, re-pack all four CV joints, right side Rein, left side Lobro. It's a long-term test.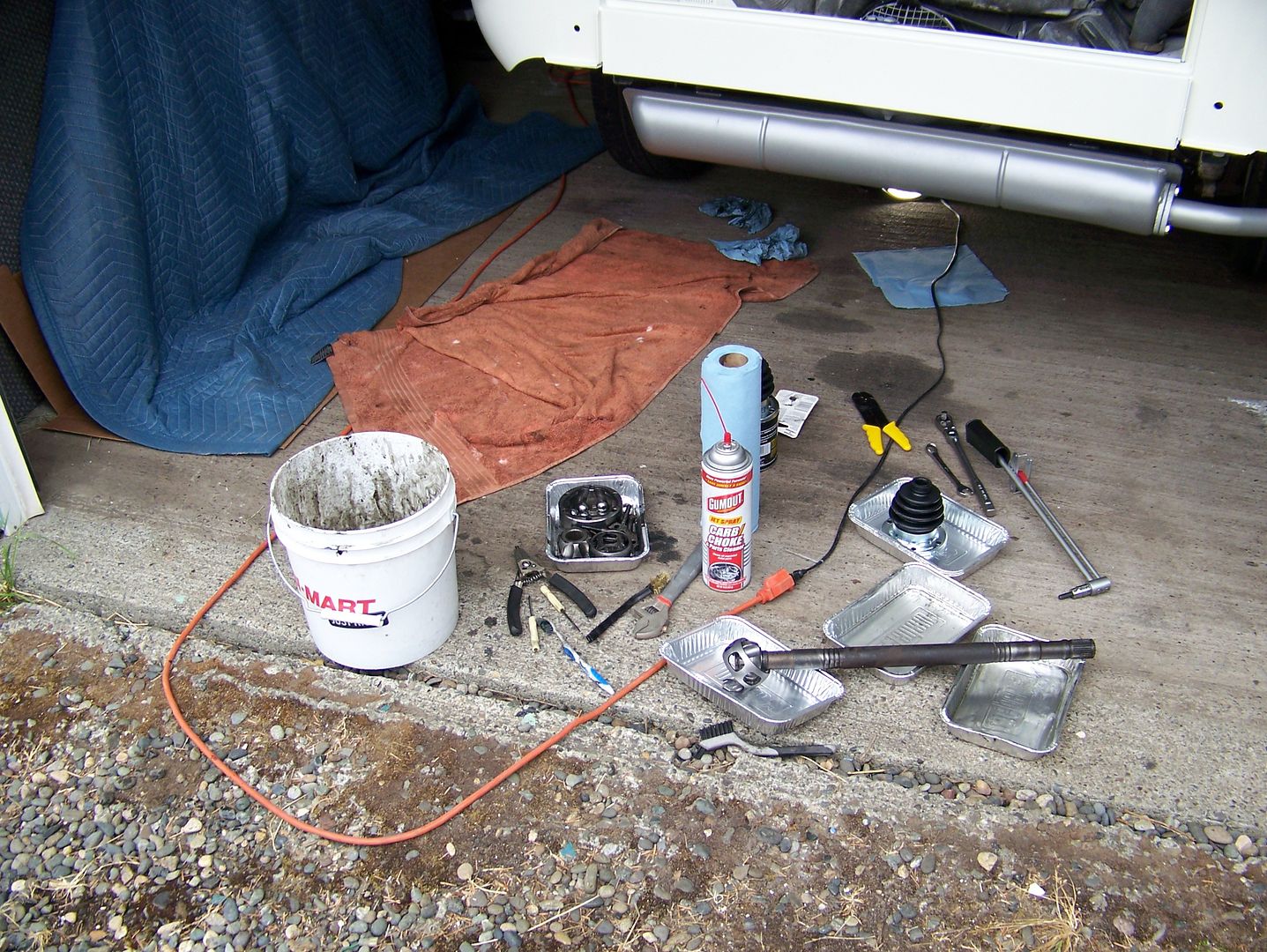 Then, we went on an al fresco test drive better which to experience the cursed cold, yes, but more importantly, to experience the delicate fragility of a VW chassis sans doors or windows. Delicate: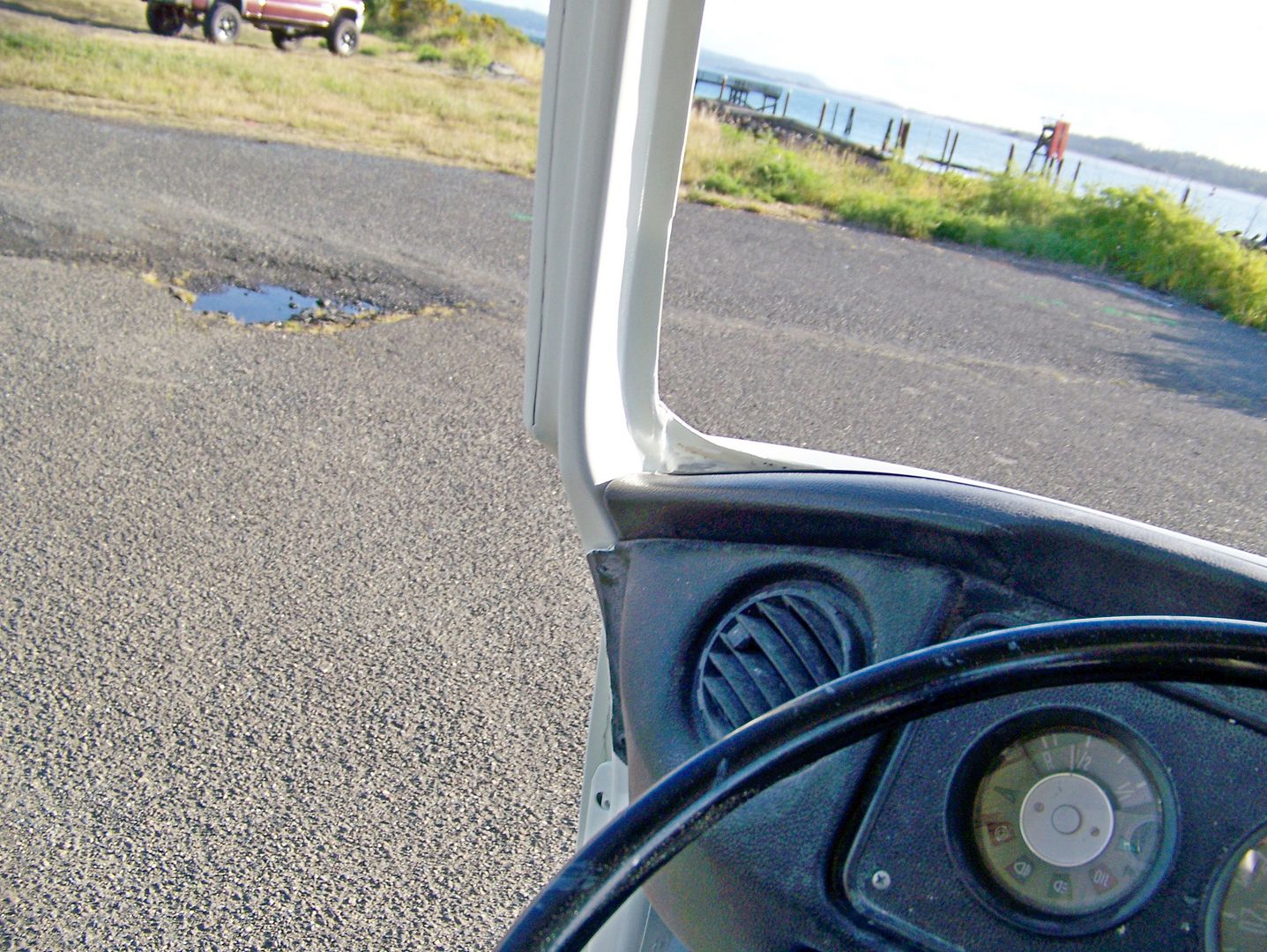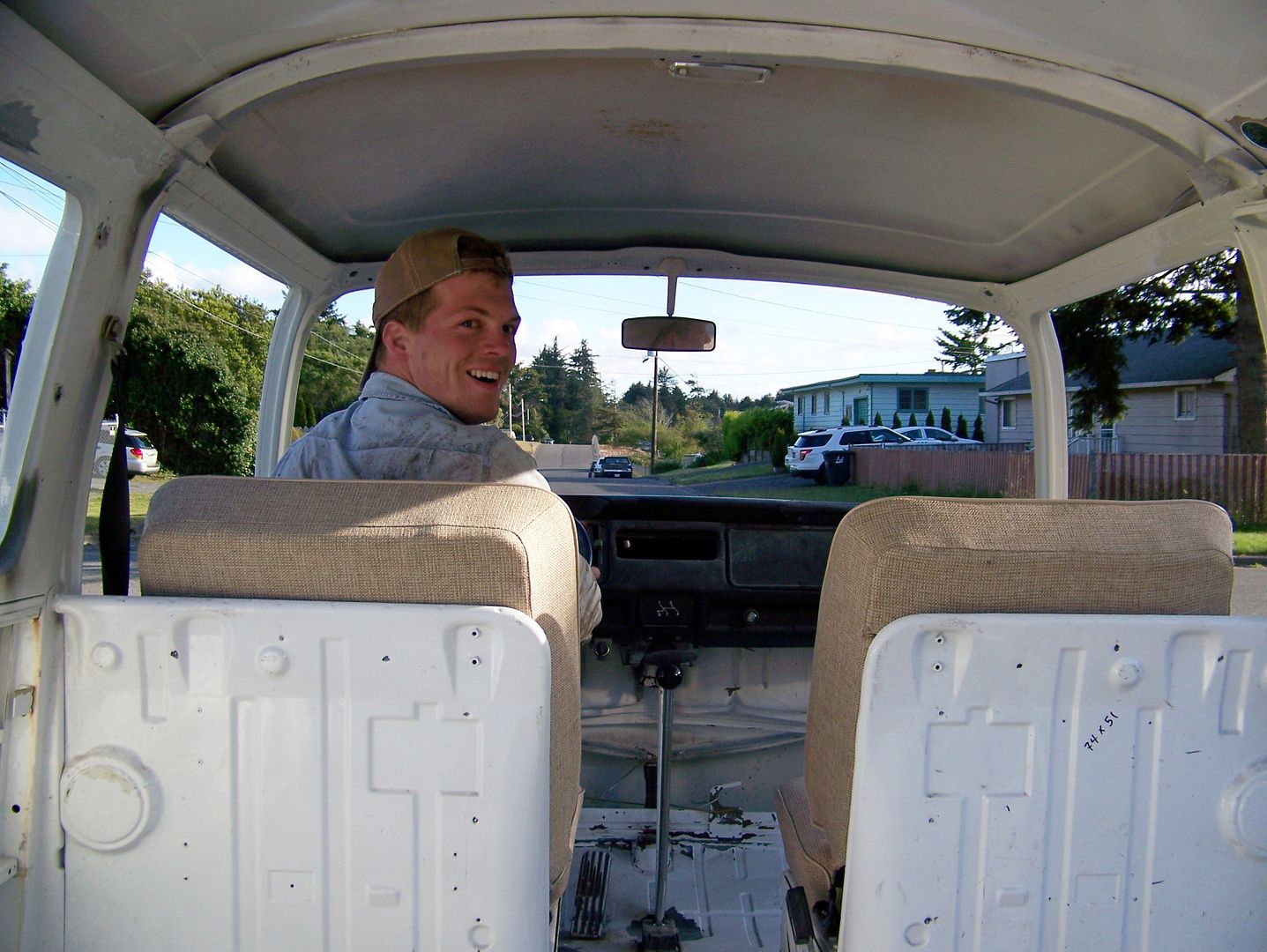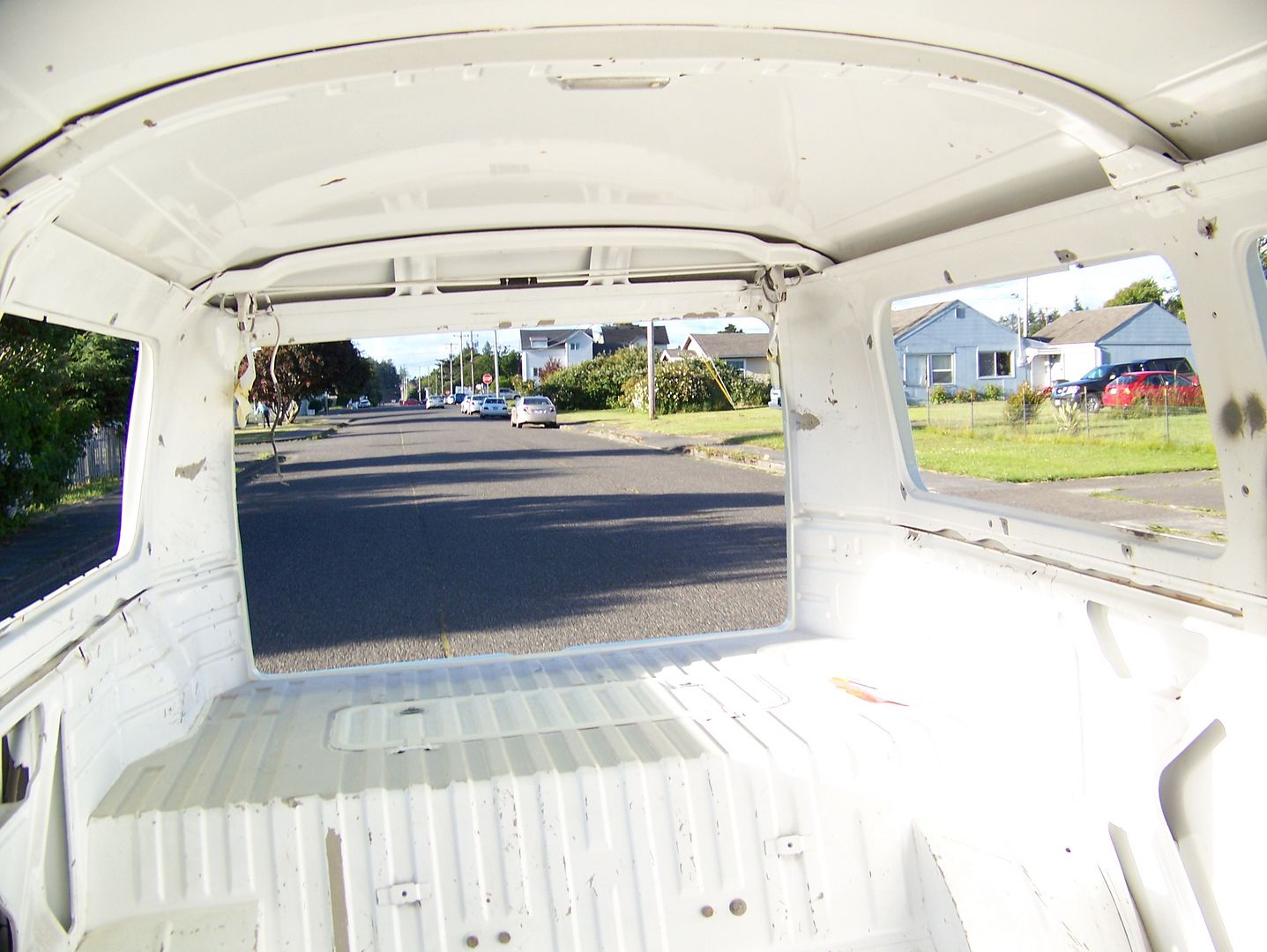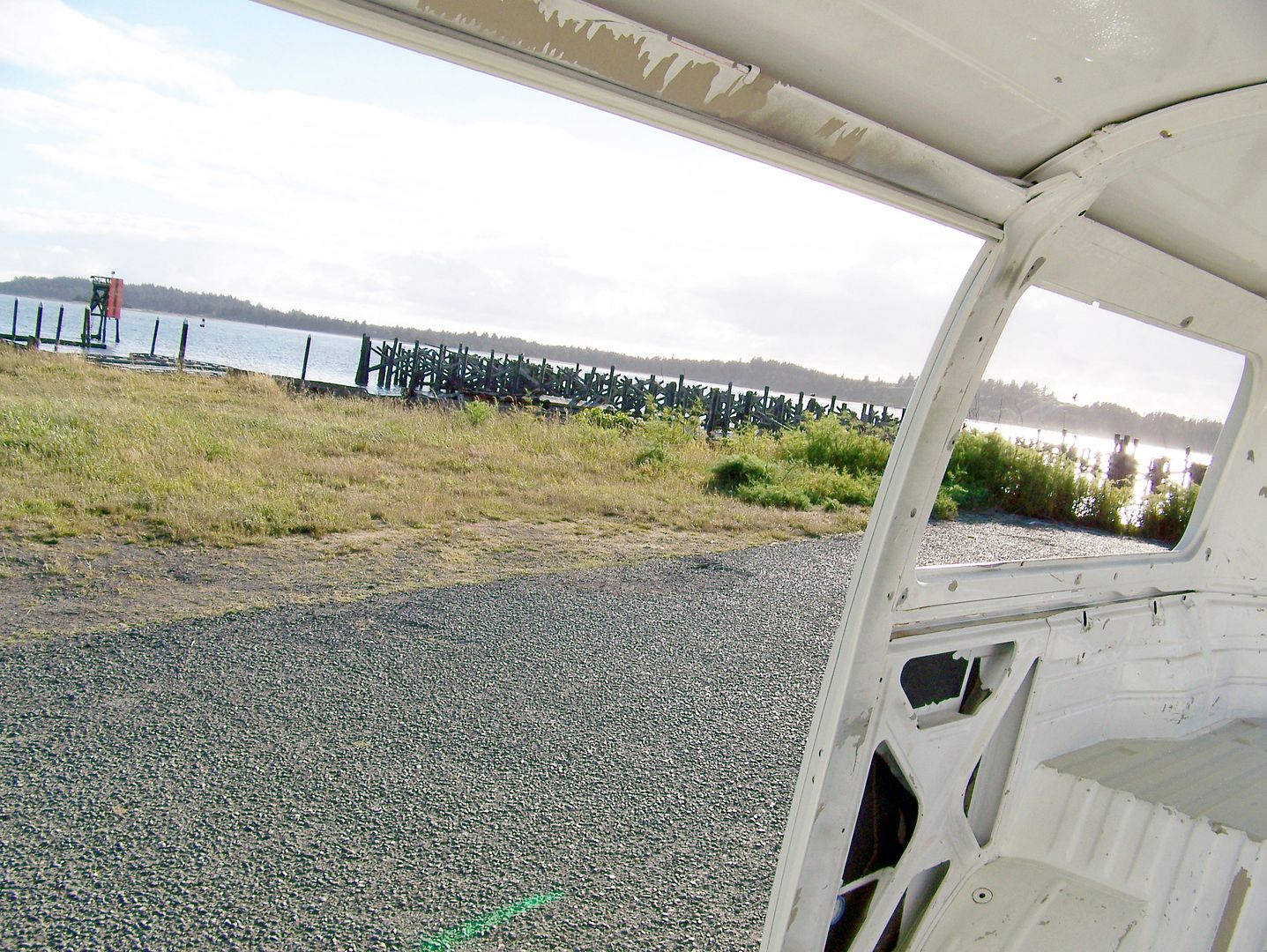 Now, because we did not get through the list as far as we had hoped, I offered to build up a door in the morning while Seventy3Bus was at work. Seventy3Bus is an officer in the Coast Guard. He is a Get It Done sort of guy. I planned to Get it Done. But nooooo. The stupid stupid little vertical front vent window seal just would not go into the groove. It just wouldn't. The vent window was flipping and flopping every which way, and every time I had to press, it would slip and slide around. After an eternity, I got it started in the groove, but alas, it would not slide up the channel so I could snug it securely in the corner. Guess what I was using? I was using "Simple Green", the same minty sauce that tormented me with Bookwus' windshield installation. When I realized that the time was slipping away, I got too irritatedly physical, and my screwdriver slipped off the channel and landed blade-edge-first on the edge of the vent window. It exploded all over the interior of NaranjaWesty.
All Over.
My frantic-ness settled into a deadly rage quiet. I have so had it with poorly-fitting aftermarket parts (edit - 06/22 and I just DID a VW Audi seal just yesterday with Ich Bin Kurt that slid in as per usual with
no fuss
). Very furiously did I carefully shake all interior contents upon the floor and carefully brushed them and set them outside, until I had just a crumbly pile of broken glass to pick up. Then I mopped my carpeted floor with Gorilla Tape strips to pick up the shards from the carpet. Very thoroughly, I picked up every discernible shard in the interior with strip after strip of tape. Repacked the interior. Hated on the seal. Tried again. Nope. The seal just would not stay in the groove long enough to allow the other side to get stuffed into its groove. Repaired to the parts bus and pulled its vent window. Fashioned an Itinerant Air-Cooled vent "window" out of cardboard for the parts bus and miserably apologized to everything in sight, including my bleeding fingertips: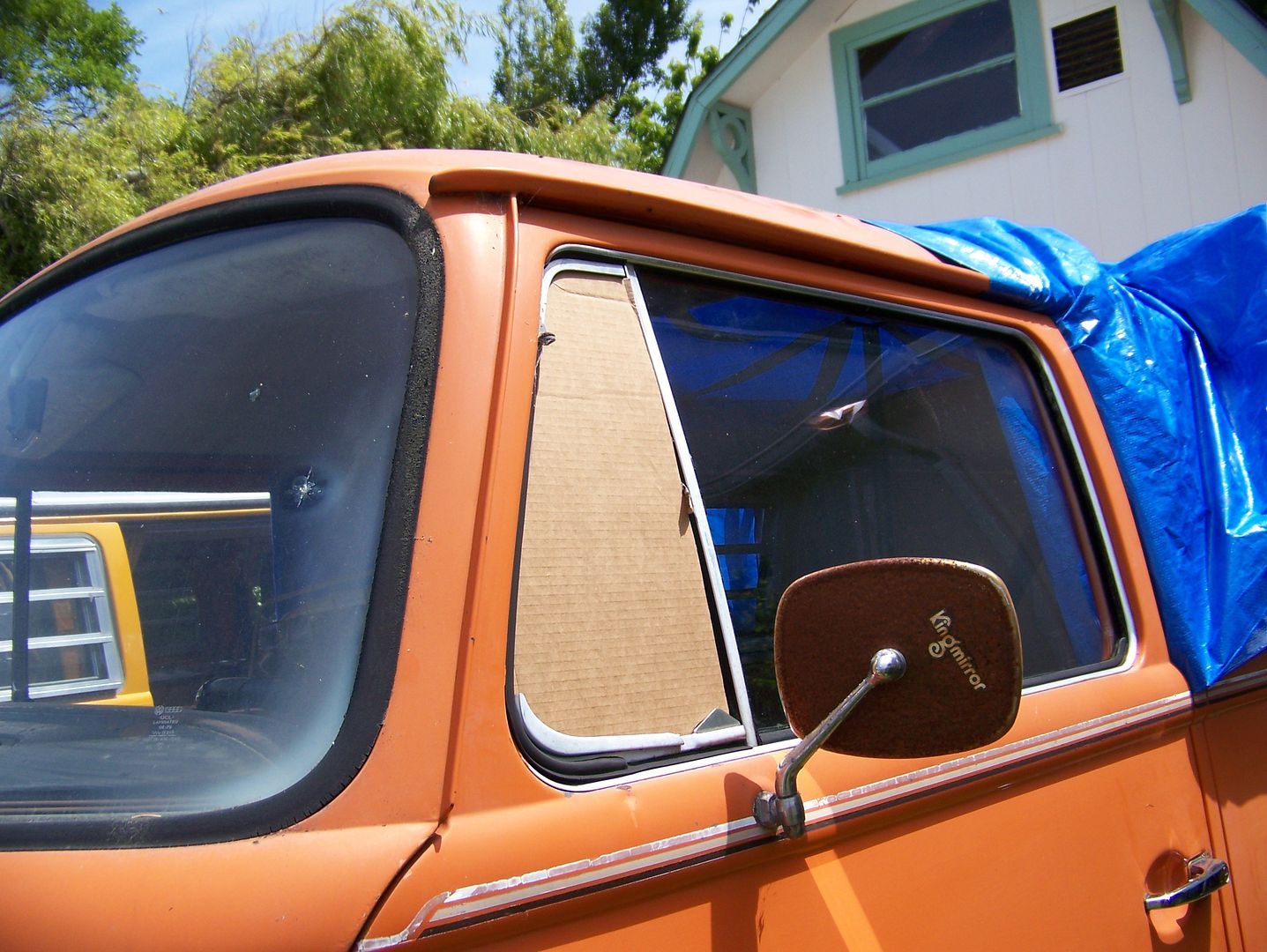 We did manage to get the seal in together at his lunch break, and the other one too, and we did manage to get the door hung before I had to apologetically escape to Maupin for the DeschutesRiverRendezVW: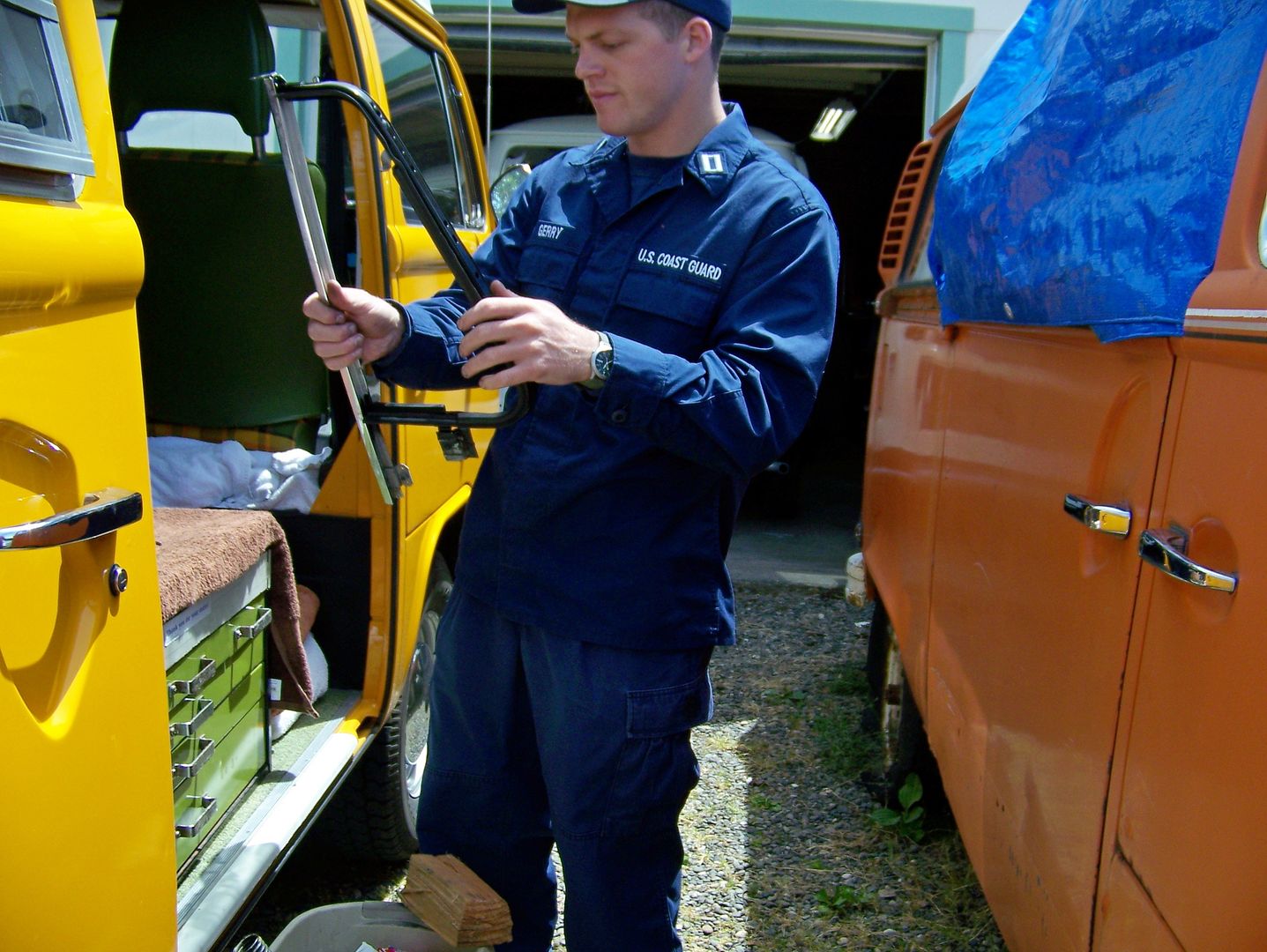 Showed up in TheDalles in mid-afternoon. I love this part of the country, this Columbia River Gorge leading to the midlands of Oregon: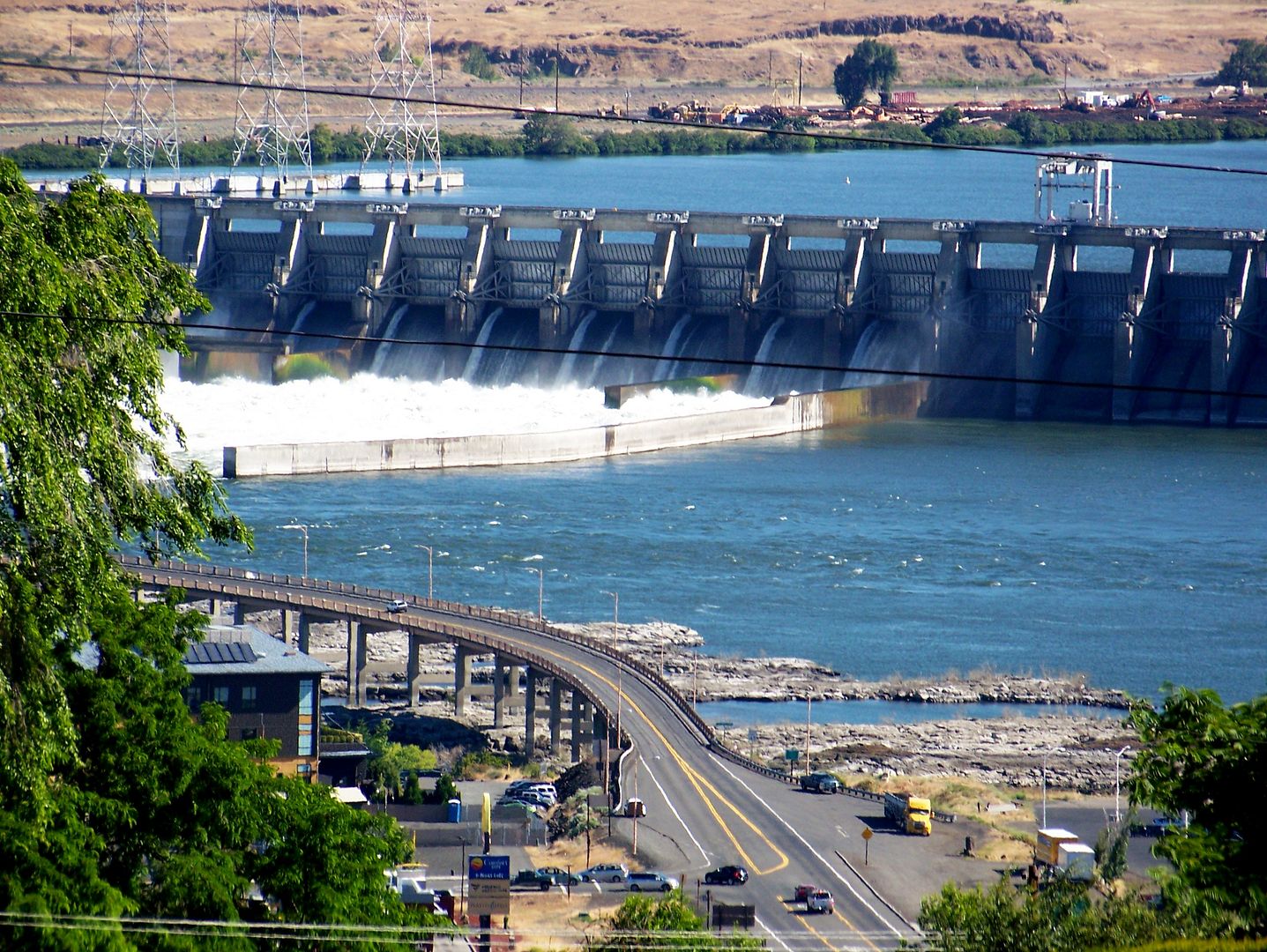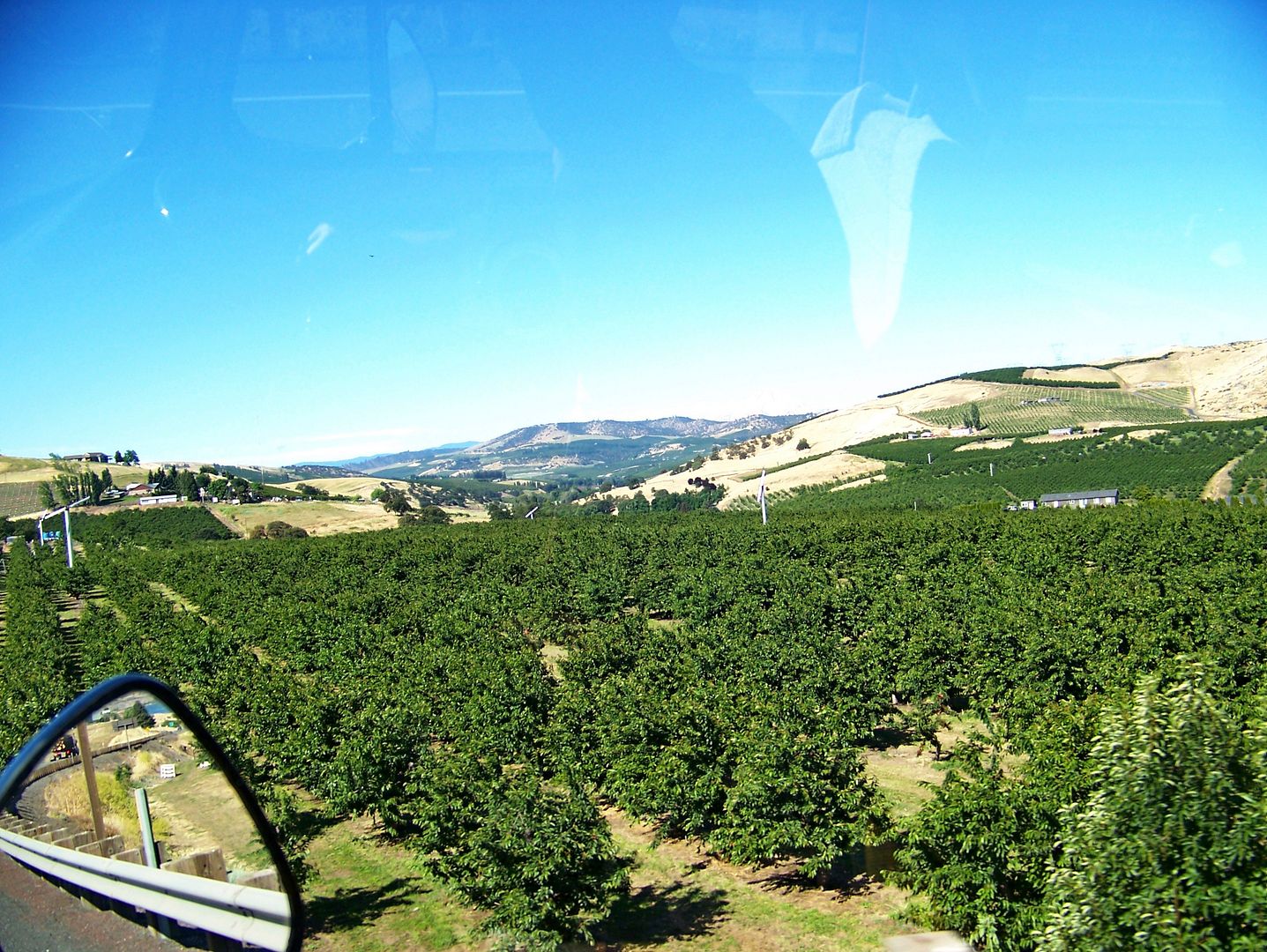 This whole clockwise 2018 Itinerary was to get to Maupin by Father's Day weekend. Parked on the lower quarter with my fellow riff-raffs, Ruckman101, asiab3, ShawnHigh, vistacruzer, Emo (?) and many other carousers: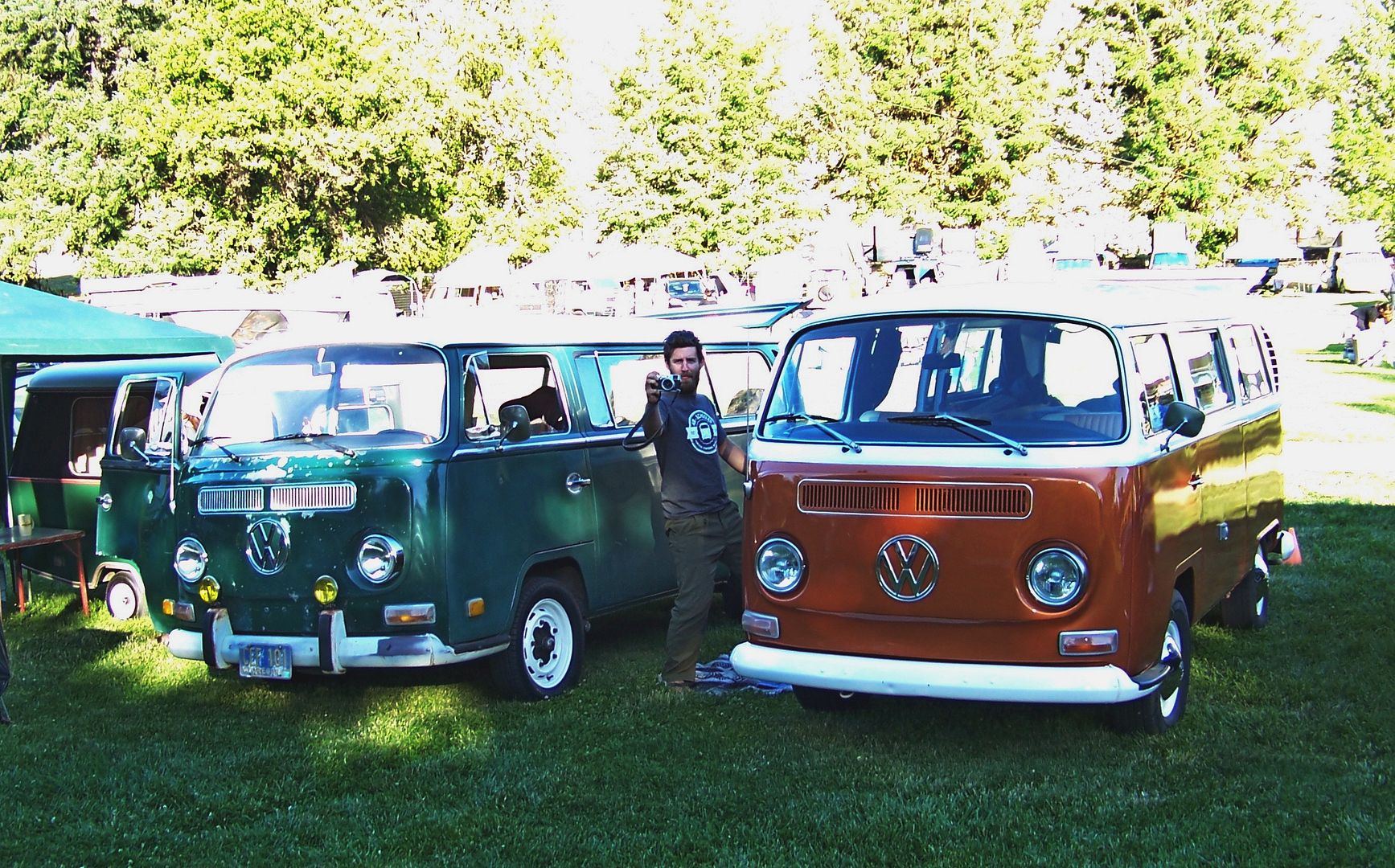 Always a pleasure to hear a flawlessly running 1600 even if I am about to get air-schooled: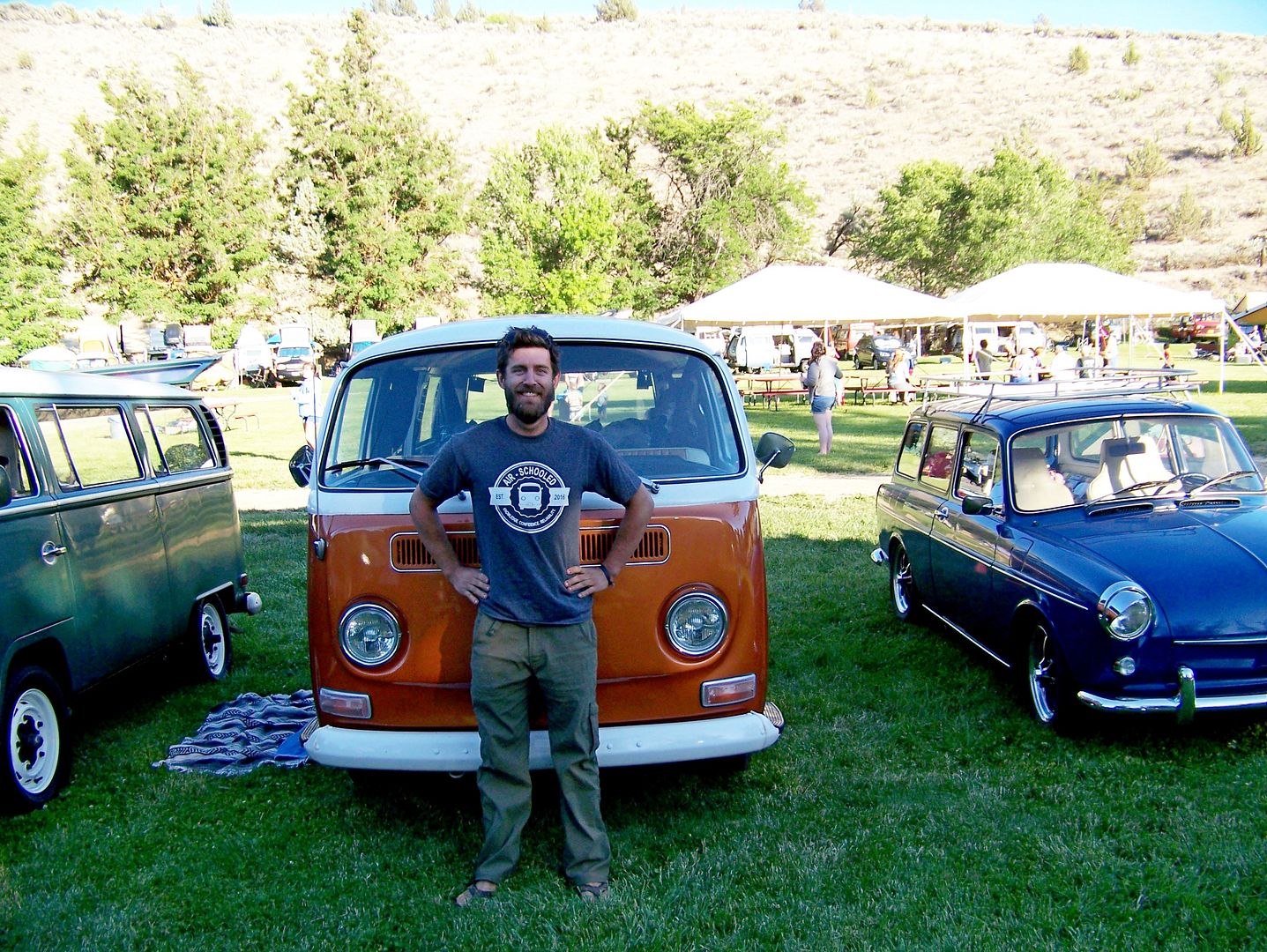 My pretty years are sooo behind me: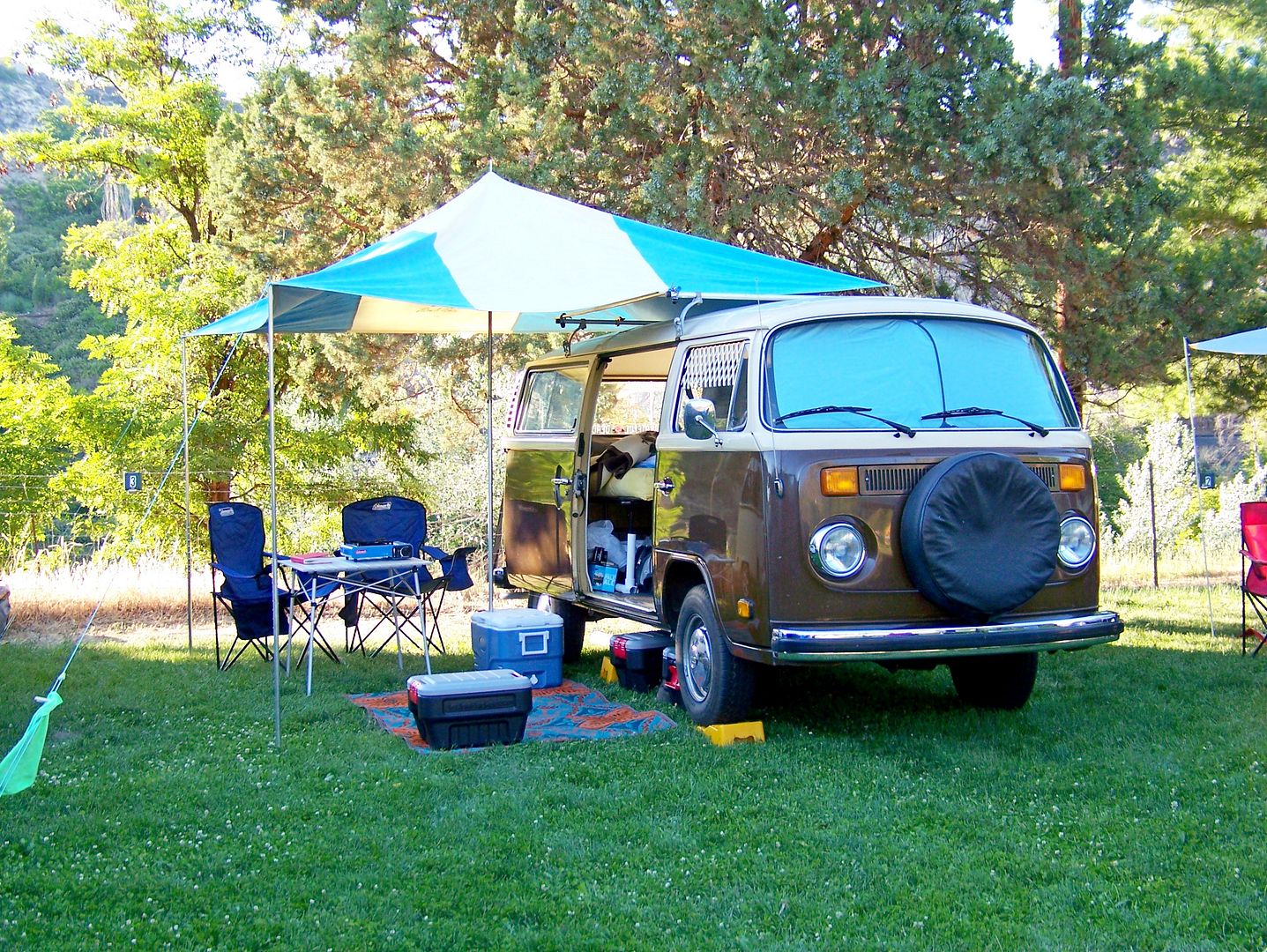 What I did was take a lap of the campground every morning and evening and yack it up with many people whose names I couldn't keep straight. In the morning, I preyed upon the hospitality of all to please contribute an inch of coffee to my paper cup. Then I would have a full cup by the end of my solicitation drive. During one of these laps (laps, it's what I do), I met Patricia and her bus which was running poorly, popping and spitting. The invoice she showed me made no sense. What distributor "can't exceed 25*"? Competitive nature thus sparked, I went down to the lower quarter and rallied my Riff-Raff Compatriot in Volkswagen Redemption .. .. .. :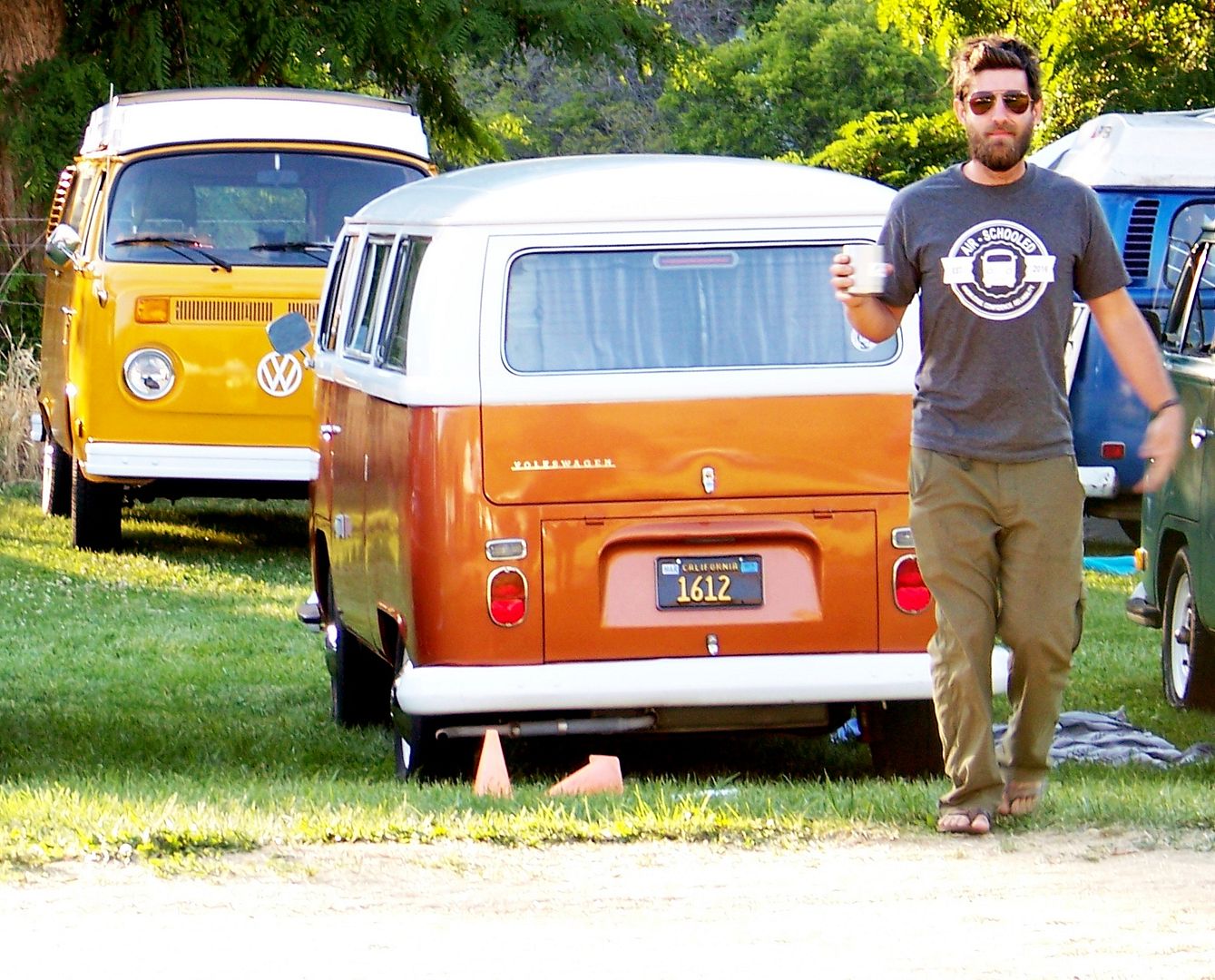 .. .. .. and we set about trying to disprove that invoice. And we did. In four minutes flat. It was just another case of "leaking EEC Valve diaphragm takes away the vacuum advance."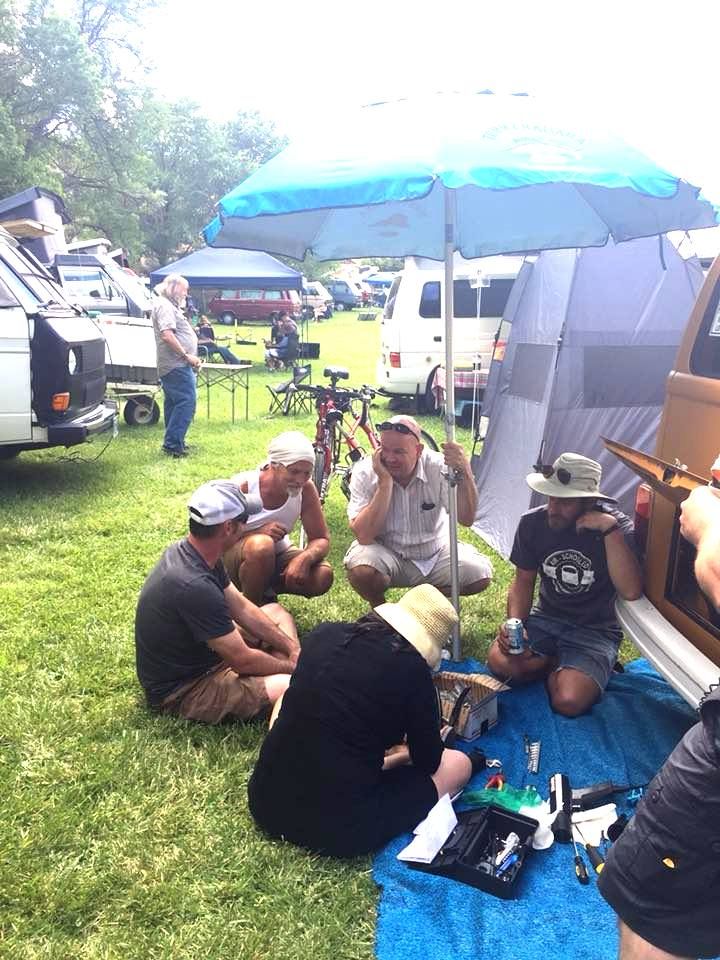 Whilst timing the engine with the EEC hose plugged, I noted that the flash of the timing gun would disappear at high rpm. Patricia told me that bucking and sputtering syptom was attributed by the mechanic to "bad gas". I attributed it to the Pertronix, and asiab3 rustled up his supply of breaker points and condensor and wire plug holder, and we showed Patricia how to gap points and install a distributor and guess what, campers? It runs smooth.
The music was good, the dogs divine: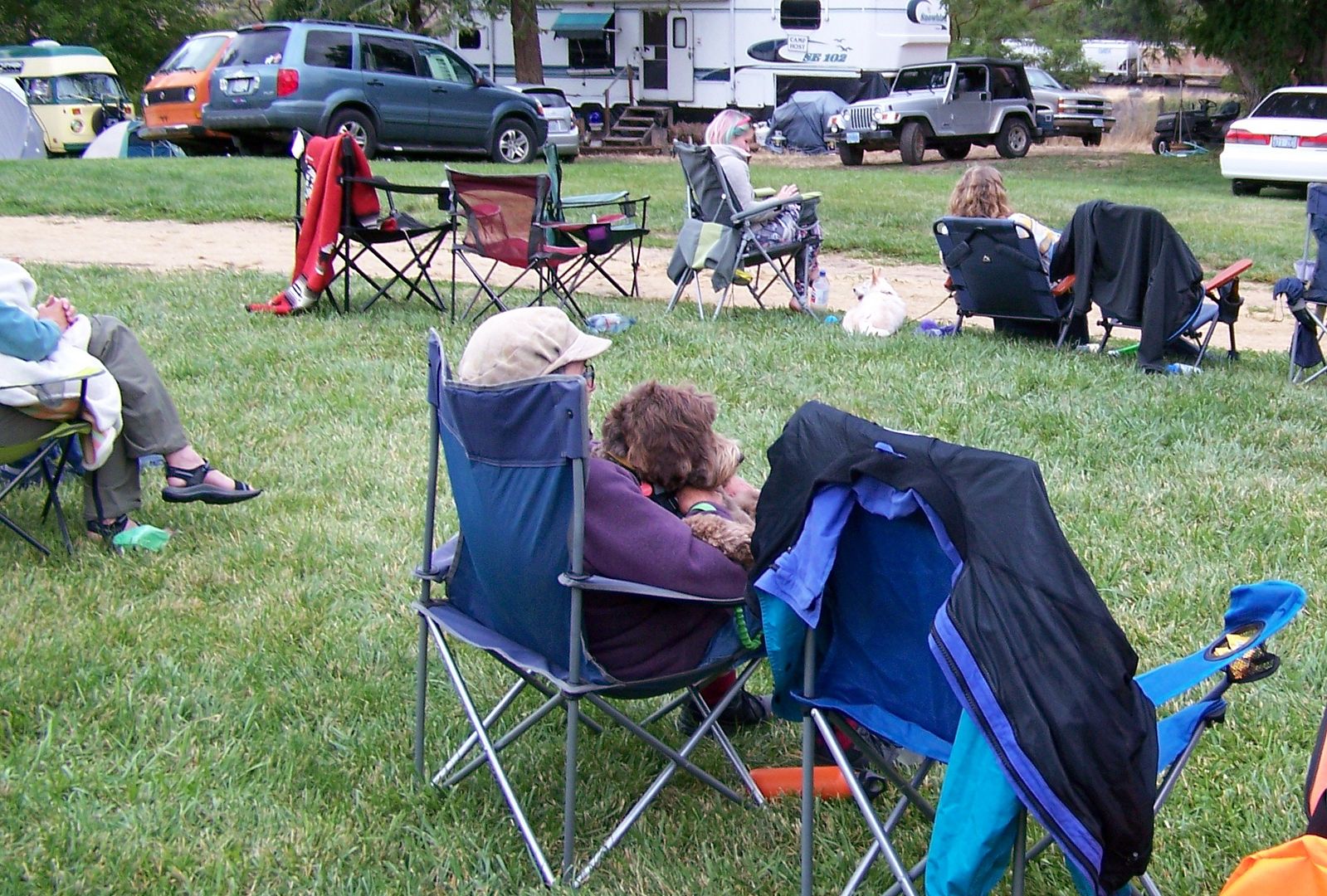 I am so embarrassed that I never did stop and chat with our very own Ronin10 and family! That is Oscar in the middle of the picture, the green Westy I am working on tomorrow in Seattle:
We had a good contingent of Vanagons, including the famous 2008 cylinder head repair Vanagon and its owner Gary:
We of the Riff-Raff Lower Quarter stayed up pretty late both nights, but it was so good to see all of these people! You MUST get to the 2019 DeschutesRiverRendezVW. WE must. This is the way back to Hood River: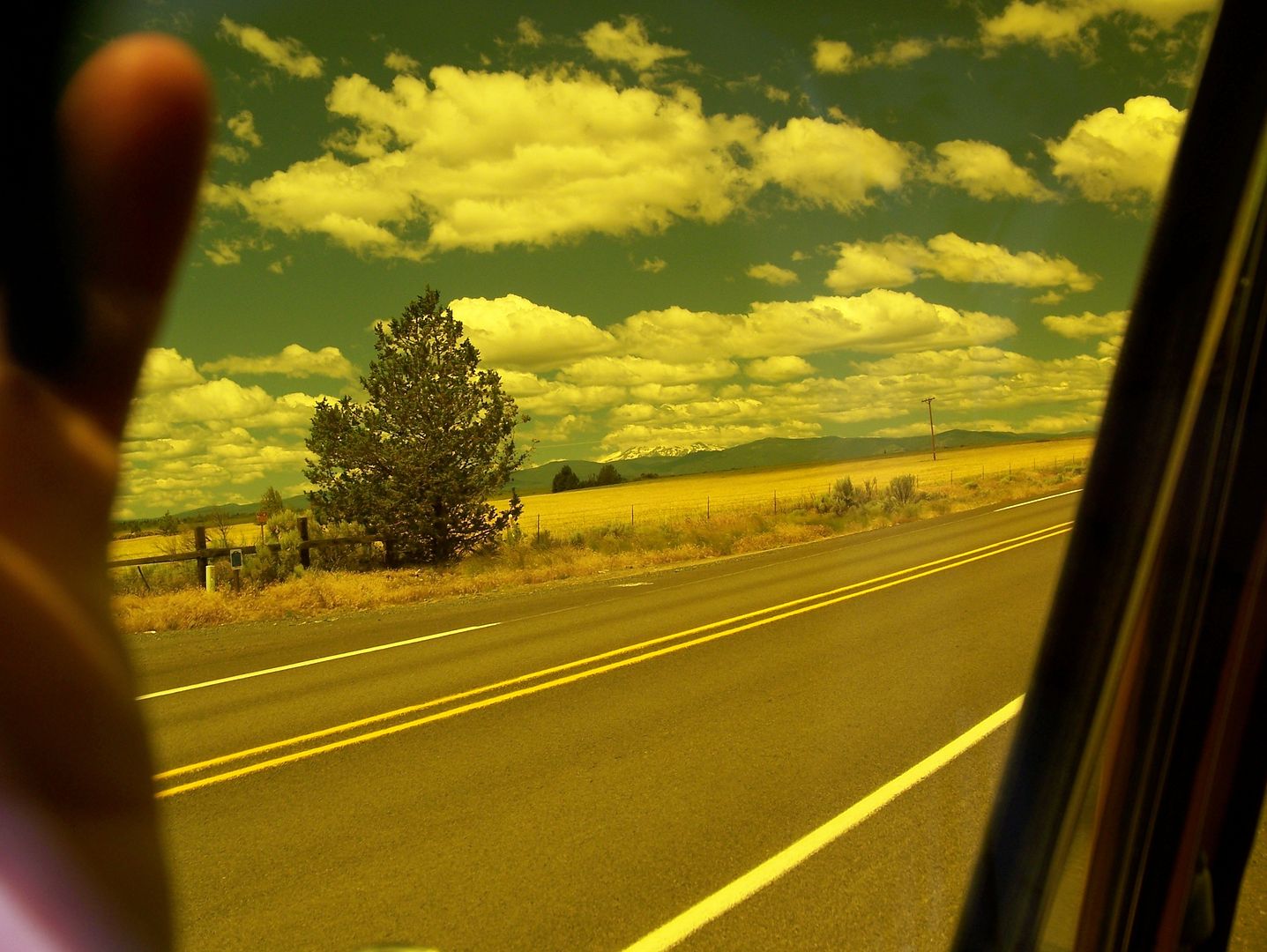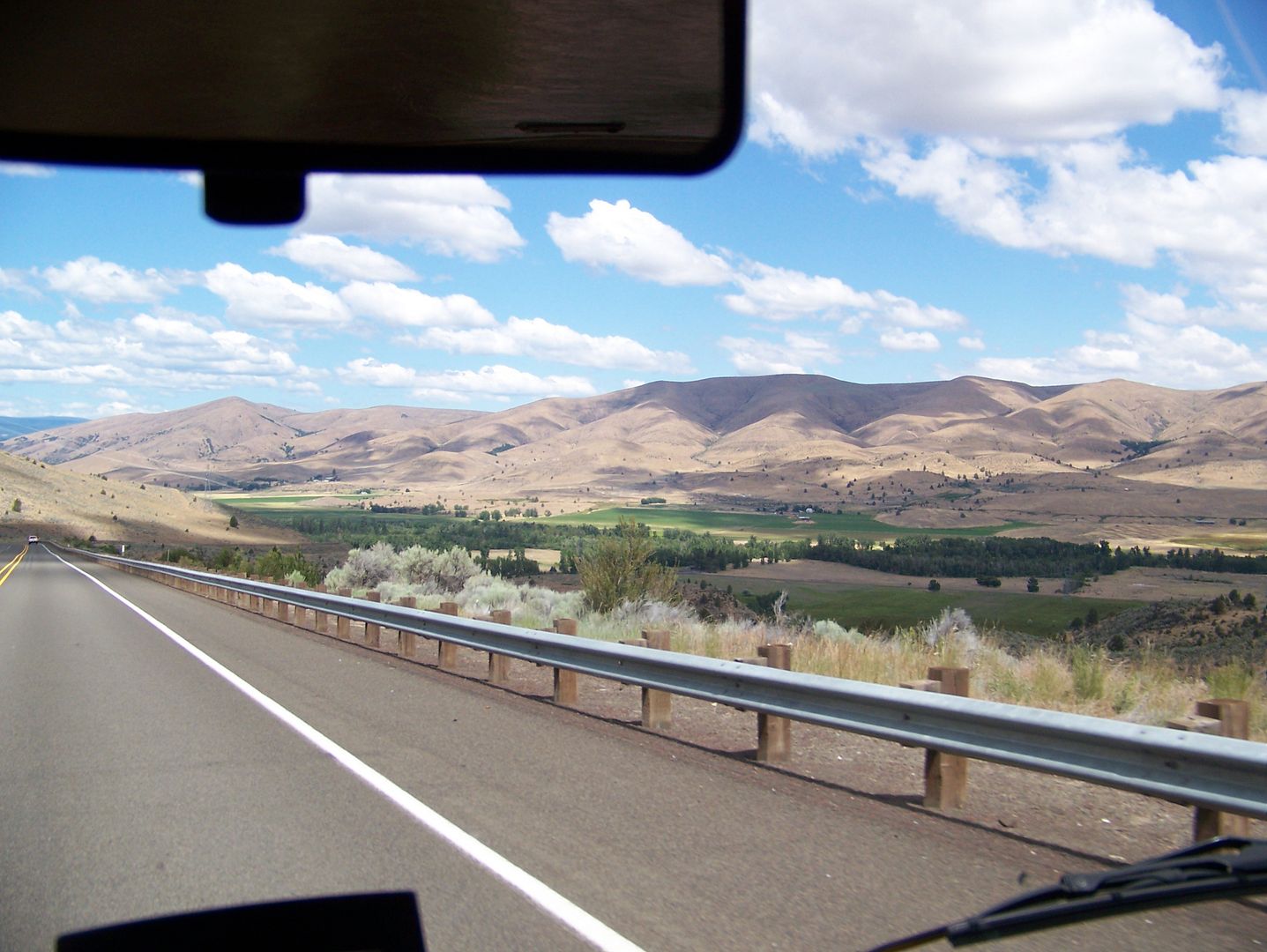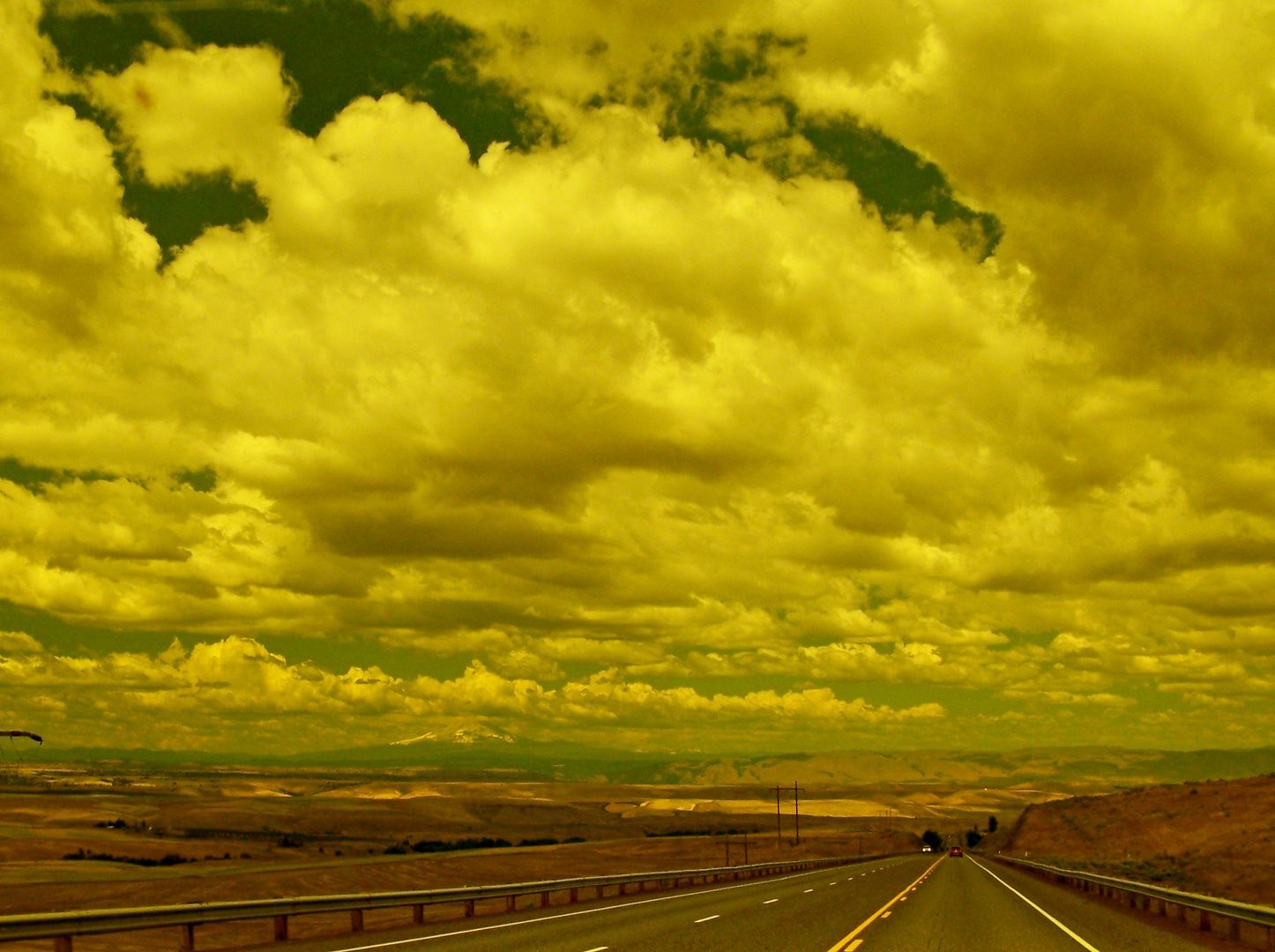 Chased a Vanagon. It won on the uphills:
Had an excellent evening at the LuckyLab with many of the people who were just at the DeschutesRiverRendezVW.
Hambone was there with Ma, one of the great inspirations for me to persevere and get an early bay, and there is Bertha, ruckman101's steed to the left, another great honest early bay bus :
Asiab3 was there with Buddy The Totally Subtley Tricked Out LED Festooned Bus (ask about the reverse lights):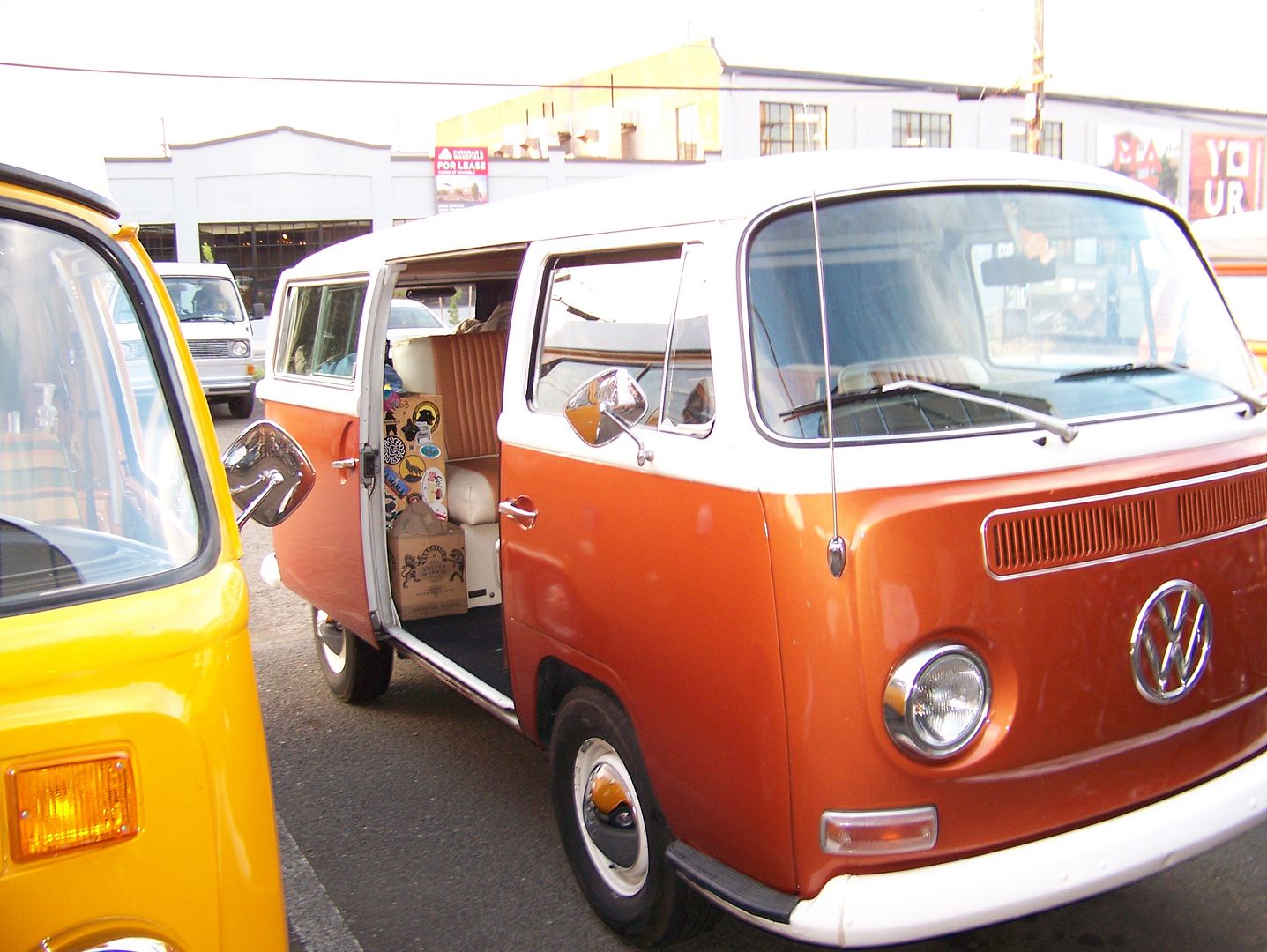 Speaking of tricked-out: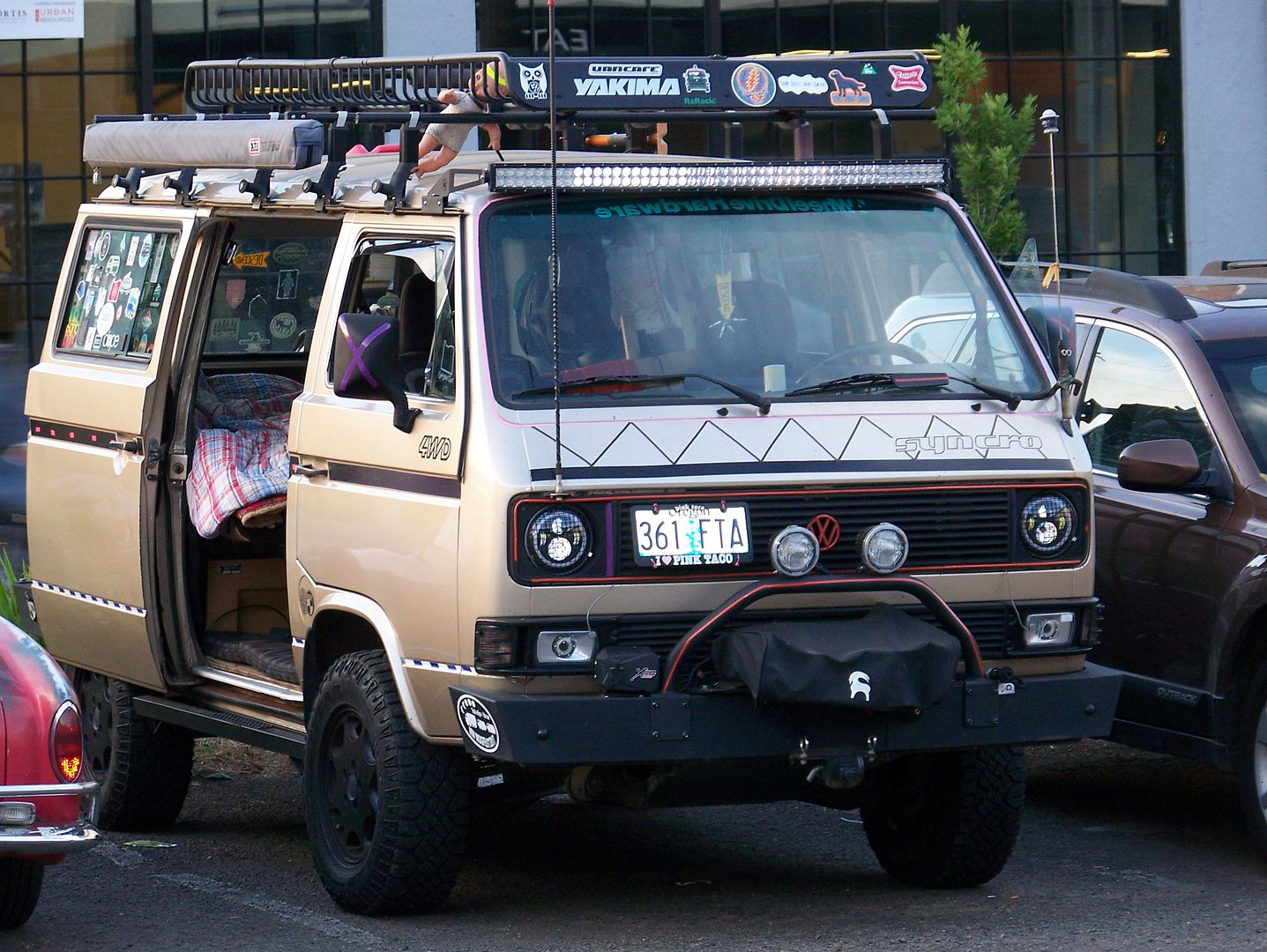 (Stuart, defying gravity since forever)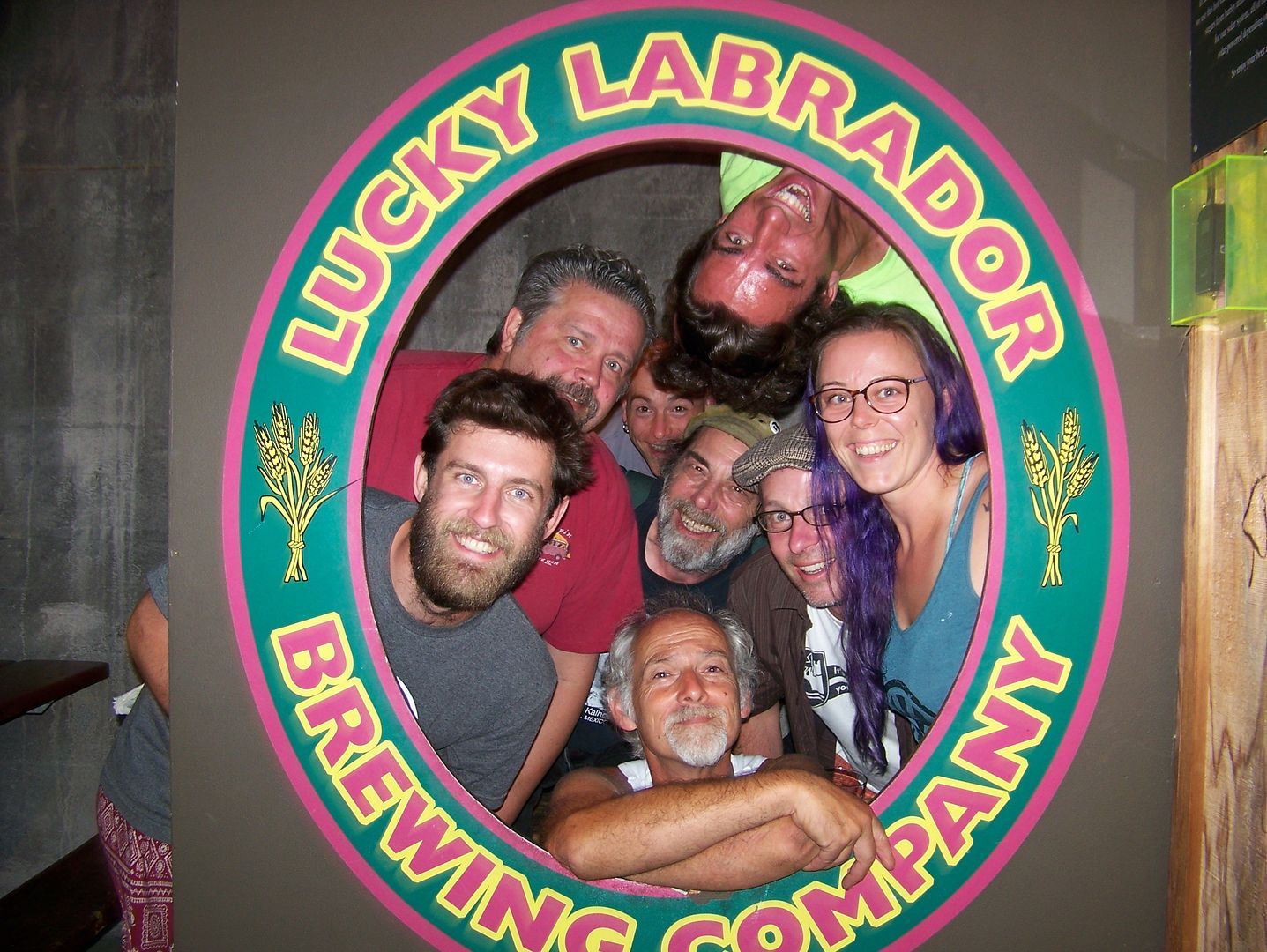 Shawnhigh surprised me at the Lucky Lab on Monday night with the
last thing I needed
for NaranjaWesty. He told me it will probably be all restored and on within two days. Shawn, thank-you! and it was 42 hours: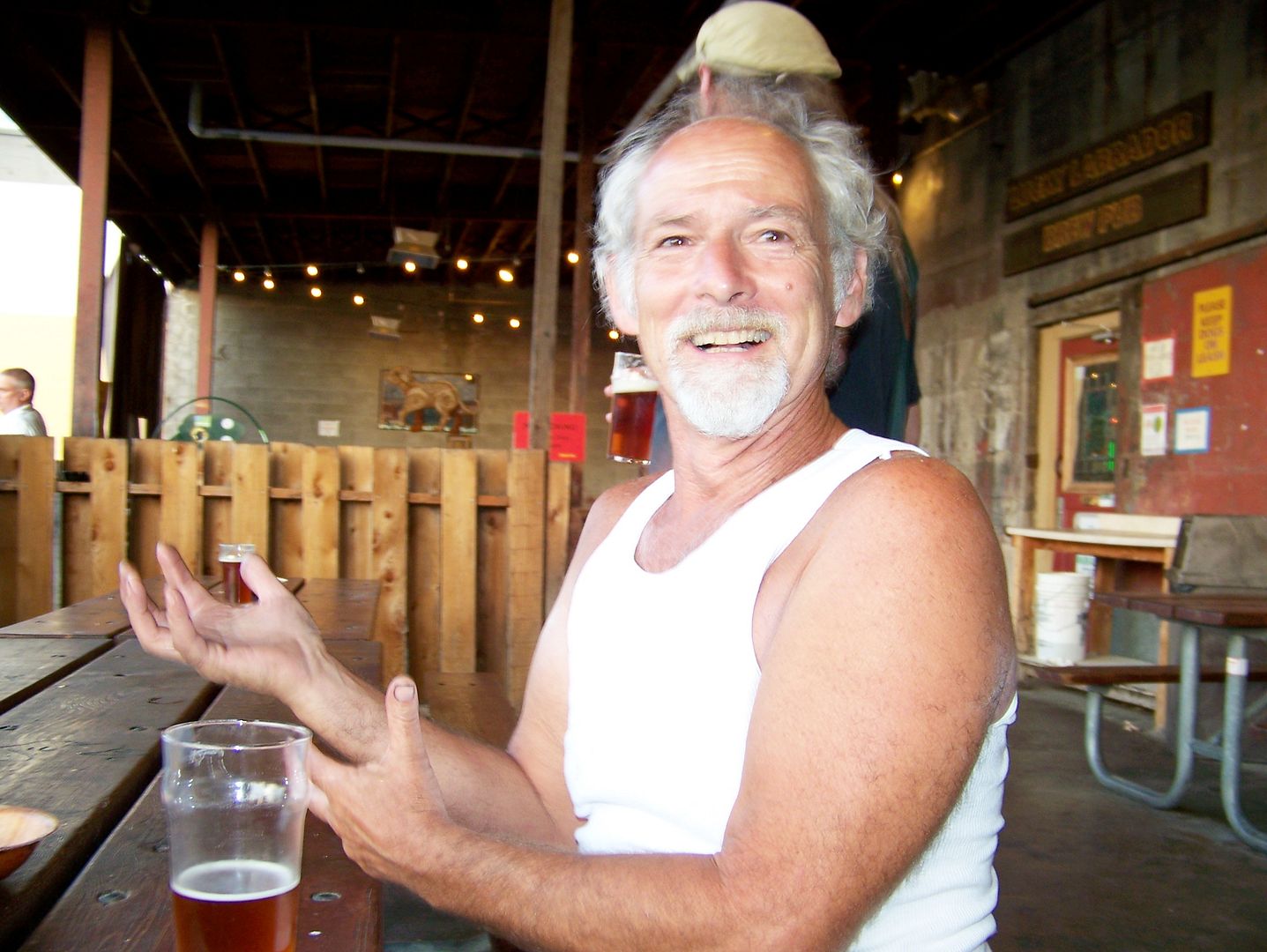 (test fit and hole drilling)
paint stripping and metal bending)
(sanding and washing)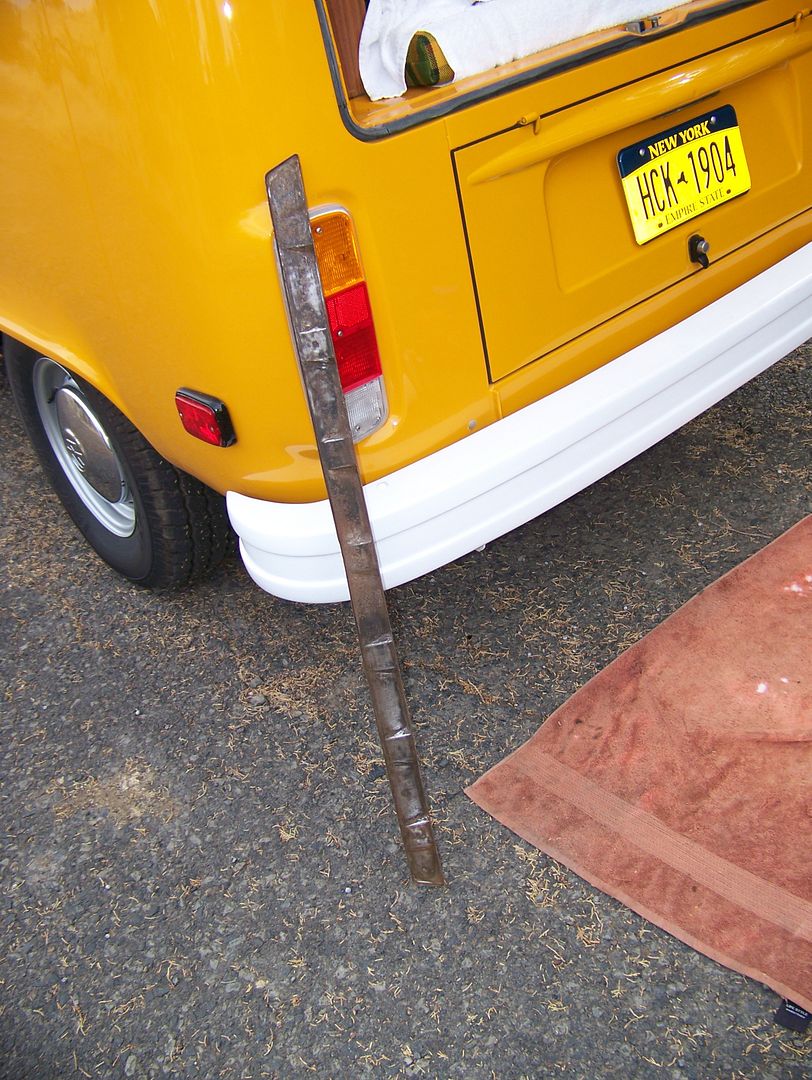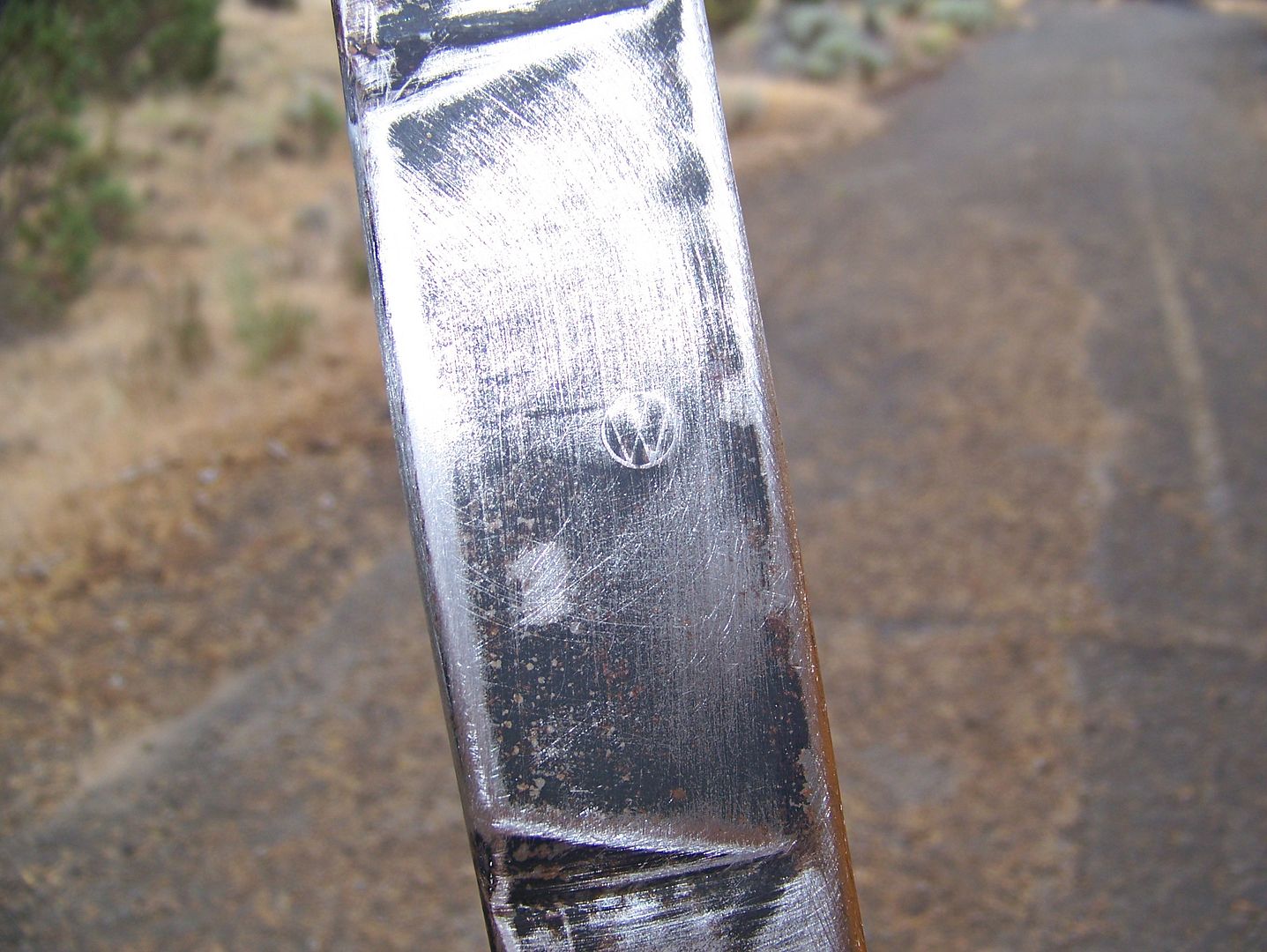 (on the car one hour before the rains)
Will fill in later! Geesh, too many pictures. 71whitewesty and Ich Bin Kurt write-ups to come.
Colin