Well Photobucket, to whom I (and you who contributed!) paid $399.00 for third-party hosting, has been down now for a full day.
So, this update comes courtesy of Imgur. My delicate and complex filing system is tattered right now, and I do not know what sort of blanks and duplicates may issue forth. I don't even know where I am in the chronology of Walkabout.
We left off with Scott(in)LasVegas. I left Las Vegas and hightailed down a brand new interstate that I had never driven upon. It is called Interstate 11 and it swooped me past Boulder City and the Hoover Dam off into the night. Just like that, carscarscars lightshornssirens rushrushrush bellowingtrucks lightslightslights, was replaced with almost perfect silence as I pulled down a dirt track "do not enter if flooded" and guessed quickly if the car would bog down or dig through the occasional sandbars crossing the road. At night, it looks far more impassable with headlamp shadows declaring gullies of frightening dimension. I would get out of the car to test the surface at every turn. Scrambled onto a clearing and popped the poptop, opened the canvas windows and enjoyed my raging toothache in splendid starry isolation.
In the early dawn, there was a forlorn lost dumptruck that ambled down this dirt path and continued on into the desert. I could hear the tailgate crashing mightily over EVERY SINGLE ROCK for the miles and miles that it remained in earshot: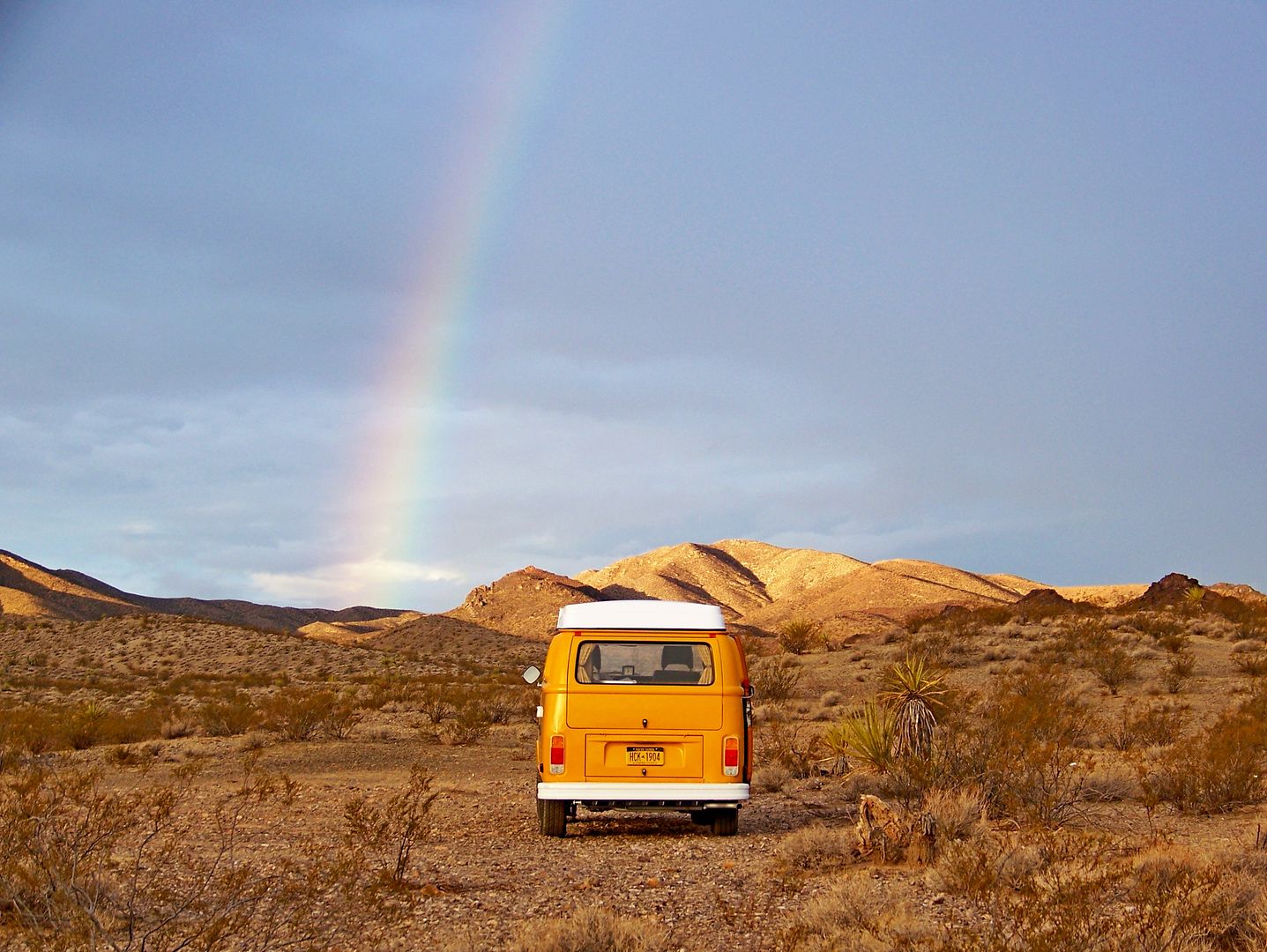 Found this view evocative: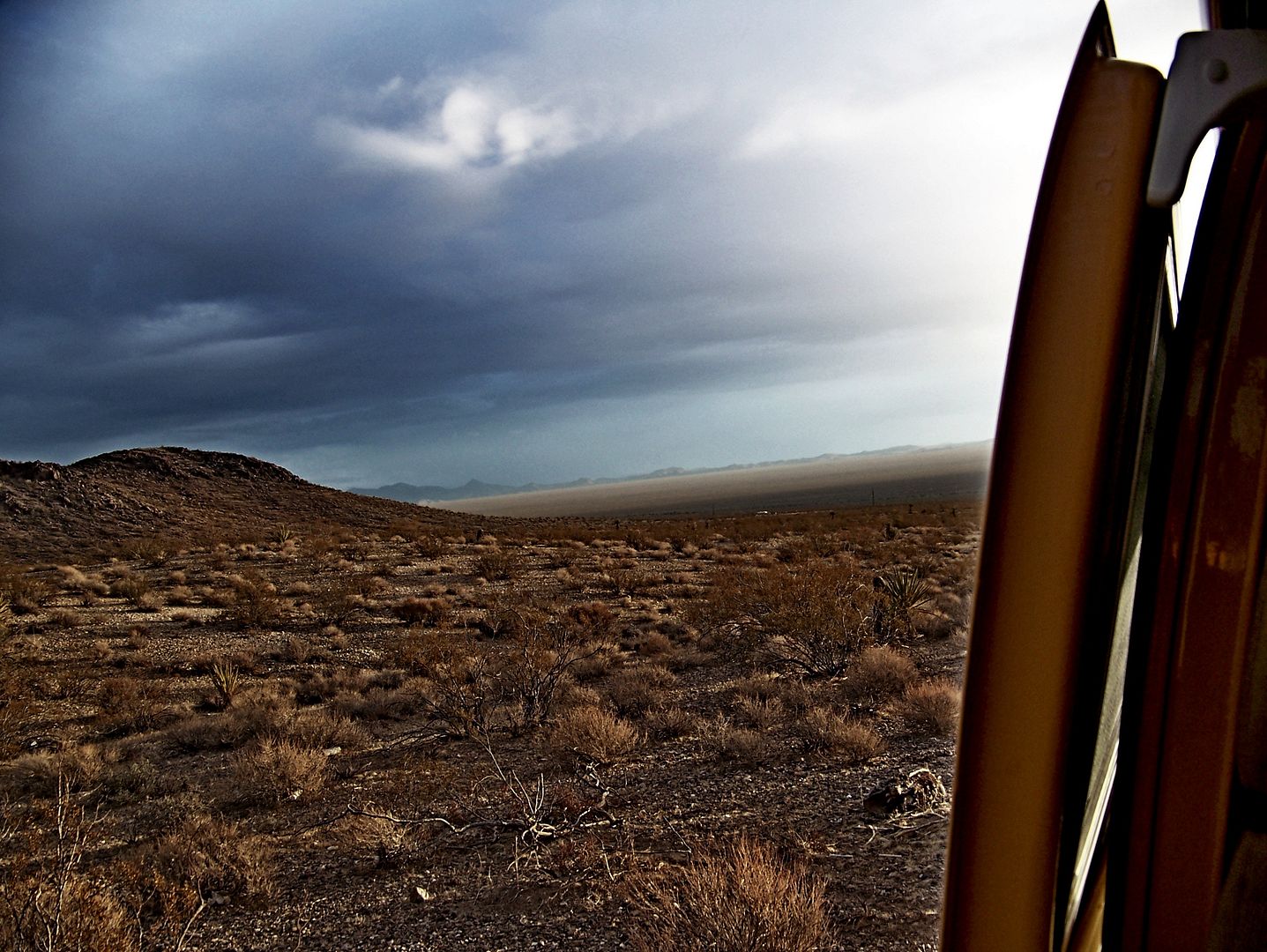 Then drove down to Kingman with a threat of flash flooding calling from every TV, every Intellicast page online, every Weather Channel at truckstops: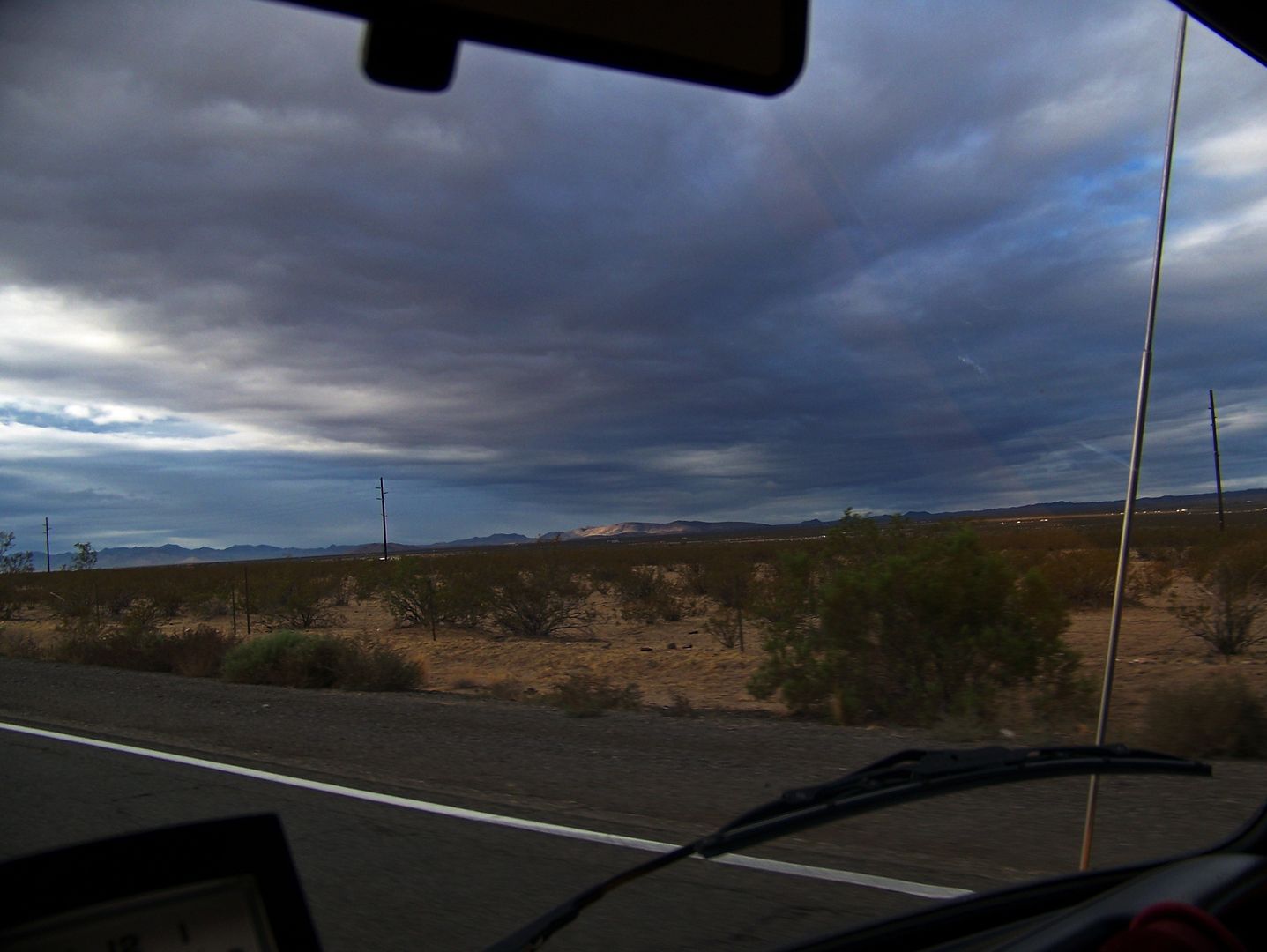 Glittering little pebbles of human civilization litter the valley floor:
Does this cow have unusually huge ears?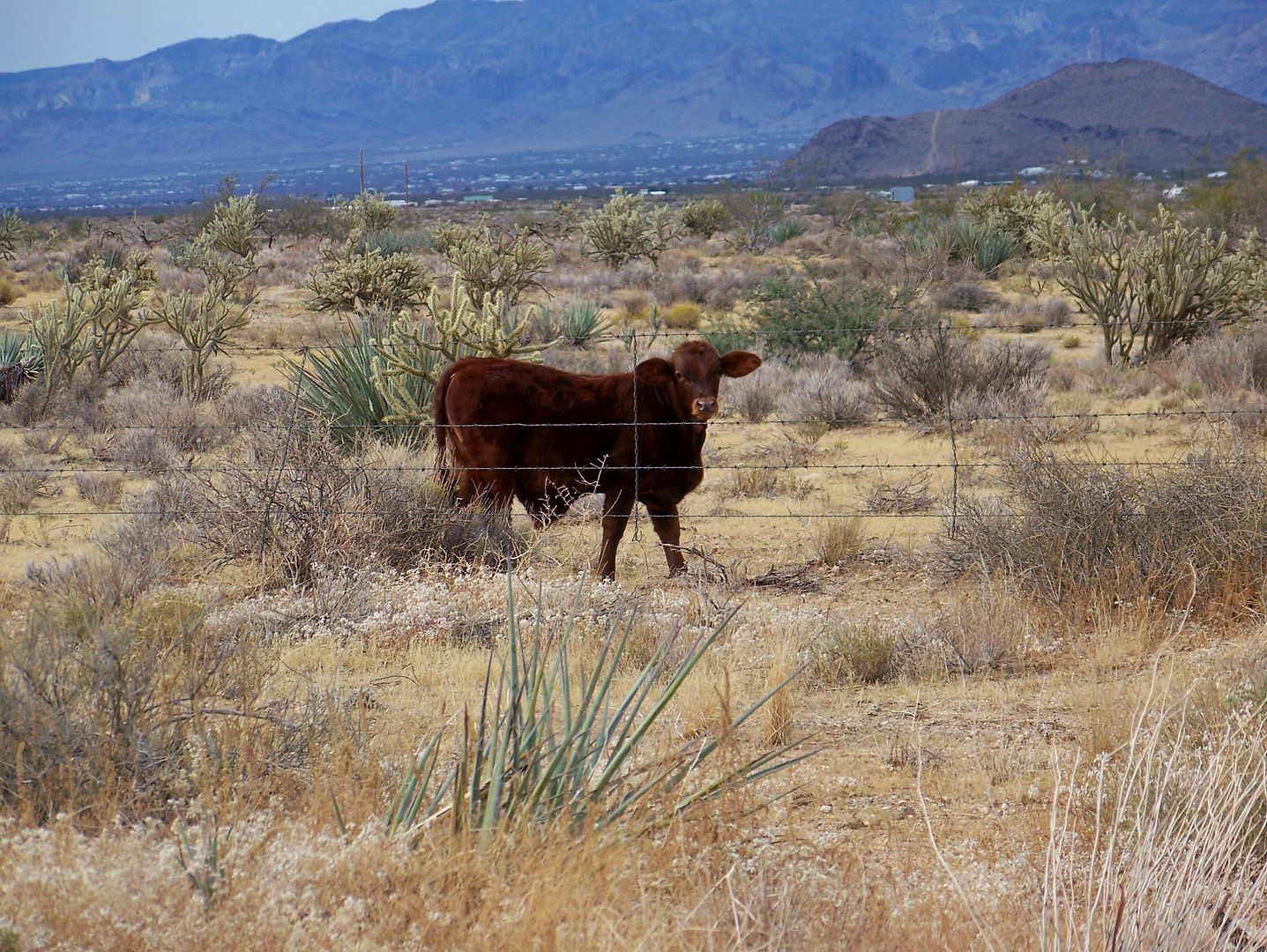 OK, showed up in Kingman with a crick in my neck from staring up at the sky, waiting for our floods. Decided to get a replacement oil pressure switch for my stock after getting rid of perhaps the last oem Hella switch in the land. Stopped here: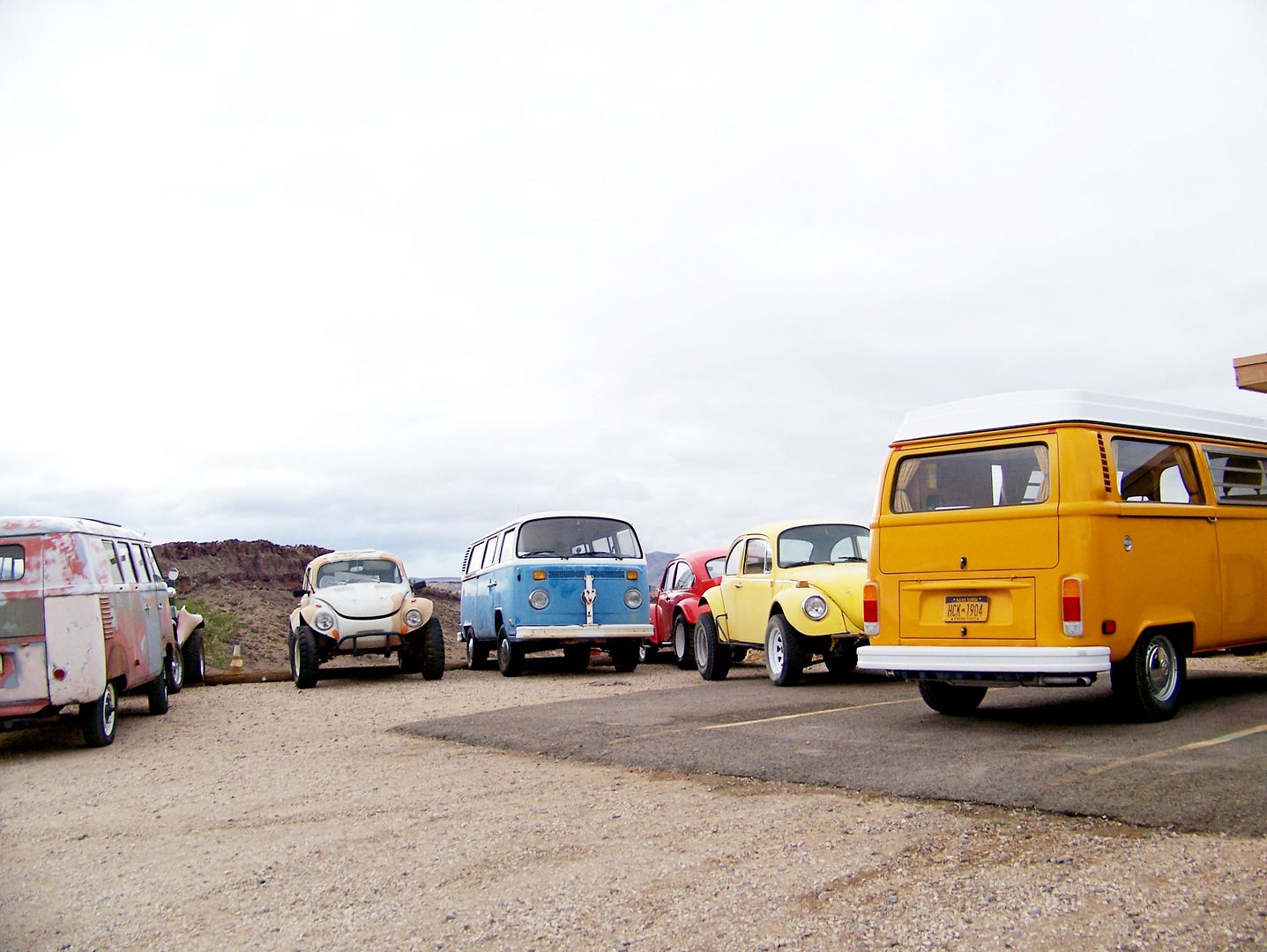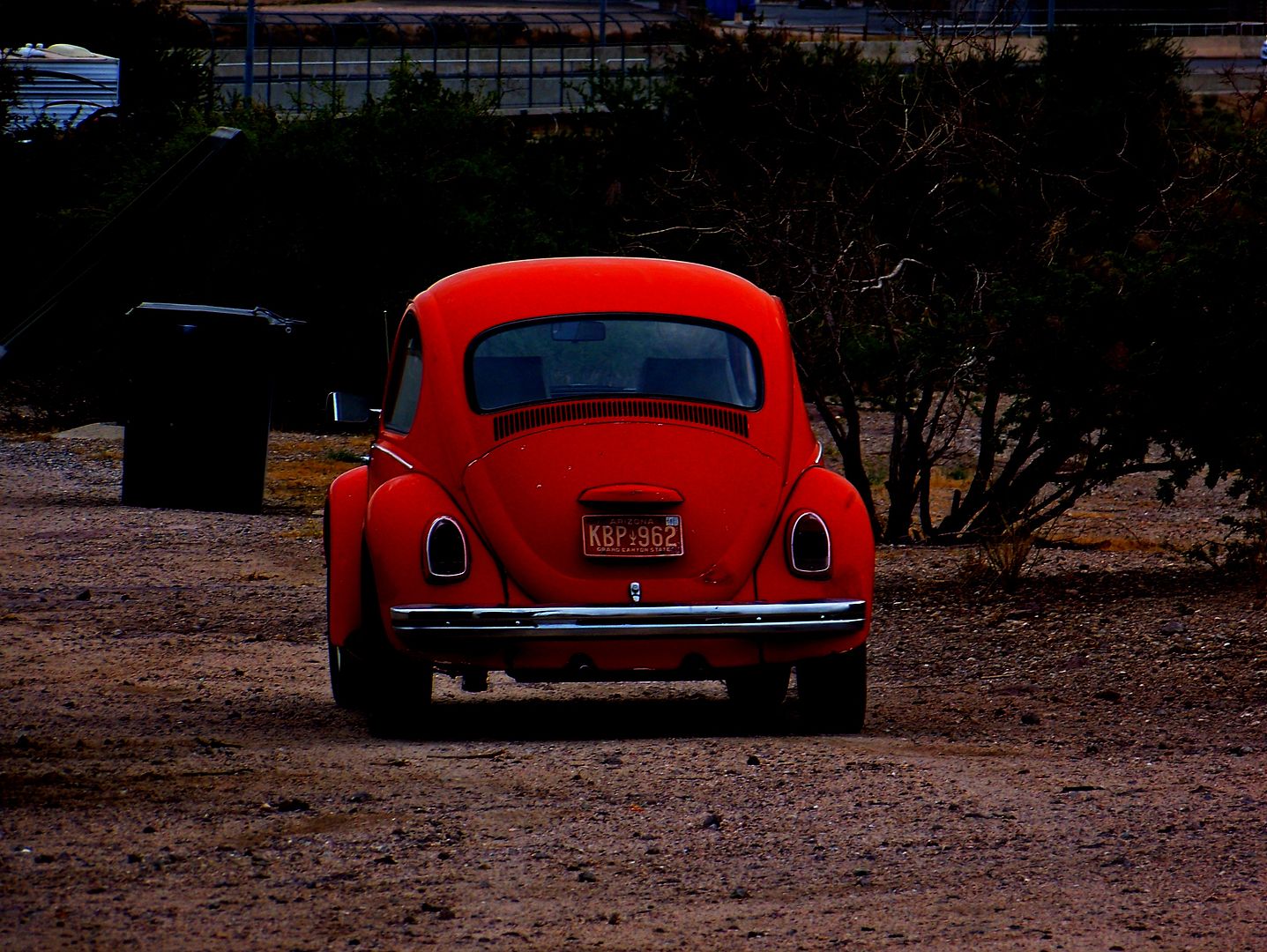 $4.99 lighter in the wallet with a chromey-looking cheap oil pressure switch, I bid Chloe's long lost twin brother good-bye, and headed onto the main drag, pondering the fact that I just drove my 41 year-old Volkswagen across the country on impulse, and I'd do it again.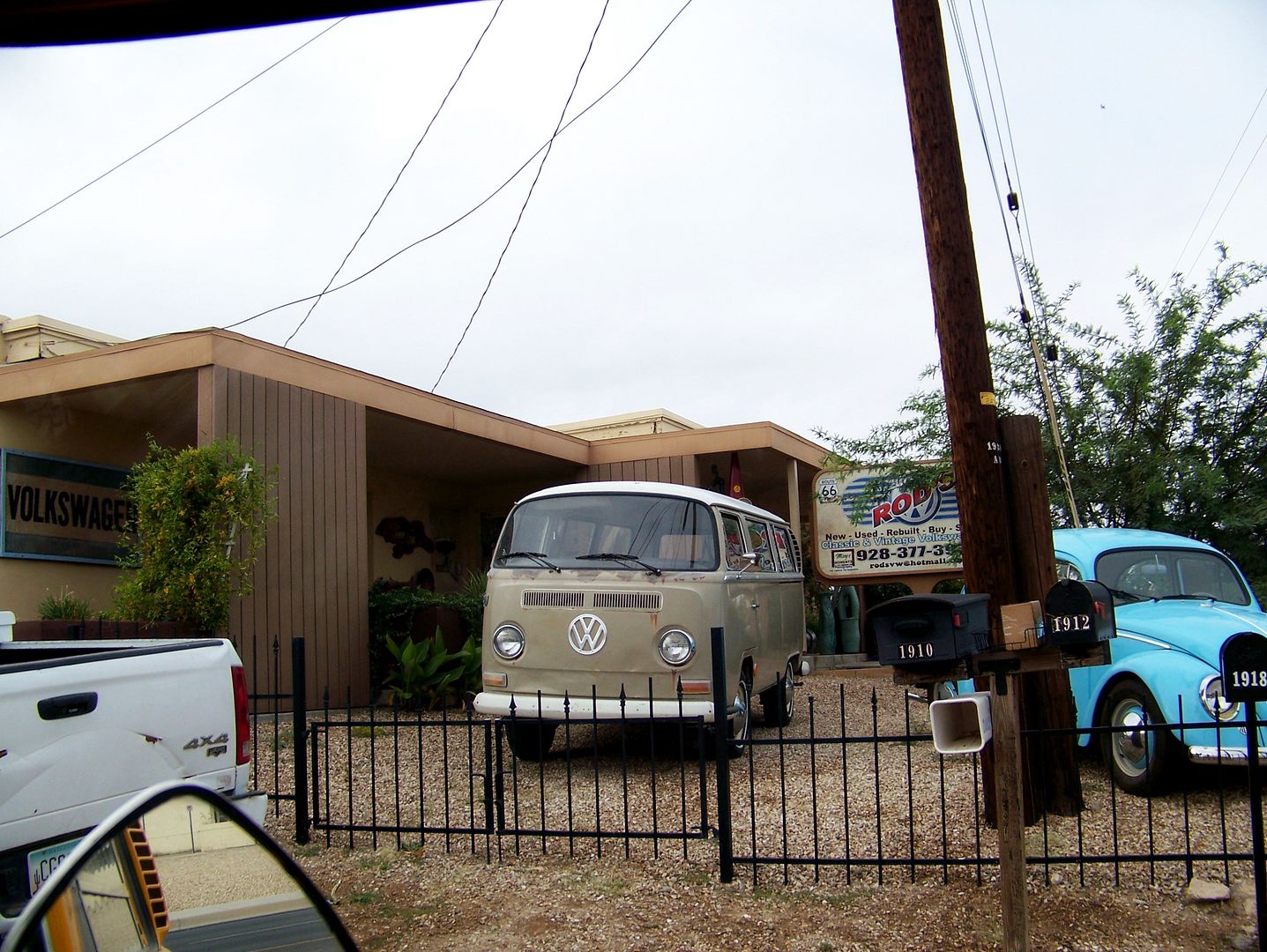 Did the starter on the other side of town near the "airport",
(p3)
http://www.itinerant-air-cooled.com/vie ... 30#p230814
then drove southwest of Kingman AZ on 95 south until I had to partake of some sunshine and some dumb project in a beautiful little sandy "glen":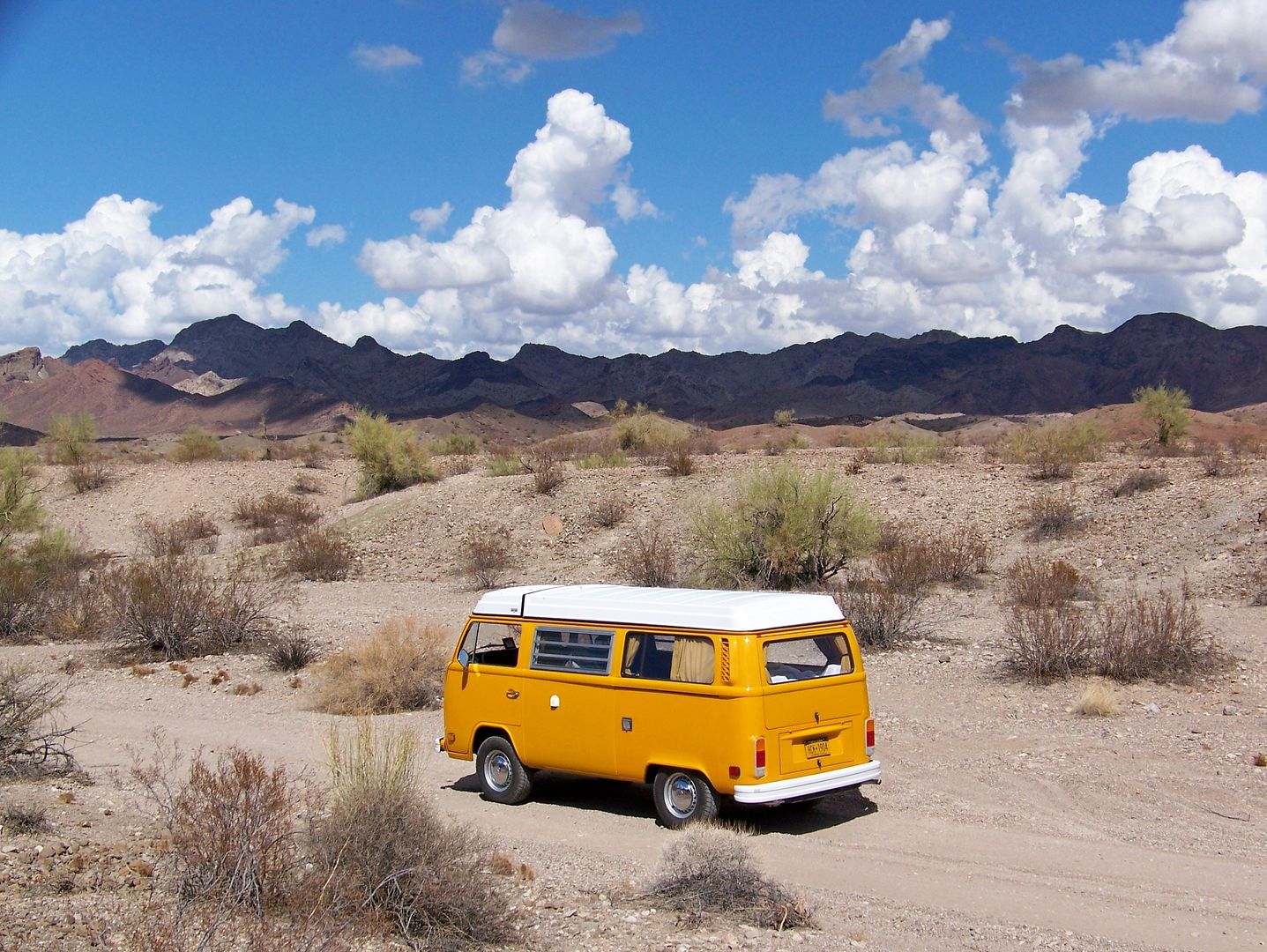 Decided with great urgency, that it was time to repaint the inner tailgate surfaces that I had smeared with my first batch of NaranjaWesty VHT Brilliant Yellow and Chrysler Hemi orange back in January 2016 . . . this time, I had a more sophisticated palette and a new understanding of how chrome yellow torments any hope of a paint match:
the 2016 paint smear
Almost had a heart attack pulling the tailgate seal clear. Looks bad, real bad, that darn northeast rain . . . .
But heyheyhey, that is actually Marhyde Rust Catalyzing Primer hanging on and doing its job. No new rust in three years. This time, to avoid future shock/surprise, I endeavored to paint the channel with my new paint recipe, and if it was a "fair" match, do the whole inner tailgate at once! At once, because windy 95* says, "at once before it congeals in the cap!" I have taken to adding a gloss agent/hardener that does not fool around. You must have a can of lacquer thinner and can of GumOut at the ready: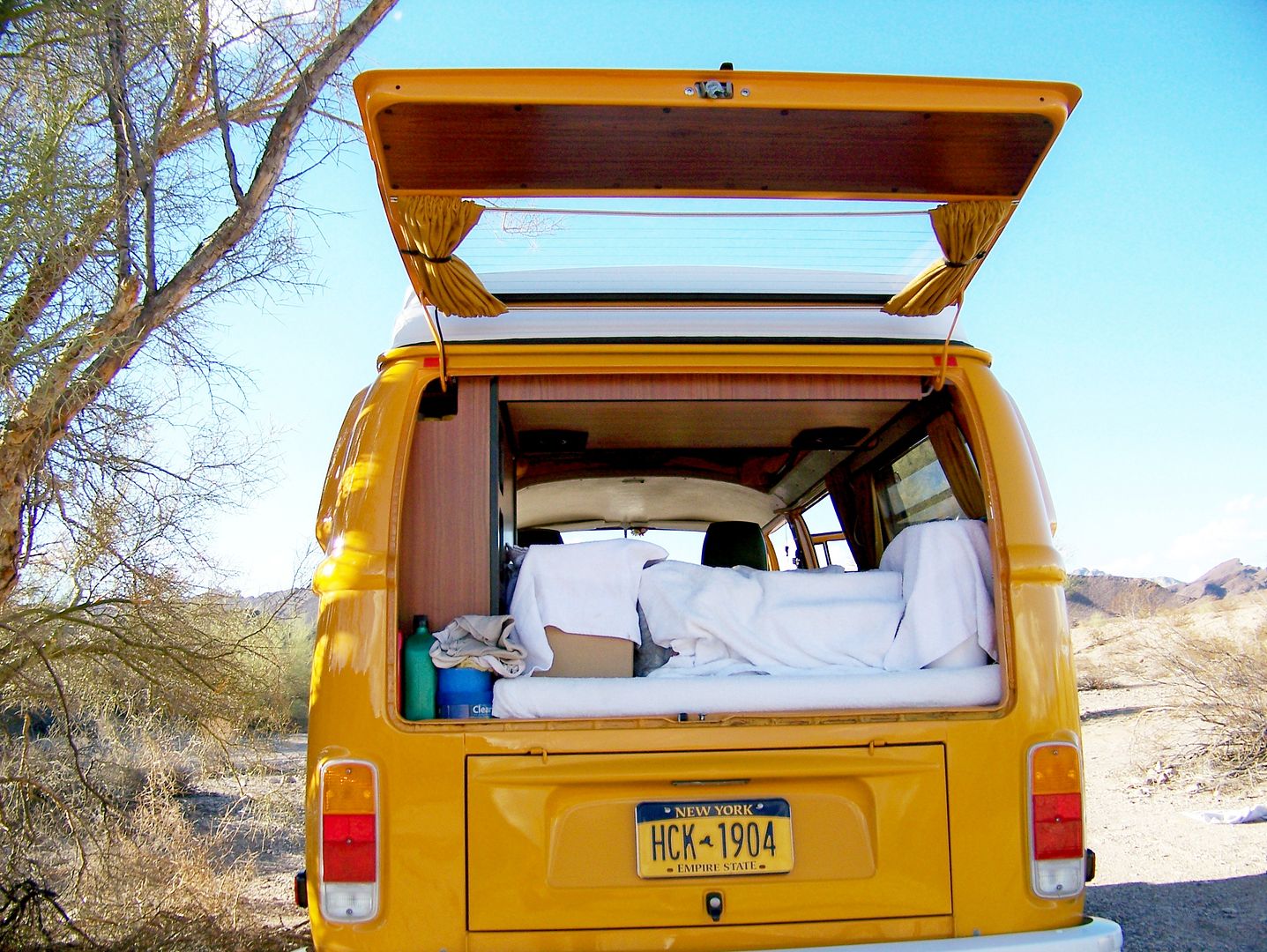 Flash Tint Check
It looks better, but it was a highly irritating afternoon in the glen with the winds knocking everything around:
Said goodbye to the "glen" and drove to Lake Havasu City with no tailgate seal installed to allow the paint to cure in peace.
The above was as far as the flood threat got. All across the southwest, we have been warned of flash floods rising up out of washes and killing you in your car. Got to Lake Havasu City and commandeered the "cafe" by raking a huge table and chair drag over to the electrical outlet behind the soft drink dispensor. It looked odd, but I felt great. Departed after reading of the flood warnings:
Now this looked potentially more floodtastic: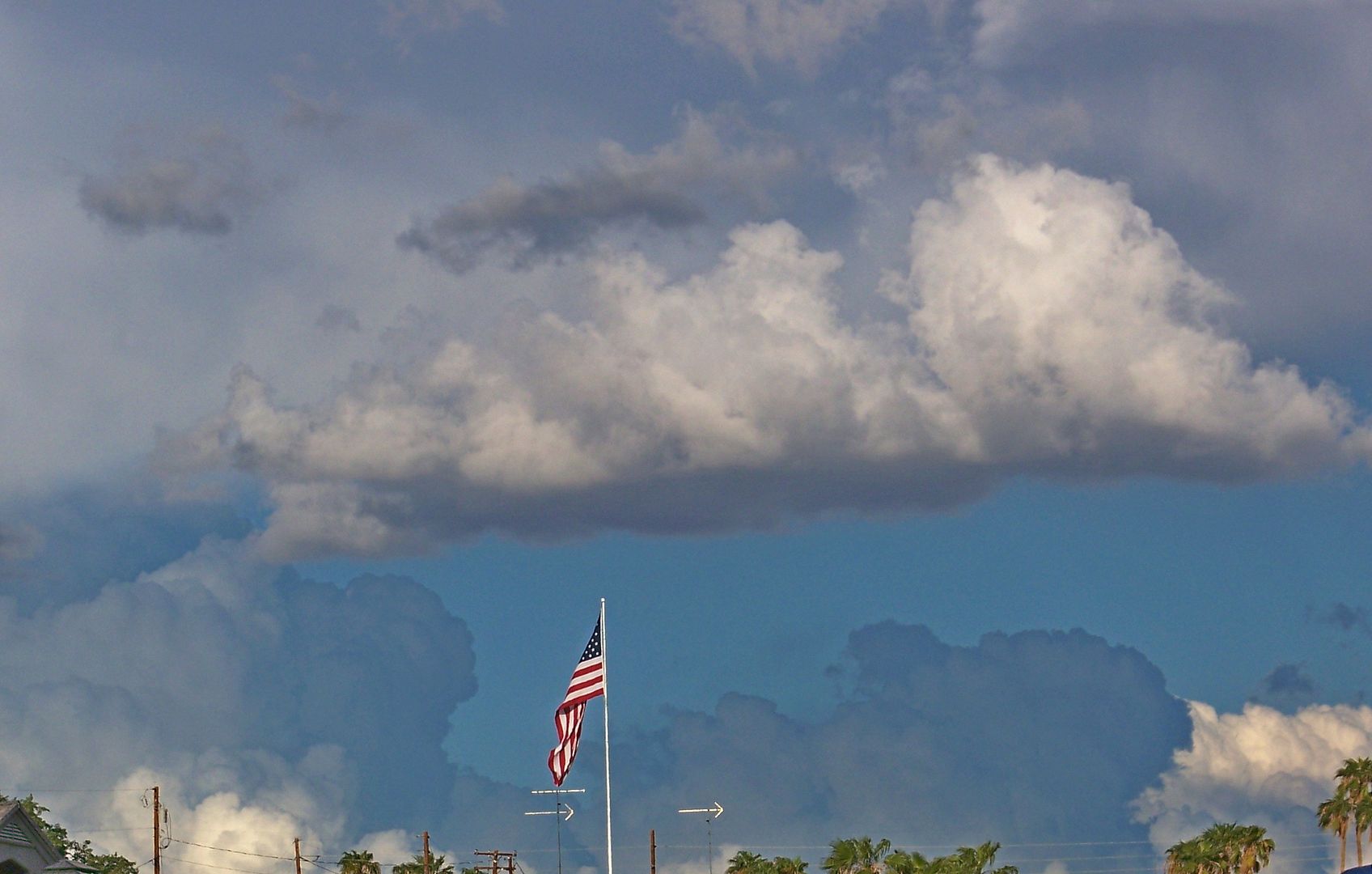 Yet, other than almost constant lightening flashes and a few heavy spatters, it was a beautiful drive down through Parker and away from the storms. I found another questionable traction site and pitched top and watched the clouds now on the horizon light up like a frenetic July 4th . . . a perfectly silent celebration. Not a cricket, even. The next morning dawned unflooded and sunny. Cut off my stupid too-long shoelaces, really folks, imagine being at the Pearly Gates with Saint Peter,
"You are early."
"I know."
"Care to tell us why?"
"Not really."
"It is a requirement for Eternal Bliss."
"FINE! I tripped on my shoelace and pitched into a canyon and got dashed against the rocks, OKAY?"
Before I cut off my shoelaces, I DID slip on some heat shrink tubing (14ga i believe) to make new ends. Works great: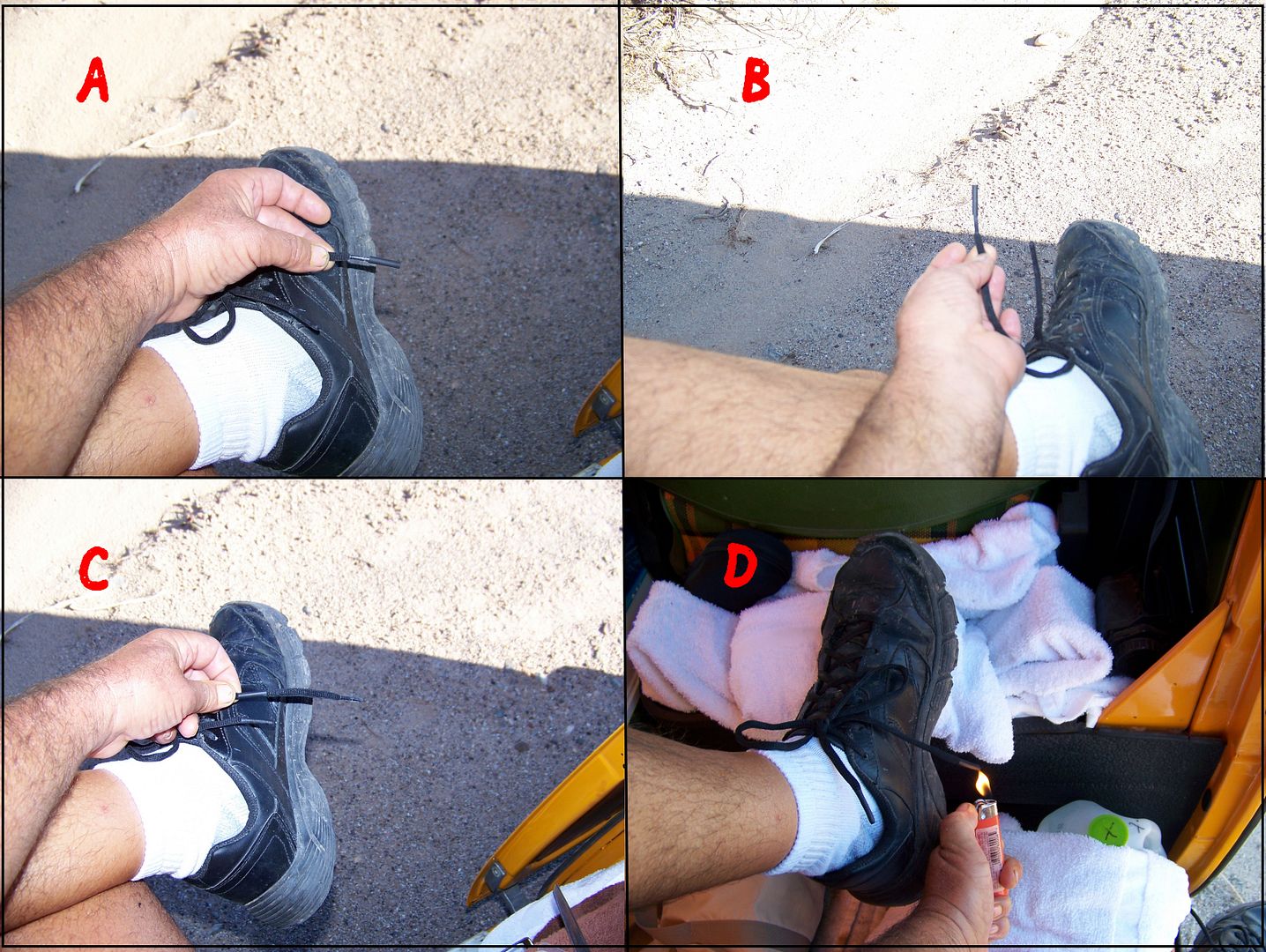 ColinHeloiseTips
KEY:
a) Slip on heat shrink tubing
b) Cut off excess shoelace with that nice plastic end
c) Pull heat shrink tubing to 1mm past edge of freshly cut lace
d) BIC-shrink the heat shrink tubing to trap the lace ends
Two days later, the laces are doing fine and I am still on this Earth.
Woke up here. Was shaving in my Gildens (the WalMart cheap version of yesteryear's Calvins) when .. .. ..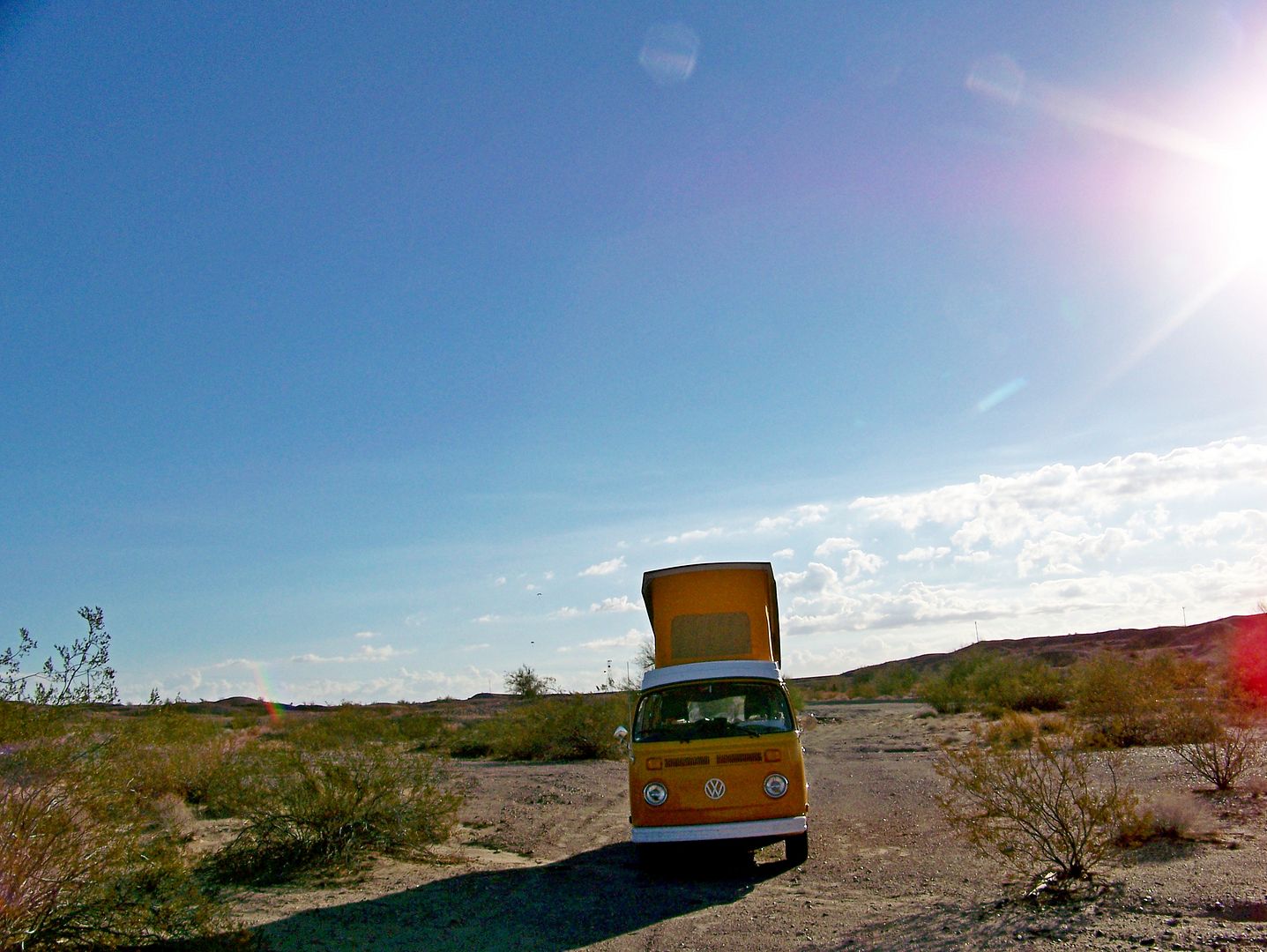 .. .. .. you can't quite see them, but ten people came floating out of the sky. Your friends, Rodney?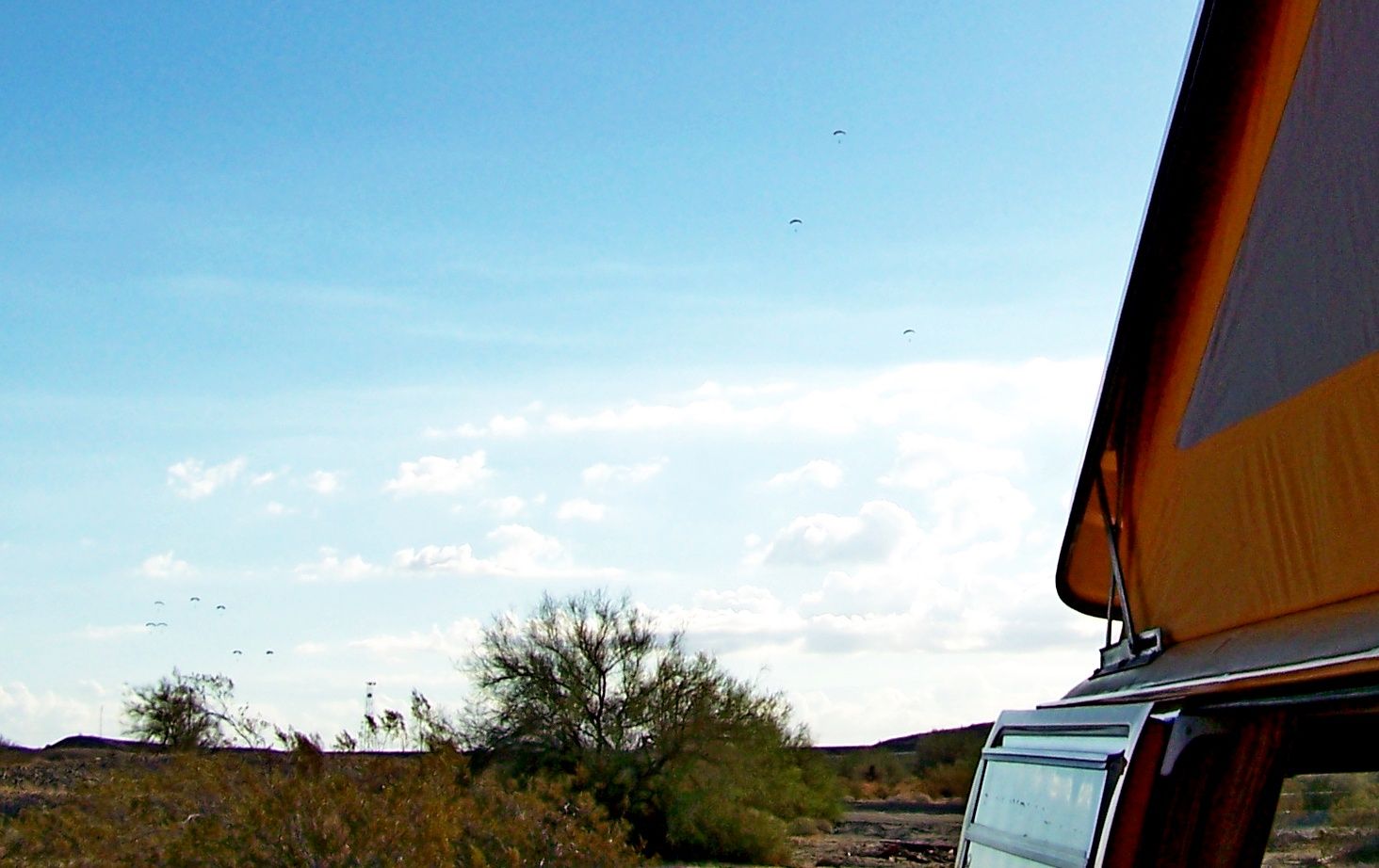 Their pick-up guy in a pick-up got stuck in the sand bar that I pointedly coasted across so as not to dig down in the shifting sand. Man, he gunned it in a useless spray of senseless miring. Oh well. I did, however, take out the left side jalousie window. Good thing: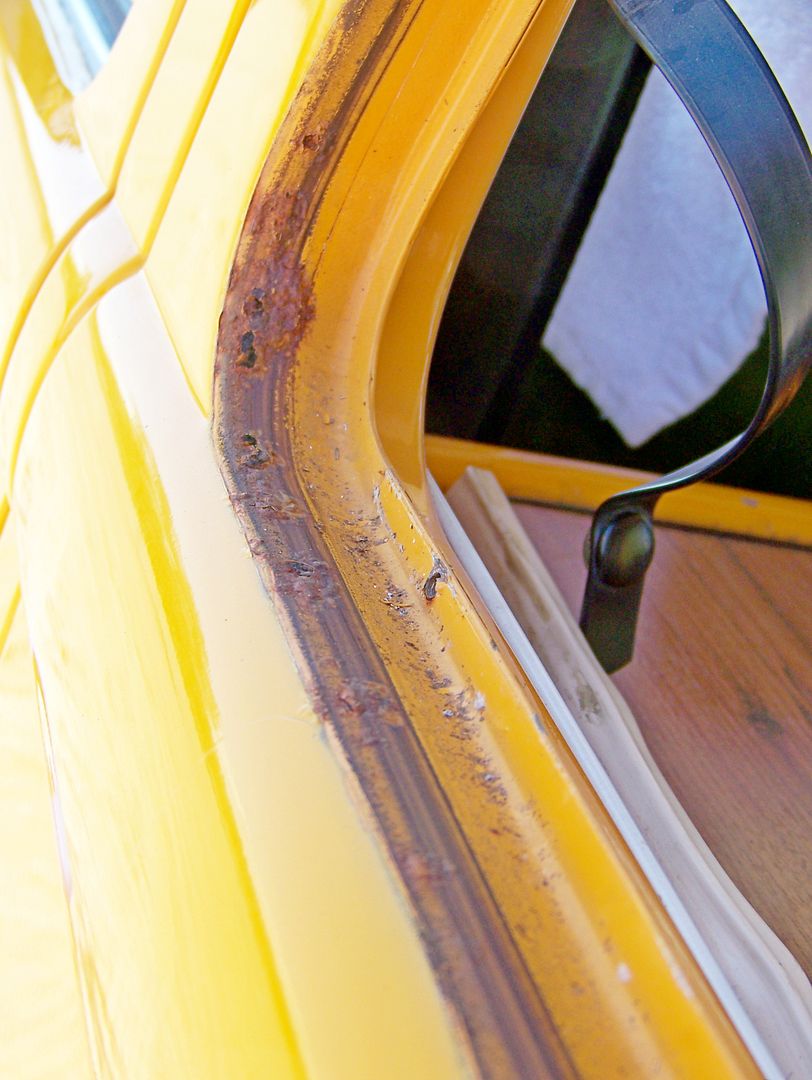 Scraped down to good metal surrounding all rust, then washed with water: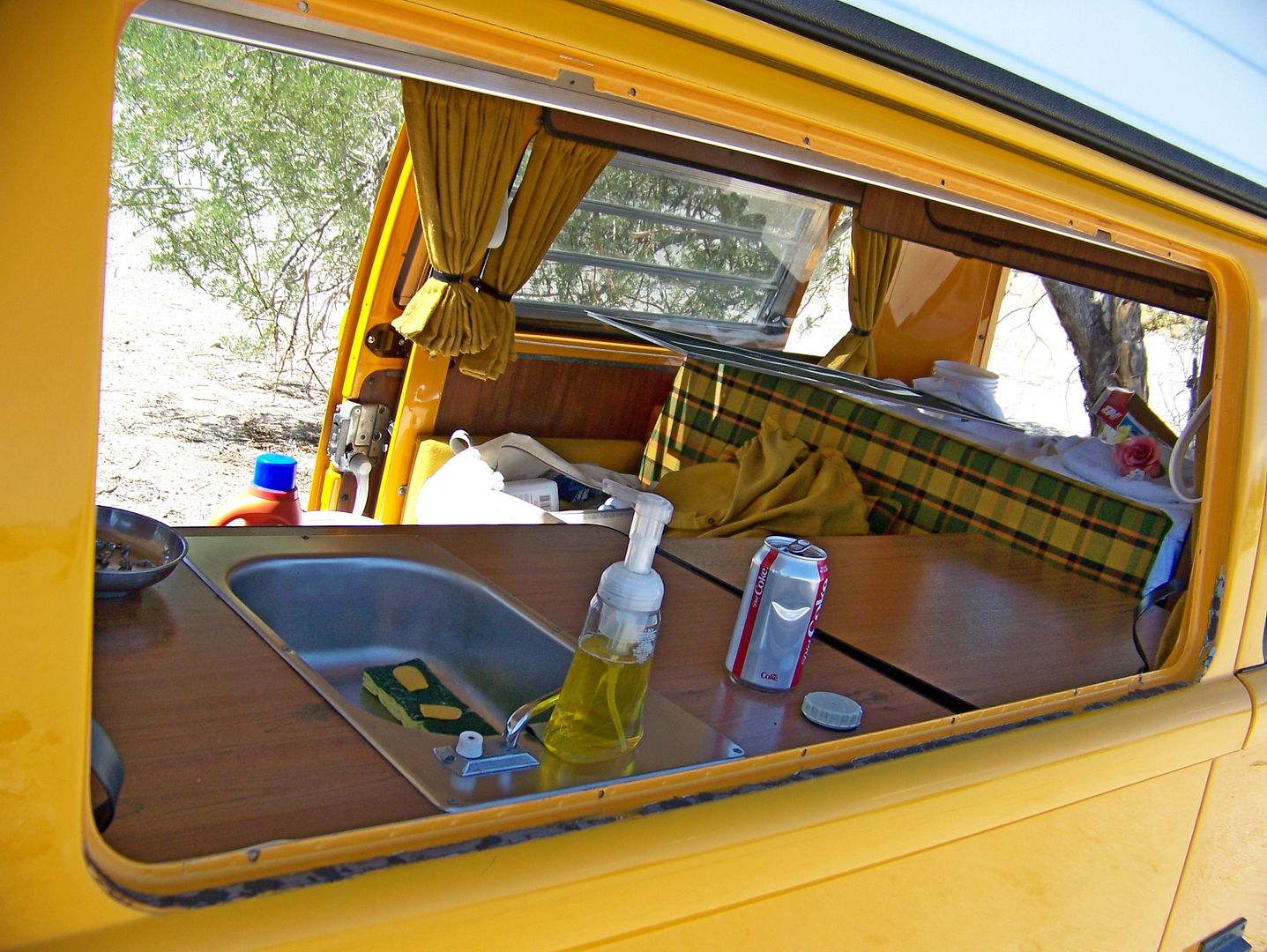 Airy interior: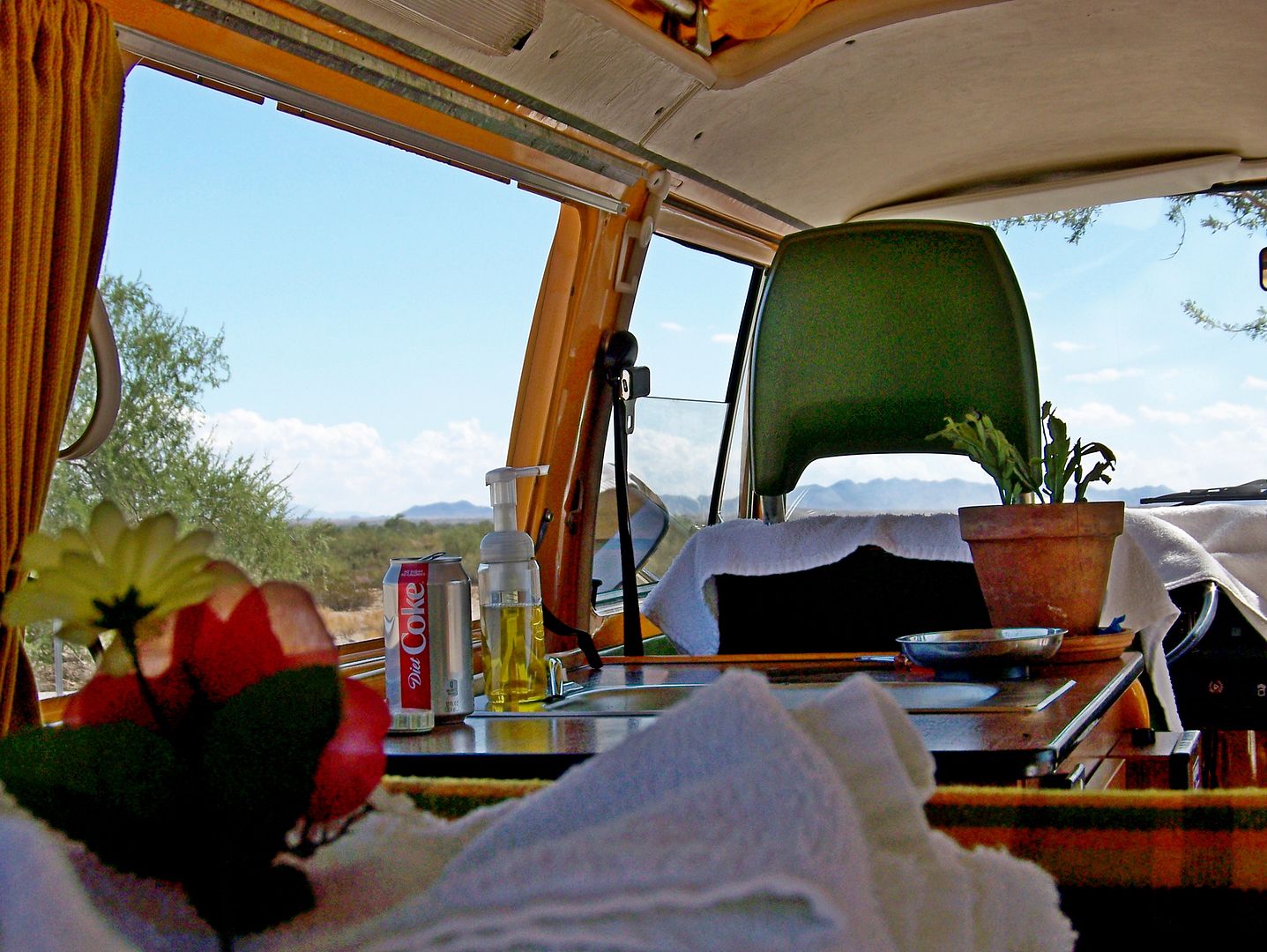 Applied two coats of Marhyde Rust-Catalyzing Primer: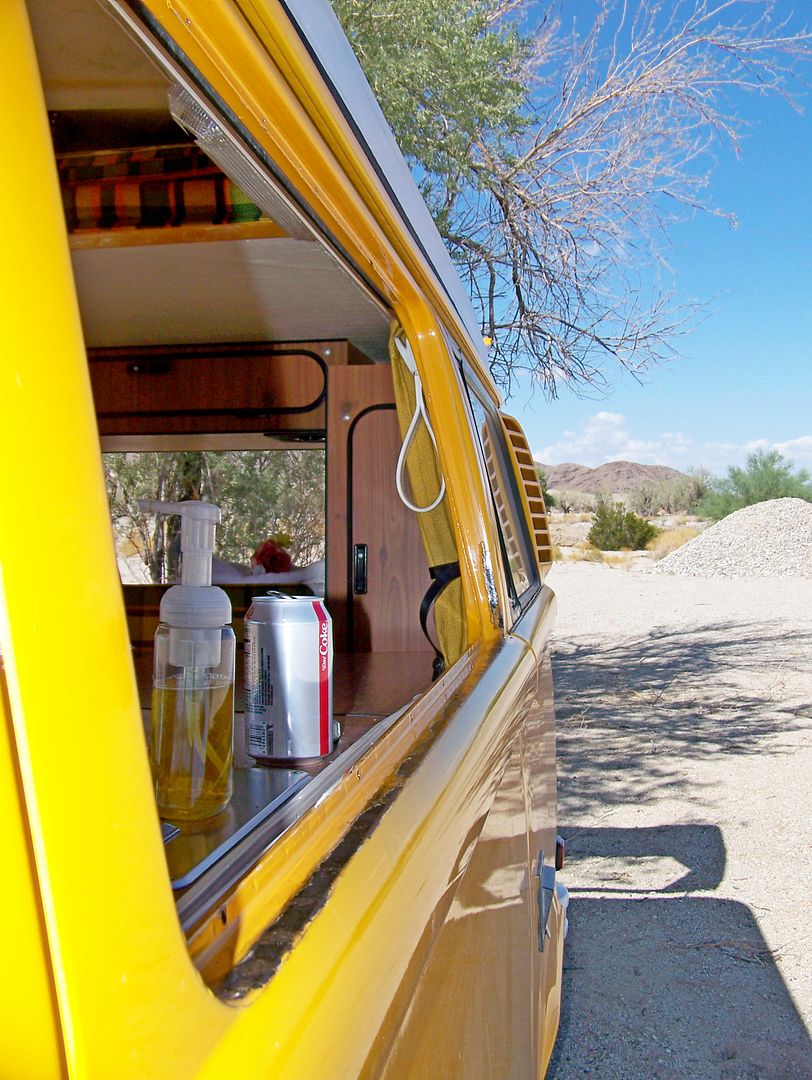 Applied two topcoats of poorly matched paint in the window opening, inside the pinch weld, and at every screw hole in the interior: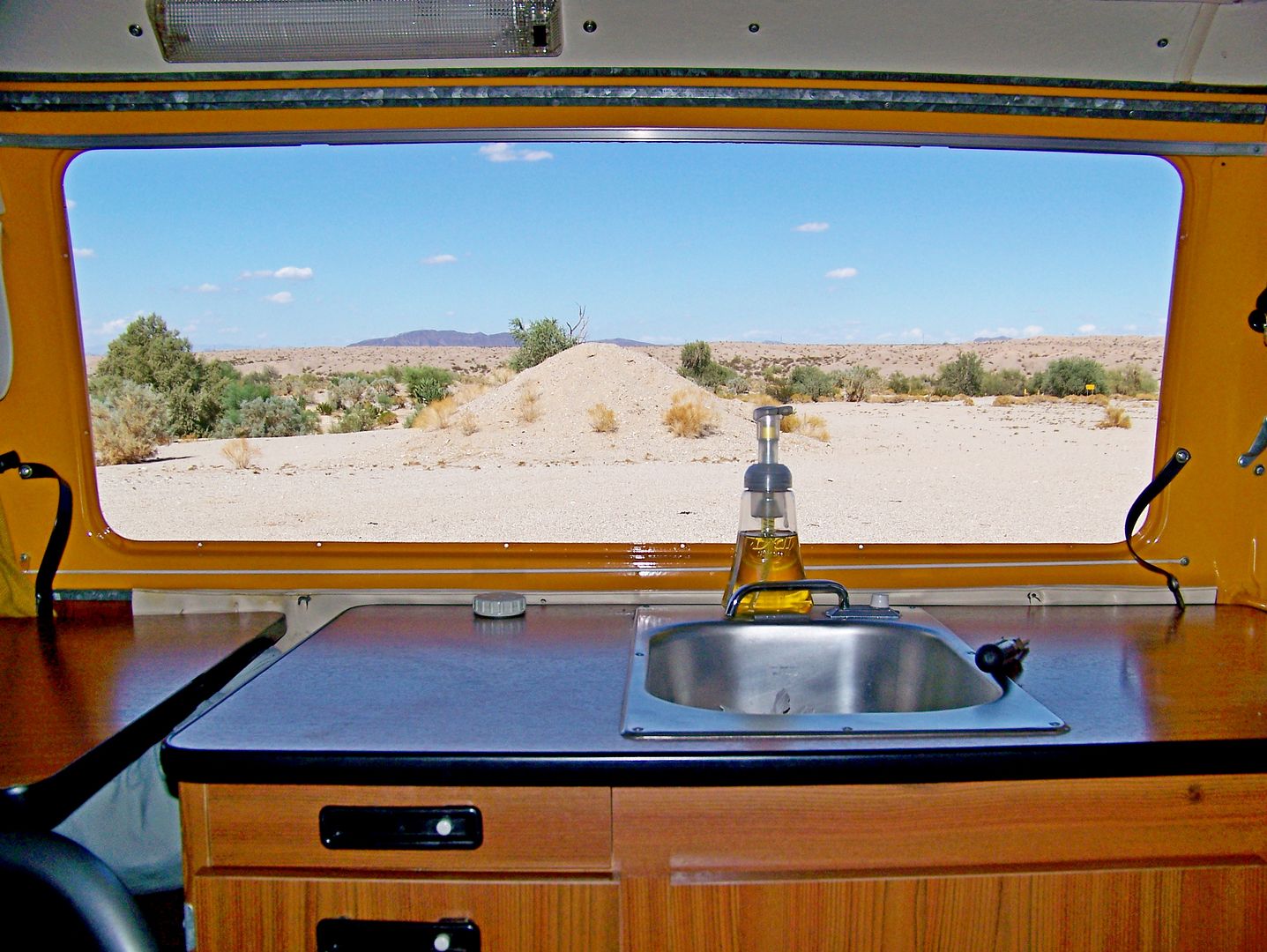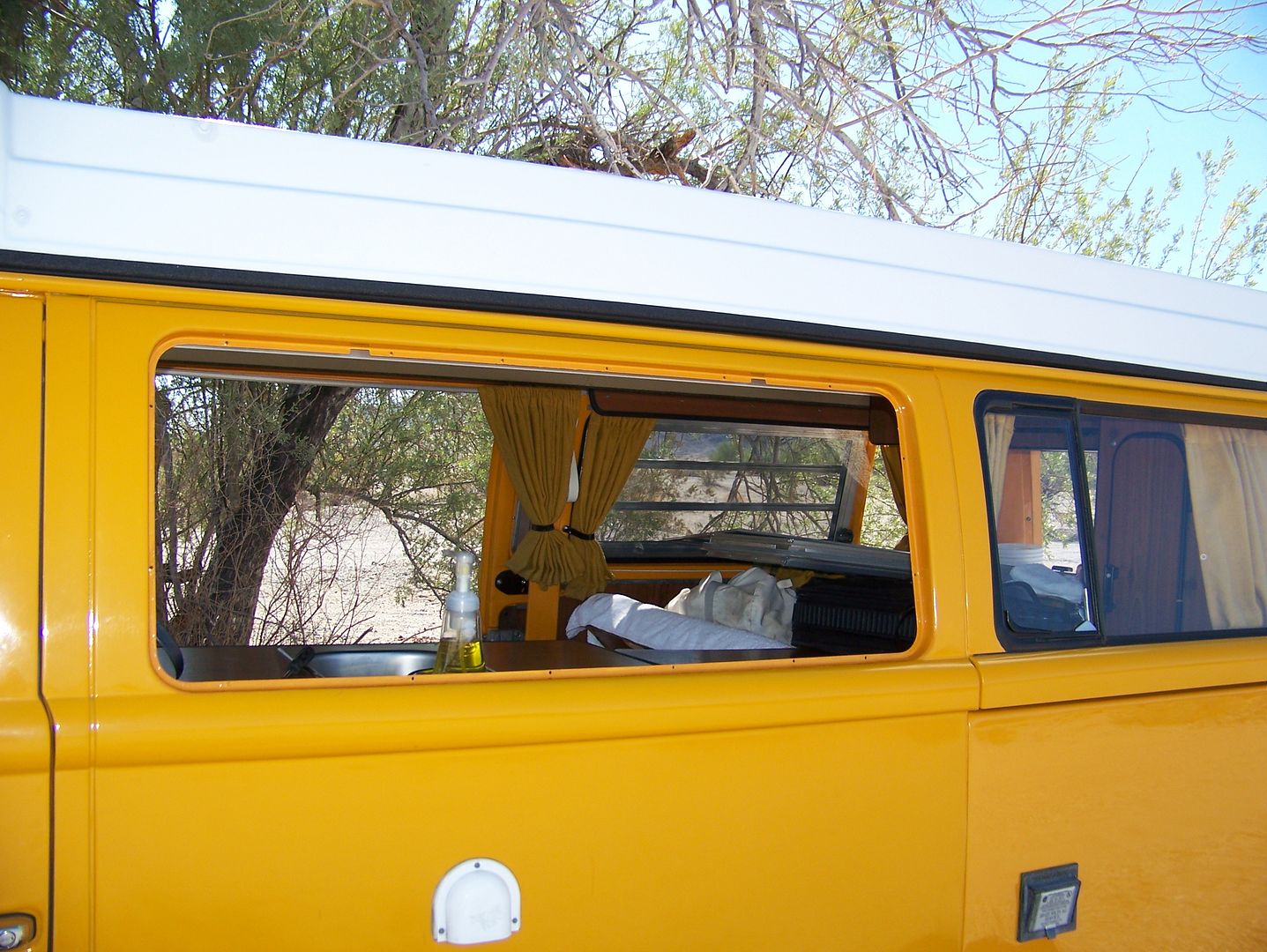 While the paint dried, I polished the little bitty screws and cleaned the window frame and seal. It was in pretty good condition under the dirt: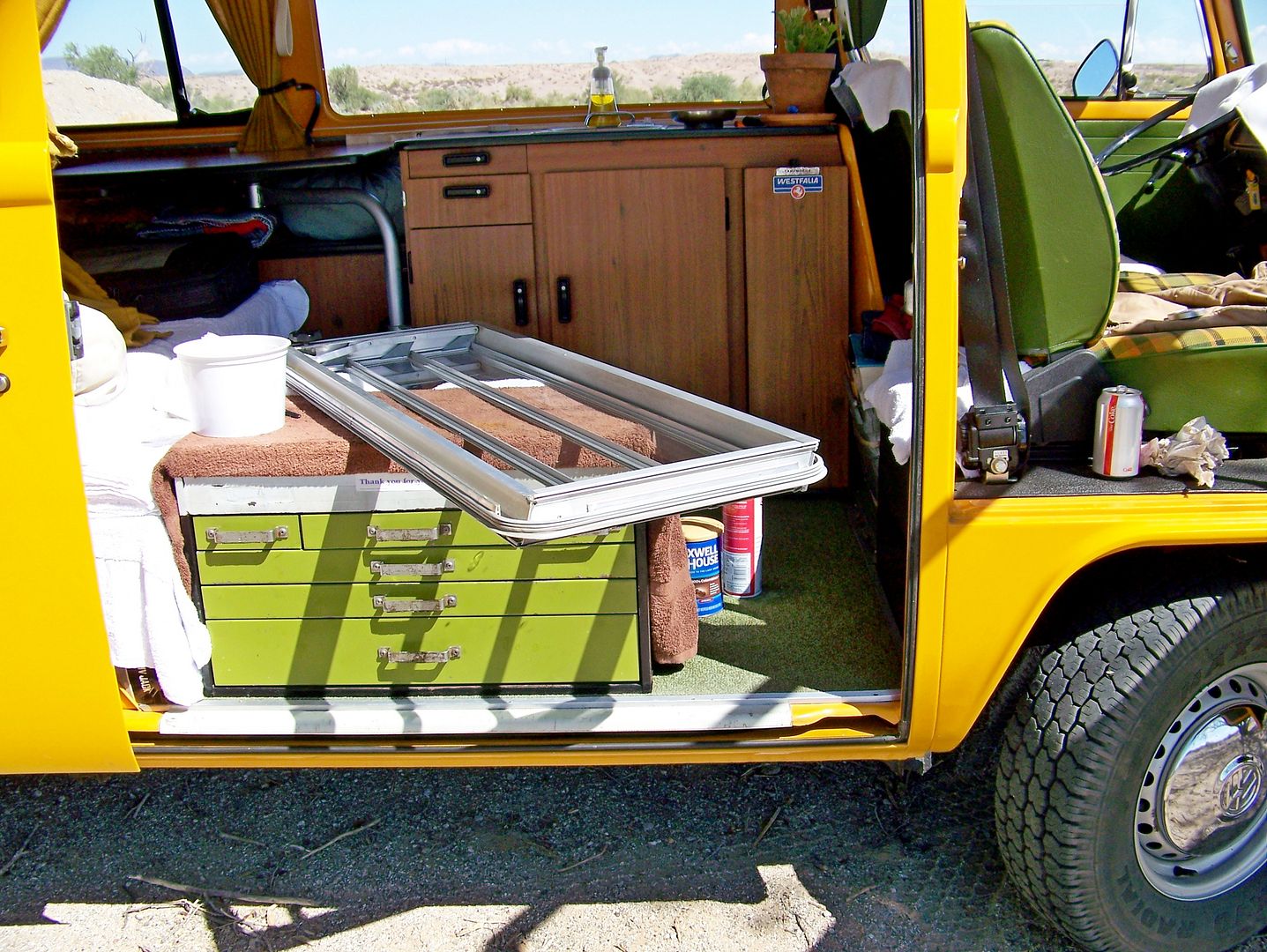 Carefully dabnblot-cleaned the curtains with a touch of Tide and water. See how dirty that Motel6 bucket got with just a little blot-cleaning?:
Pulled the grey rubber seal out of the screen groove, and reset the screen to "taut", then pushed the grey seal back down in the groove:
All back together in only 4 1/2 hours: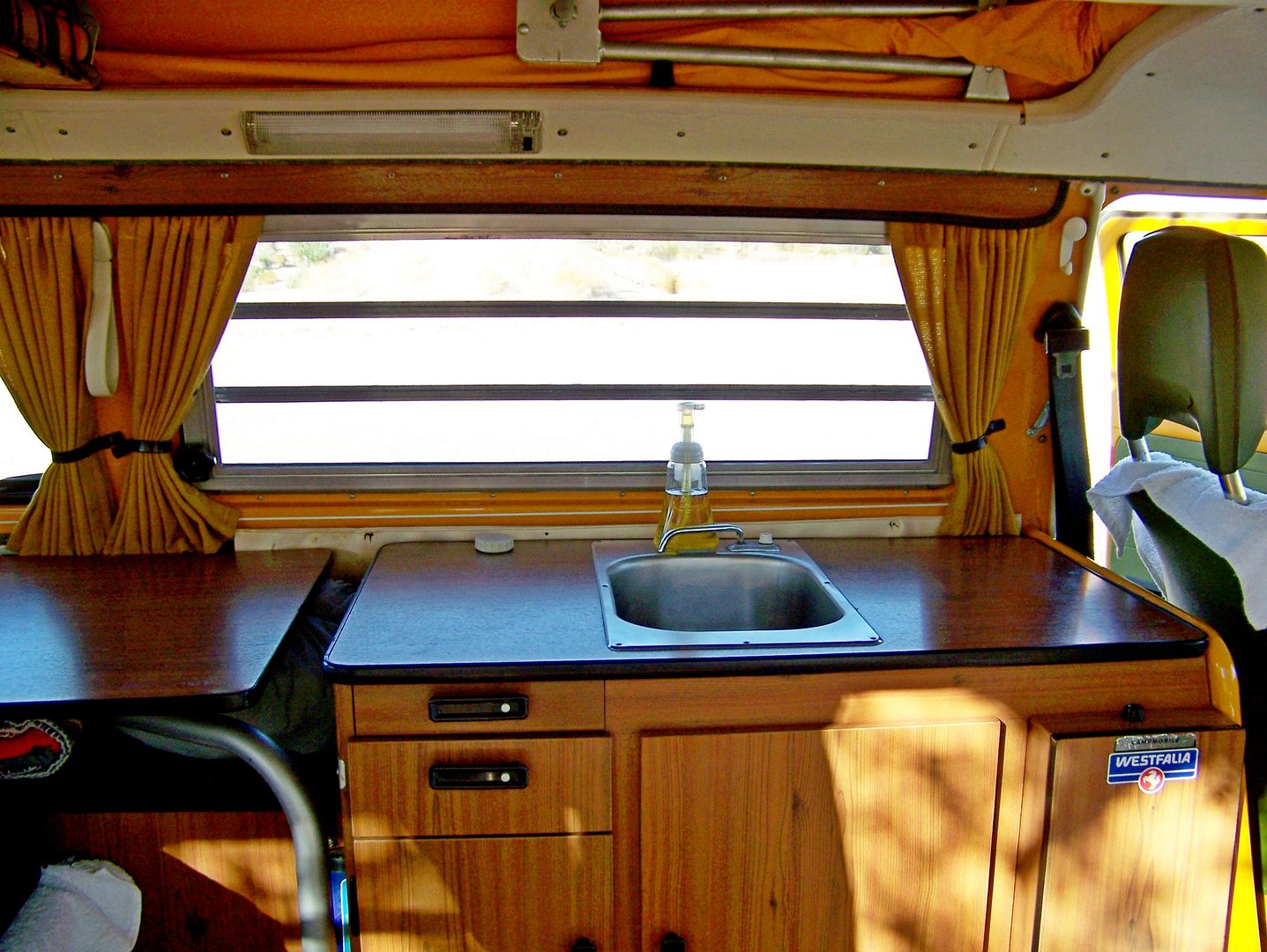 Drove to Quartzsite. Here I am. See? Quartz. More than you have ever seen: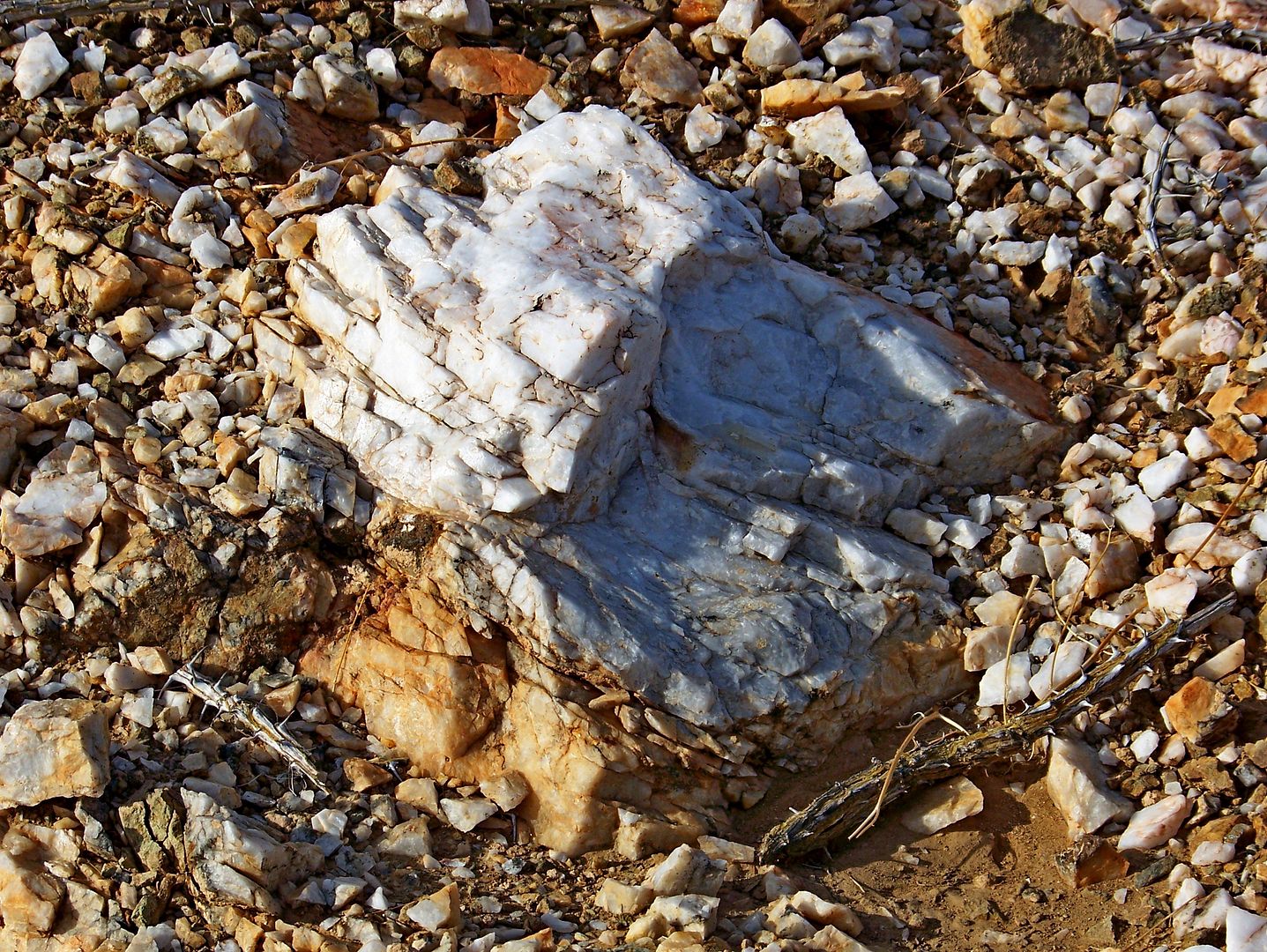 Am now going to Burbank CA, the final Mecca for all spiritual travelers.
Colin