The traffic got a bit crazy as the Day Before wound down in Riverton Wyoming. We came into town with not yet any idea of where to camp. Relying on fifteen years of always finding a spot, I stayed relaxed and irritated at the RVs, SUVs, lost tourists, and spied thousands of freshly purchased "No Trespassing!" signs everywhere.
According to my whc03grady (thanks, Mitch!) Vemo video, the center of the moon's shadow was going to be exactly where I actually ended up, midway between Riverton and Shoshoni. According to my stinky casual online map (now that I have dumped MapQuestGoodRiddance), I had only to travel thirteen miles out of Riverton and look for Bass Lake Road, bang a left, go a few miles until a hard right, look for the left onto a dirt road. From there, I looked for a trail that nobody had taken because the ditch and the berm said so. Chloe lifted a right rear tire for just a second, but momentum got us through. The trail (brought to me by satellite imagery from Google) led me away from civilization in the direct path of the shadow, so no danger of driving out of the totality. Drove past several campsite/party spots with big RVs and those hated ATVs all unloaded and ready to strafe my beloved countryside. Two hills and the swarming people were left behind. Wow. This easy? Yay hey yay:
Slid down a hillock with lots of broken bleached vertebrae and a pelvis, executed a fast hillside three-point turn as I could feel Chloe's rear tires break through the silt:
With failing light, I removed the crank pulley AGAIN, you know why? Because last time I painted it, during the + 100* Generator Brush Spring Faint, I did not give it enough time to DRY and the centrifugal force against that nice fresh paint THREW PAINT all over the engine compartment! You should have seen it, the pulley with all of those strands and clots of black yarn, and the apron coated in sticky splats. So, sanded anew with a promise of an all night dry: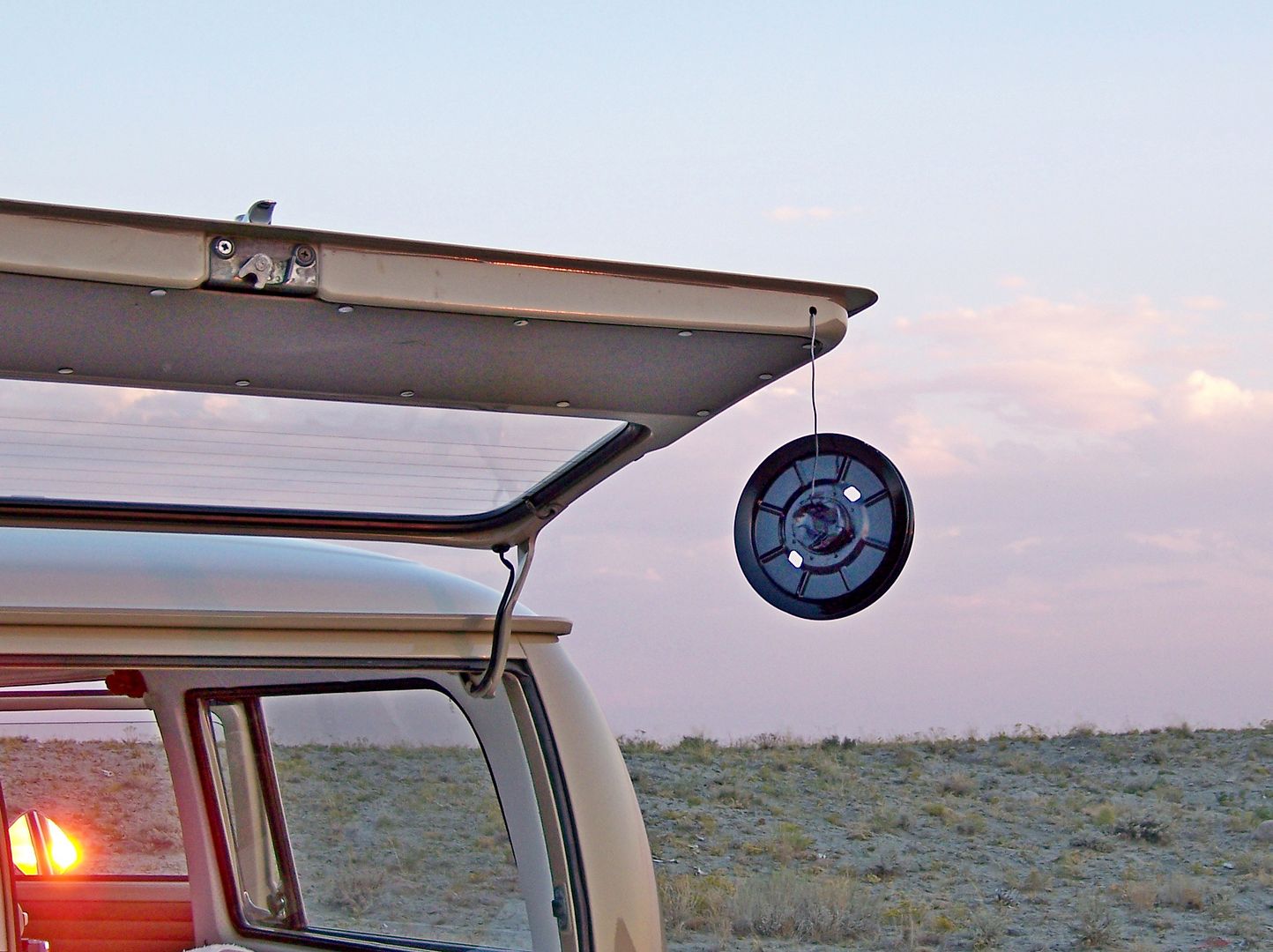 You can't quite discern the cliff behind the car, but that is a cliff behind the car. I thanked my loyal little cow, took a walk up the hill and surveyed this beautiful solitude at sunset:
Strange desert denizen stares:
Gazed at the stars in the silence, no chickens, no dogs, no motorcycles, no pick-ups, no voices, no crickets, just the Milky Way and the Big Dipper in a riot of stars.
Here's the next morning after the pulley installation, the timing mark painting, the valve adjustment, where I moved the car back up from the cliff cul-de-sac. The eclipse has begun:
The camera was already demanding "night" exposure, and did a fine electronic job of masking the change in lighting. You can bet I was already getting furious with God with those high clouds stealing over the sun: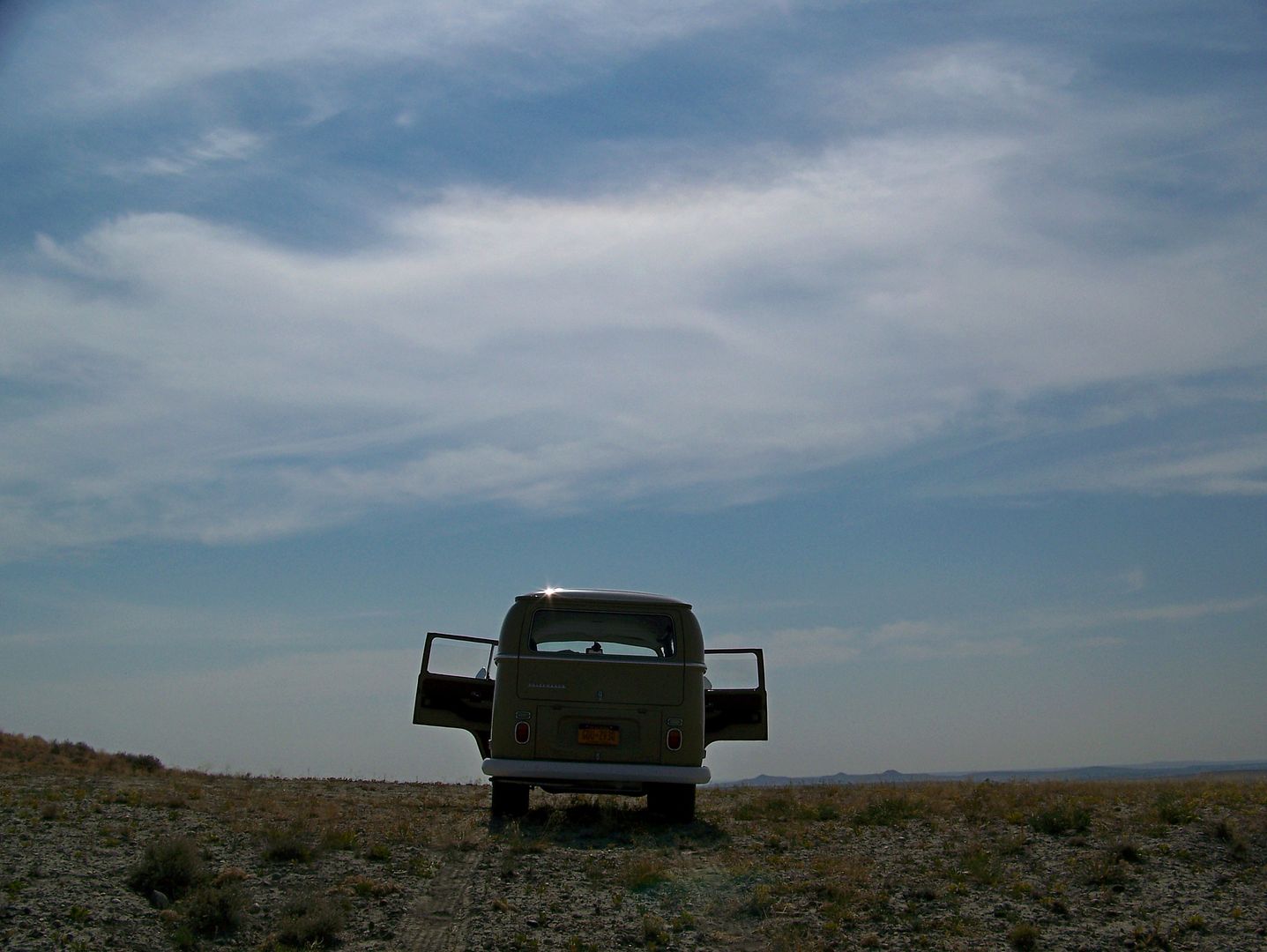 "You don't even want to know what I will do if You block my view of this event, You Big Cosmic Cloud Clown, I will devote my life to EVIL, I will squash bugs, I will be rude, I will litter, I will never ever give a damn ever again . . . hey, the cloud has dispersed. "
The failing light started accelerating. You could see the western horizon was darker than the eastern.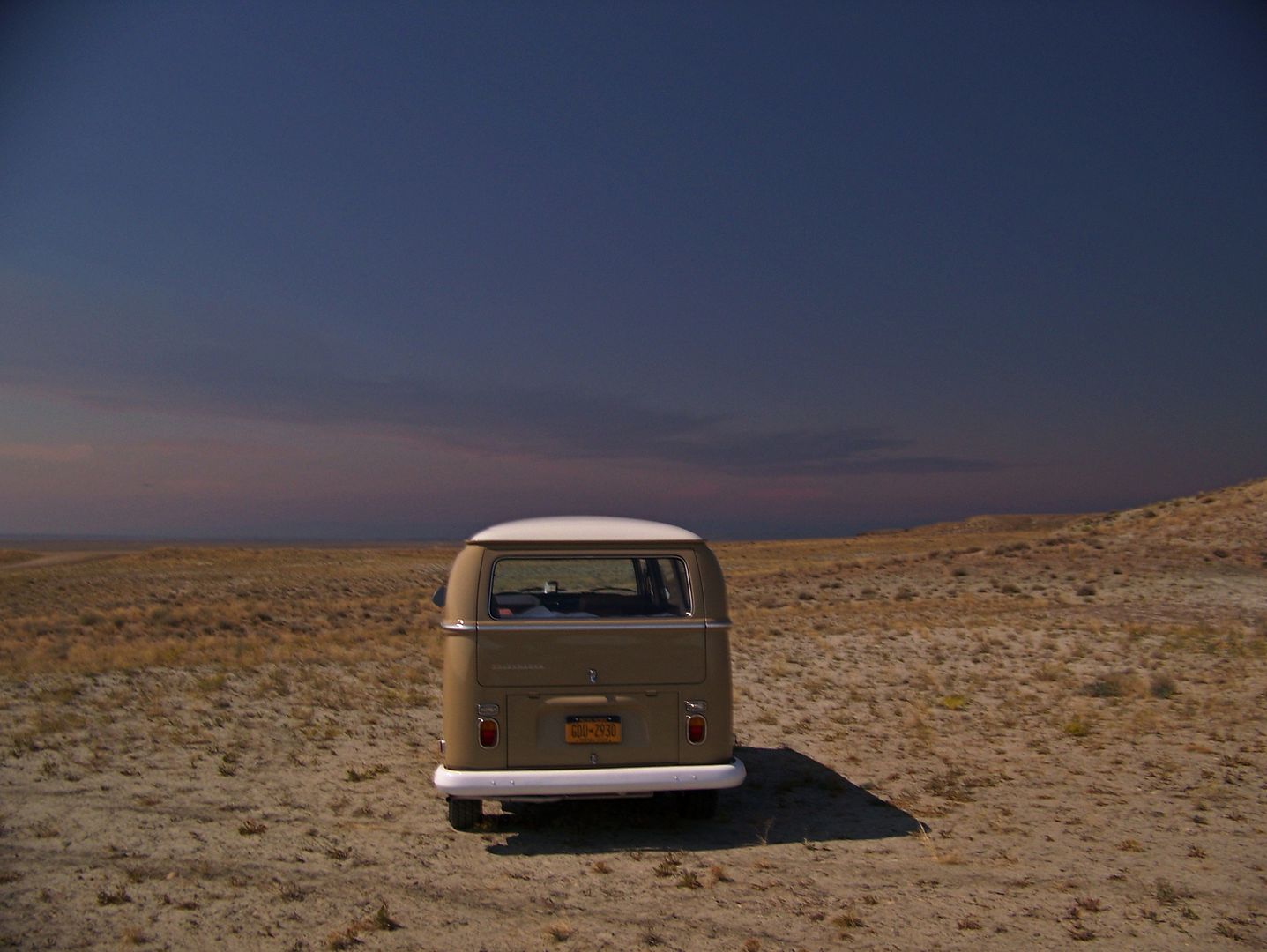 The sun was down to a quarter crescent. I photographed through my NY Cynthia Commemorative Eclipse glasses, but the Kodak EZ Share 612 was getting confused:
Photographed through the reflection of the center side window. The camera felt more comfortable with this set-up, less chattering of its electronics: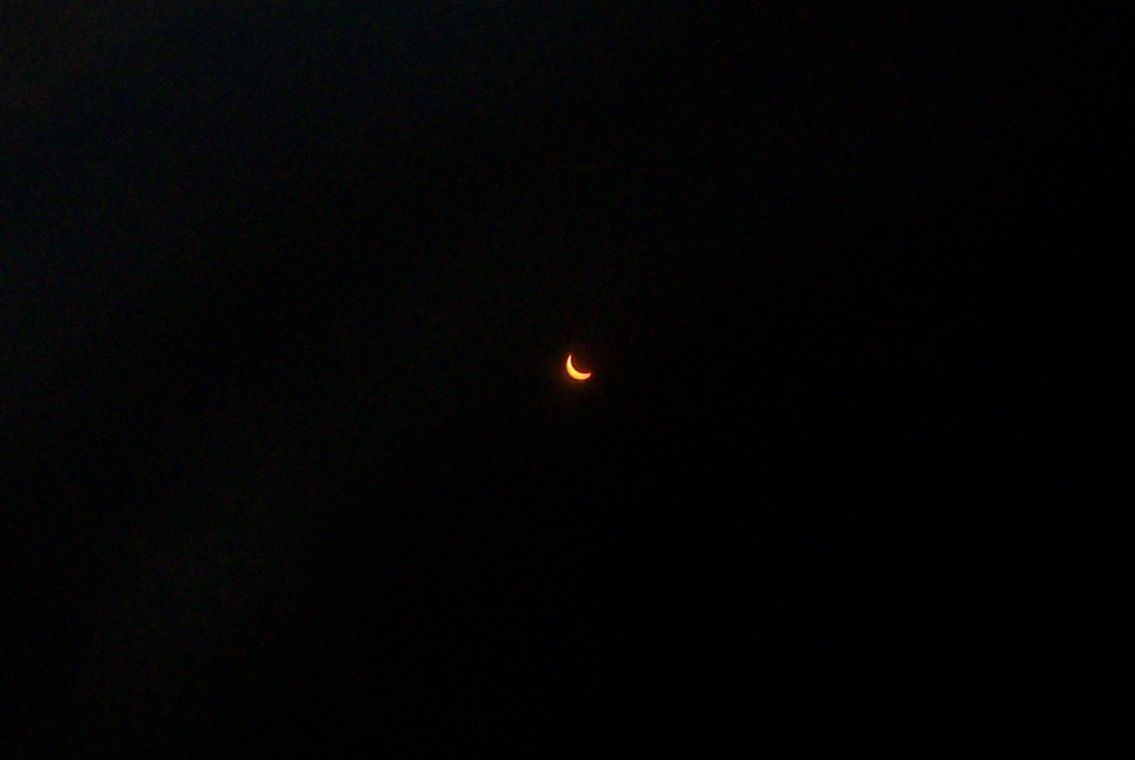 This is right when the sun went coronal around the moon. Unbelievable majesty to see all dusk colors suddenly occur. I saw one planet or star to the west of the corona. I wasted fifteen seconds to video and try to photograph (and try to find my glasses where are my glasses???? I can't see in this car!) The moon orb was a beautifully defined black rock, and the corona was an unexpectedly brilliant shimmer of white. Here's my camera's interpretation of "beautifully defined" with a little Paint.Net assistance in dimming out camera lens rings and a ghost Jupiter that is the Kodak EZ Share 612 equivalent of "sun dogs":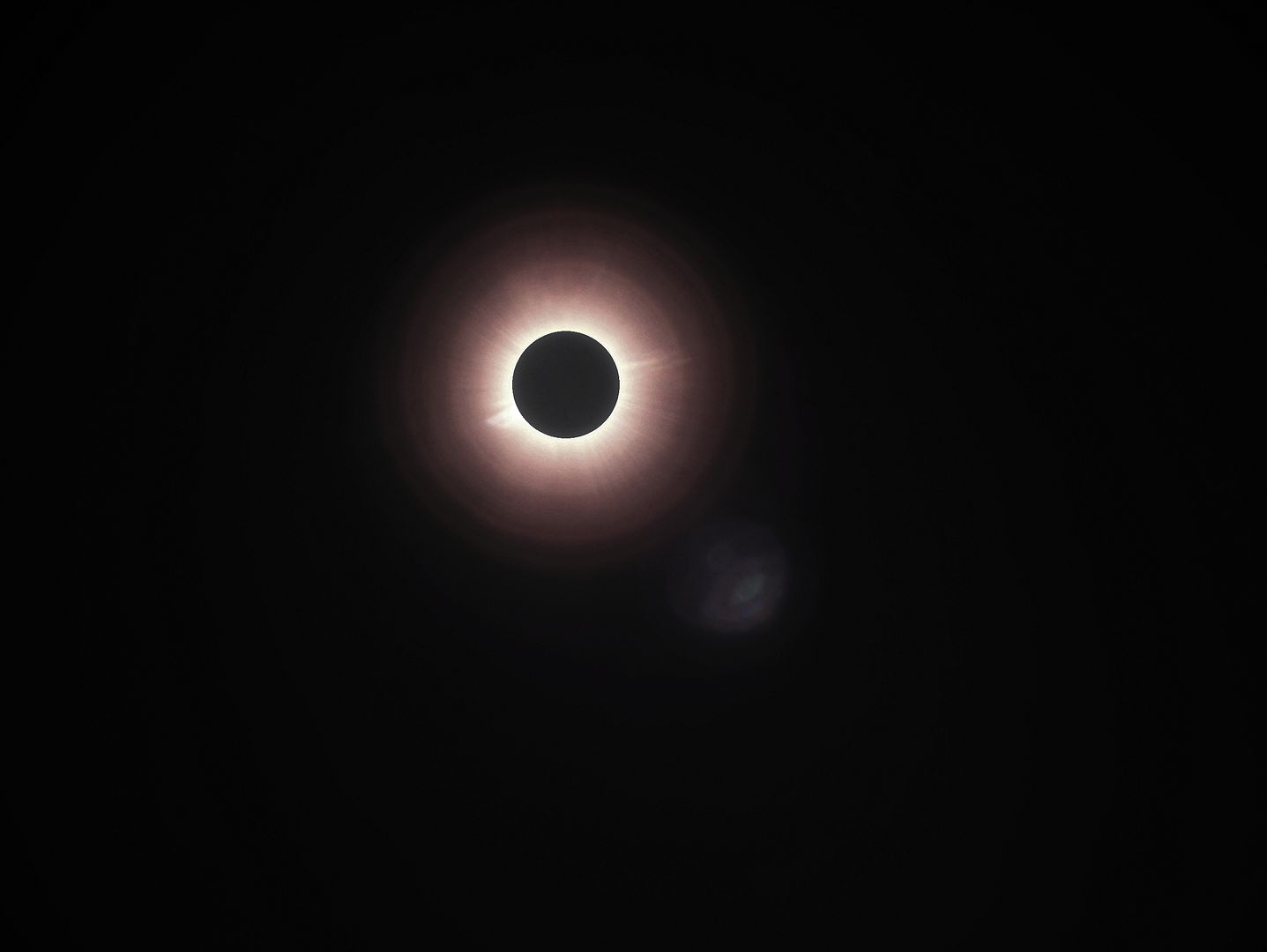 Way way way too soon, light began spilling out to the right of the moon rock, and I had to go back to the eclipse glasses as the countryside just sped through a facsimile of dawn, sunrise, early morning, mid-afternoon: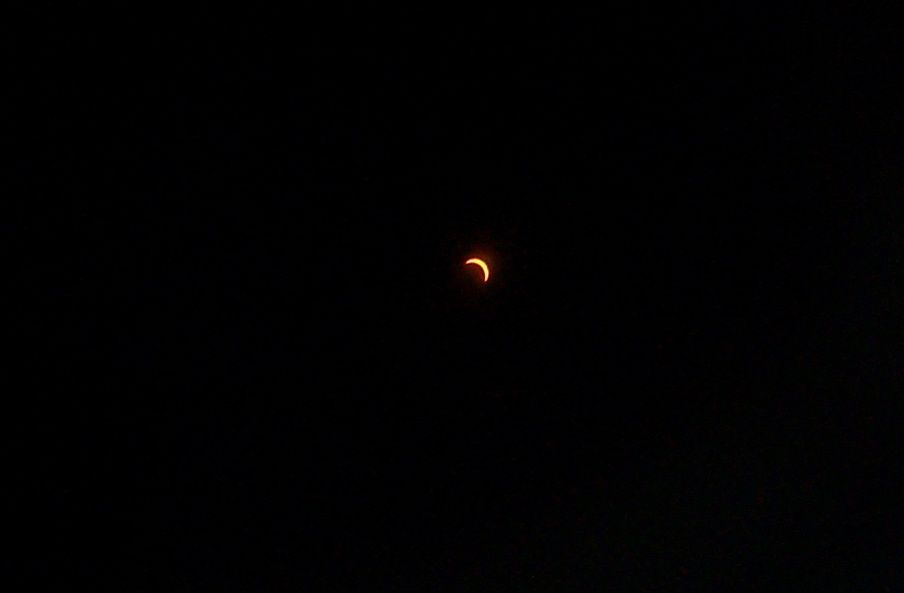 I hung out at the Broken Bones Cul-de-Sac for the remainder of the day to try to keep this experience. My mind was too chattery with photography and video concerns even as I promised only fifteen seconds to be devoted to recording it. These solar eclipses are so too brief.
Colin