. . . si, el centro del sol in esta hemispherico, y yo ain't voying nowhere hasta yo have to.
I blew out of Irvine after the Lanval Rat Raddison BeatDown at the leading edge of the West Coast Weather Whopper, and battled a good 100 miles of crazy hurried California Friday evening commuters in the rain. I finally camped behind a Lowes*.
*(what was interesting in this, is that I was in an almost panic. I was feeling deeply claustrophobic with all of the pressure of people in their hurry just constant glaring headlamps and taillights in the rain and traffic and electric lights in the rain and the intensity of Southern California in the rain and the Lowes parking light was bathed in a hideous halide yellow reflecting the rain, and I desperately needed some quiet dark. Well, right in the middle of the back parking lot (!), there is a little road (!) going down the steep parking lot fill hill called "Discovery Lane". And there was a little cul-de-sac called "Echo Lane". No houses, no nothing but vegetation. And I was able to have a dark quiet night . . . in the rain)
Interstate 8 has a summit at 4181 feet in the Tecate Mountains or whatever they're called, and it was a relentless cold rain in the low 40's and Miss Princess Lizard here was irritated at the planet once more. "God God, can't you make a stupid planet warm and dry,
ever
?"
Well, 18 minutes later, at 0 feet, it was 73* and sunny sunny sunny. Can you believe it? Did I remember to apologize to God? No, I was crabbing about the BobD's stupid water leak at the sliding door slider window.
[
in my next life, I am going to be a "lifer" in a Chilean stone prison and my cell is going to face south (away from the sun down there),
and it will straddle a spring that keeps the dirt floor wet and even in the summer, the temperature will never hit more than 52* in the afternoon and it will mostly be in the upper 30's and when it rains, which it does a lot, the rain will blow in my cell so hard that the far wall gets wet and my wet sleeping pad will be mouldy with stains from the rusty window bars, and the lightbulb in the dank hall will be blown out and my damp feet will always itch in between my toes . . . all this because I was too greedy in this lifetime for sunshine
]
Anyway, today's (windblown because God hates me and laughs when my towel with all the parts on it blows over and scatters everything) project was to wax the top of the intake plenum so I had to remove the radio and the ventilation ducts and the glove box, you think I am kidding . . .
OK, the real reason I was here is that the dealer who installed the Volkswagen-issue Blaupunkt radio did some kind of horrible job of it. There is a "mounting plate" and there is a decorative "face plate". Somebody put the mounting plate behind the dash where it mounts exactly nothing, and used the decorative face plate as the mounting plate which distorted the decorative mounting plate which made the radio list to the side and made it creak and crack and twitter like my entire 1991 Passat GL used to. No! Won't have that. Once the glovebox was out, that was when I realized that I had to not only clean and detail under there, but straighten out all the wiring and remove/disassemble the wiper assembly and lubricate it, too:
I was proud, whilst taking a phone call from Cindy who needed to share an irritating piece of news at exactly the moment the wind picked up the towel of laid out parts and threw them again, that I did not explode.
See, you too can have a successful day if you keep your definition of a successful day . . . uh . . . simple.
Then the wind picked up. A big stupid hateful cloud sat over me. See what I mean? God is toying with us. There is a steady 30 mph westerly wind blasting all day out here, the jet stream must have been 200mph at least, yet this smug cloud manages to sit over me and actually grow a little cloud tail west, the better which to keep me in the cold shade. My life is just too difficult. I suffer and suffer. So I quit my wiper restoration mid-restore: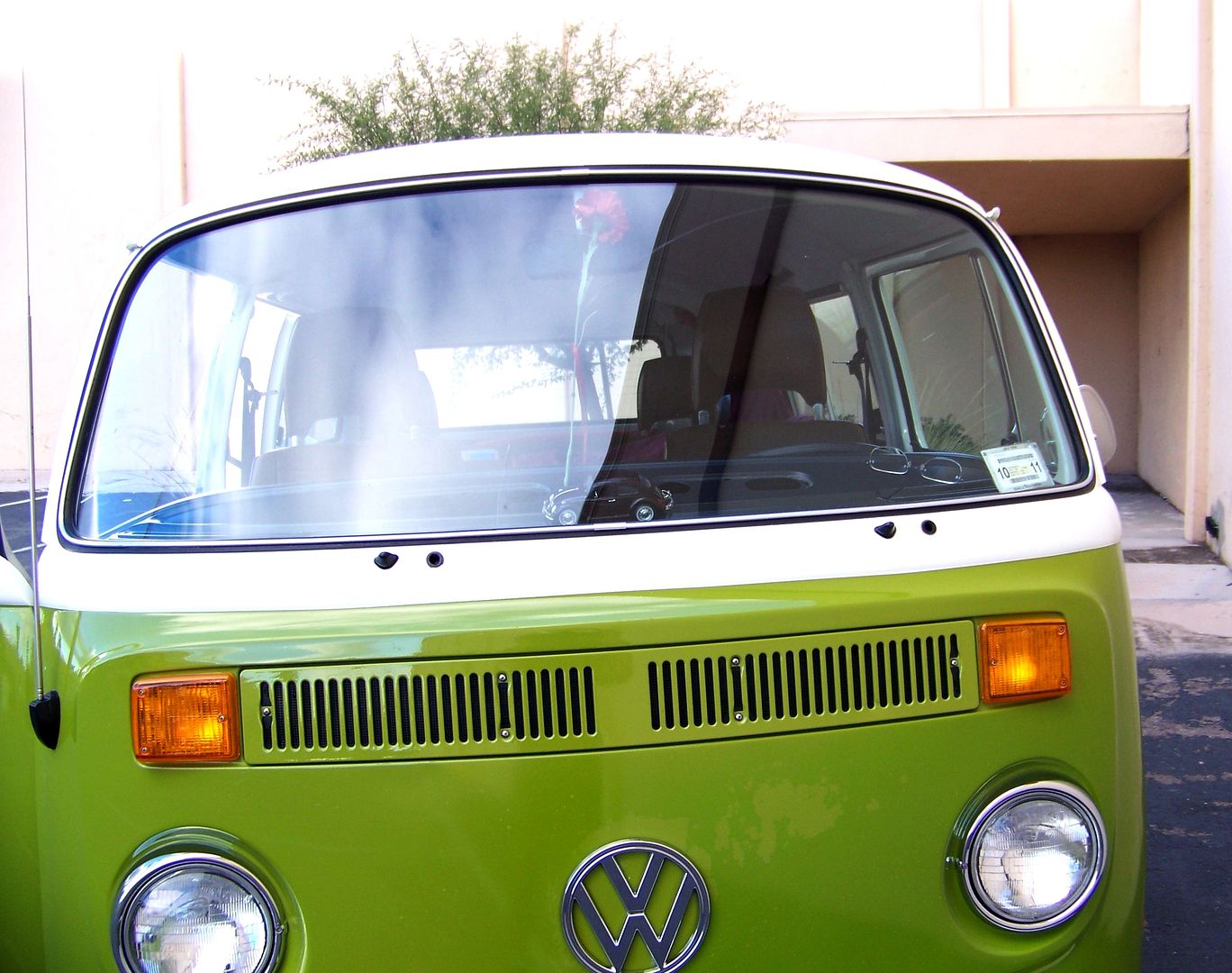 Tomorrow it is promised that the wind will be gone and the daytime high will hit 70*. I will finish this project even if I have to endure temperatures in the 60's and more clouds, because I am nothing if not tough. I hope to remove the fuel tank bulkhead to get rid of that Dynamat sound deadener that is making the engine compartment look dark and stripy. Whichever homeless person decides to befriend me will have a captive audience like I was today with the Can Man Who Was Glad To Make My Acquaintance, "damn, you like that Diet Coke."