See, ya just can't be tidy about it when you are subject to crazy ideas.
I am in Katy Texas, happily warming up in the midday sunshine [last night was some sort of crazy frost (!?) in the bayou outside of Boca Raton Louisiana] for the brief few hours allowed by the stupid tilt of the Earth away from my sunshine.
As I was driving along I-10 at 75mph, I thought "no . . . they can't all be in such a stupid hurry?" so I timed my progress against several mileposts. This required algebra, by the way.
If a mile goes by in a minute at 60mph, how many seconds does a mile go by at 70mph?
Well, my rusty brain was in no mood to figure this out, but I had to.
So what I did in my head was to multiply 5280 feet by 60 (316,800).
That is how many feet you drive in an hour at 60 mph.
Then I multiplied 5280 by 70 (369,600).
Now, if 60mph is 88 feet per second, you can check by multiplying it times 60, and there is your mile.
OK.
But I wanted to know exactly how many seconds it would take to travel one mile at 70mph.
So 369,600/60/60/60 is 102.6666666 feet per second at 70 mph. Excellent says I, let's divide 5280 by 102.6666666,
and I get 51 and a half seconds.
Well. The BobD apparently had the famous VW Bus weak speedometer hairspring, because it took almost an indicated 65mph to get my mileposts at a minute. It took a good 75mph plus a little more to get a true 52 seconds between mileposts. And since mileposts are driven in at convenient-for-the-contractor spots, I had to quintuple-check my indicated speeds for many miles on end.
Thus it was that I found myself once more on a dirt path off the interstate with my poor car in pieces once again:
Removed the gauge cluster from the instrument binnacle and carefully rotated the speedometer needle drum to an indicated 75 mph: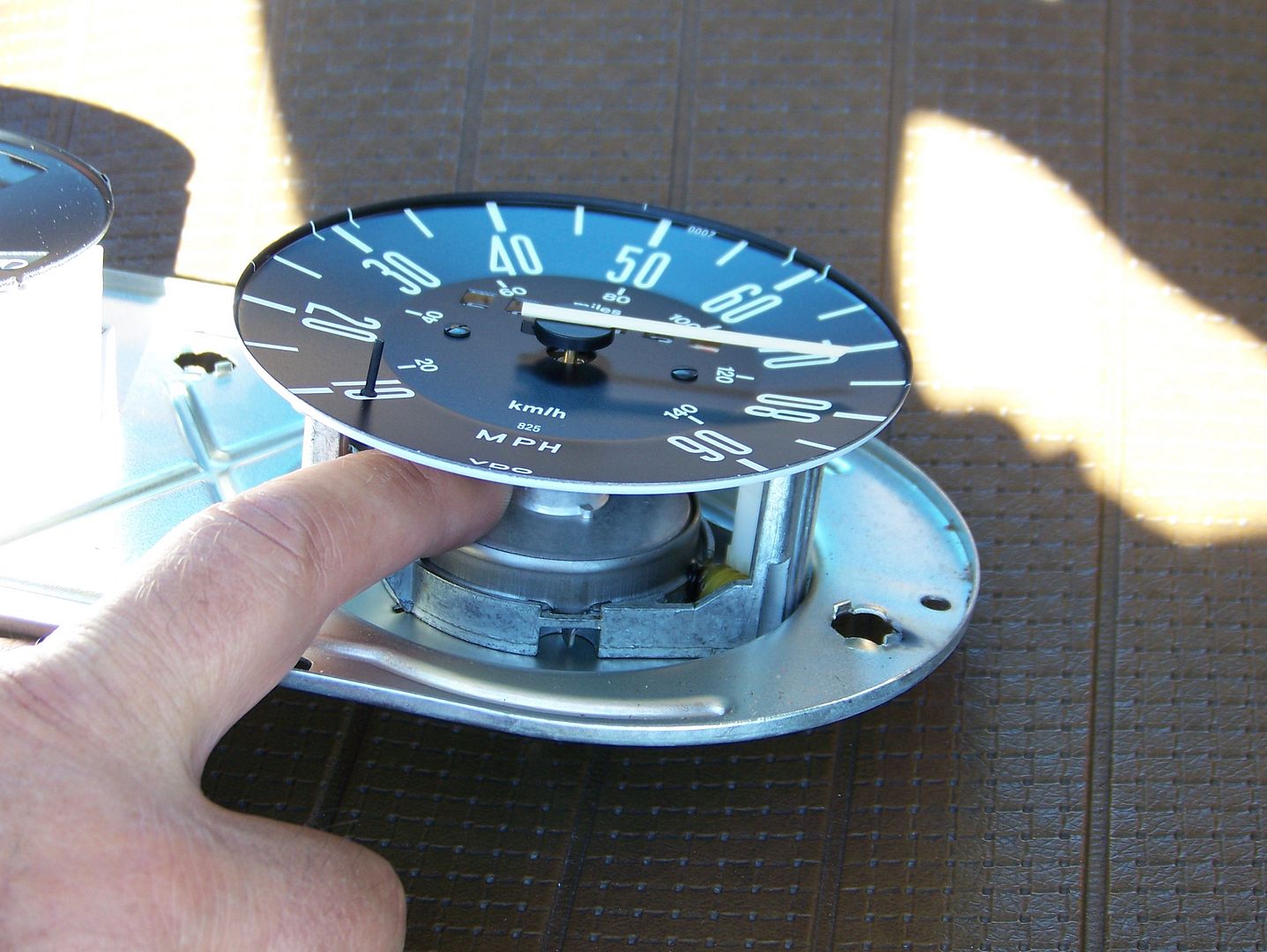 Made a sharpie marker stripe from the speedometer needle drum to the stationary surrounding metal with the needle indicating exactly 75mph:
Twisted the needle head on the spindle carefully yet firmly CCW to 70mph: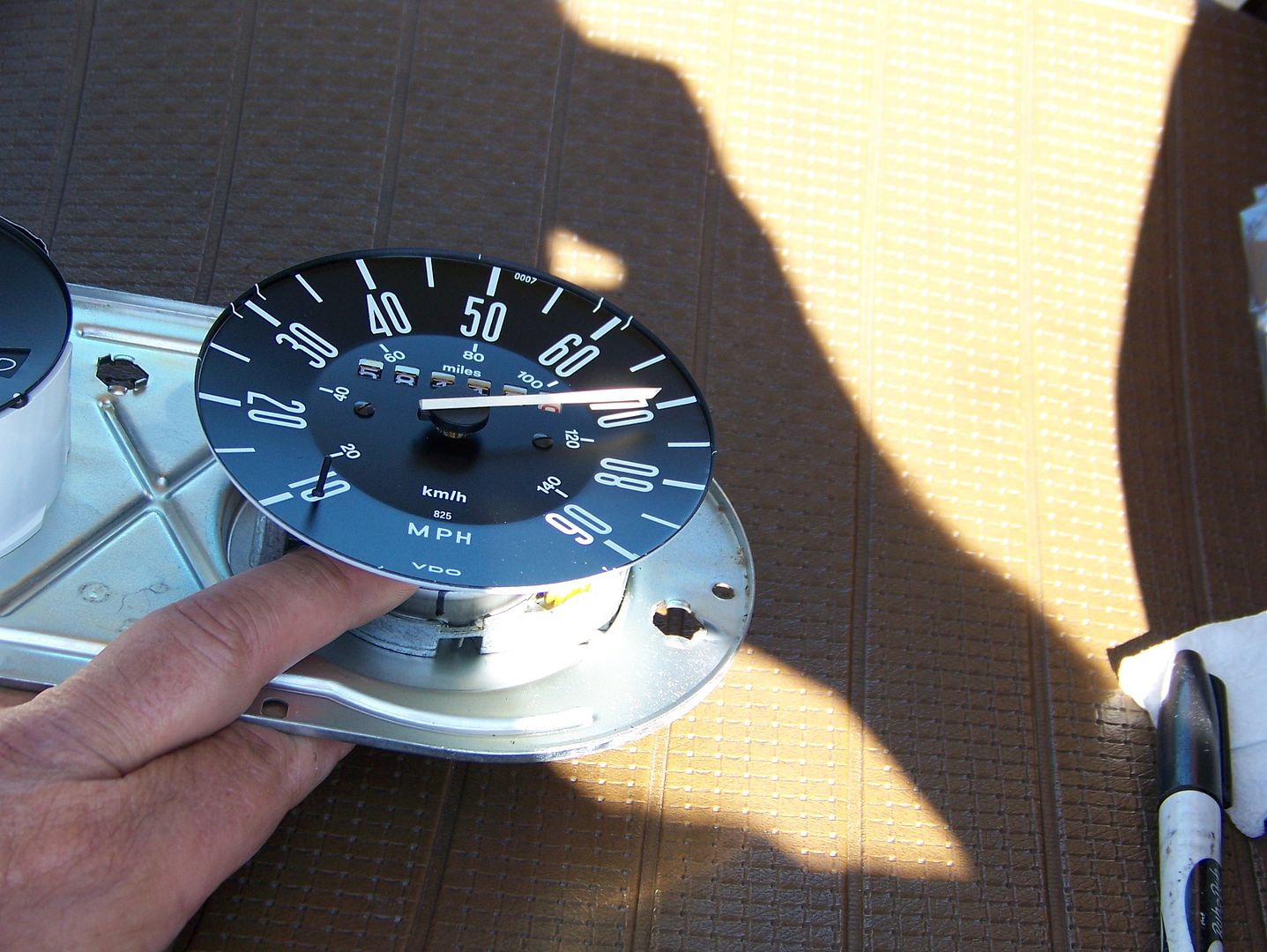 Reassembled the . . . no wait!
Detour! Brake warning light was all pale and pinkishly irritating: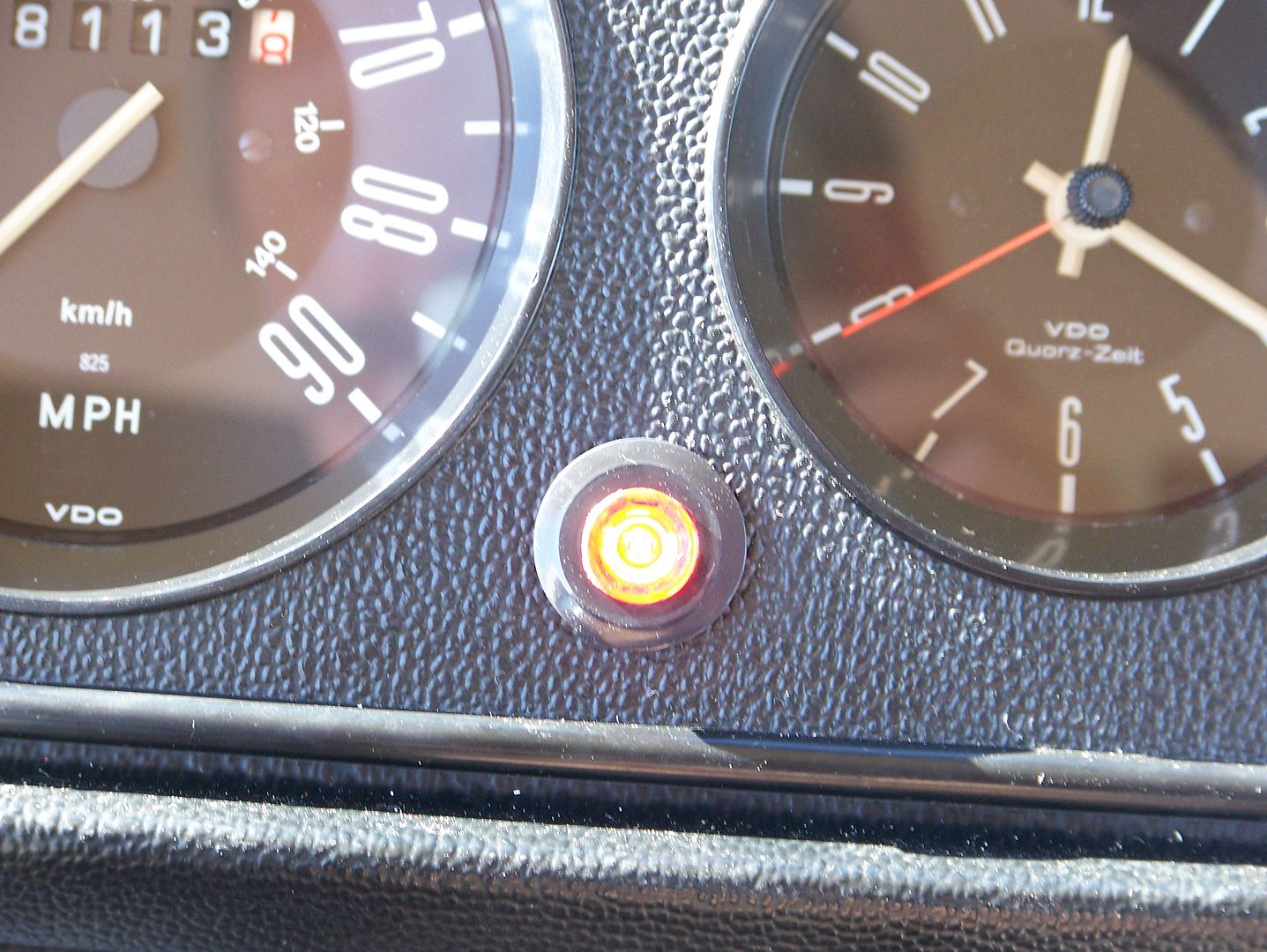 Removed warning light assembly and disassembled: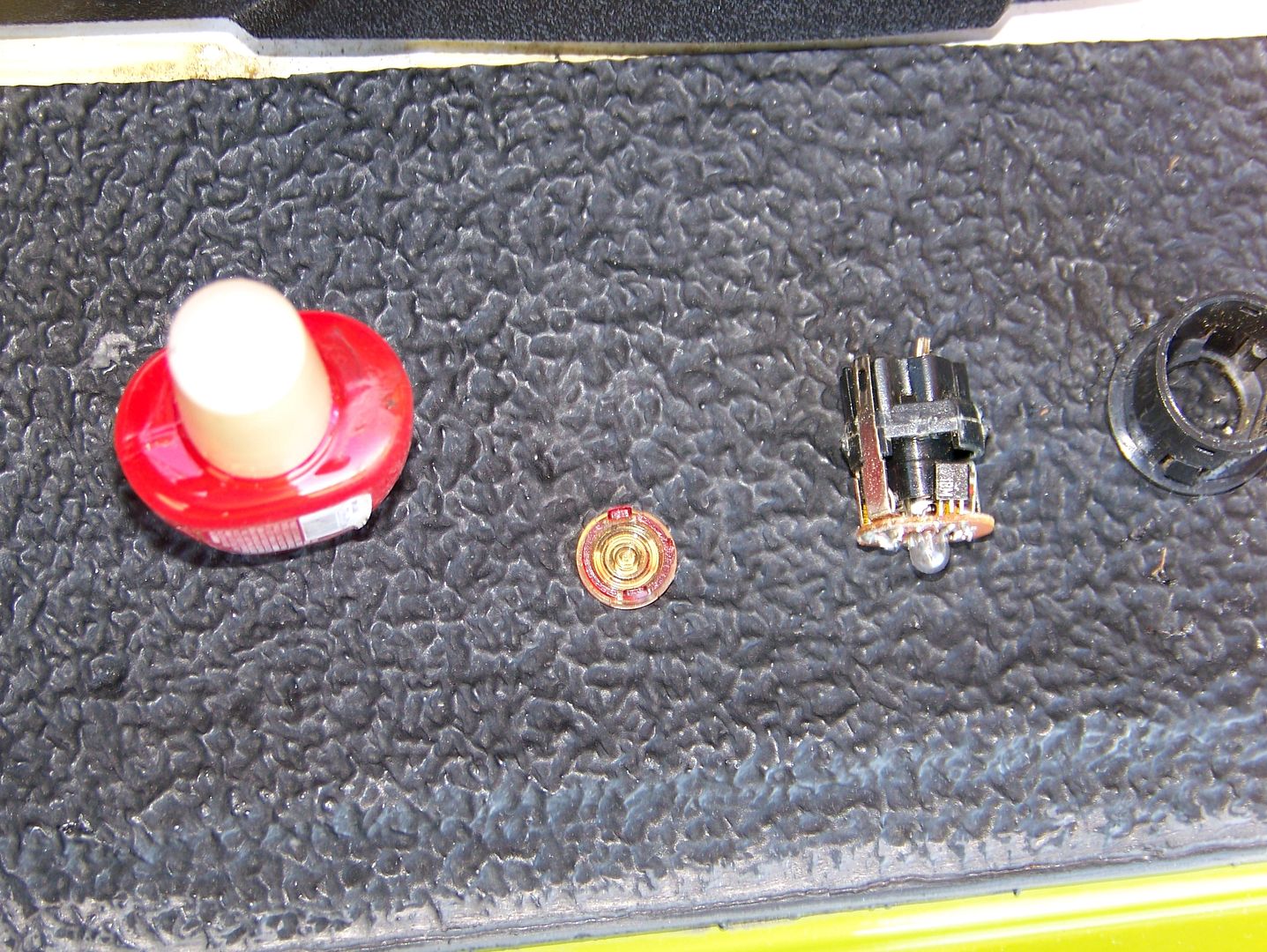 Hit the inside surface of the brake warning lamp lens with a GumOut-thinned coat of dipstick red fingernail polish:
Very nice, glows with an authoritative
red
now!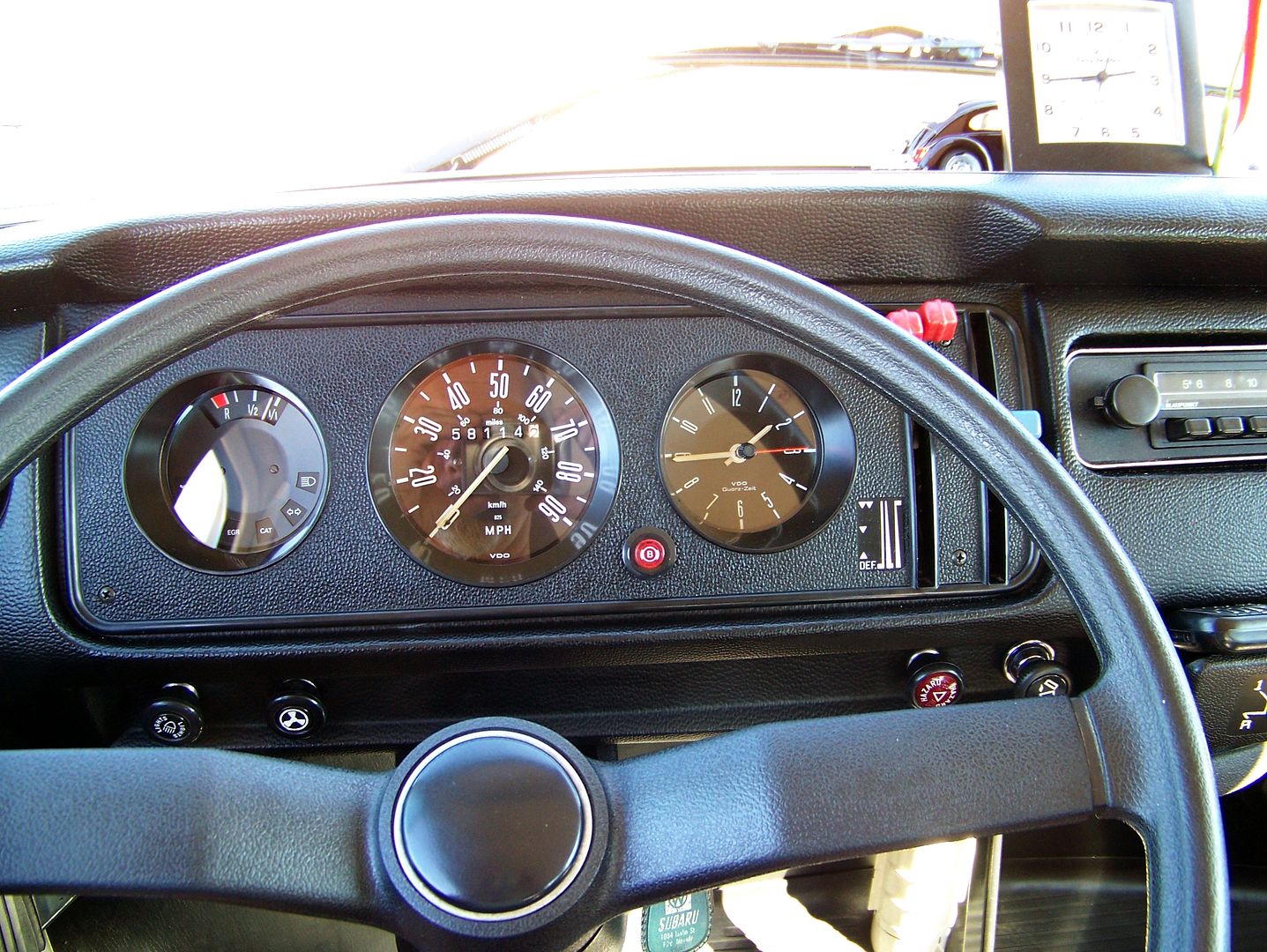 OK, so I reassembled the instrument cluster (no more little lint speck from Tyler TX September in speedo, yay!) and clocked myself between mileposts from east of Houston to Katy Texas. At an indicated 60 mph, the mile markers are showing up consistently at exactly one minute.
That is how I calibrate my speedometer.
I am sorry to report that this car which I thought was so fleet of foot was actually being optimistic with those quick hits of 30 mph in 2nd and pulls to 55-60 in 3rd gear and effortless cruising at 75. Noooooo, it gets a little winded at those numbers with the recalibrated speedometer, but at least my fellow motorists don't seem so frenetic now!
ColinToIrvineCaliforn-I-A