As James mentioned in another post nearby, I have visited several times over the past couple of years. Once, I even saw a splitty, a blue tired 1959. Then I didn't. Over many visits, I inquired about the splitty and was treated to various tales of restoration delays and mishaps and delays and then the stories got a bit severe. So, when James mentioned that the splitty was actually ensconsed in his garage, well, I had to visit.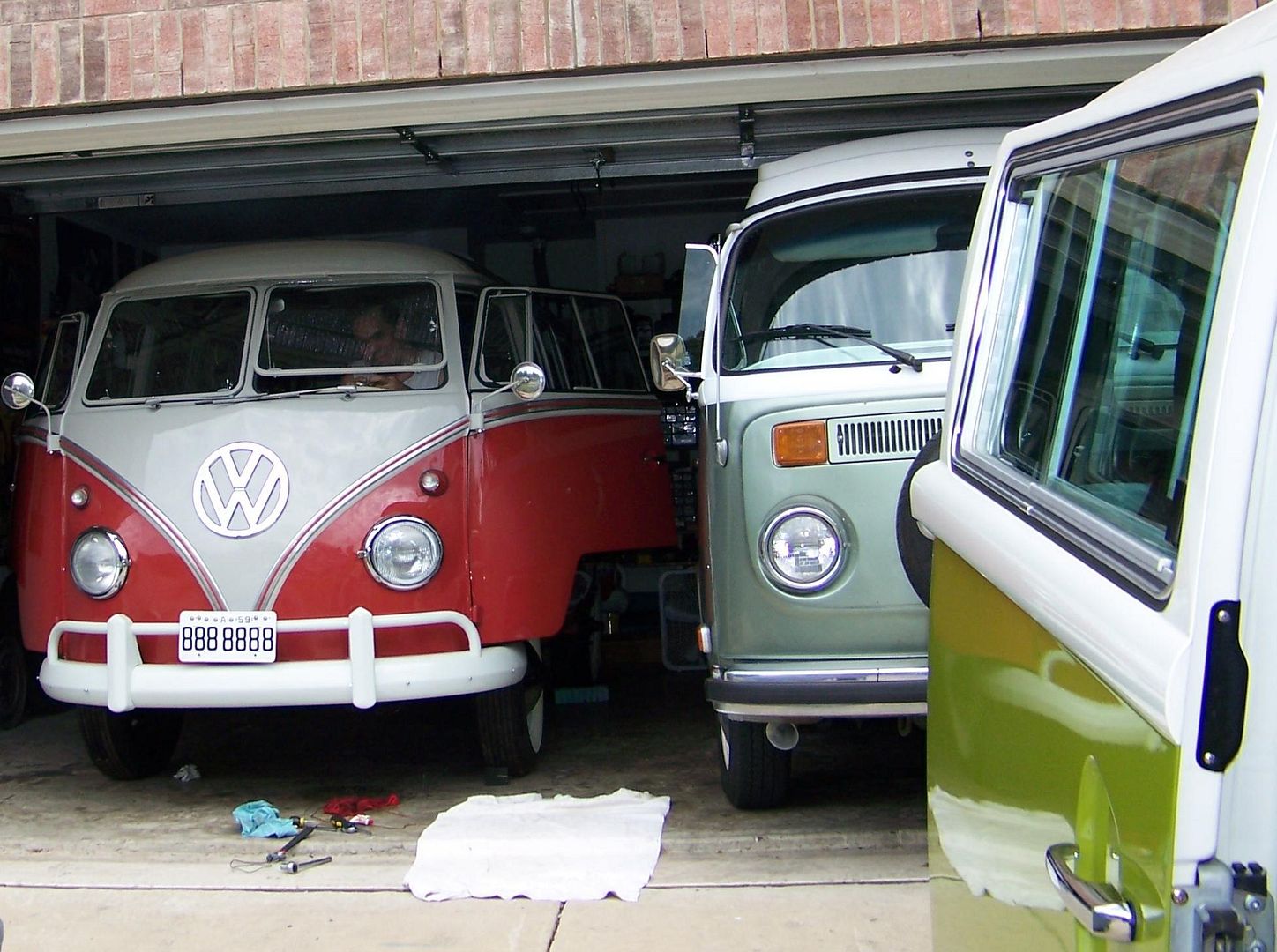 Though ostensibly, I was there to fix the drain plug insert leak on the '77, we gravitated towards the beautiful splitty that was just asking to be looked at. And the stories that I had patiently suffered through over the years took on a life right before my eyes. My God.
Look, beautiful is beautiful, we can all agree on that, beautiful is a beautiful thing. But damn, the instant that beautiful becomes the end, the goal, the reason, all hell breaks loose. Beauty is something that happens on your way to something else. Like, if you love a VW you had best be aware of what made them great, do your part to get that greatness back, and then you can look at the resultant beauty.
What the hell good is a shiny pretty bus that can't steer, stop, or go or keep out the rain? These cars were tough old workhorses. You owe it to them to make them tough again. They happened to be light precise German engineering, so! Make them light, tight, and precise! They happened to be beautifully finished along the way. So, make them beautifully finished.
We attempted to adjust the stop plate and the front shift rod coupler just came apart. You can't just cram a M8 bolt up there, you have to have a grub screw. The right front tie rod was spinny loose, but it sure was shiny! The rebuilt center pin/bushing assembly was looser than any 200,000 mile beater. Brake hoses tied in knots, leaky rebuilt transaxle, leaky rebuilt reduction gearboxes that were contaminating the brand new rear brake shoes, a side window that could not close because the hinge support weld was so far off, doors that dropped when you opened them, a choke cable that was dragging along the ground, a steering box with no oil in it, a clutch pedal that clanked and an accelerator cable that stuck annoyingly, this was a Restoration That Cost Plenty, and it belongs to a man who showed all due diligence and care and enthusiasm, who researched the details exhaustively, who tracked down the parts, and whose intention was to honor these cars in the highest possible way.
I found the car difficult to drive, the maiden voyage was fraught with anxiety over attending to the sloppy steering, sloppy shifting, noisy release bearing, brakes that did not inspire faith, and that is not a 1959 Volkswagen. The people who worked on this car ought to be hanged for negligence.
Though James and I were beat with fatigue and tinges of disappointment, the car itself spoke through the negligence,
"I Am Waiting To Show You What I Am About".
And I hope James perseveres too, I would be hacked, infuriated, demoralized, but I hope James is made of sterner stuff. During this test drive, I could sense the Volkswagen that awaits our discovery, drop-dead gorgeous, distinct, tough, reliable, light, and precise. I was utterly charmed by this car.
Make it happen James, I will try to help.
Colin