So, I left the civilization of Fredericksburg, Texas with undercoating and a recharge of water and Diet Coke and good god how low have I stooped Pall Mall reds, and I headed west on 290 into the gloriously sunshiny day.
And got crabby in about an hour.
The fences! The fences! It appeared that this beautiful landscape of gnarly trees and brown grasses is all accounted for. Mile after mile, fences after fences. Rich landowners just walling off from us little itinerants, I thought crossly. Then I thought closely. Maybe the fences are actually to keep the critters like cows . . . in.
What is in? What is out? Who would rather be on which side of these fences? Honestly, which side would I prefer to be on?
Then I saw some signs that made me think it was to keep the itinerant critters out, after all. "Keep Out" for example. Or "Never Mind The Dog, Beware Owner". "NO Trespassing, hunting, or whatever y'all do." All of my usual entries were fricken fenced off. No railroad maintenance road access, no power line trail access like the ones I love in Nevada, nope. Everything had Texas-sized barb waar just fencing everybody off from each other.
The despair had begun. I am but an interloper, skating the surface of human society, have to keep moving because there's no PLACE to stop!
I had taken some county road north of 290 and was about 7 miles up along this closing-in barbed wire luge chute dammit! of fences out in Big Sky Texas when I spied a gate. "Close Gate Behind You". Wail hail, I kin do that. So I did it. Felt a little skittish, actually. Me and BobD on the cow side of the fence. Drove up a bit and pulled in to this windblown weather-bleached wreck of a homestead with charming extension cords snaking through the trees with blobs of electrical tape at every dangling light bulb socket, and you know what? There were light bulbs in each socket too.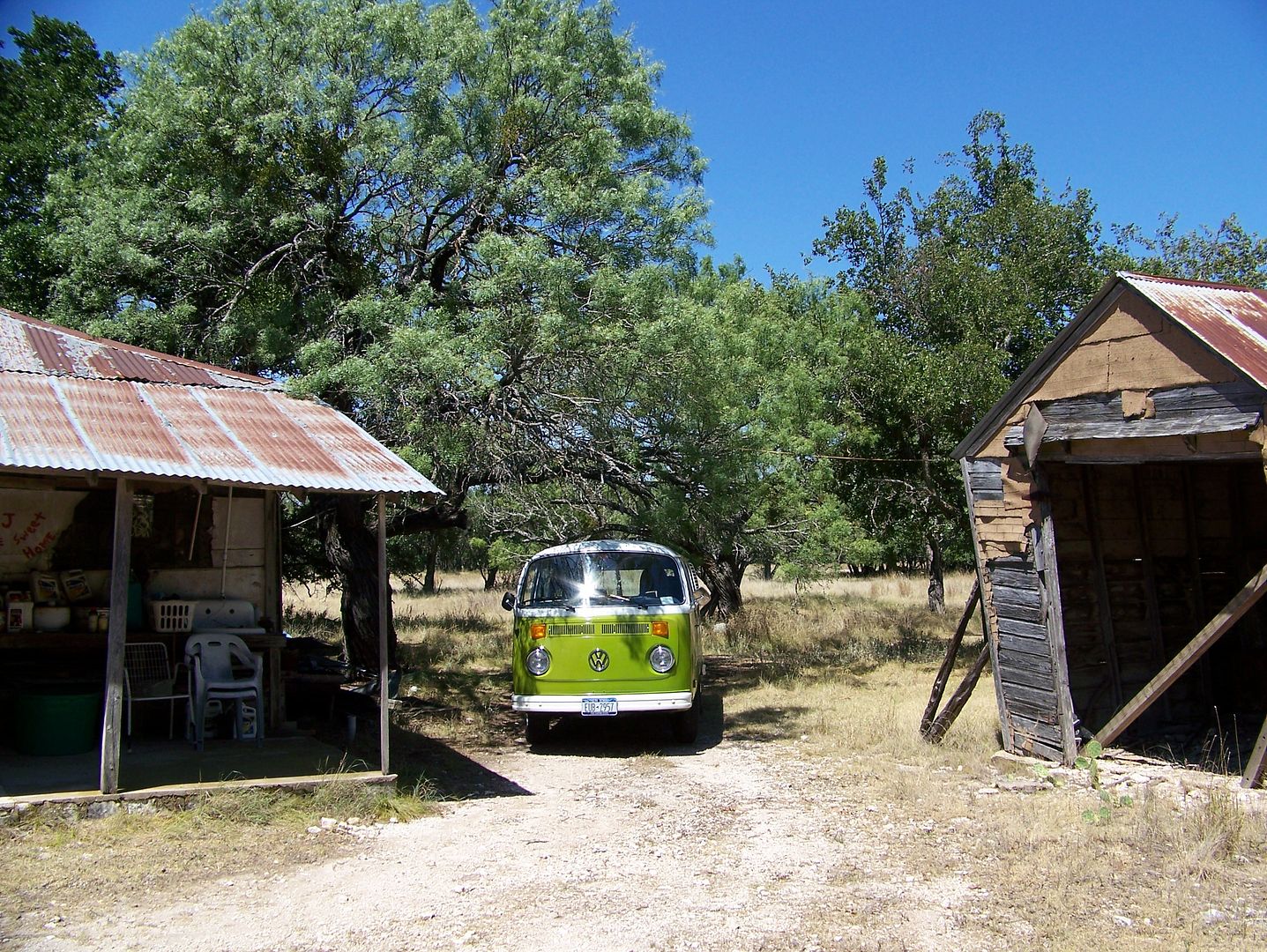 Sat on the porch and took in the splendid quiet of a lazy hot Texas afternoon, apprised the garage listing dizzily, and wondered if this might actually be the BobD Undercoating Station after all. I looked at the doorway above which was spray-painted the following: S & J's Home Sweet Home. Sure, a hundred years ago.
Blown out papered over windows, missing side doors horrendously abused roof, I dunno about this sweet home bit, but then I heard a humming. Now what could be humming? Out here in desolation central? My last three HVAC neurons said, "a capillary tube hermetic domestic full-size refrigerator . . . too much high side pressure." Naah. My Moral Meter said, "go ahead and open the door, it is not locked." My Texas Bias said, "if ya want to get plugged with a shotgun." So I opened the door with a timorous knock "hellooo". Not a soul, but definitely a running full-size refrigerator, next to a bean bag chair. Closed the door. Shut the sliding door on the BobD. Hopped in the driver's seat. Scrammed.
I'll be damned. Now I am wondering, am I on private property? Some 3,000 acre ranch, down here at the northwest gate shack? Drove delicately up the dirt road, past a four-wheeler sitting under a shed, past the old windmill and cow/horse water trough, up the hill. Don't see a soul. Don't see a house perched on a hill surveying The Domain. The road sure looks like it is county-maintained, so behind this fenced property I am going to go discover a three-day Undercoat Station.
And I did, too. A grass track off the road, a good 1/4 mile through scrub oaks and grasses where it dipped onto a limestone ledge that looked like it had taken a few downpour washes, but look at that! A workshop floor! 'Course, I had to Mow The Grass (with my fingers) and Clear Off The Pebbles (ditto), but This Is How to fill a sun-drenched afternoon in the middle of nature's summer busy buzz of crickets and dragon flies and strange bird calls and trees and sky. Time and I now take leave of each other so much more readily. Out here, time is only described in Sunlight and Star Light, and the clock in the dash is just a heartbeat for someone else "thanks for ticking and all, but I am not looking":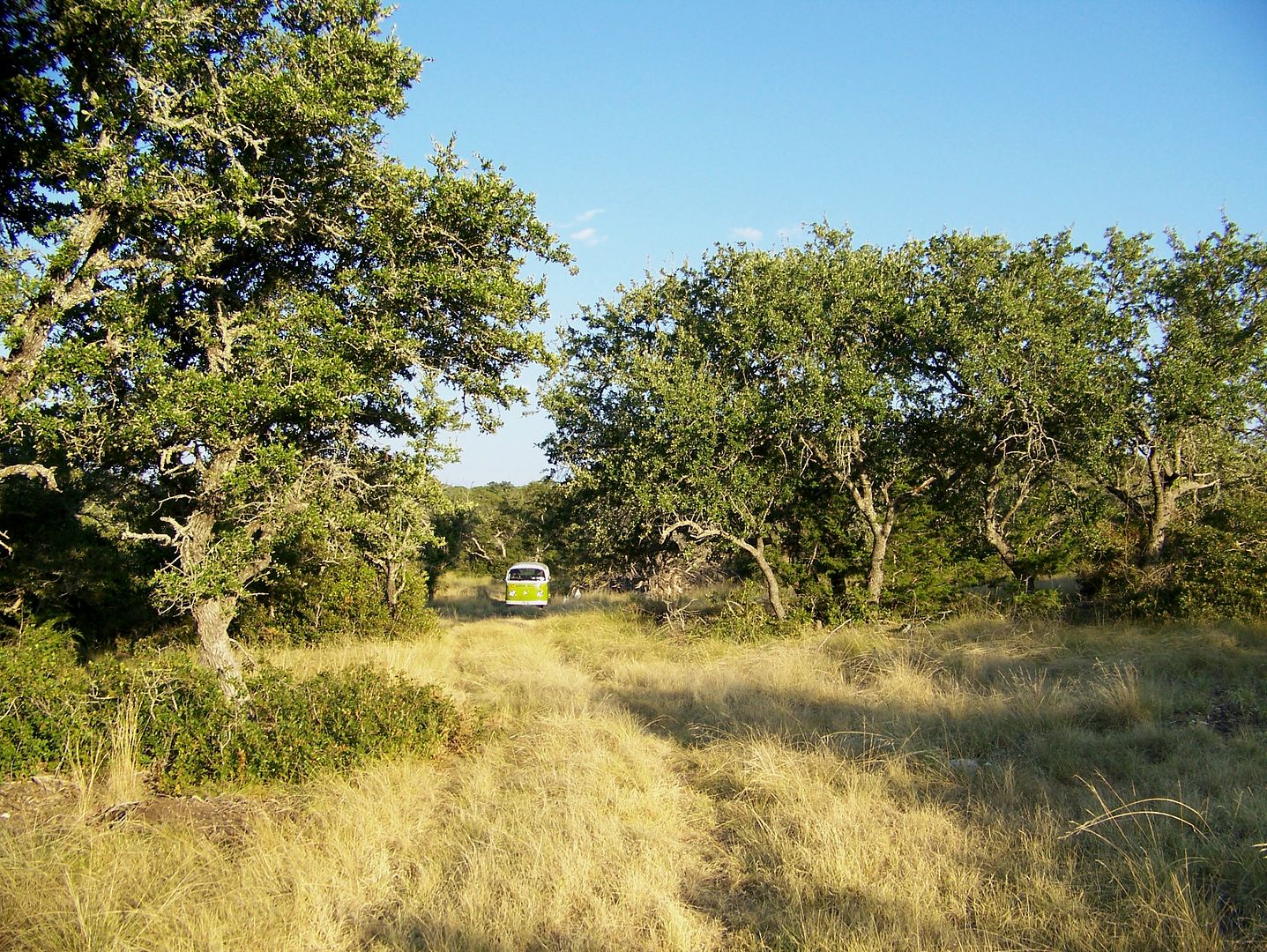 Why do I love such solitudinous splendor? It is but a reprise of the only moments in my formative years where I could just be me, that is all. Away from angry demanding parents, bothersome siblings, and the torments of the kindergarten "play"ground. Still decompressing.
Stripped down to my now second-nature work uniform, and set about taking off the front wheels and shock absorbers (readjusted them too, 1/2 turn out, fronts: 1 turn out, rears) and began to scrape the flaking original undercoating off with all that nice WaxOyl coming off with it. Well? That is the way it goes, if you apply something to something underneath, it is only as good as the underneath, right? It does not matter in the slightest how good it looks, how comprehensive it looks, if the underneath is dirty, your adhesion is going to be compromised. So Get Underneath All Things and Clean Up if you want to get anchored: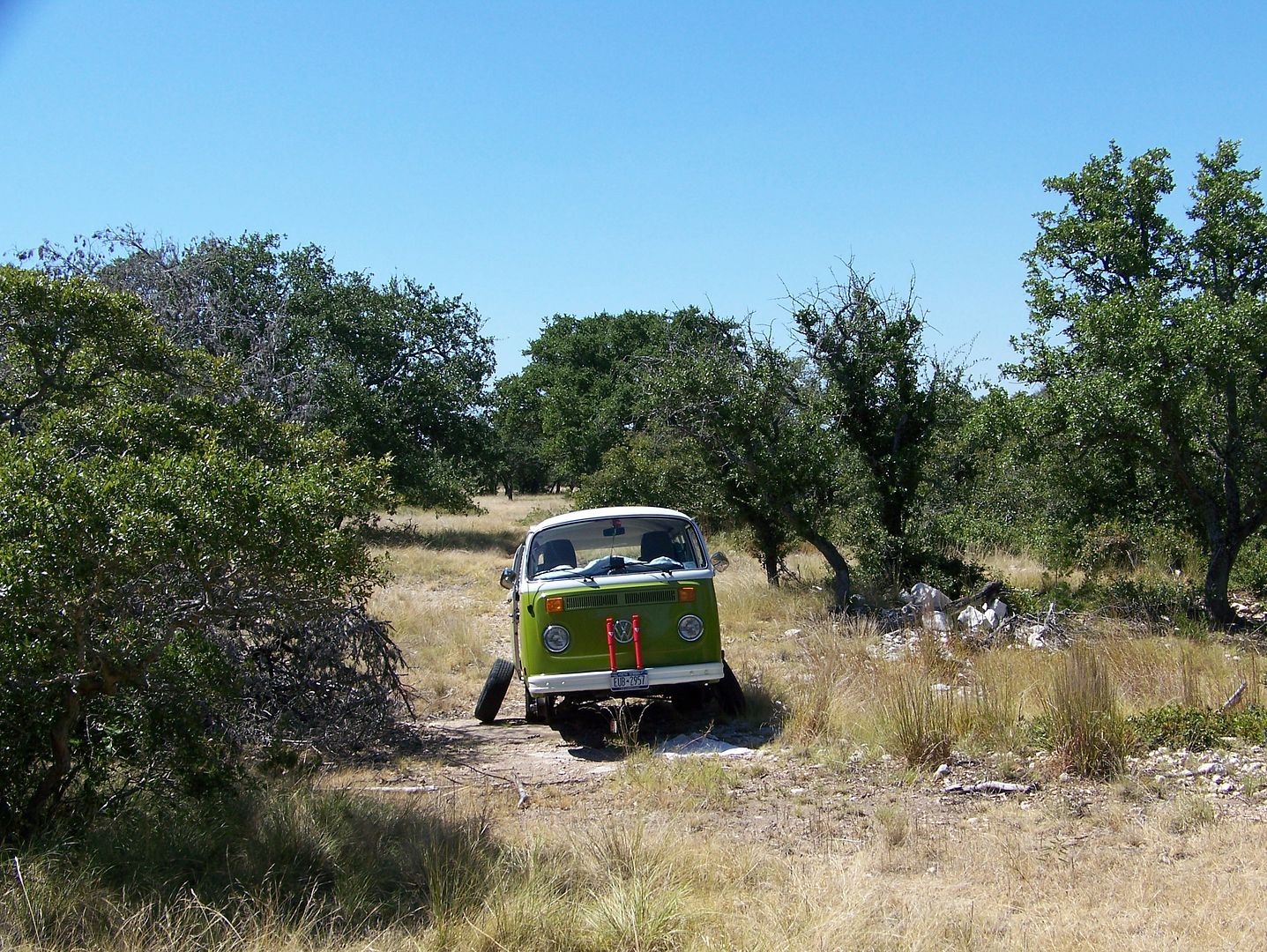 Sure, I wax my Konis, ya thought I was kiddING?:
Had to be very careful not to speckle myself with undercoating. I was nowhere near a shower. heck, had to be careful not to:
Spray anything into my eyes.
Injure myself badly.
Get the car stuck.
Run out of water.
Turn on the cell phone.
Out here in Timeless, there is more time to detail the brake hose ends too.
The front wheel wells were done by Golden Sunlight. Put the shocks and wheels back on, and moved the car off the Limestone Workshop Floor so I could sweep it free of undercoating flakes and blobs for tomorrow's rear wheel wells. There was a beautiful spot just around the dead tree where I could get a full morning sun through the sliding door, so I pulled the BobD there and just beheld the diminishing light and felt the landscape finish up its day.
Took a dusk walk up the grassy path and heard a bizarre exhalation. Phoosh, a deer whomps across the path, followed by another. Look up and see the first star pop out of the slate blue. I am in bliss. There is a celestial display yet to come, and I stretch my back muscles and hypermarch through the tall grass to stretch my hamstrings. Can I say that our relationship with our own bodies is perhaps the most complicated relationship of all? Sure, our bodies are the portal through which we experience our entire existence yes, but they are also the nearest completely innocent miracles at our utter beck and call, and look at how we treat them. I say to my body on the way back to the car, "Thank You" and "I Am So Sorry." Glorying in the Big Dipper and Milky Way, the very best sort of fatigue overtakes me and I drift off.
The morning light makes the night before seem so long ago, the landscape is awash in bright sunlight, the sky is just blue, no more impossible depths of galaxies, it is a secret thing just waiting to show itself once more, but first! another day of projects. Jack up the back of the VW, remove wheels and shocks, scrape the underneath, brush thoroughly, get speckled and undercoated along with the car, wash down with GumOut (sorry again, body), repaint the wheel bearing housings and rear backing plates along the bottoms, detail the brake hose connections and CV joint caps, and my rate of work is about that of a 70 year-old goat in his out-of-the-way-garage. As I was rooting through the chisel drawer for a pin to clean out the bottle of wax cap, I realized that the entire drawer needed a thorough emptying and re-organization. I crawled through this task. I loved it! Time! Time to focus, to ponder, to think . . . about WHAT? What I am doing. Man, just what I am doing. That big ol' Civilized World out there over the hill, I don't know about that thing. The noise, the rush, it is appearing to me to be tragic, a tragic assault against our organisms.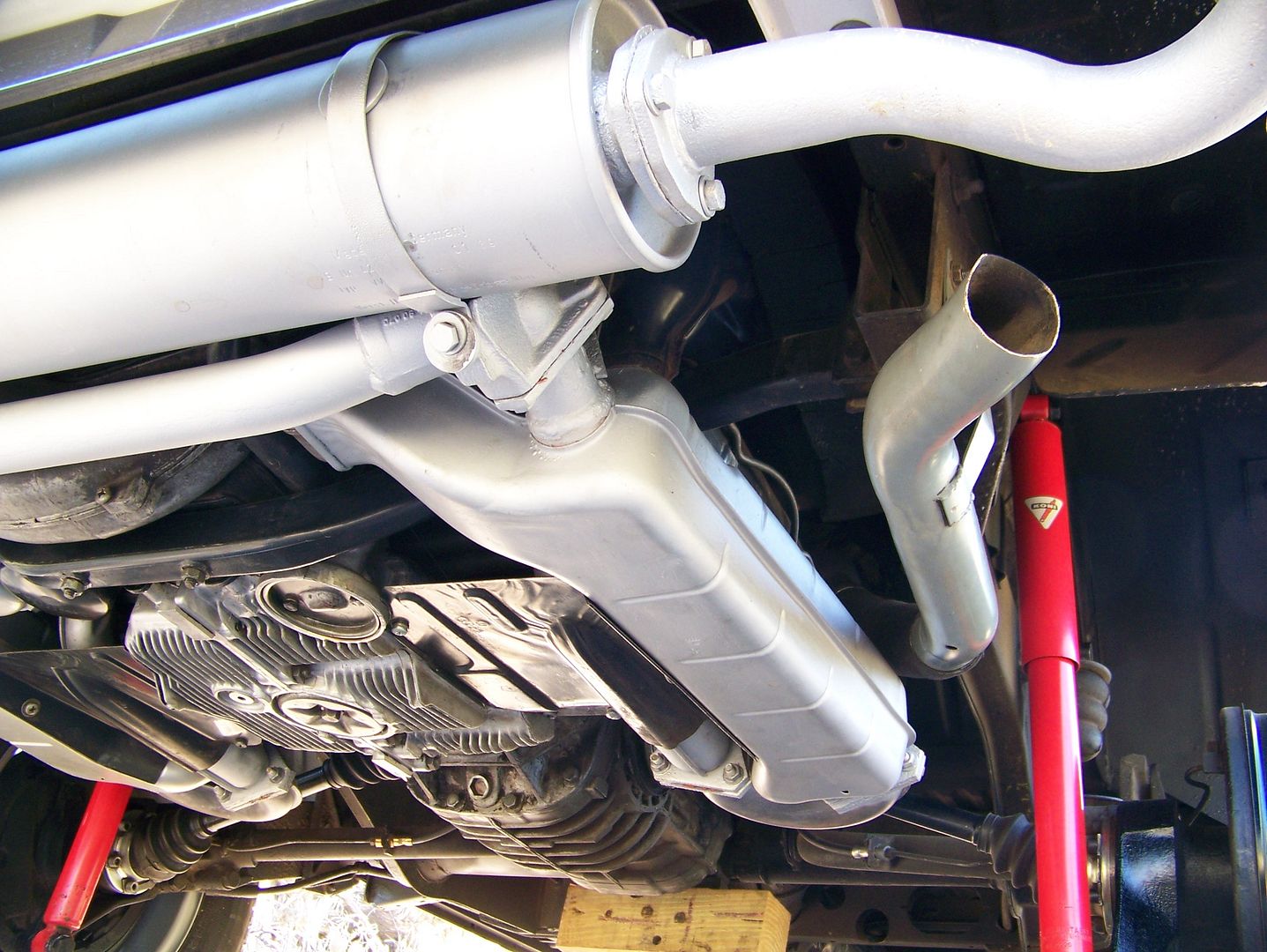 Took this next picture upside down, so that is how you get to see it. Imagine. At the middle point of three days of no mobility past your own two legs, it makes the miracle of automotive mobility miraculous once more. Seeing this conglomerate of metal upside down, just makes it seem all the more mystifyingly amazing (then again, I AM easily amused). It appears to me, that merely changing your vantage point can open up a whole new perspective. So change your damn vantage point and quitcherbitchin':
Got the wheels and shocks on, the undercarriage all undercoated, and considered that this car is cleaner underneath than all the other vehicles in Texas are overneath. That'll change, just getting out of here. I am going to miss this beautiful little spot: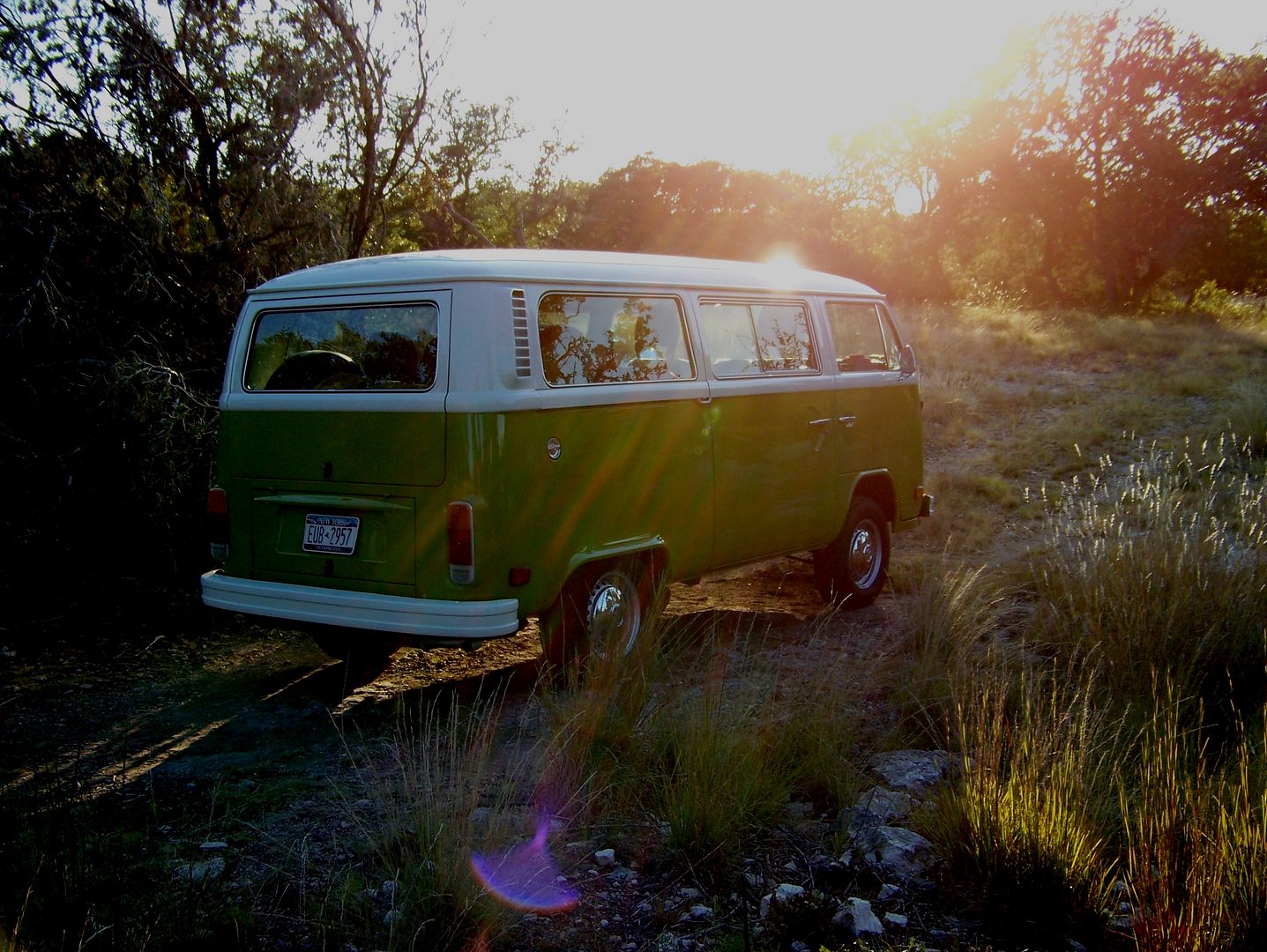 Another night envelops. The sky opens up Vast once more. I take a wander in the silouettes of gnarled little trees. I too am a gnarled little tree. I have given up the hope of a fine tall symmetry. I doubt that I shall spread my seeds to watch little fine symmetrical trees grow in my place after I have toppled with a resounding crash of mighty now dead. No, perhaps my seeds shall instead nourish a motley collection of squirrels and birds and bugs who spread them far past my view. Us gnarly types had to bend and contort to survive large forces outside of our choice. Our choice was to keep on growing whether or not it was sideways, upside down back on up crooked and blunted and blighted off-kilter off-tune craggy crabby and I'll be goddamned if I give shade to an overheated hedgehog while the mighty oak gives shade to herd of marauding wild pigs, I may be the recipient of greater gratitude, I know not.
Colin