Woke up at the little used gate to a windmill farm outside of Bradshaw? Texas. Thought I, this might be the spot to disassemble the exhaust system since it will take a couple of days and I do not want to have to pack it up with the exhaust system strewn all about. It was a beautiful desolate spot . . . until Mr. Oil Guy In The Pick Up paid me a call at 7:30AM. I was still tank top and Calvins flossing my teeth to the outside rear view mirror.
"Am I trespassing?"
"Naw, not at all. You all the way from New York? What are you doing out here?"
"Flossing my teeth."
"Car broke down?"
"No, but I was thinking about tearing down the exhaust system and replacing all of the fasteners while I was here."
We got in a wide-ranging discussion about Texas, governors, traditions, Presidents past and present, illegal immigrants, and it was quite remarkable that, as we talked, I could feel a hunger in this guy to have a better idea of what is going on in this country. He started as a reliable talking points bulletin for the Tea Party Glenn Beck crowd, and was actually moved to a more thoughtful perspective about the roots of some of our nation's problems. What seized me with hope in this exchange was his ripping into Fox News, Glenn Beck, Rush Limbaugh and "all of those talking heads" for being . . . rude. He hated the rudeness that has infected the country's discourse. That warmed me right up.
"Well, it was a pleasure to meet you, but I really got to get to work, watch out for rattlesnakes, this is rattlesnake country right here."
Thought I, this is not the spot to tear down the exhaust system.
Drove down US 83 and promptly got lost in a labyrinth of county roads under the hot humid Texas day. Wanted to take it easy on that soft paint on the wheels, too, so I was just trolling the roads slowly in 2nd gear. Still suffering a nameless irritation at me and my life and this silly sojourn. Getting more irritated at what the hell am I doing? In Texas? What the hell is the "perfect spot" to tear down an exhaust system? Maybe in a nice garage like real people? Freak.
The day was quickly getting old, I was hot as heck, there were all number of obstacles that could maroon me in the middle of nowhere (read: Sylvester; snapped exhaust studs, 2010 Itinerary), cancelled appointments of late have ripped my travel budget to ribbons (have we jumped the shark, little bald man?) and I am in the middle of this, this, this big state, trying to find a, a lonesome spot to tear down the exhaust system?? what? oh, here is the perfect spot:
This was at the end of a six mile dirt road that ended with a fence and a path that was overgrown from there on out. Perfect. Parked the car with the requisite promise of half sun and half shade at noon. Happily stripped down to campsite Calvins and jacked the car up and removed the muffler.
PB Blasted the hideous looking bolts and nuts that held the six flanges and various brackets. Took a two mile walk down the dirt road. Not one car or truck. No houses either. Just fields and the concert of insect life. Evening sun. Dusk. Dark. Stars. Back to the bus. Glory of solitude. A fun and challenging project to dive into at daybreak. Ahhh. Breathe. Heck, I can sleep with the sliding door wide open! Stretch! Enjoy the faint breeze. Drift off like the child whose only moments of peace were while alone. I can live with that. Just the way it is.
Woke up at daybreak. Took a stretch walk. Hello, cows. Still not one vehicle! Got back to the bus and methodically worked each set of nuts and bolts free on the flanges. They all came loose after a careful bit of persuasion . . . except for the impossible to reach ones, of course. They were more severely rusted and politely rounded off their corners instantly.
Used every trick in my Country Road Exhaust Restoration Book. But I got them all eventually at the end of Day One: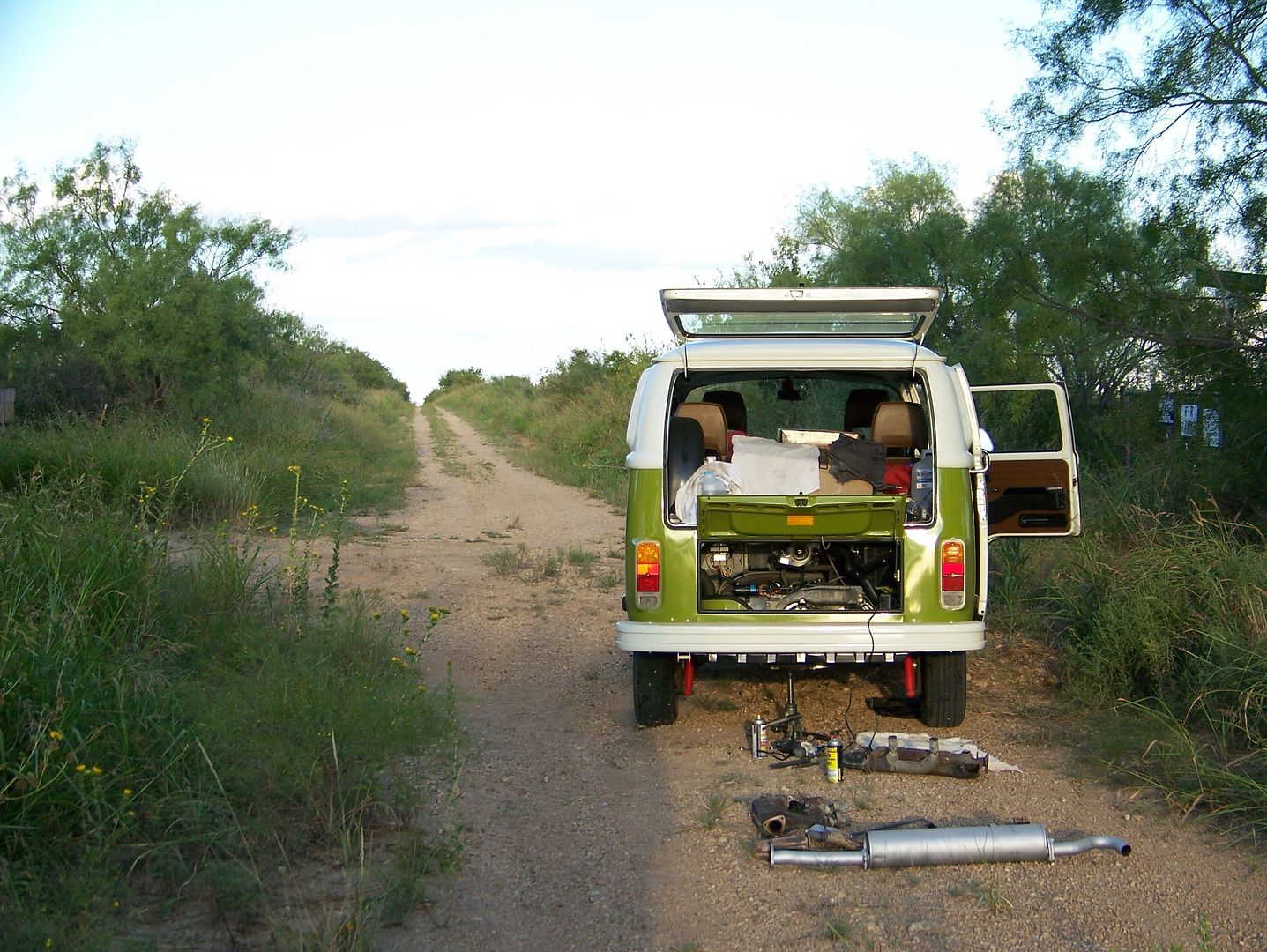 Tired, hot, happy, filthy, I gave myself permission to borrow some of the water supply to give myself a washcloth blot bath. THAT was the clarion call for every damn mosquito and no-see-um gnat in Coleman County to come have a field day on my sorry hide . . . or maybe it was just that the evening brought them out, but here they were, flying into my nostrils, nipping at my back and ankles, landing on my eyelashes, man. So I took a fast walk. My car is in pieces. I have unfortunately discovered only now that I am in a drainage depression where three fields all converge at this ditch along the path, and the bugs jess love it heah. Tonight is hotter than last, stickier too. And I am filthy with exhaust rust and WaxOyl tar minus a blot bath. And my glorious evening walk heats me up too much. I return to the BobD with shapes flying at me, buzzing of mosquitoes, and that horrid high little whine of these no-see-um gnats as they do barrel rolls in my ear canals. Anyways, here is the exhaust system at maximum disassembly in the dark: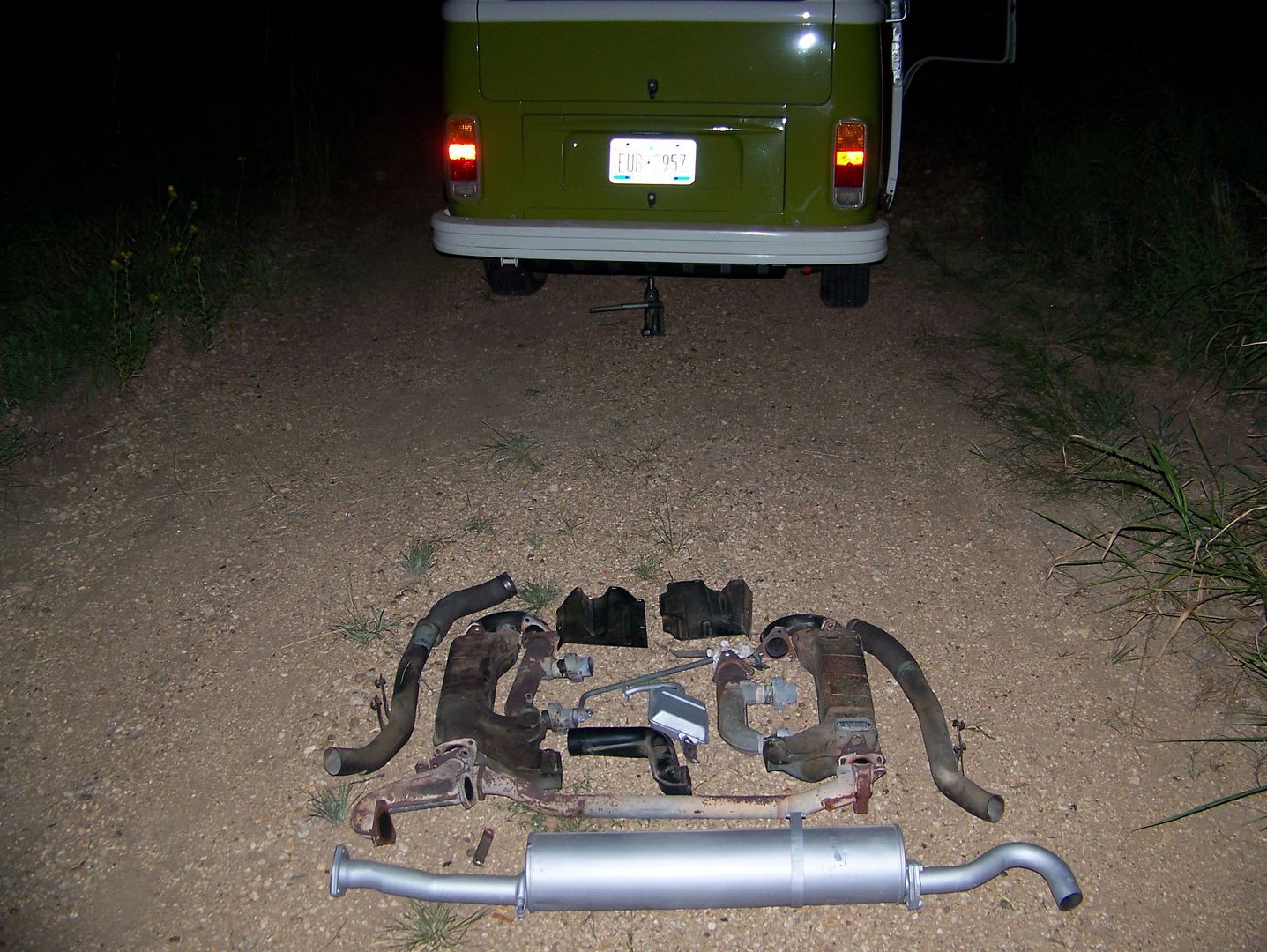 Like Louisiana in 2005, the heat and the bugs vie for my decision. Overheat and die bug-free in the bus or ventilate a bit and go mad. I chose ventilation and madness. Those no-see-ums were the worst. They just dance away while you swat like a fool. Then the mosquitoes hover just out of focus. The heat makes it impossible to cover up. Exhaustion took me out at 2:00AM or so.
Woke up at 6:30 with bug bites all over my ankles and feet and flanks, even the tip of my nose, and behind my ears, and I want to dedicate myself to fanning cows for the rest of my life, I cannot bear the thought of these bastard bugs torturing them. . . but I have an exhaust system to deal with.
The gaskets are three piece affairs with asbestos sandwiched between steel stampings. The stampings have welded themselves to the flanges. Once you file through the asbestos fluff that is trying to kill you, you have these lumpy remnants of the stampings that you must remove if you want reliable sealing. I got out the Dremel. Used a cutting wheel to lightly scuff down to the flange metal underneath. But it is hot. I am covered in metal dust. The damn gnats are flying into my eyelashes. The ant hill, I had not seen when I parked here. The Dremel is up to branding temperatures. The steel gasket remnants are somehow made of a much harder steel than the flanges themselves, so files and Dremels are almost powerless.
I am sweating, flapping at gnats, covered in rust dust, and slightly beserk with heat fatigue and bug hatred "Will you go away??" I hiss at these no-see-ums.
"Hey buddy, everything all right?"
Holy crap what? A visitor?
"Yeah, I am reconditioning my exhaust system and I knew it would take a couple of days so I picked a lonely spot because I can't run it and I should be done by tomorrow, and I am painting and I didn't want to accidentally overspray on someone's car or something, I am on my way to Austin, is it OK for me to be here?" All in one breath while I am trying to peel into my shorts.
"Yeah, yeah, it's OK, just wanted to make sure you were OK, this is in the middle of nowhere you know. Dayam, that is one nice little VW you got there."
"Ahh, thanks. Damn it is hot."
"Well you take care there."
"Sure, 'preciate your stopping by."
As soon as he leaves in a cloud of dust that finds my wet skin and turns it muddy, I strip back down and hit the hot hot hot Dremel again. The bugs delightedly swarm me, the ants bite, and the sun blazes. I am well through my water supply. I have not eaten in days. I love it in the middle of the hate. I love making damn sure that the last thing I do before I die is to open up the flanges and smooth out the sloppy factory welds.
I think I am understanding something here.
Anyways, I am approaching that happy moment again, where I have clean parts to paint. I use several runs of barb wire fence posts to hang the exhaust parts, even the exchangers remain propped on top of their posts. As soon as I shake the paint can, it calls forth like an ancient native rain dance, the wind. The wind is refreshing. It blows away the gnats. It cools my overheated body. "I love you, wind." And I paint in the wind gratefully.
Evening comes and all is painted. I barely get the manifolds on by darkness. I am far filthier than before. I do not have enough water. No food. Deliriousness sets in. I tell my gnat buddies,"see you when I get back" and take off down the road for an evening stroll to loosen my back muscles. I am walking and lurching and not asking questions any more. I love it here. Walking in the dark, I am 51 years old, I no longer have a damn question in the world. I
AM
painting my damn exhaust system at the end of a county road in the middle of the continent in the extreme heat and why not? I do not know what day it is. What is "day"? I do not know what "time" it is. The light says I awake, the darkness and exhaustion says sleep. Is there a question? I am alert to the surrounding community of life that has been here before I arrived, and will be here when I leave, and I find that I am respecting those dizzying little shit gnats and ants that bite and mosquitoes that play catch me if you can in the dark, and here is what I think I am understanding:
I have been battling discomfort, more and more as I get older. I battle against the rain drops. I battle against the feeling of being dirty. I battle sore muscles. I battle against the cold and the humid heat. I battle the thoughts that always come from the Inner Direktor that tells me what I
should
do, and
where
and
when
. I battle clouds in the sky when I don't want them, I battle What Is. Yet, trapped in this depression near a ditch, I am unbelievably happy and hungry and thirsty. It is perfect. The experience of life is vital and luminescent way down here in the immediate discomfort.
I went to sleep having overcome some hurdle. The mosquitoes flocked once again. I slept well enough. Day three, the heat was oppressive again. Awoke to a half a gallon of water left. Went straight to work at 8:00AM. Got the manifolds and exchangers on:
Noticed a drip o' oil at the #2 intake push rod tube. Do you think I said, "oh I will just let it be, I have too much work to do here before the heat beats me to death"? Heck no. Removed the rocker assemblies and the push rods and tubes and rummaged in my parts for seals and replaced them all. My towel was so dirty at this point, I couldn't tell which side was the "up" side any more. Got back to the exhaust. Had to get the heater ducting properly fitted and anti-seized every nut and bolt. Got the crossover on and hung the muffler:
Cleaned the heater exhaust pipes back to their original grey by washing the WaxOyl off with gasoline, and had that sucker COMPLETED by, well, it was daytime. Went down the road a bit to take a leak, and came back to Mr. Officer Man and his shiny patrol car with functioning air-conditioning.
"You broke down or something. Some neighbors around here said that you have been here for three days!"
"I just finished reconditioning my exhaust system. It took longer than I thought it would."
"Well, I just wanted to make sure you was OK and all."
"Thanks, 'preciate it."
"That looks like a new exhaust system, what did you do to it down here anyway?"
"
"Took it down, sanded it, painted it, re-installed it with new bolts."
I filled him in on the itinerary and the web site.
"Wow, that looks really good, you did all that right here? Well you take care it was a pleasure meeting you and good luck with the rest of your journey." He followed me to the main road and waved as I peeled south as he went north.
Totally wiped out, totally filthy, and totally grooving in the breeze brought to me by a now mobile BobD, I drove in a stupor down towards Mason, Texas. BobD got the first bath. Lot of road dust after all that county road driving so I decided to give the engine compartment a bath too.
Oil light came on at 65 mph three miles later. I might be 51, but that engine was OFF in an instant. Coasted to here, as in Up The: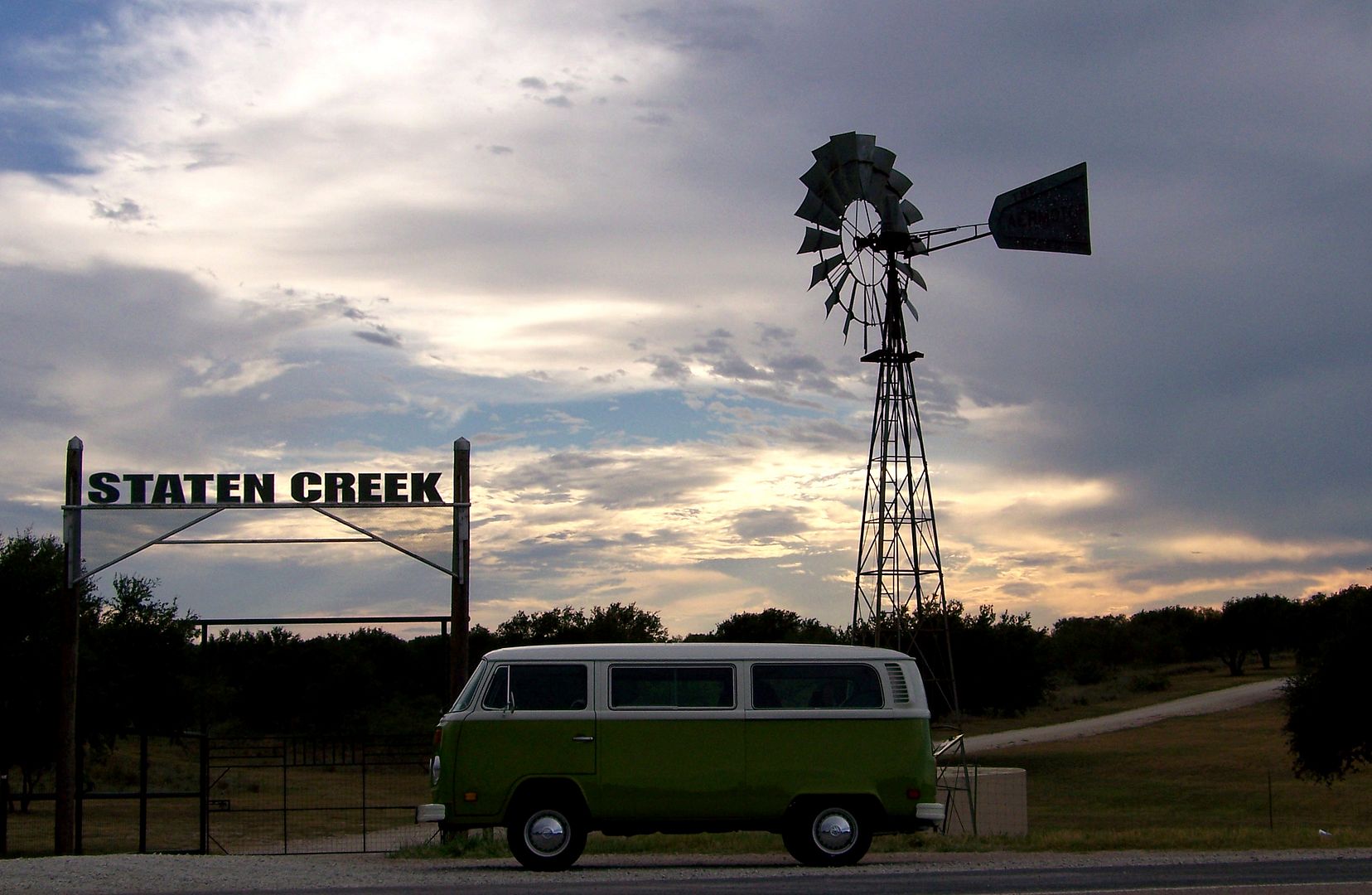 Turned out it was just a water-logged sender unit, so I let it evaporate with some good ol' heat soak. It was a beautiful evening of clouds and rain spells and mobility and best of all, no bugs and precious few thoughts:
I am going out in the boonies again, at daybreak. It will be the Undercoating/Front Wheel Bearing Repack Saga . . . stay tuned.
ColinInFredericksburg