The big heat found me . . . after demurring on baking to death in 120* Death Valley, I embarked upon a pilgrimage to my beloved trapped Steinway in the much cooler Nevada.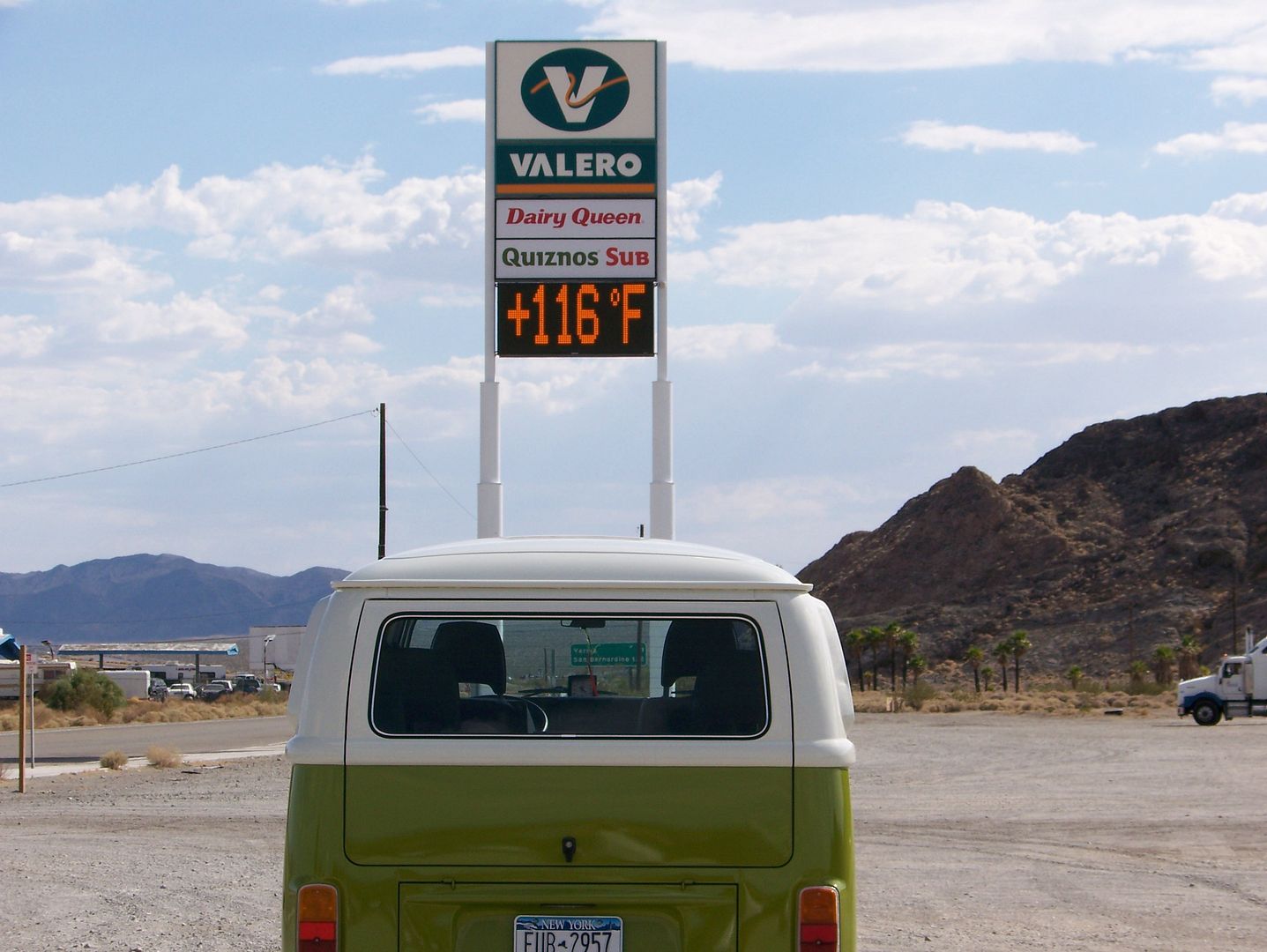 . . . through the Dumont Dunes and what I call my Shoshone Valley: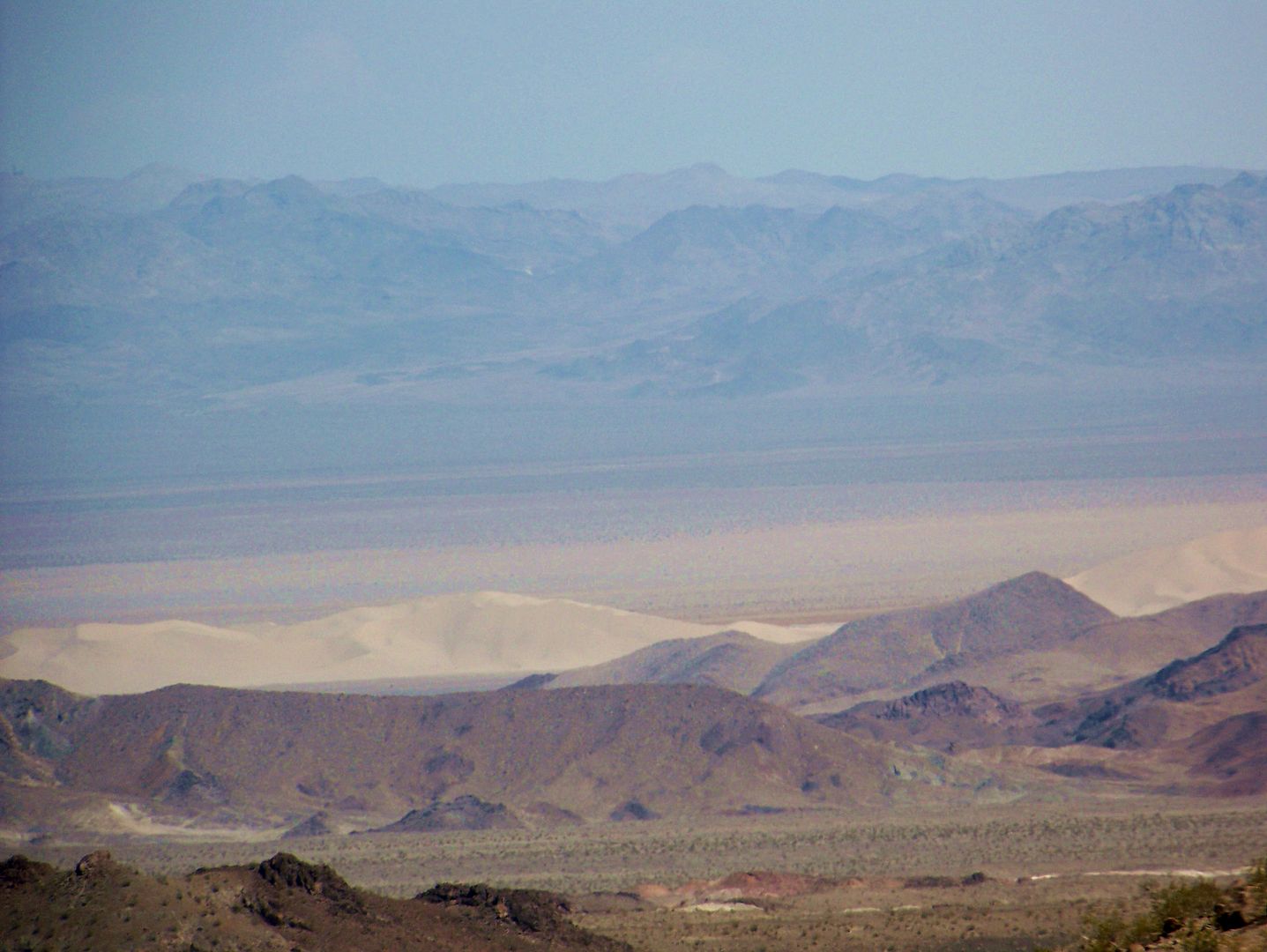 It is a sea out here, an old evaporated sea with sea floor and sand dunes under the relentless sun. This place fills me with awe. It also can make you drink two gallons of water in a day without ever having to pee:
I took it easy on the BobD, but I also had come to realize that those prior ridiculous temperature readings Had A Cause. Here is the middle of the valve cover: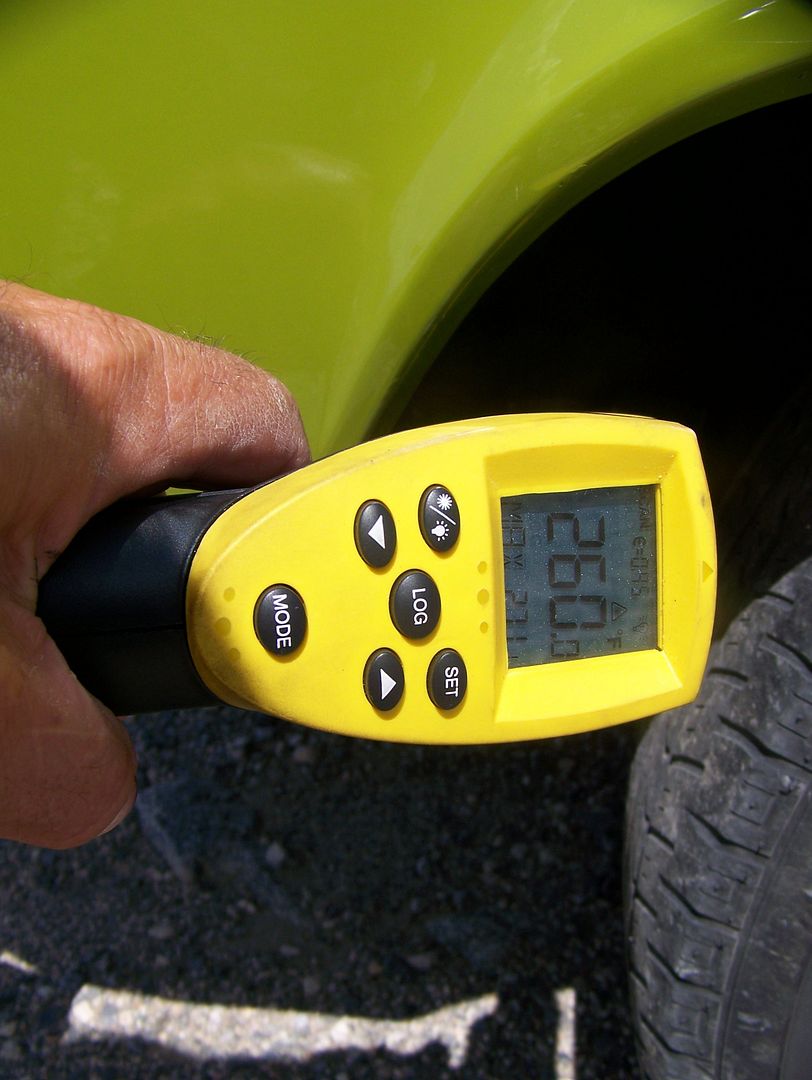 It was the valve covers that tipped me off. The Road Warrior always had cooler leading edges, around 235* or so, and as you would go to the rear edges, the readings would be closer to 250* even 260*.
But the BobD had leading edges at 285* and I thought for certain there was Big Trouble brewing. The crankcase just under and along the pushrod tubes was 312*! It smelled hot but the dipstick was A-OK, hot but not unbearable. The taco plate was 240* The strainer plate, likewise, was 235-240*. The intake manifolds at the heads were 220* The exhaust pipes were no more than 650*, yet I remember the 850-900* I read off the pipes in the Road Warrior. So what was up?
Well, I had told Bob D to keep using his U-pipes even though the jackets had corroded away, but please take off the pipe wrap he had put on them. The pipe wrap would overheat the steel and allow rapid corrosion when storage condensation penetrated the wrap. "Bob, the jackets were just to keep exhaust heat in so the catalytic converter could reach operating temperature more quickly." I think I wrote that in the exhaust section of the book too.
Ahh, no. The jackets are a critical component for keeping exhaust heat away from the you know, crankcase along the pushrod tubes, the pushrod tubes themselves, the head surface facing the manifold, the cylinder barrels and the U-pipes are radiating enormous heat back at the . . . you guessed it . . . leading edges of the valve covers. I have elevated temperatures at everywhere the exhaust pipes blast the surrounding metal.
Vw could not have been happy to dispense with the prior shorter elegant heater boxes that cooled the pipes right out of the heads, and then have to come up with this meandering bunch of exposed pipes that head forward only to u-turn back to the late-style heater boxes. Major radiant heat, lemmetellya. But, I do not recommend wrap. I recommend proper aluminum jackets that allow air between the pipes and the jackets. Maybe small stiff aluminum dryer vent or water heater exhaust pipe tacked to the flanges, or sumpin'??
Anyways, once the engine itself was determined not to be the cause of those prior worrisome temperatures, I went ahead and flogged itfrom Baker to Barstow in the 118* heat up that nasty grade on I-15, and the engine really did not seem to care. It held 70 MPH with no protest, and it took the grade in 4th gear at 55-60. Our doomed Firestone Assassinator tires were not too pleased:
"Deal With It" I sez: