Let's see, it was Road Warrior cerca 2005 on a fast right hand sweeper on my way to Missoula Montana when the Winston whitewall on the left rear deflated and shredded. Put on the ancient spare that had lived with me for 26 years, and 60 miles later, bought those Michelin Harmony passenger car tires that gave me a good three years and 75,000 miles or so.
Bought Michelin LTX "truck" tires in 2008 outside of Hippiewannabee Hamlet, and found them to be round, like a tire should be. But they did not miraculously change the handling of the car or anything like that.
So BobD put Firestone blahblahblah truck tires on the BobD. I kept the inflation at a factory specified 33/44 or whatever.
This afternoon, I am doing a good 65 on winding CA17 from San Jose to Santa Cruz, extremely dense fast-moving traffic, and I am crabbing at the BobD, can you PLEASE track a little more TIGHTLY, please?
By the time I am in Capitola, the rear is going thumpa thumpa thumpa thumpa thumpa. I pull into a . . . laundromat what else? and jack up the rear of the car to the fascination of a homeless citizen camping at the side of the building. "NEW YORK?".
Look at this tire! It was throwing steel cords out of the rubber!
This picture was taken with the left margin of the viewfinder parallel with the tire. Look at the contact surface!: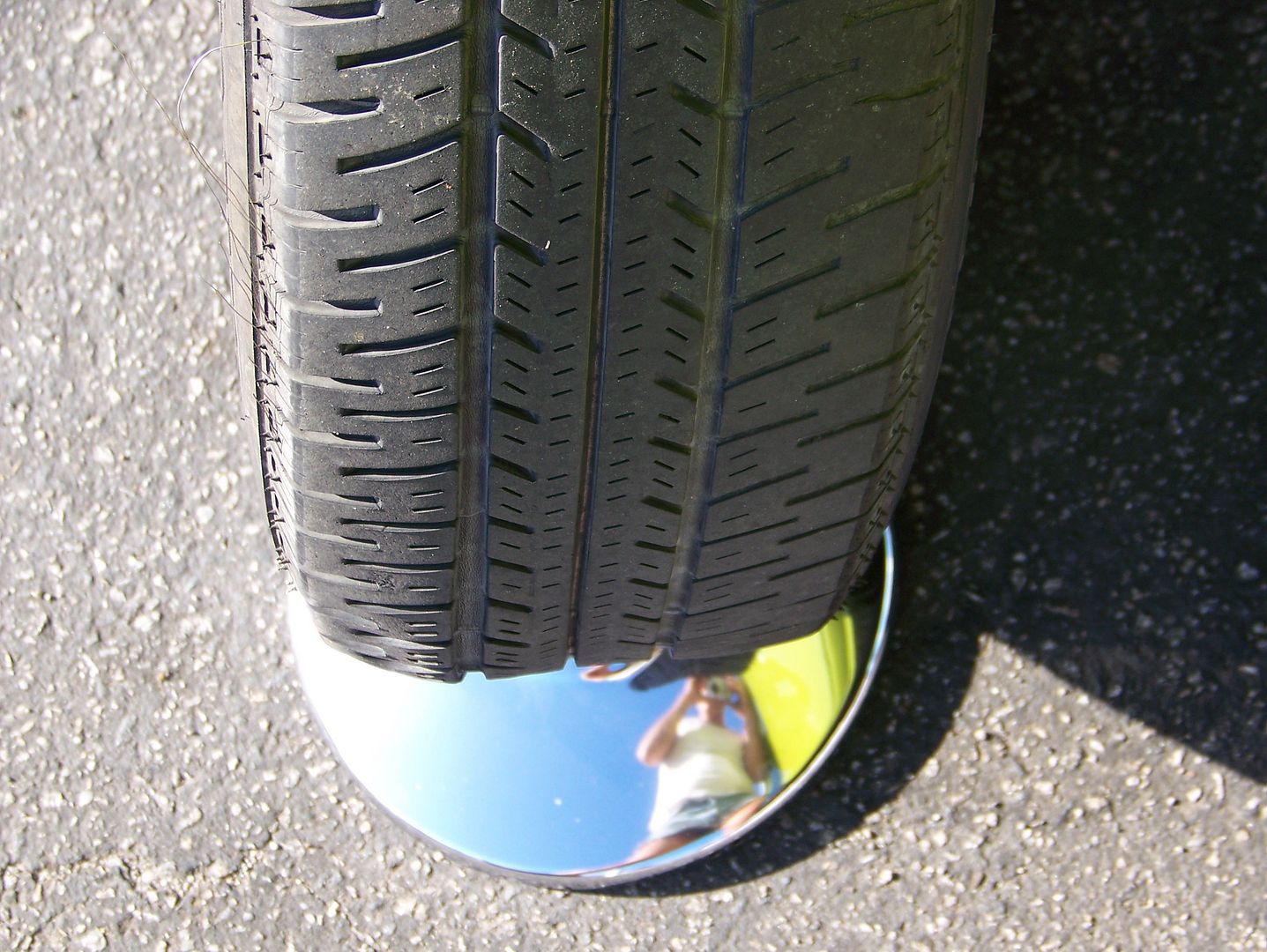 Truck tire. Yeah right. Every Firestone I have ever had the displeasure of having to live with has attempted to asassinate me, Firestone 500s in 1979, Firestone 721s, now these crapforanexcuse "truck" tires, all of them separated belts and went square.
A crap truck tire is far more dangerous than a high quality passenger car tire in my experience. Firestone. NEVER AGAIN. Lucky to not have had a slewing multicar accident out there . . .
I am running a spare that looks like it came from the factory maybe? A 185 R14 Metzener (sic) made in Germany? Had a funny little exchange with a jerk at the air pump. I pull in and get out with the pressure gauge. Jerk pulls up next to me from the gas pumps.
"ExCUUSE the f**k out of ME," says Jerk, "they gave me free air!"
"Oh not at all," I sez back, "excuse the f*** out of MEEEEE."
That made him laugh. Turns out I had paid a dollar for the pump while he was getting the cashier to turn it on for him, a gasoline purchasing customer gets free air as required by California law, and I did not see him inside the store asking to turn on the air while I was busy paying my stupid dollar and he thought the pump was running down his FREE AIR while I know damn well it was EXPENSIVE AIR of of my hard-earned dollar. And you thought hostage release negotiations were difficult . . .
Below was just into California from Oregon on 199.
Tall trees, those redwoods: