So, yeah, I visited with Vdubtech in Syracuse NY after my Vermont call then drove to 55 miles northeast of Buffalo to work on my poor 48 year-old Lincoln Continental, the car that started up after a painful year of cold lonely solitude with just seven cranks of that huge cast iron V8 from a 14 year-old Duralast battery:
Don't be fooled by its tidy appearance, it is a looooong car:
. . . this much longer than a VW bus in fact:
What a great car. Still yanks you up to 70 mph with gobs of torque, the mechanical servo-motor cruise control works fine, and the ride is lush Lincoln.
Anyways, I was feeling terminally bad about these great cars sitting here languishing in the barn year after year, so I just spontaneously decided to cursorily check the hoses under the Mercedes:
. . . and hit the road back east to Albany and up to Plattsburg to visit my mommy while giving the poor BobD a breather: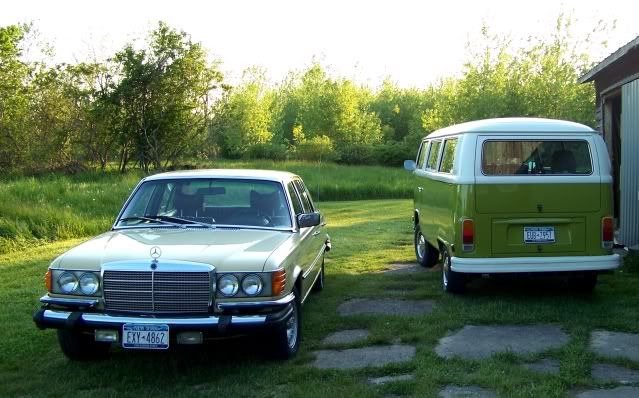 So here I am at a rest stop on the Thruway east of Syracuse after lunch with Cindy in Skankyattletease.......... :
........... with pangs of remorse that I wrested this great old lion awake from its slumber with no more than a car wash and tire pressure check, and hit the road hard. After an hour or so, it started asking for more. One of the last real hand-fitted Mercedes, I know of no other car in my fleet that speaks as clearly as this thing on the road. The steering is immediate, the brakes are uber-modulable, and the engine is sheer Teutonic Autobahn schnell. And don't worry, it is free of the old Establishment Trophy days, nope, this car knows that its owner is strictly appreciative of its engineering as he finagles the oil filter cartridge from under the car in a parking lot behind a closed warehouse. No right turn going on here: