This was the Whopper Job of the summer. A water-cooled Vanagon? With leaking head gaskets? Driven over a state line to the repair address? With its owner at the mercy of unknown mechanical disasters yet to be discovered? Touched by the feared Mr. Exhaust Stud Snapper Of Atlanta Reknown? . . . and the weather promised to be the coldest wettest day of the week? What, are you mad to tempt fate?
Well, sure. Why not? That was type2sam's attitude, and it proved to be very very helpful as I was buffeted by doubts and disasters alike. The marathon started festively enough. A tent was up to help protect the BobD from getting wet while the sliding door was open, but the tent was too low to drive under, but it didn't rain significantly: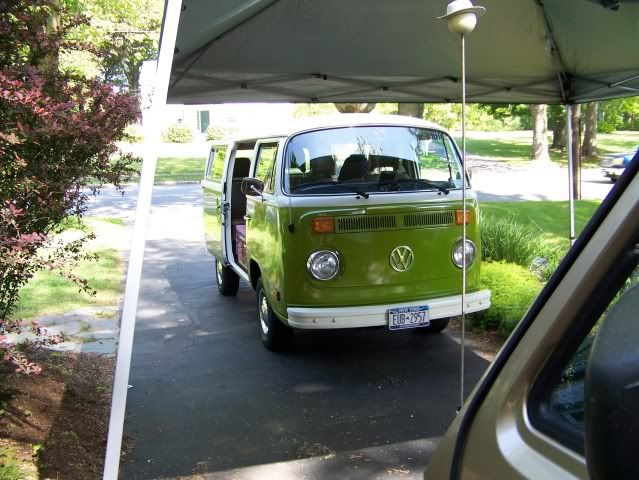 We had three chefs in the kitchen. And kudos to the genial and cooperative nature of the two other chefs. Kudos, heck, THANK YOU. Everyone was dispatched to their area of expertise, Sam to the water works, his dad to the electric works, and me to the mechanical works:
I dunno, I have this talent of triggering that quiet steely hidden hopelessness in water-cooled Vanagon owners. I commandingly lay out the mission, and crisply bark out instructions and prognoses, then the operation deconstructs into this strewn-about chaos of sealing compounds and rusty bolts and mystery wires followed by intimations of potential future disasters, perhaps that is why my last Vanagon owner had the tow-truck arrive at 00:10:00 minutes to completion in Maupin two summers ago. I had this latest Vanagon owner at the drive belts:
"Aren't you going to label which belt goes where?"
"Ah no."
"Why not?"
"Not going to worry about it."
"What's that wire?"
"Not sure."
But I was being punished by a list of approximately 13,292 privately held concerns, some of which I had to share, like, "look at that broken exhaust stud in the head." The familial chefs went to work on it in the basement workshop and we ended up with a little crescent of remaining stud steel on the side of the hole where we wanted tap for a new stud. Each effort at tapping ended up with the tap wallowing the hole as it went towards the softer metal. Eventually, I went darkly focused and curt, "let me have that thing." Ran another drill bit down the hole and just rubbed the side of the crescent steel endlessly, "this guy is NEVER GOING HOME EVER AGAIN" I sobbed to myself. Then I ran that new stud down the hole with hammer blasts telling it "figure it out, skippy, you're going down." Then I apologized to it, "please please be OK."
Up in the garage, Vanagon owner Dad-Of-type2sam is trying to file exhaust flanges approximately flat. The head surfaces actually are pretty nasty under the seal surface crud. While on the phone with Bretski re: Road Warrior Disposition, I am picking out what is not just black sealant residue, but black residue of cylinder head aluminum that has been alchemically altered by ionization. Huge craters are opening up in the head surface. Meanwhile the clock ticketh. I spritely suggest that we go ahead and JB Weld the head surfaces. See, these two other Vanagon Chefs are no pikers, they have the JB Weld right here. And here are the heads after the IAC Razor Blade Resurfacing Department has paved the potholes:
That was all we got done the first day. At 7:20PM, on cue, the sun just had to go down, the temperatures just had to plummet, and my energy level just had to sag to shivering incoherence. But the next day dawns brightly. "We can do this!" My List of Concerns has been processed down to 11,988, things are looking up! Type2sam is out chasing down fuel injection hose all over town unbeknownst to me while Type2samDad and I mill the heads on a marble table top. I start replacing the fuel injector hoses on the Vanagon Dragonfly Intake Manifold Assembly: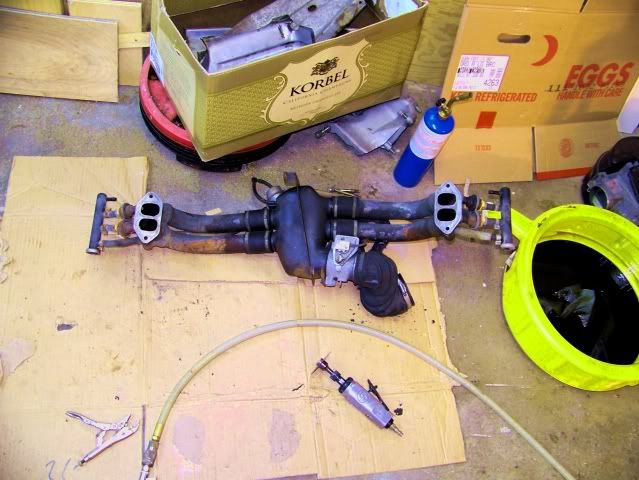 . . . with the BobD replacement hose stash when type2sam returns with hose . . . that could not have been used with fuel injection anyways. Then we clean and install the heads (type2sam got to torque them down - hey! better him than me, that's my motto), "hey do the valve adjustment while you're there, " I call out as I leave them for a little sunshine and smoke.
But the drive belts.
"So now where do the drive belts go?" asks our poor suffering Vanagon owner.
Type2sam is abandoned to reassembling the waterworks, but he just gets in there and gits'erdone. Then we pry the exhaust system back on. At 7:00PM, we look around. Let's put in some water and start it. One gallon into the fill we have a flood coming out of the left head. Mr. I-Used-To-Live-In-Connecticut-But-Now-I-Live-Here-Forevermore type2sam's dad has this coiled unscrutability. I myself am going Clint Eastwood "Go ahead, Vanagon, piss me off and make my day." But it is just a hose tucked under the expansion tank that belongs on the you-guessed-it left cylinder head. We start the engine. It begins to miss. It begins to bog, it begins to stall. There is an intense cloud of acrid smoke. It has to be water filling up the cylinders of course. I am panicking inside, I think to myself, "I CAN survive the humiliating collapse of my career here tonight, YES I CAN." We had had a weird successive drop in torques as we were installing the heads, see, and even after three successions, the torques would drop ten ft/lbs. We (type2sam) retorqued five times in a row until they seemed to stabilize. So now I am thinking to myself that the sealing rings must be all mangled and crushed half in the heads and half sticking out and the sealant was probably inadequate, and I hate myself so who cares?
The engine has a serious tick tick tick under a valve cover and an exhaust tick, and I am ready to bite someone's head off. Type2sam goes under the car to tighten one of his exhaust joints, and I am about to make a remark about how we must FOCUS (dammit!), when I see that I did not tighten the lower exhaust flange that I was responsible for on the right side of the engine. It is still running pig-rich and dying when the exhaust magnificently clears up and it runs correctly, correctly, correctly for just a minute. Then the valves quiet down, all by themselves. Thank-youthank-you, and a ground wire is discovered to not have been tightened(that was on Mr. Vanagon Owner's list of chores, so there, we are EVEN) and finally the engine is running . . . . . . . . well.
Upshot was, this car drove so sweetly on our test drive, and I was so relieved. Thank you to type2sam for your steady optimism, and to type2samDad for your patient tolerance, and my pattering heart for not slipping into tachycardia.
Colin
(p.s. that Bimmer's interior never looked or felt so soothingly good as in that dark tired night light when you let me drive it to the driveway)