In Colin's 7th tour of America, the Itinerant Air Cooled Mechanic and I had big dreams and only five hours to do it it. I first wanted to swap my carb and dizzy, but found my lost manifold boots just this morning, so that was off the table. However, I did have a very leaky heat exchanger and a CV joint with a busted boot, bummer patrol man, so out into the misty drizzle we went.
Here is Colin taking off the CV joint. It was ripped on the outside boot, but the inside boot looked brand new. Not sure why that was. My CV's will have to be replaced soon, the ball bearings are showing signs of wear.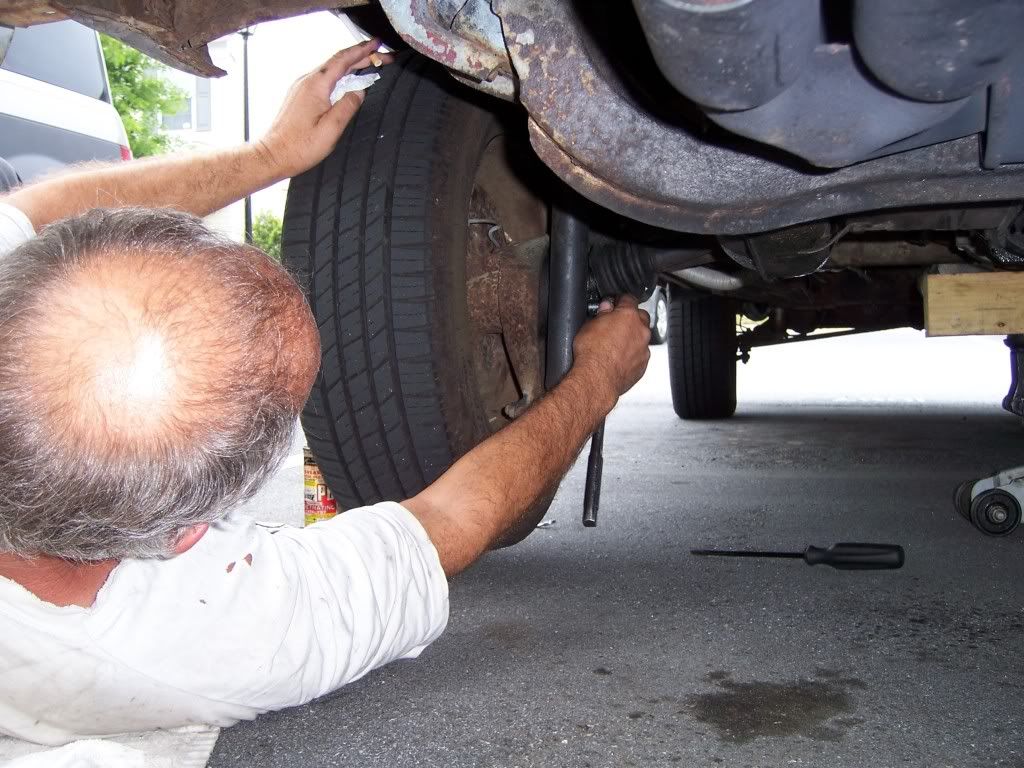 Remember when I posted a month ago when I took the muffler off and replaced my gaskets on the HE's and the head? I was spooked beyond fear of snapping a stud off the head, and did not. Well, now I was taking the HE off the head, and when we did oh my, the studs were eaten up. I did not want to tempt fate and try to take them out, however Colin wanted to try, and when we did oh SNAP, it did just that. Whatever shall our intrepid hero do? There is a stud half in, half out the head!
Bottom of my rusty Bus, it sat for five years in a yard in California, this is what happens. Also, the PO had the entire engine wrapped in chrome, including the now soiled lower tins. Colin called me the "Pimp of the IAC".
Never fear, Colin is here! With vice grips, blood and skinned knuckle, Colin uses a hammer and PB Blaster to take the offending stud from the head! Then, being cocky and all, removes the other stud and replaces it with a fresh one. I tell you, this man knows no obstacle, and no fear, as I stood by and watch experience and skill take over and do the job. In just a little time, both HE's were on Samantha, looking good and standing proud.
I had some used Bug HE's that I put on, I cleaned them up and painted them in primer. Hopefully they last awhile, my old ones were eaten up bad.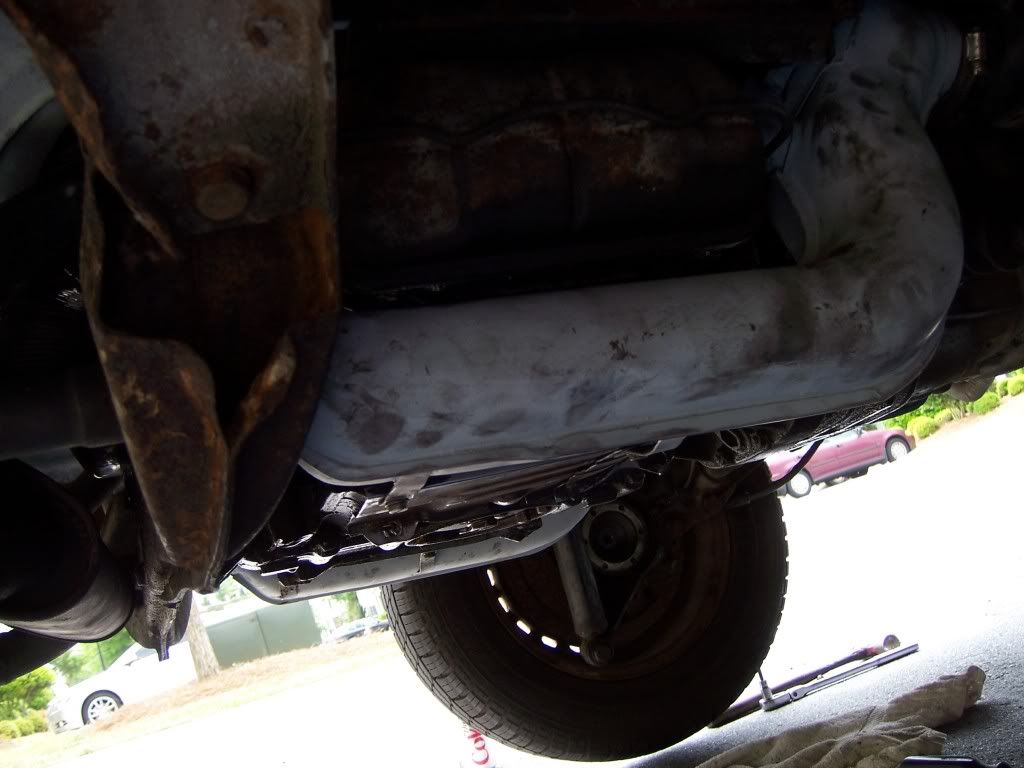 We took the CV joint off, and replaced the torn boot. Good German boot too, but the kit was minus washers for the bolts, huh. I packed grease in what has to be the most despicable jobs you can do on a Bus. The other boot was fine, but I gummed it up with dirt so I cleaned it up and packed it too. By this time Colin had to head out, but not without careful instructions as what I was to do to finish. I have done boots before, but if Colin had not been there, it would have taken hours instead of the hour and a half it did. Samantha had been leaking out the HE for awhile, it sounded like a tank before, backfiring and wheezing down the road. Now she purrs like a kitten! I took her for a ride and heard my windows rattling! Holy crap, what a beautiful sound a 1600 can make!
And now Colin is on his way to Maryland in the BobD. I want to thank him, this is the fifth year Colin has helped me with my Bus addiction. Had he not been there the times he has, I surely would have sold Sam some time ago. Next time we will do the carburetor and dizzy, knowing I have an expert right there to show me how.
Godspeed Colin and BobD.