Drove straight from Los Alamos to Houston.
Did I tell you I hit weather in Childress Texas, tornado sirens and all? I drove down sidewalks to find the local car wash bay to get out of the hail (dangittohail, dint I already pay enough with rock/gravel/sand storms in El Paso you Texans?).
Onion456 has two buses now, both with that most excellent VW bus feel, all worn out and smooth and loose and travelled! The new bus has a Raby engine kit, and it had that smooth well-machined sound and good pep, but I pointed out pointedly that we need a chassis/steering/brakes to match the engine PLEASE . . .
Drove from Houston to Dallas on I-45, crazy people drive too fast! and I was a mobile chicane at 70-75 mph. My first No Headwind Freeway Run yielded 19 mpg at 70-75, I'll take it.
James Dwan, you all should know, dreams big productive days. I listen with trepidation as he lays out our goals of disassembling the engine a bit to fix some leaks, putting in a rebuilt transaxle, painting engine tins, and taking it on a triumphant test drive before dinner . . . . . . . . . . . . . . .
then reality intrudes as usual.
James! The dipstick boot is leaking! What is this? The alternator has eroded the fan housing from vibration. The support bracket is broken in half. I'll just make a new bracket says James. James! The starter will not fit the new transaxle! Is this an 091 bell housing on this thing? (no) So, while James fabricates a new alternator bracket, I swap bell housings from his old transaxle to the new one: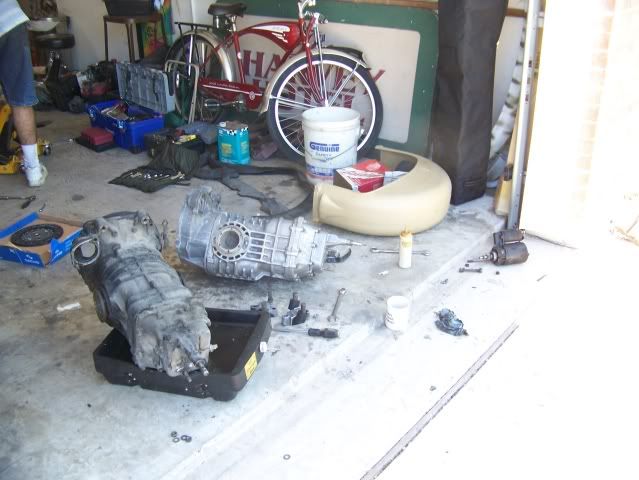 I need to paint the fan housing says James. And he does. We have projects boiling all over the garage and we have tools and bolts and nuts multiplying and exploding into new piles and disappearing in turn, where's the 13 socket? Here's James replacing the side reflectors while the day descends into project chaos:
Some time around 4:45PM we actually have a transaxle within a foot of the engine with that pretty fan housing, secured alternator + new boot: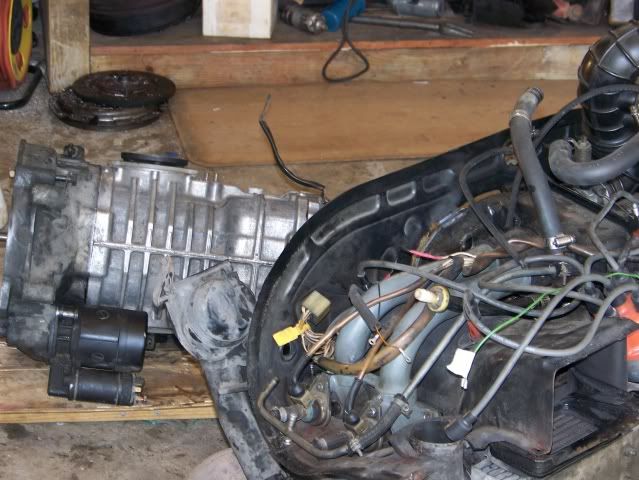 James admiring his painting and assemblywork: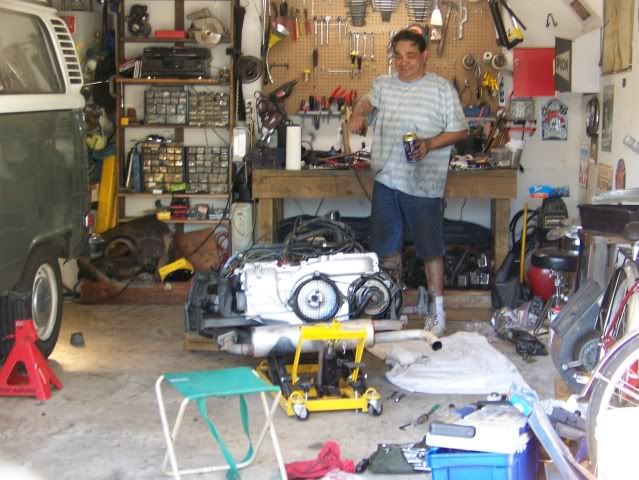 At 7 or 8 or 9 or whatever, the engine is going in. I tell James that I will bench-press the transaxle into the nose cone mount because the ATV jack is in no way able to get far enough under the assembly to be anywhere near the center of gravity. Under the car with the transmission pressing painfully down upon my arms and hands, I attempt to lift the front of the engine and transaxle assembly about a foot with arms only. Here, I discover that I have not been weight-lifting with enough verve over the spring, cuz that thing is not cooperating. The safety catch deal on the ATV jack is banging into the muffler and I am unable to lift. Finally with a bit of irritation, I just get the nose cone mounts into the torsion tube/mount grooves and the back of the engine sinks like a rock. "Yeah, this jack sometimes lets go."
We somehow manage to jack it up, get the spare floor jack under there, get the sloshy shifter couplings and bushings together, temporarily replace a section of leaking NON-REINFORCED FUEL HOSE sold as suitable by nameless supplier (James, give'm hell) and start the engine around 11:30PM. The aluminum timing scale tortures me through several adjustments and shim washers. After discovering that my stop plate adjustment pinched off 1/2nd and readjusting it, the car moves itself acceptably well down the road and back. Yes James, we did it. And once again there were some real funny moments, some real pissed-off moments, and goooood music sprinkled in between the 70's disco tunes. Did I tell you that James Dwan likes 70's disco? Right James?
ColinOnWayToMississippi