Oh my. Lots of driving.
Driving west on I-8, I went over what appeared to be a non-descript bridge, but the gulch was so deep, I had to pull over an look.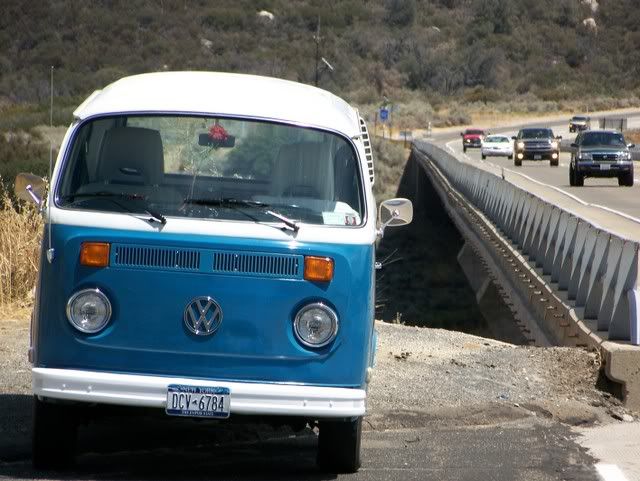 Nice bridge! Both directions share these crazy cantilevered support columns.
There is a center platform waiting for the day they have to add four more lanes down the very middle.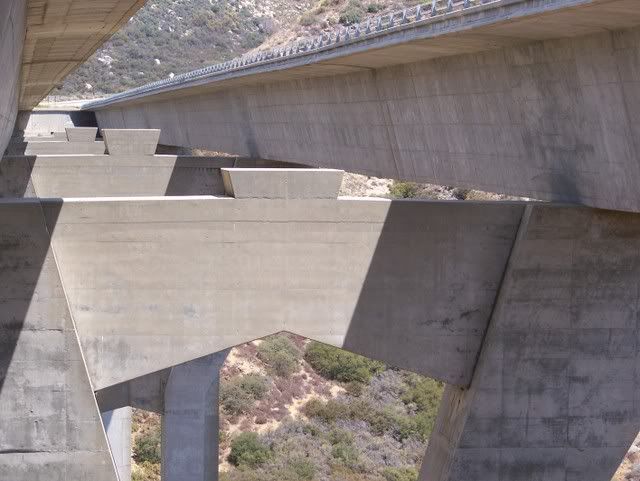 I left Riverside CA at 5:00AM and plowed into dense traffic on the 91 Freeway and there wasn't even any dawn yet. I like early morning Los Angeles area commuters, they are intelligently aggressive. Stopped at Sluggo's to reclaim my camera battery and phone and hit the road northbound over the Grapevine.
(I have some little clips of driving, shall I post them?)
Spent a day just outside of Oakdale CA (California's Cowboy Capital)working with Campinpoptop, then drove a tough headwind over the Altamont Pass to Healdsburg CA to work with Ritter on his Westy. The approach to the San Rafael Bridge was pretty at night, lots of dramatic lighting with the intermittant marine layer and sparkling city lights of San Francisco off to my left. Beautful countryside in Marin and Sonoma Counties, reminded me of my first few years on the planet in Agoura, same rural golden grass with gnarled ebony oak and dark green foliage.
Off to Beaverton OR later tonight. . .
Colin