No dad when I arrived. I looked around this stunning wreck of a place with a marvelling eye. Like the three previous visits, I was socked in the nose by the "fragrance" of many many many cats who have missed the cat box many many many times. This being the heat of summer, the harvest of flies was abundant and startling. Dad arrived in a senior-citizen bus whose driver appeared to be easily familiar with my dad's disheveled attire. The driver deposited a heavy box in my arms and scrammed efficiently. The "climate control system" was on the fritz and he had gone into town to obtain a 1/2 horse blower motor to drive the swamp cooler. Imagine. . . . the rich "fragrances" in that trailor made more intense still by the addition of damp swamp-cooler air. That poor swamp cooler, I was thanking every duct-taped part, every frayed wire, every chewed, hammered, broken, worn, filthy part for helping to keep my dad alive out there.
I was more interested in the piano, that Steinway Under Crap. We decided to deal with it after our trek to southern California for the family reunion. My old man's disdain for the human race was softening under the excitement of visiting relatives he has not seen (been in the presence of) in over a decade or two. It was my honor to be the catalyst.
My new relatives in Oceanside live in the same house they have always had (50 years!) in what was an old barrio, but is now an uneasy collection of apartments and over-populated single family homes. Theirs was easy to spot, Indian pottery and bric-a-brac, a bleached wolf howling next to a cactus, and a similar casualness towards housekeeping that made me have a stern talk with myself out in the car - "embrace it all, don't retreat!" These are a tough bunch of people, they have known hard lives and have carved a place in the community and with the local constabulary. My Aunt (dad's mom's sister) really struck me, 91 years old and possessed of quick mind quick spirit and energy I wish I had. Old patterns asserted themselves, and I got to see my dad as the kid he once was amongst his family. That was a gift. I liked it even as I read between the lines the harder edges.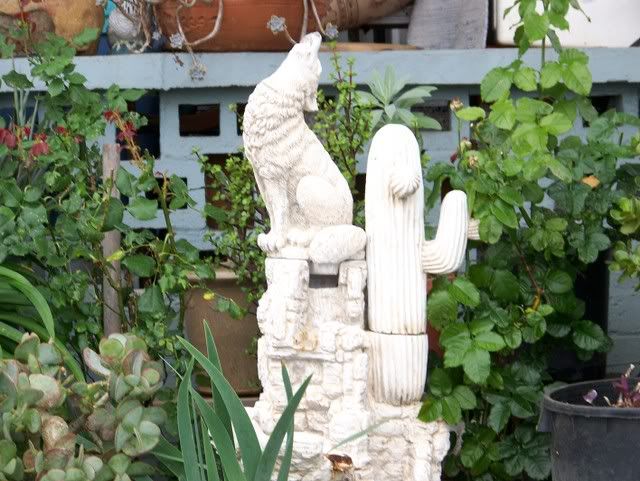 The reunion was a blur of names and resemblances.
When we got back to my dad's house, his joy upon returning underscored that this is his life. This is his life. The cats, the three-legged dog, the amazing trailor that stands because there is nothing else to do, the projects scattered all over the place, his intimate knowledge of almost every little thing on the property arrived at by feel because he sure isn't going to see it.
The next morning, we cleared off the Steinway and I just sucked-in my longing to vomit and flee. This piano was talking to me, this magnificent music maker that has not been touched in decades. My Austin Texas F-string was not the right size by a long shot, and it was an E that we actually needed. "Ah don't worry about it, kid." I took the new string and the remnants of the original, stepping gingerly under the extension cord that was caked with sticky fly shit, out to my car. I shortened the new string and unwound the copper wire surrounding the core to match the original, vise-gripped the end of the copper winding to clamp it to the core, and threaded it through the sound board and dampers to the adjusting peg. Duh stupid, you can't thread it to the left of the damper push rod, that pushes the damper into the adjacent one. Some Steinway mechanic. . . After that was sorted out, we got his old allen wrench + 1/4" socket and drew the string taut. Lovely old Steinway accepted our new string and gave us a nicely synchronized tone alongside it's E string pair.
The electronic tuner was a great help in the middle octave. It has little LED's that glow red if your note is flat or sharp in comparison to the reference tone. But at the upper and lower octaves, it got confused. It also got confused with people TALKING, DAD. He kept getting excited and would start playing riffs that got me all anxious to finish the tuning so I could hear more, "Dad, just that one note,
please
," "oh yeah, sorry kid." "Dad. . . count to FOUR to give the note time to diminish," but he'd start pecking at it then add an octave up and finally would go into Full Chord Thunder. Enthusiasm, it's a beautiful thing. . . . This piano, unlike most (said the new "Steinway Tuning Expert"), had a bunch of lower keys that had gone sharp as though the string board's metal frame had expanded in the desert heat, while the higher notes had gone waaay flat and sour. After 5 1/2 hours, I was leaning on the keyboard and hugging the piano flyshitcatshitcatfoodcatpee-be-damned, and trying to get those ridiculously sensitive pegs to stay where I needed them to stay so their companion strings would synchronize. Meanwhile, dad's only Allowed Visitor had shown up and they had partaken of the peace pipe and were involved in a slightly stormy but definitely wandering philosophical discussion. The electronic tuner was not impressed with all of this conversation.
I was falling in love with this piano as it slowly came alive. Finally all of the sour notes were gone and the lower octaves were so warm and authoritative and the middle-to-uppers were becoming more clarion clear.
I am sure it was a lousy tune, I have no idea of how the experts work the "temperament" or whatever, but I was happy with no more sour and in love with the snippets of music mustered forth from old fragments of Chopin's Opus 28 #20 in C Minor that I learned in 1986.
I have recorded portions of pieces that my dad played. I have a pre-tune recording of "The Hypocrite" we did in January to compare to this post-tune recording I did yesterday with my sonically overwhelmed camera. Some beautiful notes came fleetingly out of his gnarled fingers. Some exasperated cussing came out of his mouth. But music came out of that piano.
Back to the Itinerary go I, mulling this new facet of my life. I like it.
Colin